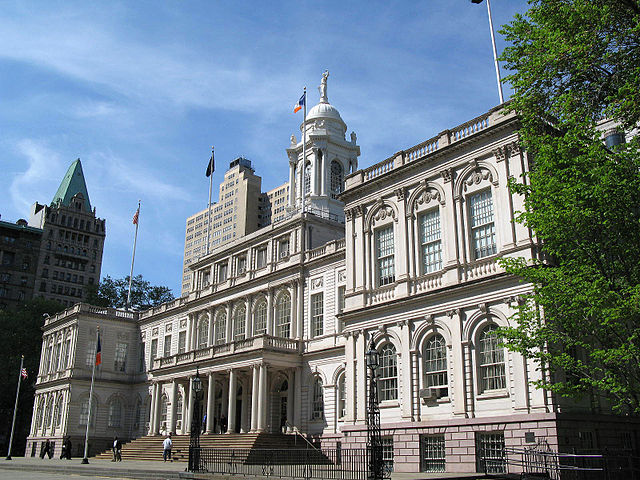 New York City Hall
---
What to watch for this week in New York politics:
We have a state budget! At about 9 p.m. Friday, Governor Andrew Cuomo held a press conference to announce that he and legislative leaders had agreed on a framework deal to pass a full fiscal year budget. The state had passed a budget "extender" on Monday, April 3, in order to keep state government running after a new fiscal year began April 1 without a new budget. The Assembly passed the budget bills over the weekend and the Senate took up the formality of floor debate and voting on Sunday evening. This week will continue to see breakdowns and fallout from the budget deal while legislators are in their home districts for two weeks and Gov. Cuomo is likely to highlight major budget accomplishments at events and/or media appearances.
***Read about the major deals reached in the state budget: Cuomo Announces $153 Billion State Budget Deal***
Mayor de Blasio is spending the week on Staten Island. It's the first week of "City Hall in Your Borough" which the mayor will execute across the city over the coming months, starting this week on Staten Island, where de Blasio will hold events and office hours over Monday through Friday. De Blasio will hold a town hall Thursday evening -- see below for details -- and other aspects of his week will be announced day by day.
De Blasio returned to the city this past Friday night after several days on the west coast, where in Seattle, Sacramento, and San Francisco the mayor held government meetings and campaign fundraisers. He begins his week on Staten Island Monday with "a cabinet meeting with senior staff at Staten Island Borough Hall" -- a meeting that is close to the media, though just beforehand, de Blasio "will deliver remarks and hold a brief photo spray" at about 10:30 a.m. At noon, "the Mayor will make an announcement regarding neighborhood policing and NCO commands" at a press conference. In the 7 and 10 p.m. hours Monday, will make his weekly appearance on NY1's Road to City Hall. And, at 10 p.m., "the Mayor will join a road repaving crew on an overnight shift repaving streets on Staten Island."
Republican mayoral candidate Paul Massey is crashing de Blasio's opening day on Staten Island. At 3 p.m. Monday, Massey will hold a press conference to call on the mayor "to Include Staten Island stop on "citywide" ferry service this summer" at 778 Front Street, Staten Island.
Other than de Blasio's events on Staten Island, which include a Thursday evening town hall, it looks to be a fairly quiet week, with both the City Council and state Legislature on their usual spring breaks, with Passover and Easter holidays upon us. Still, there are a few political and policy events to be aware of - see our day-by-day rundown below.
***Do you have events or topics for us to include in an upcoming Week Ahead in New York Politics?
e-mail Gotham Gazette editor Ben Max: This email address is being protected from spambots. You need JavaScript enabled to view it.***
The run of the week in detail:
Monday
City Council Speaker Melissa Mark-Viverito has several events on Monday: at 9 a.m. she will speak at a press conference "with FWD.us and Council Fashion Designers of America
CFDA Fashion Incubator"; at 11 a.m., she will speak at "Transgender Rights Are Human Rights in Puerto Rico and & Everywhere" at City Hall; at 6 p.m., she will announce the "results of District 8 Participatory Budgeting" from Borinquen Court Senior Houses in the Bronx.
At 10 a.m. Monday, the Administration for Children's Services (ACS) and Brooklyn Borough President Eric Adams will lead the third annual "Bridge Walk for Child Abuse Prevention," walking across the Brooklyn Bridge "in support of National Child Abuse Prevention Awareness Month." Prior to the beginning of the march, Adams and ACS Commissioner David Hansell will speak to marchers at Park Row in Manhattan.
Tuesday
"On Tuesday, Mayor de Blasio will host office hours with constituents at Staten Island Borough Hall...In the afternoon, the Mayor and Council Member Matteo will tour a Department of Sanitation facility and make an announcement about the e-waste collection program...Later, the Mayor will conduct a meeting with Borough President Oddo on priority issues for Staten Island...After, the Mayor and First Lady McCray will join a meeting of Borough President Oddo's substance abuse task force...Prior to the meeting, the Mayor and First Lady will hold a photo spray and deliver brief remarks...In the evening, the Mayor will deliver remarks at Young Israel of Staten Island."
Governor Cuomo has two public events scheduled for Tuesday: at 10 a.m., he'll make an announcement at Reverend Dr. Bennett Smith, Sr. Family Life Center in Buffalo and at 1:30 p.m., he'll make an announcement at Greater Rochester International Airport, NYS Police Hangar.
At 9 a.m. Tuesday, the Vera Institute of Justice will host "Accounting for Violence: How to Increase Safety and Reduce Our Failed Reliance on Mass Incarceration," bringing together a "range of leaders in the criminal justice field to talk about strategies that can reduce both violence and mass incarceration."
Wednesday
At noon Wednesday, the Manhattan Institute will host "Yelp for Health," discussing whether patients should "be encouraged to seek the opinions of non-experts when making critical health-care decisions." The panel will feature Yevgeniy Feyman of Harvard School of Public Health; Robin Gelburd, of FAIR Health; Paul Howard, of MI; and Michael Luca, of Harvard Business School.
At 1 p.m. Wednesday, the Community Service Society will host "Raising the Age in New York" as part of its New York Reentry Roundtable, which brings together formerly incarcerated persons, activists, and officials to discuss the challenges of reintegrating into society after incarceration. Participants include Soffiyah Elijah, of the Alliance of Families for Justice; Kate Rubin, of Youth Represent; Julia Friedman, of Getting Out and Staying Out; and Vaughn Brown, a participant in Getting Out and Staying Out. This event will take place just after the state agreed to "raise the age" of adult criminal liability from 16 to 18 years old in most cases.
At 4:30 p.m. Wednesday, Greater NY LECET will march from Fort Greene Park to Councilwoman Laurie Cumbo's office to "demand she stand with residents and kill the deal" regarding the development of the Bedford Armory.
At 6:30 p.m. Wednesday, the Civilian Complaint Review Board will hold a public board meeting.
At 7 p.m. Wednesday, City Council Member Corey Johnson, U.S. Representatives Jerrold Nadler and Carolyn Maloney, and several other elected officials will host "How to Find and Apply for Affordable Housing" at the SVA Theatre in Midtown.
Thursday
At 9 a.m. Thursday, the New York City Industrial Development Agency will hold its board of directors meeting.
At 10 a.m. Thursday, the New York City Campaign Finance Board will hold its board meeting.
At noon Thursday, the Manhattan Institute will host "Insane Consequences: How The Mental Health Industry Fails The Mentally Ill," featuring DJ Jaffe, Executive Director of the Mental Illness Policy Org and author of a book of the same name as the forum. Jaffe will discuss "how America is failing some of its most vulnerable citizens: psychiatric hospitals continue to be closed; involuntary commitment criteria continue to be narrowed to the point where laws now require violence rather than prevent it; the public is increasingly endangered; and the seriously mentally ill and their families suffer needlessly."
At 7 p.m. Thursday, Mayor de Blasio will join a Councilwoman Debi Rose, Staten Island BP James Oddo, Senator Andrew Lanza, and Assemblyman Matthew Titone for a town hall on Staten Island's North Shore.
Friday and the weekend
On Friday, Mayor de Blasio will likely make his weekly appearance on WNYC's The Brian Lehrer Show.
Starting at 1 p.m. Saturday, the nationwide Tax March will commence, demanding that President Trump publicly release his tax returns. New York City's Tax March will begin at Bryant Park in Midtown.
***
Have events or topics for us to include in an upcoming Week Ahead in New York Politics? E-mail Gotham Gazette executive editor Ben Max any time: This email address is being protected from spambots. You need JavaScript enabled to view it. (please use "For Week Ahead" as email subject).
***
by Ben Brachfeld and Ben Max
@GothamGazette