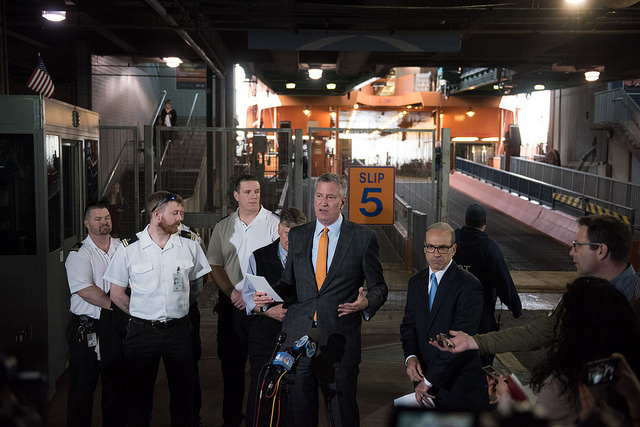 De Blasio & Oddo on Staten Island (photo: Michael Appleton/Mayor's Office)
---
As Mayor Bill de Blasio's week on Staten Island neared a close Thursday evening, City Council Member Debi Rose told a north shore town hall audience that "Staten Island can no longer use the moniker that we are 'The Forgotten Borough.'" In opening remarks before introducing de Blasio at I.S. 27, Rose said that the mayor's attention to the borough had negated that longtime, self-given nickname of neglect.
From Monday through Friday, de Blasio and his top aides are working out of Staten Island borough hall and holding events around the island, in what is the first of five such weeks in the mayor's new "City Hall in Your Borough" initiative.
The week has included announcements of an expansion of neighborhood policing on the south shore; the proliferation of an electronics recycling pilot program that started mid-Island; and increased boarding options for the Staten Island Ferry. De Blasio held constituent office hours, participated in evening road repaving, visited a senior center, talked with a local family about their water bill, celebrated Passover at a synagogue, visited several top borough restaurants, and took in a concert.
"The mayor has shared our concerns and interests," Rose said, calling de Blasio "responsive" and noting that people are apt to criticize but don't give credit enough. Rose listed major concerns for her constituents: education, transportation, traffic, safety, recreation facilities, job creation, protecting the environment, and managing development and growth while maintaining Staten Island character -- most of which came up in the two-plus hours that de Blasio took more than 50 audience questions at Thursday's town hall.
Rose, a Democrat, spoke just after Borough President James Oddo, a Republican, and state Senator Diane Savino, a member of the Independent Democratic Conference, who both stressed that Staten Islanders focus less on political party and more on getting things done. Oddo and de Blasio share a particularly close relationship going back to their days on the City Council, and they have appeared at a number of events together during the week. In his opening remarks the borough president briefly recounted how productive a week it has been and his appreciation that de Blasio immersed city government in Staten Island issues for the five days.
When he took the microphone, de Blasio noted his positive relationships with the borough's elected officials and touted reductions in crime on Staten Island, thanking the NYPD, as well as a drop in traffic fatalities this year compared to the same period last year. He announced that a new Staten Island Ferry boat would be named after Sandy Ground, which was an African-American settlement dating back to the 1830s and a stop on the Underground Railroad. The mayor explained that his administration recently announced a new plan to combat the opioid epidemic and his ongoing focus on repaving streets, two very different but particular concerns for Staten Islanders.
Over the course of the town hall, de Blasio took a few general questions about city policy, but largely heard constituents' local, specific concerns, from problems at a nearby elementary school to development along the north shore, a lack of transportation options, and police-community relations. He heard from constituents of diverse backgrounds and of all ages, including a high school student worried about protections for LGBT students and an elderly woman concerned about broken sidewalks.
The mayor, who at times was short and cranky with audience members who he wanted to ask their questions more quickly, gave frank answers, even when he disagreed with the questioner, and often called over different commissioners, NYPD representatives, and other aides to give more detailed answers after his general one. It was a similar scene to the dozens of prior town halls de Blasio has held all over the city during the past year and a half.
Thursday's was de Blasio's second Staten Island town hall -- he previously held one mid-Island with Republican Council Member Steven Matteo. De Blasio has promised to hold a town hall in all 51 City Council districts, leaving him one more on Staten Island, that of Republican Joe Borelli, who appeared with the mayor for the policing announcement on Monday.
Two themes among the wide variety of questions Thursday night were opportunity for community youth and development along the north shore. There were also a number of education and school-related questions. "[T]he youth, give them something to do," one attendee said to de Blasio, and was met with applause from the audience. "I share that view so much so that...every middle school kid has free after-school," de Blasio responded, touting one of his key education investments, though he told the audience that not enough families are taking advantage of the program.
"I can't make a commitment to you tonight," de Blasio said about a new community center for youth. "We're making a benefit available exactly for that reason," he added regarding young people not having enough to do. The mayor mentioned tutoring, homework help, recreation, and enrichment, but he encouraged audience members to spread the word about the program.
The north shore of Staten Island is home to much development -- as de Blasio decamped on borough hall, he was a stone's throw from ongoing construction of a new outlet mall, one of several changes that will remake the area. De Blasio insisted that the city will hold developers to their commitments and also previewed a rezoning of part of the north shore district that Rose represents, explaining that a "rezoning offers the opportunity for a massive infusion of resources into a community," including the types of amenities that some town hall participants were asking for, such as a new community center. He referenced the only community rezoning that has occurred during his administration, that of part of East New York, Brooklyn. It was not clear if the mayor was able to assuage the concerns of those who worry about new development and the loss of community "character."
Multiple attendees asked de Blasio about policing or police-community relations and de Blasio gave similar answers each time: explaining that he has worked to improve those relations through the implementation of the neighborhood policing model while also reaffirming his commitment to "quality-of-life policing," which is also known as Broken Windows policing, though the mayor rarely uses that term unprovoked. He stressed that crime is down while arrests and negative interactions between officers and New Yorkers are also down.
One constituent asked de Blasio what, if re-elected, his top three second-term priorities for Staten Island would be. De Blasio declined to make the answer local, instead explaining his goals for the city: continuing to drive crime down and improve police-community relations; improving schools through his "Equity and Excellence" agenda; and making the city more affordable though more rent-regulated housing and better-paying jobs.
The mayor will conclude his five days on Staten Island Friday with one public event: a tour of the community center at Mariner's Harbor Houses, a NYCHA property, where he will also "make an announcement about the Cornerstone Program," according to his public schedule. Prior to that, he'll make his weekly appearance on WNYC radio's The Brian Lehrer Show, as he did his Monday evening spot on NY1's Road to City Hall television program.
Still, de Blasio has been very limited in dealing the media this week. The mayor took press questions at his Monday mid-day event in conjunction with his policing announcement on the south shore, but held no other question-and-answer session with reporters all week. He held several events open to the press, but did not allow questions, ignoring any that were asked by members of the media who attended.