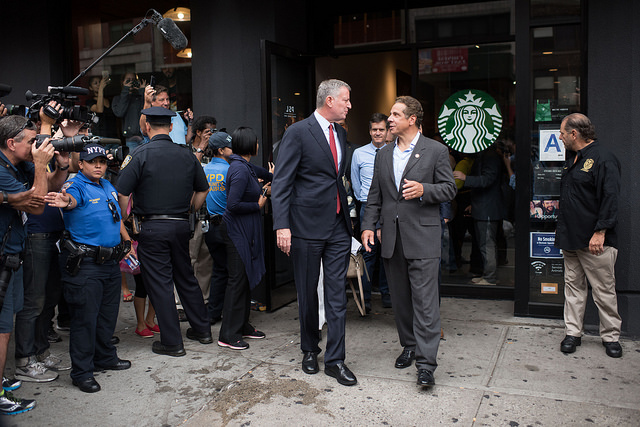 De Blasio & Cuomo (photo: Michael Appleton/Mayor's Office)
---
As part of the budget deal announced earlier this month, Governor Andrew Cuomo highlighted the inclusion of new power his administration now has to adjust the state spending plan mid-year given significant federal cuts to New York. While Cuomo said it is an important provision in the state budget given uncertainty and threats from Washington D.C., Mayor Bill de Blasio expressed skepticism.
When he announced a deal with the state Legislature on April 7, Cuomo outlined the major aspects of the new $153 billion budget, almost one-third of which comes from federal grants to New York. "This budget also has the first ever Federal Funding Response Plan," Cuomo said at a press conference at the state Capitol, explaining that if there are major federal funding cuts, his Division of Budget "will come up with a plan that corrects the state budget for that shortfall." The plan would then be presented to the state Assembly, which would have 90 days to either pass its own plan or the Cuomo plan would automatically go into effect.
The threshold for allowing this mid-year adjustment is $850 million in federal funding cuts to New York. Cuomo said that the federal response plan "gives me confidence that the ship of state, the financial ship of state...the financial integrity of the state will be OK." He said that he did not want to have to rely on calling the Legislature back to Albany for a mid-year adjustment. State lawmakers, whose jobs are considered part-time, are only in session in Albany from January through mid-June. The federal government has a more fluid budget "season," operating on a "continuing resolution," and major funding cuts could come at virtually any time.
When Gotham Gazette asked de Blasio about the new budget mechanism that gives Cuomo additional power and any concerns for New York City he may have, particularly about federal cuts trickling down to the city, the mayor said he wasn't completely familiar with the provision, but from what he did know, he wasn't sure why it was needed.
"I'm not familiar enough – I don't fully understand it – I don't know if I'm alone in that fact," de Blasio said during a question-and-answer session after an unrelated announcement on April 19. "You know, from our point of view, we would do that through a budget process...we have a normal process for budget modifications. We go to the City Council – they vote on it. I don't understand, even though I know the Legislature has more of a fixed session than the Council does, that's true, but I don't fully follow the logic."
De Blasio went on to say, "I would think the normal thing to do would be, you know, set a course if those federal actions really fundamentally change things to come back to the Legislature and talk it through if it was major things. So, I'm speaking as someone who doesn't fully understand what the vision is, but I think if it's a major magnitude, you'd want to work with the Legislature to work it out."
The governor's office did not return a request for response to de Blasio's comments.
During his explanation of the budget deal, however, Cuomo had already responded to de Blasio's critique. Relying on the Legislature to return to Albany and agree on budget modifications in the face of federal cuts "was too risky a proposition for me, frankly," Cuomo said.
"'Well you could have always called the Legislature back into special session,'" the governor said, preemptively. "Yeah, but legislatures are not always quick to convene, they're not always quick to agree and they're never quick to cut funds, right? Legislatures prefer giving out funds, not calling up and saying, 'I need you to return the money I gave you.'"
"This is what gives me the greatest security in this budget," Cuomo said of the new mechanism, "and it's a device that we just came up with recently and if we didn't have a device like this, I believe it would have been better to leave the budget open throughout the year so we're sure we could adjust."
The mayor and governor have been engaged in a well-publicized feud for most of de Blasio's term, conflict that has boiled over around budget issues at times. In the recently passed state budget, the city saw something of a mixed bag, though de Blasio appeared mostly pleased with the outcomes.
For the good he saw in the new state budget, the mayor mostly praised Assembly Speaker Carl Heastie, a Bronx Democrat who de Blasio has said is the city's strongest ally in budget negotiations among Cuomo, who is a second-term Democrat; Heastie; and Senate Majority Leader John Flanagan, a Long Island Republican.
In January, de Blasio outlined his own $83 billion preliminary budget for next city fiscal year, which begins July 1. De Blasio will now take into account both the new state budget and the latest from Washington, D.C., among other factors, when crafting his executive budget plan, which he'll unveil in May. That will set the stage for continued negotiations with the City Council before the two sides reach a deal by the end of June.
The de Blasio administration did not yet have a number for total state grants coming to the city from the state, but de Blasio's preliminary budget had projected about $14.5 billion. It's unclear what state money to New York City could be at risk if federal cuts to the state occur and the Cuomo administration crafts a budget amendment. The city is also at risk of losing some of the roughly $7 billion in direct federal aid it may receive -- the Trump administration and Republican Congress' priorities mostly do not match de Blasio's, and there have already been both threats to withhold funding and proposed cuts to the city.
As de Blasio intimated when discussing Cuomo's new budget powers, the city has a regularly scheduled "budget modification" each November, at which time the mayoral administration and City Council adjust the current year's spending plan and reestimate for the following year. The state has no such mechanism as part of its annual budget process.