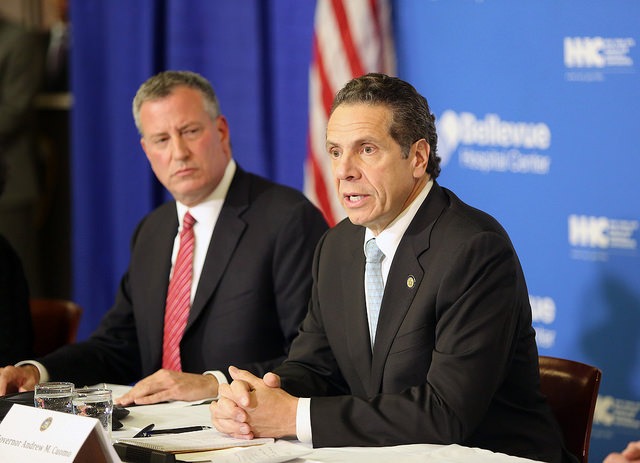 ---
A new $153 billion New York state budget was passed through the Legislature Sunday evening, nine days into the new fiscal year, following a particularly lengthy and tumultuous negotiation period.
After Governor Andrew Cuomo announced a budget deal Friday night, the Assembly approved the budget Saturday, while State senators -- called back to Albany from their districts -- moved through the final budget bills the following day.
Within the spending plan are items that have serious ramifications for New York City, many of them tied to the revenue bill, or this year's budget "big ugly," legislation that encompasses a hodgepodge of controversial issues. In this case, the criminal justice reform measure known as "raise the age," New York City's 421-a property tax abatement program, charter school aid, and an extension of the millionaires' tax, were among this budget season's most contentious topics.
Deals were reached on these and other complicated matters, like new CUNY and SUNY scholarship parameters, after state lawmakers had passed a budget "extender" on Monday, April 3, two days after the new fiscal year had started.
[Related: Cuomo Announces $153 Billion State Budget Deal]
With a new deal in place, Governor Cuomo, a second-term Democrat, held a press conference at 9 p.m. Friday night and called the new state budget "a blueprint for the future of the state."
In a Daily News op-ed column over the weekend, Cuomo wrote of the new budget, "Never has New York achieved more, built more or produced more impactful legislation."
While Cuomo is touting a "legacy" achievement in raising the age and a "national model" in his college affordability program, among other headline accomplishments, a spokesperson for the governor said in a statement that "if 7 days late gets the state a plan this great, we will do it every year."
For New York City and Mayor Bill de Blasio, there are several victories in the new state budget, such as the release of a significant influx of affordable housing funds, but there are also a number of disappointments, such as the absence of the "mansion tax" or an extension of mayoral control of city schools. De Blasio has said several times this year and last that Assembly Speaker Carl Heastie, a Bronx Democrat, is a great ally and advocate for the city's interests. He's indicated that Gov. Cuomo is inconsistent in his help for New York City.
For the state's largest city, the spending plan offers some funding clarity and a variety of important policy decisions. Mayor de Blasio and the City Council will now move ahead with their budget process -- a new city spending plan is due by July 1. Of the $153.1 billion in the state operating budget for the new fiscal year, it is not yet clear how much will flow to New York City. When de Blasio outlined his preliminary budget for next city fiscal year in February, he estimated $14.5 billion in state grants, contributing to the $83 billion in overall spending he proposed.
Within all these numbers and major state policy decisions, there are a lot of important funding and policy points in the new state budget for New York City.
1. Cost Shifts & Funding Cuts
During his state budget testimony on January 30, de Blasio pushed back on the more than $100 million in cuts and cost shifts to New York City proposed in Cuomo's executive budget, primarily related to placement of foster children and special education services. Most of these cuts remained in the final spending plan, though some were modified or removed, according to the mayor's office.
Notably, a $32.5 million cut to the city's public health programs proposed by Cuomo did not make it into the state budget. Also, the governor proposed a $17 million cut to New York City's senior centers, but $13 million was restored in the adopted budget.
As outlined in Cuomo's executive budget proposal, $20 million was ultimately slashed from state reimbursement for special education services in private settings, effectively eliminating any state share of the costs. Finally, $44 million earmarked for foster care services was cut.
2. Millionaire's Tax & Mansion Tax
Despite resistance from Senate Republicans, Cuomo got his way on the millionaires' tax extension. The tax was first approved by the legislature after the 2007 financial crisis, extended multiple times, and was set to expire at the end of 2017. Cuomo insisted that a failure to renew it would leave a "tremendous hole in the budget," but pushed back against the Assembly's efforts to expand it to include higher taxes on more income brackets. The millionaire's tax is extended for two years.
Cuomo also opposed de Blasio's proposed "mansion tax," a 2.5 percent incremental tax on purchases of residential property worth more than $2 million. The mayor intended to use the tax, which would have been levied on buyers, in order to subsidize affordable housing for senior citizens.
De Blasio along with allies in the Senate and Assembly put significant effort into pushing the "mansion tax" as well as the expansion of the millionaires' tax, but neither made it into the final budget. De Blasio, at an unrelated press conference Monday, noted that in light of the uncertainty coming from the federal government, the mansion tax could still be on the table. "We're gonna continue to fight through the legislative session on some of these items," he said.
3. Mayoral Control of Schools
During negotiations, news reports indicated that a one-year extension of mayoral control of New York City schools might be included in the state budget, rather than hashed out during the legislative session to follow, as it had been the last two years. But the enacted budget did not address the policy, seemingly because Senate Republicans opposed its inclusion.
It would have been the third year in a row that de Blasio received a one year extension -- Cuomo has called for a three year extension, the Assembly has pushed for the same, if not longer, while de Blasio has called for making it permanent. Including it in the budget would've softened the blow for the mayor, who will now have to go hat in hand before the Legislature as he did last year and the year before.
When asked about the mayoral control snub at his Monday news conference, the mayor dismissed the issue as typical Albany shenanigans. "I never had the illusion that it would be easy to get it done in the budget, I would've liked to get it done in the budget. But you know I understood the way it's played out in previous years was the most likely outcome again." de Blasio said.
The mayor said he is confident it will be worked out during the coming session, which runs through June, like mayoral control, noting that no viable alternative to mayoral control has been presented by the Senate GOP, which has used authorization of mayoral control as leverage over the mayor since he tried to flip the chamber to Democrats in 2014.
4. The New 421-a
De Blasio has criticized the governor's version of the 421-a property tax abatement, which is meant to spur affordable housing development in the city's most expensive neighborhoods. The prior program expired two years ago and has been the source of significant strife between de Blasio and Cuomo.
The governor rebranded 421-a as "Affordable New York" this year. De Blasio has been cool to the governor's version of the program, noting that in the long-run it will be more expensive for city taxpayers and will produce fewer affordable units than the version de Blasio proposed in 2015. Still, the current version is an upgrade from the old, broken 421-a system, and one that New York City "can live with," de Blasio said Monday.
"I understand that in Albany a lot of things happen. There were changes made to the plan that weren't the changes I would've have thought of, but they still left us with a plan we could live with," said de Blasio.
According to Cuomo's office, the "new program will create an estimated 2,500 new units of affordable housing per year."
5. Affordable Housing & NYCHA
Agreement on 421-a renewal helped trigger the release of $2.5 billion in funds that were earmarked for 100,000 units of affordable housing and 6,000 units of supportive housing in last year's budget, but were tied up in disagreement among Cuomo and legislative leaders over how it should be distributed.
De Blasio's administration welcomed the influx of affordable housing cash, much of which will head to developers and projects in New York City. "We always welcome additional money and assistance from the state," said de Blasio spokesperson Freddi Goldstein. "This funding couldn't come a day too soon."
A coalition of 11 housing advocacy groups -- including the New York State Association for Affordable Housing (NYSAFAH), AARP, the Center for NYC Neighborhoods, and others -- echoed those sentiments.
"The commitment made today will profoundly impact the lives of thousands of New Yorkers, including 88,000 people currently homeless throughout the state and nearly one million households paying more than half their income in rent each month," reads a joint statement issued by the group. "What's critical is that this budget doesn't exclude anyone and it provides the long-term funding needed to bring about real change."
As promised in Cuomo's executive budget, the final spending plan allows $200 million for NYCHA capital funds over five years for general repairs. Another $150 million will help preserve Mitchell-Lama buildings and other middle income buildings. The de Blasio administration will be eager to see the money spent through state agencies -- $100 million allocated two years ago for NYCHA repairs has yet to be spent, something de Blasio has cited frequently in recent months.
6. Infrastructure & Design-Build
While the budget included Cuomo's entire wishlist of ambitious capital projects and economic development programs, it notably did not make changes to the state's procurement practices, the nature of which have contributed to a corruption scandal.
Construction of several major capital projects pertaining to New York City were approved, including the following projects for the coming year:
John F. Kennedy International Airport - For the coming fiscal year, Cuomo outlined $564 million out of $1.5 billion in spending by the Department of Transportation to improve the roadway congestion leading to JFK. The MTA and Port Authority will also evaluate two proposals: expanding JFK AirTrain service and exploring the possibility of creating a "one-seat" subway ride to the airport.
Penn Station - The State is investing $700 million for the first phase of a $3 billion transformation of the James A. Farley Post Office building into a new train hall for the station.
Long Island Railroad - The state will invest $120 million to provide enhancements to 16 LIRR stations and to improve system connectivity.
MTA - The 2015-2019 MTA transit capital plan includes $28 billion in investments, including city and state funds, with the state continuing to contribute a larger share than the city.
Empire State Trail - This $200 million continuous, multipurpose bike and hike path would connect New York City Hudson River Greenway to Buffalo, Albany, and Canada. Though the Senate nixed the project in its one-house budget, and the Assembly recommended designating $20 million toward the Cuomo proposal, $53 million for the first phase has been approved in this year's budget.
Meanwhile, construction of New York City's own capital projects will not be expedited by authorization of design-build, which allows municipalities to save time and money by using a single contract for design and construction services. Despite pushback from de Blasio during his January budget testimony, the final budget expanded design-build for state agencies, but excluded New York City.
"In New York City, we have projects in every borough that could benefit from the time and money Design Build legislation would save. It's disappointing to be excluded, even while the program expands across the State," said de Blasio spokesperson Freddi Goldstein in a statement.
7. Ethics and Voting Reforms
In November, ahead of the 2016 presidential election, De Blasio preached about reforming New York's arcane electoral system, citing the energy around the candidacy of Senator Bernie Sanders as inspiration. He insisted that New York had a long way to go towards making government more transparent and accountable.
Governor Andrew Cuomo also unveiled a package of electoral and government ethics reform proposals at the start of the year, as did Attorney General Eric Schneiderman. Nonetheless, the issues failed to gain traction during state budget negotiations. De Blasio chose to prioritize affordable housing, and Cuomo threw little weight behind his own reform proposals.
When de Blasio was asked whether he prioritized the mansion tax over electoral reform at Monday's news conference, he defended his choice and renewed his promise to fight for electoral change.
"I don't sort of think of them as on a grading system," said de Blasio. "It's a major priority. And we're looking to get done as much as we can get done. We're looking for every opportunity. You know these sessions have a life of their own. My job here is to really bang the drum for electoral reform -- and I know a lot of the folks that are going to as well -- and sort of create the momentum that makes this a year we can get it done."
8. Raise the Age
Raising the age of adult criminal responsibility from 16 to 18 was a priority for Democratic members of the Senate and Assembly, including Speaker Carl Heastie, but the measure has long faced opposition from Senate Republicans. The compromise reached in the budget is being touted as a major progressive victory for Cuomo and Democrats in the Legislature.
This will have implications for New York City's infamous Rikers Island jail and the city in general. The new measures will be phased in over time, raising the age of to 17 beginning on October 1, 2018, and subsequently raising the age of adult criminal responsibility to 18 on October 1, 2019.
Youthful offenders will no longer be permitted to be housed in adult facilities and offenders under the age of 18 will no longer be placed or held at Rikers Island in New York City as of October 1, 2018. They will instead be placed at a specialized juvenile detention facility.
"New Yorkers should all be proud that their state has finally joined 48 others and will no longer treat the vast majority of 16- and 17-year-olds like adults in our criminal justice system," said Goldstein on behalf of Mayor de Blasio.
9. Excelsior Scholarship
A major victory for Cuomo, the Excelsior Scholarship, introduced ahead of the governor's 2017 State of the State with the help of former Democratic Presidential candidate Senator Bernie Sanders of Vermont, will be phased in over three years and, once phased in, will provide tuition-free CUNY and SUNY schooling to full-time in-state students from families earning $125,000 a year or less.
The program includes an expansion of the State's Tuition Assistance Program, so as to be inclusive of students at private universities, but does not provide for student "Dreamers," undocumented immigrants brought to the United States as minors.
A spokesperson for the mayor's office said de Blasio's administration welcomes the program. "The tuition assistance provisions included in the enacted budget will further break down barriers to higher education and help equip the next generation of New Yorkers with the skills necessary to succeed in an ever-evolving economy," said spokesperson Freddi Goldstein.
10. Education Aid
The enacted state budget increased education aid by $1.1 billion overall, an increase of 4.4 percent from last year. The state's education aid budget now totals $25.8 billion, which includes a $700 million increase in Foundation Aid, the supplemental funding allocated to local school districts to ensure that each student receives a "sound basic education" as required by the state constitution.
New York City is set to receive $10.2 billion in school aid for the 2018 fiscal year, an increase of $387 million, including $337 million in foundation aid.
State lawmakers also reached a compromise over charter school funding, one of the major hold-ups in negotiations, according to Cuomo. They agreed to increase per-pupil state funding for charters by $500 in the upcoming school year instead of allowing it to increase to $1,500 per pupil after a tuition freeze was set to expire later this year and such an increase automatically. They also connected increases in future charter funding to district school spending increases.
The $500 charter tuition increase will cost New York City, home to most of the state's charters, $95 million each year, according to mayoral spokesperson Freddi Goldstein. The city will bear those costs in the next school year.
For Mayor de Blasio, an opponent of charter schools and a close ally of the teachers union, the education aid budget is a mixed bag. Although charter tuition costs will increase for the city, the enacted budget did not include a separate proposal to increase the cap of new charter schools that can open in New York City, which the governor had proposed in his executive budget. The budget compromise also includes an increase in funding for charters that use private buildings instead of public space. These charters will receive 30 percent of their rent or tuition rate for each student, up from 20 percent in the previous budget.
With reporting by Samar Khurshid.
Note: this article was corrected to more clearly explain the funding around senior centers.