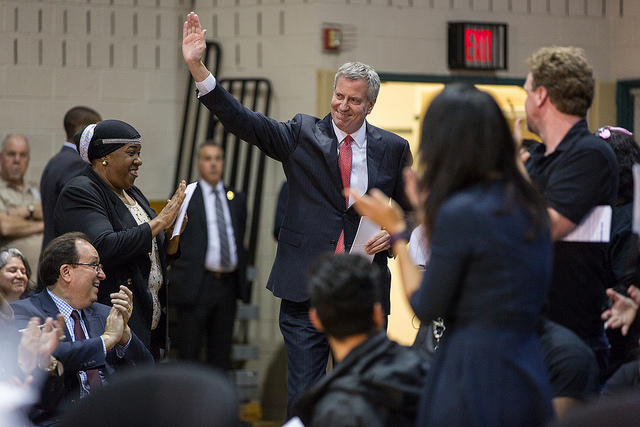 Mayor de Blasio (photo: Joanna Graham/Mayor's Office)
---
Mayor Bill de Blasio turned 56 on Monday, and he's marking his birthday as politicians often do: as an opportunity to reach out to voters and fundraise for his reelection campaign ahead of a key campaign finance filing deadline. And though the mayor said he was celebrating quietly with his wife on Monday night, the festivities will stretch into Tuesday evening, with a star-studded birthday bash in Greenwich Village where dozens of donors and close allies will show their support, and loosen their purse strings, for his reelection effort.
About 50 people - five co-chairs and dozens of host committee members - are listed on an invitation to a birthday fundraiser event for the mayor being held Tuesday at Le Poisson Rouge, a club in Manhattan. Most of the hosts and co-chairs have been longtime supporters of de Blasio and have contributed to his campaigns over the years, some as far back as de Blasio's initial City Council runs.
The five co-chairs for Tuesday's event include Doug Dunham, a trial attorney who was also named to the host committee for the city's unsuccessful bid to host the 2016 Democratic National Convention. Dunham contributed $1,000 to the mayor's 2013 campaign.
Jay Jacobs, chair of the Nassau County Democratic Committee, is another co-chair of the event. "I've been a friend and he's been a friend of mine for many years," Jacobs said in a phone interview. "I was with him the first time."
Jacobs praised the mayor's first-term performance and said he enjoys the idea of supporting him. He brushed aside any concerns about the investigations into the mayor's fundraising efforts, which recently concluded with no charges filed against the mayor or his associates. The mayor was never accused of any wrongdoing. "Just knowing him and the type of person he is, I wasn't concerned," Jacobs said. "Now that issue is behind him and he comes out looking good." Jacobs first donated to de Blasio in 2000 when he ran for City Council and then followed up in 2013 during the mayoral campaign, giving him a combined $12,175 over the years.
Event co-chair Jimmy Nederlander has donated $9,900 to de Blasio, giving him the maximum donation of $4,950 for both his 2013 and 2017 campaigns. Nederlander is president of the Nederlander Organization, one of the country's largest theater operators. The two other co-chairs are married couple Richard Plepler, chairman and CEO of HBO, Inc., and his wife Lisa, who chairs ArtsConnection. Richard Plepler has donated $2,750 in total to de Blasio's past campaigns.
Although not all the co-chairs have had a history of giving substantial amounts to de Blasio, the invitation to the birthday soiree indicates that a person must raise at least $25,000 to be named a chair of the event, and $10,000 to be considered one of the hosts. These contributions would have to be bundled from multiple donors since an individual can only donate a maximum of $4,950 to a mayoral candidate. VIPs at the event are expected to raise or donate $1,000 or more, and general admission tickets are priced at $100.
Tuesday's event will likely bring in a substantial haul for de Blasio, just before the May 15 deadline for candidates to file their latest fundraising numbers with the city's Campaign Finance Board.
De Blasio has raised about $3.7 million so far and spent $1.4 million, leaving him with nearly $2.8 million in cash on hand. In light of the investigations into the mayor's fundraising, particularly with increased attention to large donations to de Blasio's now-defunct nonprofit, the Campaign for One New York, from people who do business with the city and from real estate and other special interests, de Blasio has made a conscious effort so far to focus on small dollar donations, stressing their importance in fundraising emails to supporters. As a participant in the CFB's public matching funds program, which matches qualifying small contributions up to $175 at a 6-to-1 ratio, de Blasio stands to receive millions more for his campaign through those smaller donations.
The birthday event, however, seems to emphasize larger contributions, relying on star power to bring in big money. Celebrity hosts for the fundraising event include actors Cynthia Nixon and Alan Cumming, famed author and feminist icon Gloria Steinem, Broadway producer Tom Kirdahy and playwright Terrence McNally. In the past, de Blasio has held similar fundraisers, hosted by actors such as Steve Buscemi and Mark Ruffalo, just a few of the many liberal celebrities with whom de Blasio has strong associations.
A number of current and former elected officials are also hosting the event, including former Mayor David Dinkins, for whom de Blasio worked, Assembly Member Luis Sepulveda, and City Council Members Corey Johnson, Julissa Ferreras-Copeland, Ydanis Rodriguez, Donovan Richards, Jimmy Van Bramer, Robert Cornegy, and Mark Levine. Notably, most if not all of the Council members are jockeying to be the City Council's next speaker (current Speaker Melissa Mark-Viverito, a major de Blasio ally is term-limited out of office at the end of the year).
Johnson, who has been steadily working to position himself to become the next Council speaker, just endorsed the mayor last week and also hosted a fundraiser for him in January. "I'm proud to support his reelection," Johnson said in a message when Gotham Gazette asked for comment about Tuesday's fundraiser. A number of these Council members, and others who are part of the body's Progressive Caucus, endorsed de Blasio back in December when the mayor's campaign was actively courting support from local legislators to discourage potential opponents from jumping into the race. It was a strategy that, in combination with the results of the investigations into the mayor and his allies, worked well -- de Blasio is facing a small field of long-shot challengers in the Democratic primary.
Dr. Una Clarke, a former City Council member, mother of New York Congressional Rep. Yvette Clarke, and Brooklyn political powerhouse, has known de Blasio since her days in the City Council in the 1990s and has given about $850 in total to de Blasio for three separate campaigns. "I believe in his philosophy," Clarke said on Monday. "He cares about the least among us." She said she would work hard to help re-elect the mayor, and would signal to the Caribbean-American community in the city to vote for him. Like other hosts, she also said she trusted him when the cloud of the dual investigations hung over him. "I was not terribly concerned because I knew he was following the law," she said. Insisting that investigations and accusations of impropriety are par for the course in political life, she said, "Politics is as politics is."
For other hosts as well, de Blasio has been a welcome change from past mayors and they are eager to see him get a second term. Attorney Sal Strazzullo insists that he is neither a Democrat nor a Republican, but simply a supporter of de Blasio's work. "I think the mayor has done some very good things for the city," he said. "And he's opened up a lot of eyes to causes that were swept under the rug under prior administrations."