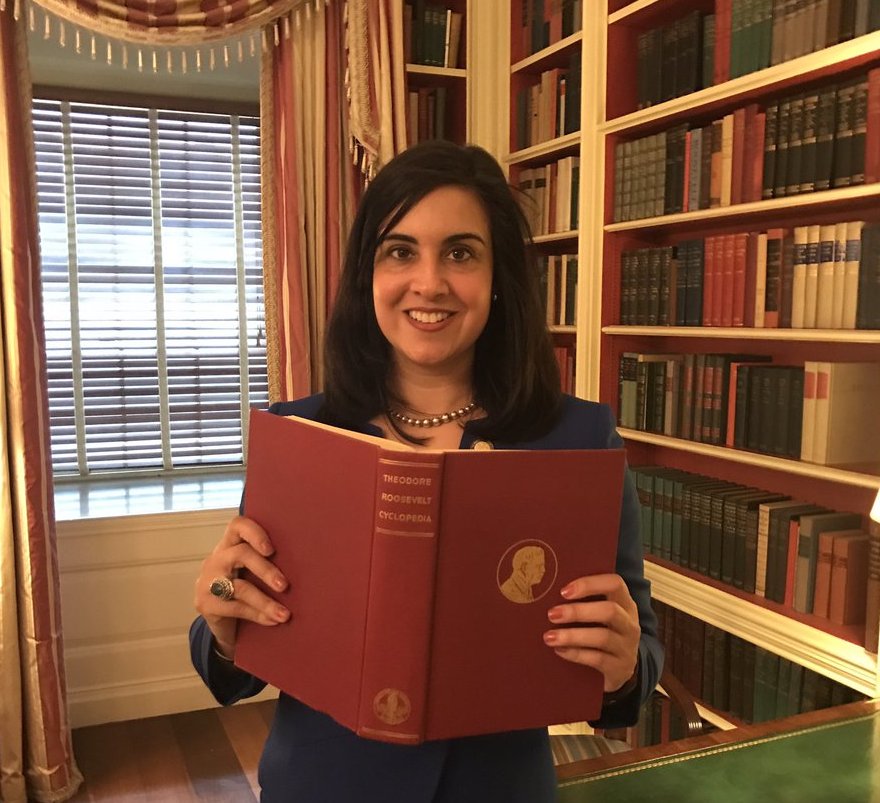 Assembly Member Malliotakis (photo: @NMalliotakis)
---
Assembly Member Nicole Malliotakis, a Republican mayoral candidate who represents a district spanning parts of Staten Island and Southern Brooklyn, says on her newly launched campaign website that the last time she was reelected to the state Legislature, in 2016, she received 100 percent of the vote. The claim does not match voting records.
Malliotakis has been reelected to the state Assembly three times over the last six years after first winning her seat in 2010, when she beat two-term incumbent Democrat Janele Hyer-Spencer. Malliotakis' mayoral campaign website proclaims this fact proudly under the banner "Proven Winner."
"Nicole Malliotakis was elected to the State Assembly on November 2, 2010, defeating a two-term incumbent with 55% of the vote," that section reads. "She was re-elected 3 times in her district which covers Brooklyn and Staten Island, with 61%, 73% and 100% of the vote consecutively. Nicole is determined to bring common sense and accountability to our government."
Malliotakis ran unopposed last year, on four ballot lines -- the Republican, Conservative, Independence and Reform party lines -- with no Democratic opponent. Of the 46,163 applicable ballots cast in the district in November, according to the New York City Board of Elections, 34,533 were for Malliotakis. Of those who did not select Malliotakis, more than 11,000 were left blank for her race, likely attributable to voters who showed up for the presidential election but chose not to vote down ballot. Of votes cast for the 64th Assembly District, Malliotakis', she did receive 98.8 percent, not quite the 100 percent she claims. Including those who opted not to vote in her race, the percentage drops to 74.8 of voters in the district who showed up to the polls and cast a ballot.
Hundreds of those who did vote in Malliotakis' race, but not for her, cast write-ins, including several for local Democrat Justin Brannan, who is now running for City Council, certain write-ins for presidential candidates such as Bernie Sanders and Hillary Clinton, and even gag votes for deceased individuals, such as Elvis Presley, or fictional characters from popular culture, such as Tywin Lannister from Game of Thrones. Write-in votes are not officially counted unless an individual registers as a write-in candidate.
With those calculations, the campaign's numbers from past elections also seem marginally skewed. In her 2014 run, the website states she received 73 percent of the vote when in fact she received 71.1 percent (15,051 votes out of 21,147 applicable ballots). In 2012, her first reelection, she claims 61 percent support, when Board of Election results show 55.7 percent (21,173 votes out of 38,004 applicable ballots).
Even in 2010, the year Malliotakis first took elected office by beating the Democratic incumbent, her total vote tally was 52.2 percent (13,944 votes out of 26,705), marginally less than the 55 percent she claims on her website.
When asked for clarity, Leticia Remauro, a spokesperson for Malliotakis's mayoral campaign, indicated that they did not account for unrecorded votes, which the state Board of Elections includes in its vote tallies. Even with unrecorded votes excluded, Malliotakis did not reach 100 percent of the vote last year. By that math she received 34,533 out of 34,932 votes, 98.8 percent. After exchanging a few emails with Gotham Gazette on the apparent discrepancies, Remauro finally emailed, "The State BOE is responsible for accounting for all votes that are cast in a election. The NYC BOE reports the votes for the office. We followed all accepted practices for determining percentages...The results we provided are both official and certified."
Asked for comment, Mollie Fullington, a spokesperson for Paul Massey, Malliotakis' opponent in the Republican primary race, emailed, "It is unfortunate the Assemblywoman feels the need to inflate her numbers because she lacks the relevant experience to be Mayor of New York."
This isn't the first time that Malliotakis has made a claim not backed up by the actual numbers. Last week, in her first television interview since she jumped into the mayoral race, Malliotakis falsly claimed that rape in the city had risen 33 percent under Mayor Bill de Blasio, when in fact the increase was only about 4 percent between 2013, the last year of Mayor Bloomberg's final term, and 2016, de Blasio's third year as mayor.
[Read: Mayoral Candidate Malliotakis Falsely Claimed Rape Up 33% Under De Blasio]
Note: this article has been updated to more carefully describe the percentages Malliotakis received in the 2016 vote. Voters who do not choose anyone in a specific race are not typically counted in the outcome of that race.