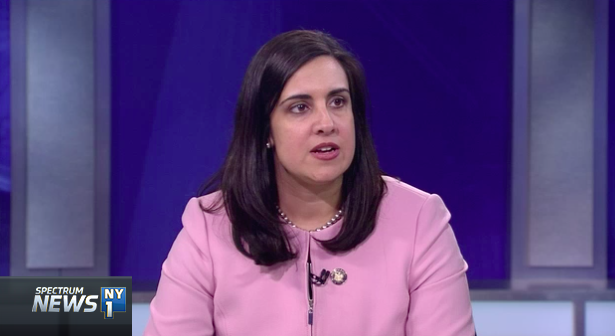 Malliotakis on NY1
---
In one of her first interviews as a mayoral candidate, Assemblymember Nicole Malliotakis claimed that "rape against women has increased 33% since [Mayor Bill de Blasio's] taken office."
In fact, from 2013, which was Mayor Michael Bloomberg's last year in office, to 2016, de Blasio's third year in office, reported rapes increased by 4%. In New York City, there were 1,378 reported rapes in 2013 and 1,438 reported rapes in 2016, the same number as in 2015. (There were 1,352 reported rapes in 2014. De Blasio and NYPD officials attribute at least some of the 2014-2015 jump to more encouragement of reporting.)
Malliotakis made her claim during an interview Wednesday night on NY1's Road to City Hall as she hit the campaign trail and assailed de Blasio's record on public safety, responding to a question from anchor Errol Louis by saying, "Well, first of all, I disagree with some of his statistics," before making her claim about rape.
Malliotakis, a Republican from Staten Island, recently jumped into the mayoral fray largely, she said, because of the problems she sees with de Blasio's leadership of the city. Chief among them, she has explained in multiple appearances, including her official campaign kickoff on Friday outside City Hall, is public safety and law enforcement. Malliotakis believes de Blasio does not support the NYPD enough and has been soft on crime, especially as it relates to enforcement of low-level offenses and treatment of undocumented immigrants who commit crimes.
"New York City has become a total free-for-all," she said on Friday. "Quality of life no longer seems to matter, unless that life belongs to the offender." On Sunday on Twitter, she criticized the mayor for letting the city become soft on public urination, which de Blasio and the City Council agreed should mostly be dealt with as a civil offense, instead of a criminal one.
Two days prior to her official campaign launch, Malliotakis told Louis on NY1 that while de Blasio "says he's kept crime low" he's "taking credit for a lot of what Bloomberg did." Crime was already at record lows when de Blasio took office, she said, not explicitly acknowledging that most categories of major crime have continued to drop under de Blasio. One category that has seen a slight increase is reported rape, though nowhere near to the degree Malliotakis claimed.
Asked about the assertion of 33% after her press conference Friday, Malliotakis told a Gotham Gazette reporter, "We're looking at a report, it was forcible rape. Rape as a whole was up 10 percent from 2013 to 2016." She did not specify the report.
When Gotham Gazette asked Malliotakis' campaign for further clarity, a spokesperson responded with an answer that indicated the campaign was using a statistically invalid comparison, and including only 2014 and 2015 data. The spokesperson indicated that Malliotakis had compared numbers from before the state adopted an expanded definition of rape in 2015 to numbers from after that expanded definition went into effect. Even using that data comparison, which did not include 2016 numbers, there was not a 33% jump. (The report the campaign cited even cautions against making comparisons of earlier rape data to 2015 state data that is based on the expanded definition of rape.)
When Gotham Gazette pointed out these issues and asked for further clarification, the spokesperson responded with a statement from Malliotakis that did not address the accuracy of her 33% claim, put forth a new number, and added an anecdotal lead.
"[Friday] morning a German tourist was sexually assaulted and robbed in a violent attack in Harlem highlighting the need to discuss the issue of rape and sex crimes that have accounted for 7721 crimes in 2016 alone," the Malliotakis statement said. "This is an increase of 8% over the 2013 numbers reported by NYPD Crime Stats. This increase is significant and one that should be addressed. What is also troubling is the fact that New York City is using an antiquated definition of rape instead of the FBI expanded definition of rape that has been adopted by New York State. Rape and sex crimes are serious offenses and they should be counted as such."
After her NY1 appearance on Wednesday, May 3, Malliotakis repeated the claim that rape is up 33% under de Blasio the next night, during a speech at The Metropolitan Republican Club, as reported by John Kenny of NYTrue.com.
Like her main competitor in the Republican mayoral primary, Paul Massey, Malliotakis is attempting to make crime and public safety a key campaign issue, attacking de Blasio in an area that has become an unexpected but apparent strength for the incumbent Democrat.
Asked for comment about Malliotakis' claim and criticism of de Blasio, a spokesperson for the mayor's reelection campaign sent a statement touting the mayor's record on crime, but not specifically addressing rape. "Mayor de Blasio has driven crime to record lows while dramatically reducing stop-and-frisk and reducing the City's jail population by nearly 20%," the statement read, in part.
At the most recent press conference on new monthly crime statistics, Mayor de Blasio and NYPD officials addressed continued drops in crime in most categories, including reported rapes in year-over-year numbers through April.
While he acknowledged that this April saw five more rape incidents than April 2016, NYPD Chief Dermot Shea said, "But year-to-date we are down slightly in rape. When you look at the category of stranger rapes, acquaintance rapes, and domestic rapes, two of the three are down -- stranger rapes and domestic. The one category that is up is acquaintance rapes....Driving it, we've mentioned before, there is an element of increased outreach to garner reports coming in. But to try to tie it exactly to that is very difficult. But it's something we take very seriously."
Note: this article has been updated to reflect that Malliotakis repeated the 33% claim on May 4 at The Metropolitan Republican Club.