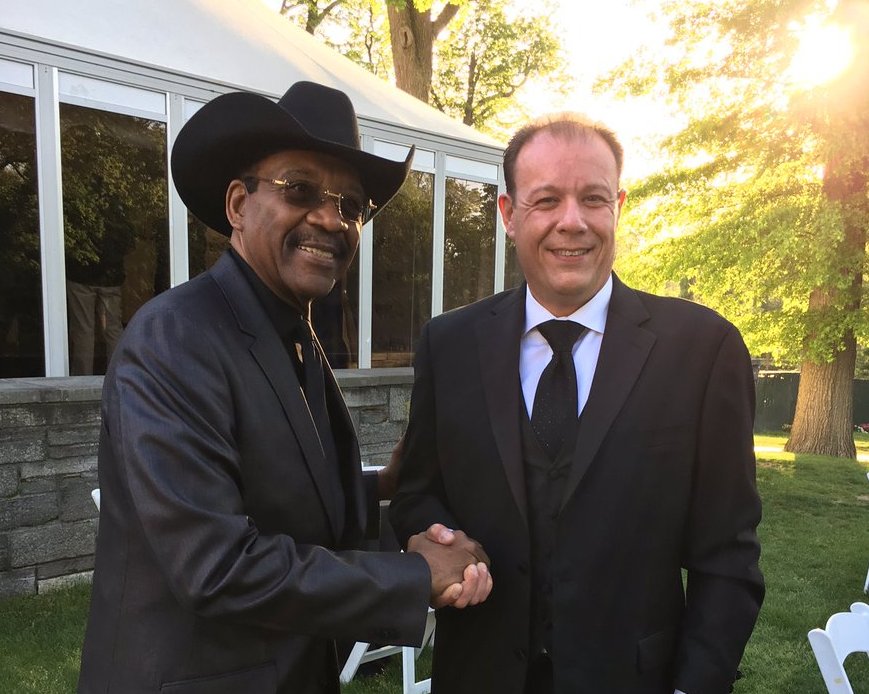 Sen. Ruben Diaz Sr., left, & AM Mark Gjonaj (photo: @RevRubenDiaz)
---
There are only a handful of City Council seats opening up this year due to term limits. Of the seven "open" races in the 51-seat Council, all of which are up for election this fall, several feature state legislators seeking to make the jump to the city's legislative body.
Seeking to stay closer to home for work, legislators who now have to commute to Albany several days a week for half the year have declared their candidacies. Entering City Council races to succeed a term-limited officeholder, the state legislators immediately became favorites to win, first in the September Democratic primaries, then the November general election. State Senator Ruben Diaz Sr., Assemblymember Mark Gjonaj, and Assemblymember Robert Rodriguez, all Democrats, are seeking "open" seats in the City Council. (One former Democratic legislator, Hiram Monserrate, is even attempting a comeback after having been expelled from the state Senate in 2010 following his conviction on misdemeanor assault charges.)
Current and former state legislators vying for seats in the City Council is nothing new. A number of sitting Council members themselves were state representatives, many of them just prior to joining the Council. For instance, Council Members Vanessa Gibson, Joe Borelli, Rafael Espinal, Inez Barron, and Alan Maisel have all served in the state Assembly. Council Member Vincent Gentile was formerly a state Senator, as was Bill Perkins, who just recently won a special election in Council District 9 in February.
The advantages to being in the Council are plain to see: Council members receive a much higher pay than state legislators and, after receiving recommendations from a special commission, just recently voted to give themselves a pay raise from $112,500 to $148,500. State lawmakers' salaries are $79,500 annually, plus stipends for chairing issue committees or house leadership posts (a pay commission convened to explore pay hikes ended its work late last year without any recommendations). There is also the obvious ease of commuting to City Hall and offices in the five boroughs rather than constant trips to Albany. And, for some legislators, being in the Council offers a chance to have a greater say over local policy and the ability to more directly address community concerns. This was true for Perkins, who said when he ran in February that, as a Democrat in the minority in the state Senate, he was less able to affect legislation than he could in the overwhelmingly Democratic City Council.
Assemblymember Robert Rodriguez only recently announced that he is running for the Council District 8 seat that will be vacated by Council Speaker Melissa Mark-Viverito at the end of the year. The district covers East Harlem and parts of the South Bronx. Mark-Viverito has endorsed her deputy chief of staff, Diana Ayala, for the seat, and the Bronx Democratic machinery has split its support for the two candidates. Rodriguez received endorsements last week from Bronx Democratic Party Chair Marcos Crespo, Manhattan Democratic Party Chair Keith Wright, former U.S. Rep. Charles Rangel, and Council Member Bill Perkins. Ayala on the other hand has the support of Bronx Borough President Ruben Diaz Jr.
"There's work to be done and I think there's ways to translate priorities from the Legislature into the district," Rodriguez said in a phone interview. He said the open seat was a unique opportunity that "literally comes along every eight years, sometimes 12." "An opportunity too good to turn down," he said. Rodriguez has already raised $78,647 for his run and spent $22,620, leaving him a balance of $56,017. (He is still currently listed as "undeclared" with the Campaign Finance Board in terms of which office he'll seek.)
Rodriguez acknowledged the potential advantages of working in the City Council with like-minded lawmakers, unlike Albany where any single piece of legislation must navigate two chambers. "It's a smaller body and decisions are made differently," he said of the unicameral and heavily Democratic Council, "there's less institutional interplay." And he's confident that he'll bring a "sense of experience and confidence" into the race that will sway voters.
As a member of the Assembly for six years, Rodriguez said he's also seen a lot of turnover and brushes aside any criticism that could be levelled against him for running for the Council just six months after being reelected to the Assembly. " He also expects that in 2021, when more City Council seats are up for grabs, that many colleagues will make similar moves.
Diana Ayala finds the timing of Rodriguez's entry into the race puzzling. "Why certain members chose this year to run, I find it questionable," she told Gotham Gazette. "Public service should be about people, not personal gain. So that concerns me."
For Ayala, facing off against a sitting state legislator presents an uphill battle, but she said she's not worried. "Our campaign is picking up steam," she said. "I'm not gonna dispute that [Rodriguez] has name recognition and establishment support. But I have a lot of community support. I'm pretty confident I can stand on my feet." Ayala is also participating in the Campaign Finance Board's public matching funds program, which she says will be instrumental to running a competitive race. She has $52,089 in campaign cash, as of May 11, before factoring in any matching funds.
City Council Member Ben Kallos, who won his seat in 2013 after beating then-Assemblymember Micah Kellner in the Democratic primary, expressed apprehension last month in an interview with Gotham Gazette about the trend of Albany insiders running for local office. "I am growing concerned with the specter of Senate and Assembly members coming from a broken Albany down to the City Council and bringing back dysfunction with them," he said outside the Council chambers. "I think it is imperative for democracy for there to be candidates who will run against members of the Assembly or Senate...and I hope that voters evaluate candidates regardless of whether or not they've served in Albany."
"I would actually hope," he added, "that if somebody is coming down from Albany as a career politician, folks might hold that against them and support a citizen legislator."
In District 13, Assemblymember Mark Gjonaj is running to replace outgoing Council Member James Vacca. Gjonaj has a massive fundraising lead over his opponents already, with $212,684 on hand for his campaign. He was also endorsed by the Bronx Democratic County Committee last week. "I'm looking to continue the work that I began in the Assembly and delivering for my constituents, being more accessible to them and being in the district," Gjonaj said in a brief phone interview. He was confident that he brings the most experience to the race, insisting that he was proud to be in the state Legislature although it's a "complicated institution."
John Doyle, a former staffer for State Senator Jeff Klein is one of seven other candidates in the race with Gjonaj. "There's nothing inherently wrong with someone looking to change their position," Doyle said of Gjonaj's campaign, "but I think there's something disingenuous when somebody's running for reelection saying they'll be a voice for two years and after their reelection, they announced for a new position." Gjonaj was reelected to the Assembly last year.
Doyle criticized Gjonaj's campaign fundraising, much of which comes from outside the city, and also broadly stressed that many of the systemic corruption issues in Albany stemmed from the way lawmakers raise funds. He noted that Gjonaj had voted for campaign finance reform in 2014, but has chosen not to participate in the public matching funds system.
In response to Doyle's comments, a spokesperson for Gjonaj said, "Mr. Doyle's platform seems to be 'I'm not the other guy.' As for Assemblyman Gjonaj he is committed, above all, to representing the best interests of his constituency. He is at work passing progressive legislation and meeting voters." Spokesperson Jennifer Blatus went on to say that Gjonaj has widespread support and that "Doyle is desperate for attention. He doesn't have a clue on how to pass legislation or attract capital projects." She also indicated that Gjonaj is not participating in the city's campaign finance program because he "prefers tax payers dollars be used for after school programs for youth, senior programs, and libraries - not political campaigns."
State Senator Ruben Diaz Sr.'s run in Council District 18 may be the most controversial of the state legislators' this cycle. Diaz Sr., although a Democrat, is conservative on social issues, such as LGBT rights, and running for a seat on a body that is heavily progressive. (There are only three Republicans in the Council, one of whom is pro-choice.) But Diaz Sr. has been able to raise significant funds in a short period, and has $93,901 in his campaign account, surpassing candidates who have been in the race for months.
All of the state legislators running start the race with community ties and significant advantage in name recognition, especially among those who vote.
Council Member Gibson, a former Assembly member, admits that moving from Albany to the city is not an easy move but it comes with advantages, both for the member and the legislative body. "Although it was a transition," she said, "I think being a state elected official gave me a lot of understanding of how Albany works and navigating the state Legislature, and really about the City Council relying so heavily on state funds."
But she also said that elected experience is far from necessary to run for the Council. "There is no manual on how to do this well," she said. "You have to be a team player, you have to be someone that can build a coalition around you. You have to be someone who has leadership and management skills...and you really have to have an ability to work with all people."
Gibson also pushed back against the idea that state legislators would bring Albany dysfunction with them. "I think when you talk about dysfunction and a culture, I don't think you can define it to one individual legislator or even a few legislators. I think it's almost the system that's been in place. And it's really the entire body of government."
[Related: The May Money Race in 'Open' City Council Seats]