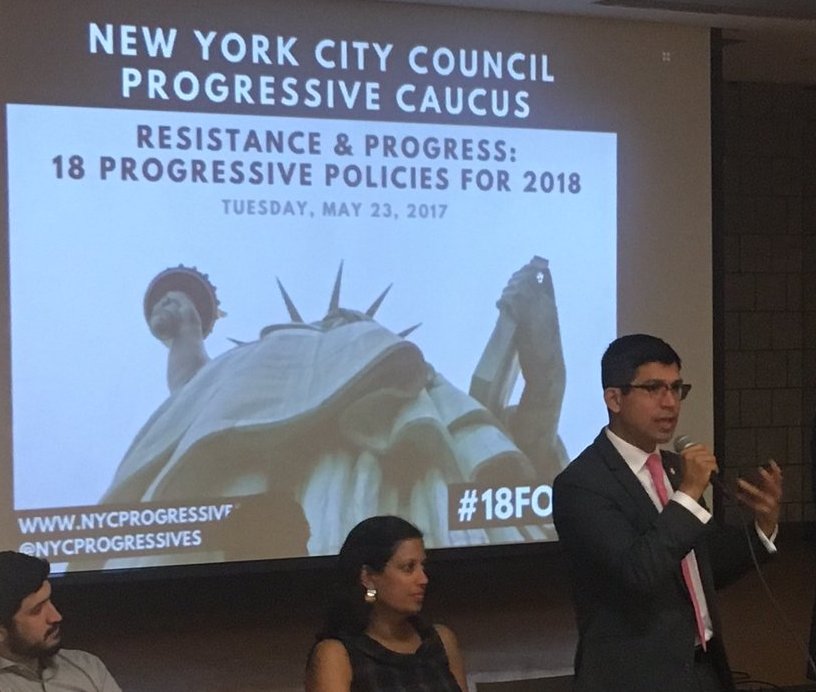 The Progressive Caucus conference (photo: Daniel Altschuler‏)
---
The City Council's Progressive Caucus met this week to discuss its 2018 agenda, a set of 18 policy proposals that, its members say, pits them as direct adversaries to President Donald Trump and the Republican-controlled Congress.
"Now more than ever, it is crucial for local progressive leadership in NYC to set the example for our country," said Council Member Antonio Reynoso, co-chair of the Progressive Caucus, in a statement.
The 18 policy points were posted to the caucus's website last month, but the group of 19 City Council members hosted a policy summit on Tuesday to share more detailed goals with the public. The agenda is focused on action New York City should take this year and includes some items already in the works, like closing the Rikers Island jail complex, and others that have been stalled, such as passing The Right to Know Act, which would mandate certain communication from police officers in certain encounters with civilians.
Like Right to Know, several other items on the list are not supported by Mayor Bill de Blasio, himself an avowed progressive who has often been aligned with the Progressive Caucus, itself co-found by City Council Speaker Melissa Mark-Viverito, a close de Blasio ally. Like the caucus, Mark-Viverito has often outflanked de Blasio to his left, including on Rikers closure, on which her advocacy greatly contributed to the mayor's recently-announced support for closing the complex in about ten years.
Any differences with de Blasio are, however, fairly minor in comparison to those between the caucus and President Trump.
The Progressive Caucus convened on the agenda with support from organizations such as the Working Families Party, Just Leadership USA, and Make the Road NY. The policy convening occurred on the same day as the release of the most recent budget proposal from the Trump administration, which stands at the opposite pole of the Caucus', slashing funding for assistance programs such as Medicaid, the Children's Health Insurance Program (CHIP), and the Supplemental Nutrition Assistance Program (SNAP), as well as cutting federal funding for affordable housing.
"In the age of a Trump administration, it is clear that the responsibilities of moving our country in the direction of progress will fall on the shoulders of our cities. Our new policy platform for 2018 is the Progressive Caucus' pledge that we are up to the challenge," said caucus co-chair Donovan Richards, a Democrat from Queens, in a statement.
In a repudiation of positions from the Trump administration, the proposal calls for a "right to counsel" for the city's immigrants facing deportation. In a compromise with the City Council, Mayor de Blasio announced a new legal defense fund for immigrants in his executive budget unveiled last month, but the progressive caucus' proposal would enshrine a legal right rather than simply providing funding. The caucus agenda also calls for the preservation of the city's status as a sanctuary city, meaning law enforcement won't turn over undocumented immigrants to federal authorities such as Immigration and Customs Enforcement (ICE) for low-level offenses such as possession of marijuana. The Trump administration has proposed withholding federal funds from sanctuary cities.
The caucus is also calling for expansion of reproductive services in the wake of threats to defund Planned Parenthood coming from the federal government.
The Progressive Caucus has challenged the mayor from the left in each budget season on certain priorities while, in large part, praising him. Compromises are often reached for the final, adopted budget, which is due by July 1.
Responding to criticisms that his mayoralty has not been as progressive as advertised, de Blasio, at a press conference in Queens on May 17, listed policies enacted during his tenure that he identified as progressive, including mandatory inclusionary zoning, the end of the "unconstitutional use" of stop-and-frisk, the end of arrests for low-level marijuana offenses, and implicit bias training for police officers.
"All those things actually are happening right now," de Blasio said. "So I'll challenge anyone, anytime on those facts and on how progressive those changes are. And if some people want us to go farther, I'll always be honest about where I think we can and should go. But this is a thoroughly progressive record and it's not talk, it's something that actually happened."
The caucus' proposal addresses areas of disagreement with the mayor, such as the "Fair Fares" proposal, which would provide half-priced subway and bus fares to low-income New Yorkers, and Citi Bike expansion to all corners of the city, using city funds if needed. These measures have been championed by the Council as means of transit equity, but de Blasio has pushed back, arguing that the state, which controls the MTA, should fund Fair Fares and that there is no plan to use public money for Citi Bike expansion. De Blasio has agreed, however, to eliminate some fees so that Citi Bike can expand to the South Bronx and Staten Island.
The Progressive Caucus 2018 agenda also endorses the enfranchisement of approximately one million U.S. Permanent Residents to vote in all local elections, like that for Mayor and City Council. From 1968 until 2003, noncitizens were permitted to vote in school board elections in New York; the practice ended under former Mayor Michael Bloomberg, despite the fact that he requested then-Governor George Pataki to allow noncitizen voting in local elections that same year. It's been argued that noncitizen voting can facilitate greater diversity of representation in government, given that certain ethnic groups, such as Asians, are more likely to be immigrants and thus have minimal representation in government despite making up a significant proportion of the population.
This is a "valuable long-term policy objective" according to the progressive agenda, rather than an immediate concern, due to the Trump administration's hostility towards immigrants. It has also mostly been implemented only in much smaller localities than New York, such as Takoma Park, Maryland and Cambridge, Massachusetts.
The proposal calls for full funding for the Worker Cooperatives Business Development Initiative, which facilitates the creation and expansion of worker cooperatives, a business model where employees own and operate the business.
The education planks are also ambitious. The "18 for 18" includes universal childcare from birth until age four, establishing a "Birth to Four" agency to "integrate early childhood services, better identify needs, and nurture children from delivery room to kindergarten." The Caucus also proposes that the city provide three meals per day plus a snack to public school students, extensively building on a pilot program in middle schools providing free lunch to all students regardless of income level, eliminating the stigma associated with free lunches. A February IBO report on the pilot program indicated that if federal funding of school lunches switches to block grants, as Trump has proposed, then the city "could face the choice of contributing more funding or scaling back the program" in the event of increasing costs of meals, or perhaps an economic downturn.
The proposal also calls for school desegregation, something de Blasio has promised to tackle but been slow to act on; universal after-school and summer programs; and the restoration of free tuition at CUNY schools regardless of citizenship status, which will be free for families making under $125,000 per year under the Excelsior Scholarship.
Regarding housing, the caucus has a plank requiring all new multifamily developments in the city be built with an undefined number of affordable units, and "all available public land designated to include housing units should only be used for permanent, affordable housing, including deeply-affordable units." The Council has wrestled, and made many compromises, with de Blasio on affordable housing as the mayor has pushed forward new zoning rules and a 200,000-unit 10-year plan in partnership with the Council. There have been tensions, though, around levels of affordability and neighborhood and plot rezonings.
The inclusion of a "Fair Work Week" plank pleased fast food union leaders, with new protections for industry workers such as "a right to request a flexible schedule," a ban on "on-call" scheduling of hours, and a requirement that employers offer additional hours to existing employees before hiring new ones to fill those hours. It is one measure of the 18 that is already coming to fruition, similar to steps to end gender pay inequities that the Mayor, Council, and Public Advocate Letitia James have worked on together.
"We are proud to support the New York City Council's progressive caucus platform," said Hector Figueroa, president of 32BJ SEIU, one of the city's largest and most influential labor unions. "Important initiatives like the Fair Work Week legislation that will provide important scheduling protections to fast-food workers and other workers across NYC are needed as soon as possible.
The members of the City Council Progressive Caucus are Council Members:
Antonio Reynoso (Caucus Co-Chair, District 34)
Donovan Richards (Caucus Co-Chair, District 31)
Ben Kallos (Vice Chair, Policy, District 5)
Helen Rosenthal (Vice Chair, Budget Advocacy, District 6)
Melissa Mark-Viverito (Council Speaker, District 8)
Jimmy Van Bramer (Council Majority Leader, District 26)
Margaret Chin (District 1)
Corey Johnson (District 3)
Mark Levine (District 7)
Bill Perkins (District 9)
Ydanis Rodriguez (District 10)
Ritchie Torres (District 15)
Julissa Ferreras-Copeland (District 21)
Daneek Miller (District 27)
Steve Levin (District 33)
Carlos Menchaca (District 38)
Brad Lander (District 39)
Jumaane Williams (District 45)
Debi Rose (District 49)