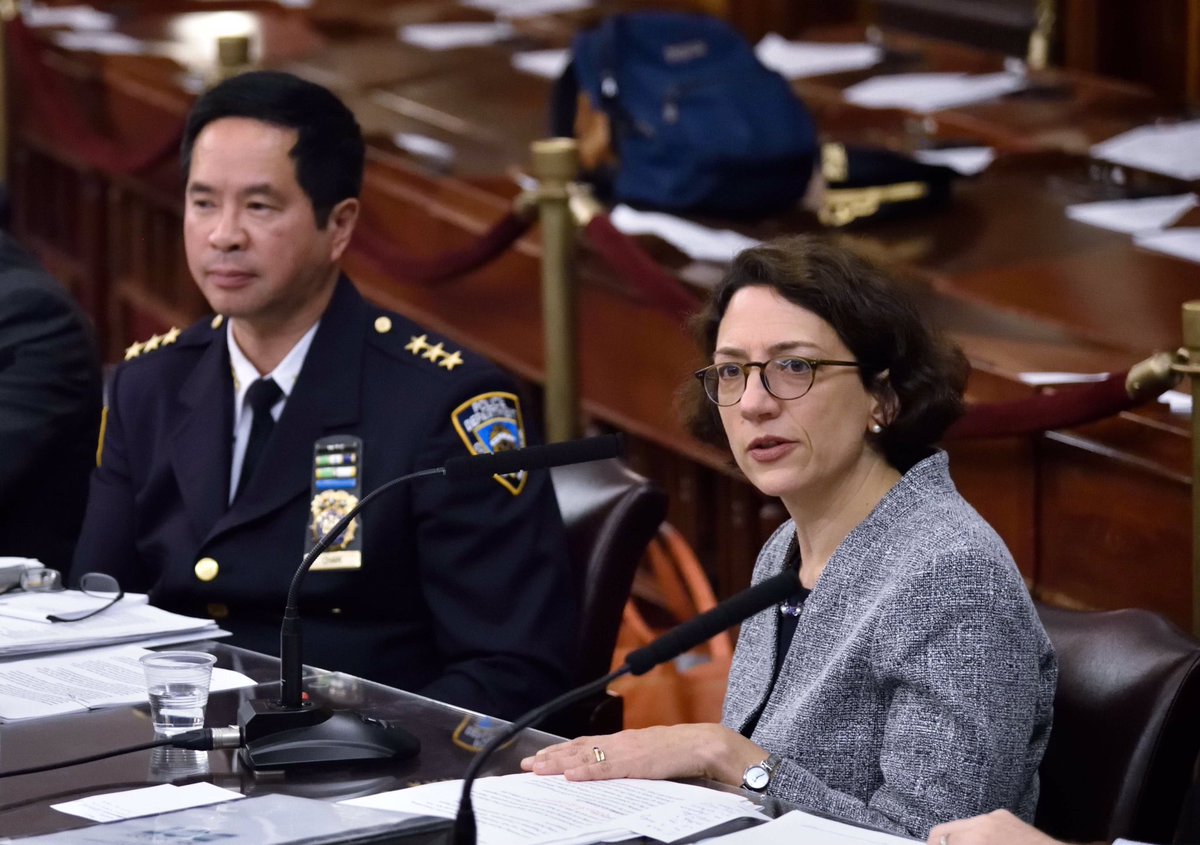 Cmsr Trottenberg, right (photos: John McCarten/City Council)
---
The New York City Council Committee on Transportation held a hearing Monday to discuss sources of, and solutions to, traffic congestion in the city.
City Council Member Ydanis Rodríguez, chair of the committee, began the hearing by lamenting New York City's heavy traffic. "As most New Yorkers can tell you, our streets look like parking lots," said Rodríguez, a Democrat from upper Manhattan. In addition to economic impediments and general inconvenience, the Council member framed congestion as a safety issue as well. "More cars in our road means more dangerous conditions for cyclists, pedestrians and other street users," he said -- Rodriguez has been a champion of the city's Vision Zero street safety program.
Council Member Mark Levine, also an upper Manhattan Democrat, agreed with Rodríguez's characterization of the situation and highlighted its urgency. "Congestion is at crisis levels in this city," he said. "This is a threat to our economy, our environment, it is a safety threat and frankly, for drivers, it is driving them crazy to be stuck in traffic."
The Council members attributed an apparent recent dramatic increase in congestion to the prosperity of various home-delivery and app-based car services alongside longstanding New York City issues such as double parking and placard misuse.
However, a portion of the uptick in clogged New York City streets is a product of some unavoidable, as well as wholly positive, developments, argued new York City Department of Transportation Commissioner Polly Trottenberg, who was the main representative of the de Blasio administration at Monday's hearing.
In conjunction with population growth, tourism to the city and a booming economy have contributed, Trottenberg said, citing a 68% increase in visitors since 2000 and an addition of 4.3 million jobs in New York City since before the recession. "While on the one hand, increased congestion is a sign of a thriving economy, we hear loud and clear from community boards, elected officials, businesses, and New Yorkers who drive, are stuck on the bus, or use crowded sidewalks, that they are frustrated by congestion and are asking the city for answers," Trottenberg said.
Trottenberg discussed the two most impactful ways to address the issue: congestion pricing, which would create a new tolling system to, in part, disincentivize driving in the city, especially into Manhattan, and subway expansion, which would encourage more people to choose a train over a car. The commissioner did not indicate that the de Blasio administration is supportive of a congestion pricing plan -- Mayor de Blasio himself said Monday that it has no hope of passage in Albany, so it is not worth fighting for. The de Blasio administration also has little control over subway expansion, given that the MTA is a state-run authority, but could pursue some additional stops if it chose to make that a priority, which it has not.
With a handful Council members, Trottenberg discussed secondary areas over which the city has direct control, such as car placard abuse, which take up parking spaces or block traffic, large truck deliveries which often block streets, and bus lane enforcement, to prevent slowing MTA buses.
Council Member Margaret Chin, for example, floated the idea of imposing harsher penalties on placard abusers and those that unlawfully veer into bus lanes. NYPD Transportation Chief Thomas M. Chan acknowledged Chin's concerns, adding that his department is exploring ways to court additional officers to the approximately 3,200 officers tasked with enforcing traffic law. De Blasio recently announced a new crackdown on placard abuse that coincided with his decision to allow tens of thousands of placards to school personnel.
But not all Members were on-board with shifting focus towards small fixes over the meat and potato endeavors to ameliorating New York City's traffic woes.
Council Member Corey Johnson, a Democrat representing the West Side of Manhattan, said the city's proposed congestion-fighting efforts to which it has shifted attention amounted to mere "tinkering around the edges." Council Member Brad Lander, Democrat of Park Slope, Brooklyn, took issue with the less ambitious approach as well, declaring that anything that did not include transportation investment would be "fooling around at the margins."
Mayor de Blasio, for his part, threw cold water on the city taking action on ambitious as well as extensive and long-term issues, stating that the political climate in Albany is not ripe for passing a congestion pricing program while continually, and accurately, noting that potential MTA augmentations and fixes fall under Governor Andrew Cuomo's jurisdiction. Instead, on transit the mayor has favored an approach more immediately implementable steps that do not rely on state approval.
When asked at a press conference Monday morning if, absent investment in new subway stations, the city could properly address congestion, de Blasio articulated his approach. "This is going to have to happen in phases over years [in] how we address the problem," said the mayor. "We need to first think about the things we can do right now…" he said, name-checking expanded ferry service, Select Bus Service, and the BQX lightrail streetcar as the types of New York City mass-transit successes he's unveiled. "Those are the things that are going to have a big impact for people's lives right now," de Blasio said.
Though de Blasio said that there is a "real possibility" that New York City would have to build more subways 10 to 15 years down the road, "The things we've done right now, are the things we could do right now," he said. The Select Bus Service "is a real workhorse," he said while answering a follow-up question.
In a similar vein, in lieu of congestion pricing, de Blasio favors other measures to free-up traffic. "There are people who double-park in an abusive manner that blocks up the street for everyone else. There should be enforcement of that," he said. He doesn't want overly-strict, nit-picking tickets, he said, but "ticketing that is about keeping the flow of traffic...I want to ticket those that are blocking traffic on a prolonged basis…I want to ticket people who block the box."
Like for much else in New York City politics, the ongoing feud between de Blasio and Cuomo loomed in the background of the transportation hearing and the mayor's Monday morning press conference. Although the hearing focused on congestion, the MTA's woes and traffic issues were treated as inextricably linked even without Cuomo being blamed by name for the MTA's terrible state of disrepair.
While Council Member Donovan Richards, a Democrat from Southeast Queens, noted that it is indubitably Cuomo's responsibility to manage and adequately fund the MTA, he stated that finger-pointing would not cut it moving forward. Richards said his constituents call his office about transportation and don't care about whose jurisdiction the MTA is. Thus, it was his position City Hall must take it upon itself to solve the city's transportation crises.
One way would be to push for a congestion pricing plan without state government approval, by citing a 1957 state law that allows cities home to over a million people to implement their own bridge tolls. This proposal, as reported by the Wall Street Journal Sunday, was brought to the forefront by Move NY, an organization that has the most popular current congestion pricing plan, and New York University Law School Professor Roderick Hills. New York City DOT spokesperson Scott Gastel dismissed the proposal, telling the Journal "...legal experts in both the current and previous administrations determined the city does not have this authority."
When asked about the idea during a press gaggle following the Monday Council hearing, Trottenberg echoed Gastel, saying, "I think the city has determined it's a losing legal fight...In this case, unfortunately, we just don't have that legal authority."
Furthermore, Trottenberg insisted that piecemeal congestion-fighting proposals have begun to flow from the administration and that more are coming; she did not answer directly whether what she had described reflected the mayor's anti-congestion positions. She also said that the anti-congestion plan the mayor promised in his February State of the City speech are already partly in process and soon to be more clear.
"It's one of the first elements of it," Trottenberg said regarding the enforcement pieces she laid out. "I think the congestion plan, it turns out, is going to be kind of a rolling plan, you've heard the first pieces of it today, and there will be more to come in the coming weeks."