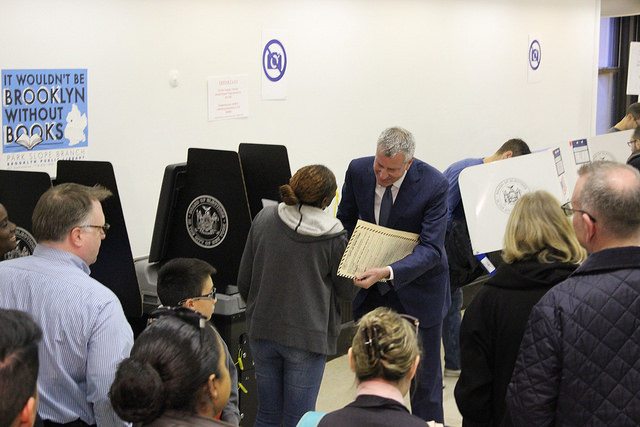 Mayor de Blasio votes (photo: Samar Khurshid/Gotham Gazette)
---
Mayor Bill de Blasio held a telephone town hall with constituents on Wednesday night focused on voting reform. It was the first step in what the mayor recently promised would be "a major effort" to see electoral reforms like early voting passed through the state Legislature before the end of session in Albany, which is June 21.
Joining de Blasio as hosts of the call were Assemblymembers Brian Kavanagh and Latrice Walker, Susan Lerner of Common Cause NY, and his counsel Henry Berger.
Last week, de Blasio said he and partners were on the verge of launching an effort to persuade the State Senate to pass a package of voting reforms that have already passed the Democratically-controlled Assembly numerous times, but have stalled in the Republican-controlled Senate. New York's voting laws are some of the most highly restrictive in the nation, contributing to lowly and declining voter turnout.
New York is one of just 12 states to not have early voting; the state also doesn't allow no-excuse absentee voting, and has the most restrictive party registration deadline to vote in a primary, at six months beforehand.
"The current requirements are ridiculous, and they're exclusionary and they don't reflect human reality," the mayor told "Eric," a caller from Manhattan who inquired about the six-month party registration deadline, which was roundly castigated during and after the presidential primaries last April. Many people were motivated to register with a party -- changing from unaffiliated, or "independent" -- in order to vote for Bernie Sanders or Donald Trump. But, many found that they couldn't do it just before the April primary elections.
The mayor also voiced support for keeping primaries restricted to party members, which some say disenfranchises independents in a two-party system. The mayor has said repeatedly in the past that "parties mean something."
Other factors that have led to criticism of New York's voting system include the lack of same-day registration, automatic registration, and keeping electronic poll books, all of which the mayor has expressed support of.
A caller named "Jeff" asked about online registration, which New York State also does not have. The mayor referred to it as a "purposeful effort to keep a lot of people from voting," but mostly deferred the question to Assemblymember Kavanagh, who discussed a bill creating online voter registration that recently passed the Assembly but has stalled in the Senate. Current law requires a physical signature for registration, and electronic signatures are only applicable in limited circumstances.
When another participant, "Mike," brought up election integrity, arguing for safeguards against making it "too easy" to vote, and each official on the call other than Berger chimed in to refute the caller. The mayor refuted the caller's implication of a voter fraud crisis, pointing out that in-person voter fraud is largely non-existent and that a larger issue is voter suppression and non-participation. Lerner stated that modernizing elections would ensure election integrity.
Mike also asked why city landmarks, such as City Hall, weren't lit up in red, white, and blue on the Fourth of July, to "commemorate our great nation," but de Blasio only briefly touched upon that question, saying he'll "look into it."
The mayor had broached the subject of electoral reform in October but largely fell silent on the matter afterward. When Gotham Gazette recently asked him at a press conference about this, he stated that the end of the legislative session, which is nearing, is "when things start to happen" in Albany.
Wednesday's call appears to be the start of de Blasio's push. The mayor took about a dozen calls over about 45 minutes.
On the call, de Blasio promoted a rally that will take place on Tuesday in Albany to urge state Senators to pass the voting reform package, and urged listeners to further promote the rally, which is being organized by the "Easy Elections NY" coalition of government reform groups and others. The mayor did not indicate if he will attend the rally in the capital.
"We need the members of the Senate to feel this gathering momentum for making our elections truly open and inclusive," he said. "And if we do that, we literally have the potential of getting millions of more people to participate, and that will change the trajectory of our city and state for the long term."
A caller named "Alex" asked the mayor why he believes voting reforms garner little traction in Albany. De Blasio immediately said that he would "struggle here to be non-partisan in my answer." He noted that early voting, as an example, is a fixture in the voting systems of 38 states, red and blue, large and small.
"Something's wrong in our state. And, it is about our political history, and we have to address it, we have to break through. Neither party is entirely innocent here, to say the least," de Blasio said. "So, I think it is a little bit because we have been presumed to be a progressive state that the pressure did not build internally or externally for us to address this issue the way it did in some other places."
De Blasio did not mention Governor Andrew Cuomo, his rival, who has expressed support for a slate of electoral reforms, but has done nothing since January to publicly push for them. Cuomo, who is known for getting what he wants through the Legislature, has not appeared to make electoral reform a priority.
In terms of persuading Albany lawmakers to adopt the reforms, de Blasio referred to the Legislature's inaction on the package as a "stain on New York State," in response to a caller named "Amanda," from Brooklyn. He stated that this should be a priority for activists and voters, adding that "if you get election reform right, a whole lot of other change is possible," implying that the changes could help Democrats win more elections and enact policy priorities. It is widely believe that state Senate Republicans are blocking voting reforms because they believe making it easier to vote will hurt their chances of holding on to a razor thin majority in the chamber.