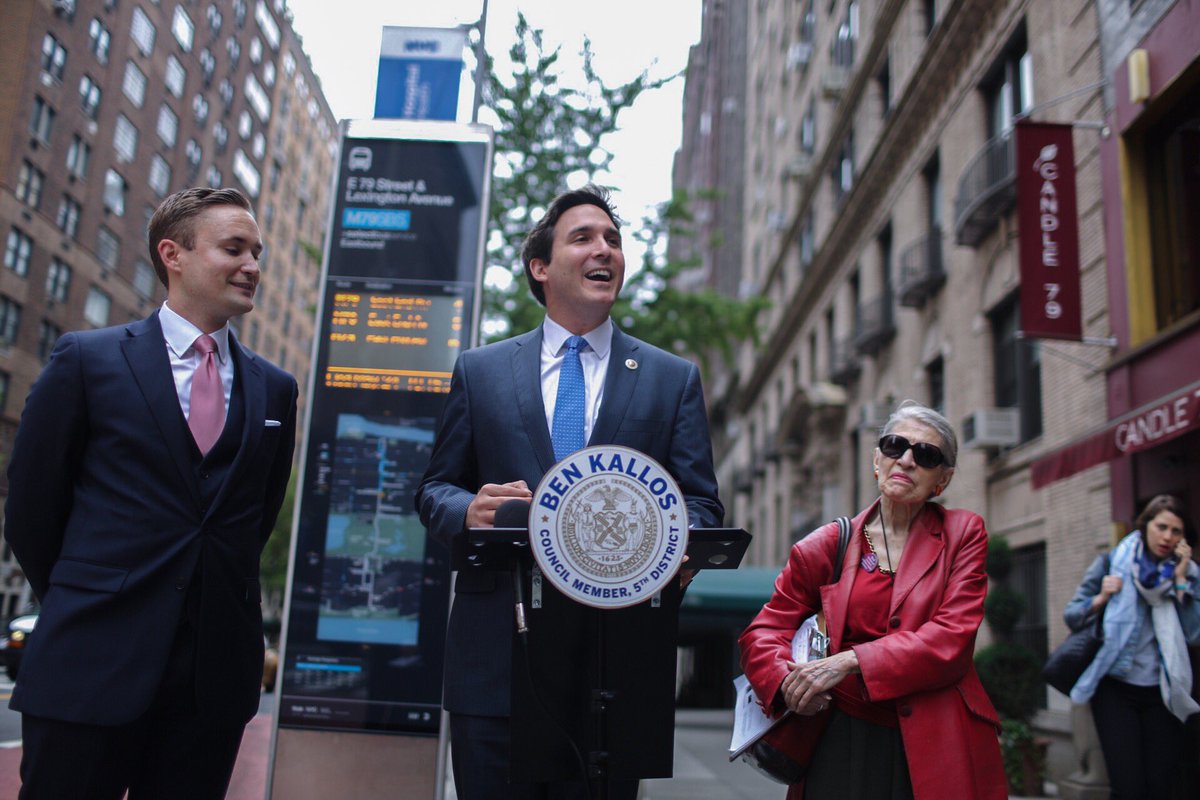 Council Member Kallos (photo: City Council)
---
As the September 12 primary elections approach and campaigns kick into high gear, a vast majority of candidates for the city's elected offices will have their coffers bolstered by the Campaign Finance Board's (CFB) public matching funds program, which matches eligible donations at a 6-to-1 ratio.
Most candidates, but not all. According to data provided by the CFB, 14 of 51 incumbents this cycle are not participating in the program, which was created by the city in 1988 in part to allow challengers to compete on a more level playing field with incumbents, who are usually better able to raise money. The deadline for certifying in the matching program was June 12, three months before primary day, September 12. There will be 51 City Council, five borough president, and three citywide seats on the ballot this fall.
While there are several prominent elected officials not participating, there is plenty of good news for the program at large. "Overall participation rate remains very high this cycle," said Campaign Finance Board spokesperson Matt Sollars. "In fact, it may end up higher than in 2013 when 79 percent of all registered candidates participated in the program." Current participation stands at 82 percent of all candidates.
Supporters of the program contend that it both incentivizes political participation from potential candidates that are not independently wealthy and do not have the connections and fundraising chops of others, especially incumbents, and it incentivizes incumbents to focus their efforts on courting large numbers of possible donors from their own constituencies as opposed to going after a few big-dollar contributions.
To qualify for the matching program, candidates must hit contribution and contributor thresholds and are subject to stringent spending caps. For example, participants running for City Council must raise contributions of $10 or more from 75 donors in their district and $5,000 in the matchable portion (the first $175) of contributions from any city resident. Participants are limited to spending $49,000 in out-years – the years preceding the election year – and $182,000 for each the primary and general election. Funds spent in excess of the cap during off years are counted against the election year caps.
Gotham Gazette reported in April that 10 City Council incumbents had surpassed the out-year limits and several were not planning to participate in the matching program. Of these, eight – Corey Johnson, Mark Levine, Andy King, Peter Koo, Jimmy Van Bramer, Brad Lander, David Greenfield, and Jumaane Williams – ultimately are not using the program in their reelection campaigns.
At least four of them have been open about their desire to replace term-limited Melissa Mark-Viverito as Speaker of the City Council, a separate campaign in its own right, albeit one that courts fellow Council members as opposed to district constituents. This usually involves hiring consultants and campaign staff, and occasionally making contributions to Council colleagues and other influential figures, all as part of the cycle's overall raise and spend efforts.
Council Member Costa Constantinides surpassed the off-year spending cap, with just over $64,000 in spending, but is still a participant in the program. Council Member Julissa Ferreras-Copeland, who spent over $269,000 in off-years and had been considered a front-runner in the Speaker race, announced recently that she is not running for reelection.
Told of his colleagues' reticence to participate, Council Member Ben Kallos, chair of the Governmental Operations Committee and one of the matching funds program's most steadfast defenders, expressed frustration and said he was "surprised to see so many elected officials not taking part."
"Those public dollars are there to incentivize elected officials, perhaps more importantly than candidates, to take small-dollar donations instead of the more corrupting checks for $2,750," he said, referencing the individual donation contribution limit for City Council races.
A Gotham Gazette analysis of campaign finance data found that the three Council candidates who have received the most max contributions of $2,750 this election cycle -- Greenfield, Van Bramer, and Johnson -- are also not participating in the program. Greenfield, who has spent a total of over $350,000 this election cycle – partly to air a weekly radio program – has received the most: 163, well over double the next highest amount of max donations to a Council candidate.
A spokesperson for Greenfield said, in an emailed statement, "the out-year limits make it impossible for elected officials in leadership positions in the Council, including over a dozen Council Members seeking re-election, to participate." While Greenfield is chair of the powerful Committee on Land Use, it is not clear why it was necessary to spend over six times the off-year limit, a limit adhered to by, for example, Deputy Leaders Deborah Rose and Ritchie Torres, who are both running for reelection.
Five Council incumbents – Andrew Cohen, Rafael Salamanca, Jr., Rory Lancman, Daniel Dromm, and Rafael Espinal – did not hit their spending caps but still opted not to participate in the program. Brooklyn Borough President Eric Adams similarly did not hit his off-year spending cap – which for borough president races is $146,000 – but did not opt in to the program.
A Gotham Gazette analysis of campaign finance data, based on the zip codes of the neighborhoods that the Council members represent, found that Cohen and Salamanca do not appear to have yet hit the district contributor threshold of 75 individual donors in this election cycle. Matt Sollars, a spokesperson for the CFB, stressed that the threshold does not need to be met as of yet, but until the candidates begin receiving public payments in August, after the ballot is set.
Lander, Cohen, and Dromm do not have registered opponents. While payouts from the program require candidates to have an opponent on the ballot, candidates can still join in anticipation of incoming challengers.
According to Kallos, any step back in participation is "a side effect of not having proper incentives."
To create some of these incentives, last year he introduced a bill, Int. 1130, that would increase the public funds disbursement cap, currently 55 percent of the spending limit, to the full amount of the spending limit. This would mean that if a candidate raised enough funds from their constituency, they could receive matching funds that would bring them to the full spending limits for the primary and general elections – $182,000 each for Council candidates, more for borough and citywide offices. The bill is currently in committee – if it were to pass it would not be in effect for this city election cycle.
No candidates have yet hit election year spending caps for program participation; the Council incumbent closest to the cap is Corey Johnson, who has spent $121,174 so far this year, but he is not a participant in the program.
Council Member Williams defended opting out of the program, saying that he didn't need the funds and "you don't always want to spend the public's money if you don't have to." He also drew attention to his candidacy to the Speaker role, and argued that part of the problem was "no allotment for that," and mentioned the possibility of a legislative fix.
According to Sollars of the CFB, participants in the program can elect to turn away payments if they don't feel that they need them, a strategy that was employed by several officials in the last cycle.
"I don't intend to spend more than the cap anyway," Williams said, adding "I fully intend to make sure I have the small donor amounts that I would have if I was taking public funds."
One source familiar with the Council and the CFB system who spoke on the condition of anonymity pointed to a bill passed last year by the Council, Local Law 189, as a potential dissuasive force to candidates entering the program. The law standardizes a process for transferring campaign funds between "political" and "principal" committees, essentially allowing candidates to roll campaign funds from one election into the next and effectively enabling them to build up large campaign war chests over time.
Aside from Brooklyn's Adams, the other four borough presidents, all also seeking reelection, have opted in. As have the three incumbent citywide elected officials: Mayor Bill de Blasio, Comptroller Scott Stringer, and Public Advocate Letitia James. Republicans seeking those positions, even some who have criticized the public campaign finance system in the past, are also participating.
The CFB, for its part, is happy with the overall triumph of its initiative. "This outstanding participation rate demonstrates the strength of New York City's small-donor matching program to encourage more fair and equitable city elections," said Executive Director Amy Loprest in a statement.