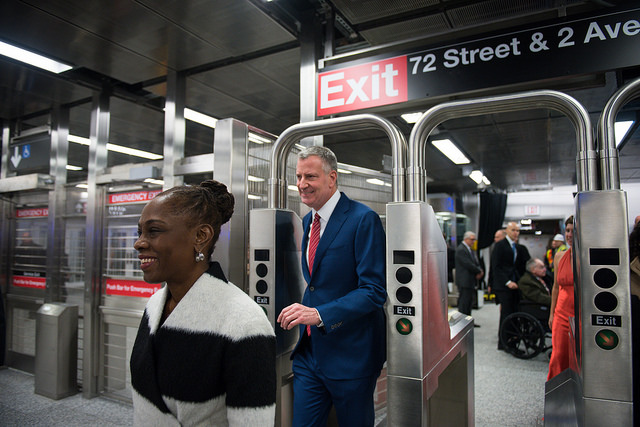 Mayor de Blasio & First Lady McCray (photo: Edwin J Torres/Mayor's Office)
---
In his three-and-a-half years as mayor of the nation's largest city, Bill de Blasio has focused his administration on bridging gaps between the haves and the have-nots, expanding opportunity for those left behind during the city's recent boom years. He's instituting universal pre-kindergarten, funded record levels of affordable housing, provided legal help to immigrants facing deportation and tenants facing eviction.
De Blasio has espoused a progressivism centered on equity and heavy on ensuring equal rights and opportunities to all, no matter one's socioeconomic status or income. One area that this expansive view of equalizing entitlements doesn't encompass, however, appears to be transportation. As much of the recent public dialogue around the city's transit system centers on mounting delays and decrepit infrastructure, many low-income New Yorkers remain unable to access the system at all. Many in de Blasio's New York can't afford the freedom that comes with the opportunity to ride the public buses and subways.
A 2016 report by the Community Service Society (CSS), an anti-poverty nonprofit, based in part on a survey of over 1,700 New Yorkers, found that among working-age, low-income individuals, cost was the biggest problem with the city's subways, putting it ahead of delays, crowding, and lack of service. The report also called for fare subsidization for the poor, a proposal that has seen various iterations known collectively as the "Fair Fares" plan.
Mayor de Blasio, who has hitched his legacy to ending the "tale of two cities" he decried during his 2013 campaign, has repeatedly refused to dedicate city funding to subsidizing low-income New Yorkers' MetroCards, instead calling on the state to do so. De Blasio's reticence on transit assistance is bewildering to activists. "We expected this would be something that this mayor in particular would embrace," said Nancy Rankin, VP of policy, research, and advocacy for CSS, adding that the group was "puzzled because the arguments or excuses he's put forward really don't hold water."
These arguments mainly center around the claim that contributing to low-income constituents' fares is the responsibility of the state-run Metropolitan Transit Authority (MTA), which controls the subway and bus systems. Asked about transit aid proposals at a press conference last month, the mayor said that "the State of New York should make that a priority. I think that's a commendable priority. We can't afford that right now."
During recent budget negotiations, the City Council made Fair Fares a priority, but de Blasio refused to budge, even declining to fund a pilot program to test the subsidized waters.
The CSS report mentions several program specifications, and ultimately suggests that the city offer half-off fares to the roughly 800,000 New Yorkers who make 100% or less of the federal poverty rate, currently about $24,000 for a family of four. Factoring in estimates for take-up and the higher rates of ridership for people newly able to afford it, CSS expects the program would cost $115 million the first year and $194 million the second. Earlier this year, the Council requested $50 million for a pilot program, an idea that was axed by the mayor before a budget deal was reached in June.
The trouble with the expense explanation is that the plan is backed by Comptroller Scott Stringer, the city's top fiscal officer, as well as prominent non-partisan budget watchdog Citizens Budget Commission (CBC). Maria Doulis, vice president at CBC, addressed the cost argument bluntly: "If it was a priority for the mayor, it would be accommodated in the budget," she said.
The question itself of state versus city funding isn't relevant to constituents, said Rankin. "As a taxpayer, I pay city taxes and state taxes. So do you take it out of my left pocket or my right pocket?"
In an emailed statement, Stringer said the Fair Fares proposal "isn't just the right thing to do morally – it makes economic sense," and lamented that low-income New Yorkers had to "choose putting food on the table and traveling our city." Access to transportation often provides individuals more opportunity to participate in job interviews and to get to and from work.
A key question for de Blasio and others around the transportation affordability dilemma is whether other planks of the mayor's progressive agenda, and the New Yorkers that would participate in them, are suffering as a result of inaccessibility.
"Trains and buses are how you connect to your job, how you connect to services in other neighborhoods, it's how people avail themselves of the benefits of being in the largest city in the United States," said Doulis. In relation to the city's poverty-reduction efforts, she said "a natural way to bolster those outcomes is to facilitate access to transportation."
Being unable to access public services due to the cost of transportation was a reality for Robert Rush, now a member of the transit advocacy group Riders Alliance, as he was growing up in the Bronx. "I went to four different elementary schools in my first five years of education," he said, in part because his mother couldn't afford to get to some ofca the schools he attended.
"My mom had to enlist her co-workers, other people to come pick me up because she wasn't able to. Sometimes I would be like the last person getting picked up at 6 p.m.," said Rush, who nonetheless managed to do well enough in school to win a scholarship to Phillips Academy and begin studying at Harvard. He also raised the issue of access to city decision-makers, saying that "if you want to go down to city hall, raise some complaint, but you can't afford the train there because you can't even afford your bills, what does that say?"
At a time when the mayor has seemed frustrated by his lack of influence over the city's vast transit system, a transit subsidy is an action the city could take unilaterally and with relative ease. "This is something he can do without Albany, without begging the state for funding, or permission. He was the power to help 800,000 New Yorkers," said Rebecca Bailin, campaign manager for the Riders Alliance.
In fact, de Blasio has a larger goal of lifting 800,000 New Yorkers out of poverty by 2025, and several programs to accomplish it. Broader transit access could help accelerate those efforts and work in tandem with them. "The success of big, bold investments from the city – be it for job training, legal services, or otherwise – hinges on New Yorkers having the ability to get around," said Stringer.
Doulis brought up the City University of New York's Accelerated Study in Associate Programs (CUNY ASAP) system, which among other things provides participating students with free MetroCards, something she called "one of the key benefits" of the program. "People that enroll in these programs have far higher graduation rates than other community college students," she said, in large part because they can get around.
Yet the mayor has seemed unwilling to acknowledge the necessities of New Yorkers who need to get around, lashing out at those who jump turnstiles to avoid paying fares they can't afford. "There's no way in hell anyone should be evading the fare, that would create chaos," he said at a recent press conference, adding, "Everyone has to pay their fare." He has not put forward any comprehensive proposal to address the inaccessibility of public transit.
Asked by Gotham Gazette what he would say to New Yorkers who can't afford public transit but need to get around, de Blasio pointed to his larger efforts to create opportunity and lift New Yorkers out of poverty. He reiterated that no one should be evading the fare.
In an email, Ben Sarle, a spokesperson for the mayor, said "New Yorkers have a right to a transit system that works, obviously." In an apparent reference to the recent attention on needed subway repairs, Sarle's limited response was a reply to several questions from Gotham Gazette, including whether Mayor de Blasio believes in a right to public transportation for all New Yorkers. Sarle also did not respond to questions asking what the administration's transit affordability plans are and did not elaborate on how the "right" he cited would be guaranteed.
The city already funds various MetroCard subsidy programs, including reduced-fare cards for seniors and people with disabilities and half-fare or free limited-use cards for students based on their distance from school. As part of the mayor's recent deal to have his control over city schools extended for two years, the city will provide MetroCards to charter school students whose classes begin before school busing starts for the year.
It also wouldn't be the first large city to develop a program that helps its poorer citizens get on the available public transit. King County in Washington state, which includes Seattle, was one of the first and largest areas to launch a discounted transit program, in early 2015. The ORCA (one regional card for all, the name of the system's transit card) Lift program provides subsidized fares to residents under 200 percent of the federal poverty level. A survey conducted by the county executive one year into the program's operations found that 42 percent of users had taken the bus and light rail more frequently since they'd received the cards. Other cities with transit affordability programs include San Francisco and London.
An obstacle may be the mayor's focus on a separate transportation agenda. "The two big transportation proposals from the de Blasio administration have been ferries and BQX, and it's not clear how much those programs will benefit low-income NYers," said Doulis, referring to newly opened city ferries and the planned Brooklyn-Queens Connector, a streetcar that would run between Astoria and Sunset Park.
The BQX, which would charge the same amount as an MTA bus or subway fare, is estimated to cost $2.5 billion to develop, or about 13 times what it would cost to run the Fair Fares subsidy program for a year at full take-up. The BQX's daily ridership by 2035 is projected to be 48,900. While the proponents of that project insist that it'll pay for itself with increases in area productivity and taxes – an idea critics have disputed – proponents of Fair Fares say the program will also spur the economy.
"I think that the city should be looking at funding at least a part of it, because it directly helps city residents, but then will indirectly help the city's economy by keeping more money in the pockets of riders," said Brooklyn City Council Member Stephen Levin of Fair Fares.
For low-income New Yorkers like Rush's family, the advantage is much more clear and immediate. "It's hard to even go outside, because there's nowhere to go except around your block. You can't go anywhere else," he said.