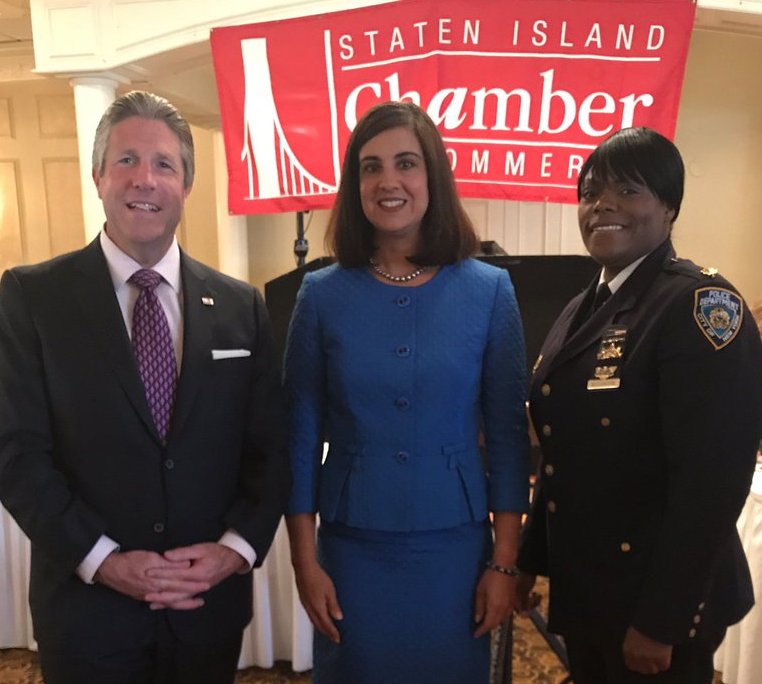 Nicole Malliotakis, middle (photo via @NMalliotakis)
---
State Assembly member and mayoral candidate Nicole Malliotakis discussed her campaign Friday with Gotham Gazette executive editor Ben Max and City Limits executive editor Jarrett Murphy for their Max & Murphy podcast.
The 36-year-old Republican lawmaker, who represents parts of Staten Island and Brooklyn, joined the race in late April and became the presumptive GOP nominee in late June, after businessman Paul Massey, her chief rival for the nomination, dropped out. She has spent much of her campaign hammering Mayor Bill de Blasio, a Democrat seeking a second term this fall, on "quality of life" issues like public transit and trash collection.
In a wide-ranging 30-minute podcast conversation (which can be heard in full here), Malliotakis accused de Blasio of being "more interested in fighting an ideological war nationally, and perhaps internationally" than in focusing on issues that people "see and hear and experience."
Though she acknowledged the historic aspects of a potential mayoralty – "I'd be the first woman, first Hispanic, first Greek, probably the first from Staten Island" (her mother is Cuban and her father is Greek) – she indicated that she wanted to be seen first and foremost as a "common-sense candidate" who is proposing solutions for a "no-nonsense New York."
How would this manifest as a governing philosophy? Malliotakis outlined some major agenda items, though she is still in the process of developing specifics. The only detailed policy agenda she has released thus far is on tackling the city's homelessness crisis, which is regularly discusses and attacks the mayor around. However, she said she is taking this weekend to largely study issues and work on policy, especially criminal justice -- Malliotakis has made "law and order," as she put it, a key piece of her campaign. She has also mentioned other, more singular policy proposals, both prior to and during Friday's podcast interview.
Malliotakis says public transportation would be "the number one thing I'd want to invest in as mayor." She has advocated for a total revamp of the subway signal system, which could cost as much as $3 billion. She promised to devote more city money to the MTA capital plan. As a source for some of that funding, Malliotakis might look to the savings from reducing the city's workforce. After criticizing the growth of the city government headcount under Mayor de Blasio, Malliotakis said "it has to be cut back. There's too much bureaucracy," when asked if she would come into office and start slimming the payroll.
Among other points she pressed was addressing homelessness, through building more supportive housing and expanding vocational training, which she said would help people become self-sustaining and she related to re-examining the city's public benefits system. Malliotakis accused the mayor of making people "more reliant on not only the welfare system but in some cases the homeless system" instead of focusing on "looking to help people be independent, having a job they can be proud of."
Malliotakis also called law and order "very important," bringing up the case of Yadira Arroyo, an FDNY emergency medical technician who was killed in March by a man who had been released without bail by a de Blasio-appointed judge, as well as the more recent case of a man released without bail after trying to grab a police officer's gun.
On otherl quality of life issues, she pointed to the case of a man who urinated on a woman in a J train on Thursday. "This mayor sent the message out that it's okay, you can urinate, defecate, litter" in public, she said. Asked whether she was sure that those types of incidents had increased under de Blasio, Malliotakis said to ask anyone around the city and they would say "yes."
In a city where over 30 percent of the population is foreign-born, Malliotakis' stances related to immigration have also been controversial. She sued unsuccessfully to stop the city from eliminating municipal ID records many saw as a threat to undocumented immigrants and has called on the city to honor detainer requests from federal Immigration and Customs Enforcement officers. She insisted Friday that she wouldn't go after people committing low-level crimes, saying "in the City of New York, fortune-telling is a crime. I'm not looking to deport someone for fortune-telling," but condemned the city for not complying when it came to serious crimes.
"It boggles my mind that this mayor thinks sex abuse or patronizing a child for prostitution are not serious enough crimes," she said of de Blasio's policies, which include a list of 170 offenses on which the city does comply with ICE detainer requests.
Malliotakis also addressed her vote for President Donald Trump, who lost his hometown by a 60-point margin in the 2016 presidential election. "Come Election Day I opted for someone who would shake up the status quo," she said, adding that she doesn't "agree with everything he does" but her status as a Republican mayor would put her in a position to best lobby on behalf of New York City's interests.
As for the mayoral race itself, Malliotakis said she expects her campaign to "shortly qualify for the matching funds program," a city initiative that provides qualifying candidates for elected office with public funds to run their campaigns, a system Malliotakis herself has criticized. "If I had it my way, I would say we shouldn't be using taxpayer money for campaigns," she said, but maintained she needed it to be competitive against an opponent also in the program, and if elected she would "make some changes" to the program.
Malliotakis wouldn't give away her "campaign strategy," but said she has identified a "path to victory" in November. She added, though, that everywhere she's campaigned in the city, the response has been positive, a sign that there is more dissatisfaction with de Blasio, who is considered a heavy favorite to win reelection, than people may realize.
Asked about independent candidate Bo Dietl, who could potentially split the anti-de Blasio vote, Malliotakis shrugged. "I would like to go head-to-head with the mayor, but it's a democracy," she said.
[LISTEN to the full podcast interview with mayoral candidate Nicole Malliotakis here]