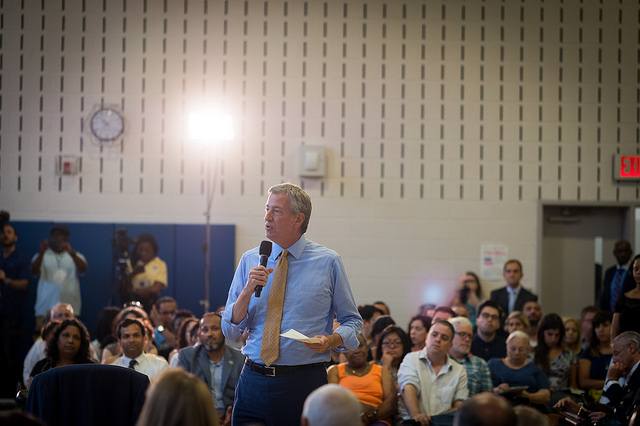 Mayor de Blasio (Edwin J. Torres/ Mayoral Photography Office)
---
Election season is in full swing, with barely two months to go till the September primary election, and mayoral contenders are busy on the campaign trail, reaching out to voters, building name recognition and, perhaps most importantly, raising campaign funds. The latest campaign finance disclosures filed on Monday show Mayor Bill de Blasio is still in the lead in fundraising, but a few of his opponents are beginning to pick up steam and have posted significant fundraising numbers of their own.
De Blasio, a first-term Democrat, has racked up a massive campaign warchest, far outpacing his rivals on both sides of the aisle. The mayor now has nearly $2.6 million at his disposal after raising about $4.9 million and spending about $2.2 million over the course of the campaign. De blasio, drawing large donations from wealthy donors, unions and the real estate industry, pulled in $414,123 in the latest filing period covering the two-month period from May 12 through July 11, and spent nearly $400,000 in the same time. The haul was lower than the previous filing period in which the mayor raised about $670,000.
The mayor is also a participant in the Campaign Finance Board's public matching funds program, which matches small dollar campaign contributions up to $175 at a 6-to-1 ratio. De Blasio has repeatedly emphasized the number of small donations -- nearly 10,000 totalling about $392,000 -- that his campaign has received as a sign of the groundswell support for his reelection. Prior to the latest filing, De Blasio had already met the threshold for the maximum matching funds that he can spend in the primary election. He indicated earlier this week that he would gladly accept a matching funds payment for his campaign. "I believe in the program," he said at an event in Queens. "I'm going to follow its rules, and its rules stipulate that we qualify for those resources, so I'm certainly going to pursue that."
The public funds program is intended to boost participation in city elections and give a fighting chance to first-time candidates and those without access to deep-pocketed donors, rather than incumbents. The program will likely prove to be a key factor for de Blasio's opponents, chiefly his Republican rival, State Assemblymember Nicole Malliotakis, who became the party's presumptive nominee for mayor after millionaire real estate executive Paul Massey dropped out of the race.
Malliotakis, who only entered the fray in April, raised nearly $250,000 in her latest filing. With a late start to the race, she has only managed to raise a total of $344,421, with about a quarter of it from outside the city, and has spent about $69,000, leaving her with just over $275,000 in cash on hand. Of her total fundraising, just over $101,000 came from donations of $175 or less, which would qualify for more than $600,000 in matching funds. For Malliotakis to receive those public funds, however, she will first have to raise at least $250,000 from small donors in the city.
Notably, Malliotakis received maxed-out donations of $4950 each from Robert and Rebekah Mercer, billionaire GOP donors that backed Donald Trump's presidential campaign and are investors in right-wing media outlet Breitbart. The de Blasio campaign used the couple's donations as fodder for a fundraising pitch this week, employing their now-standard tactic of tying Malliotakis to a Republican president that is wildly unpopular in the city. Malliotakis, who voted for Trump last November, has in turn sought to distance herself from the President and is striving to ensure the race is a referendum on de Blasio's mayoralty.
There are numerous other candidates in the race, some more prominent than others. Although de Blasio is expected to sail comfortably to reelection, he will first have to face challengers in the September primary. Former City Council Member Sal Albanese, who also ran for mayor in 2013, is among those running as a Democrat. Albanese raised just over $45,173 in the last two months, including $2,500 from the Correction Officers Benevolent Association and $3,000 from the FIREPAC, a firefighter union's political action committee. He has raised about $124,000 and spent about $51,000, leaving $72,515 in his campaign account. Albanese has focused his campaign on criticizing the mayor's management of the city and highlighting the allegations of pay-to-play that have plagued City Hall. A key issue for him has been the city's ailing subway system, which he spotlights almost daily on Twitter, and he has promised that he will be the "mass transit mayor" of the city.
Fellow underdog Democrat and long-time police reform activist Bob Gangi brought in just $6,420 in the last two months. He has raised more than $62,000, most of it from personal loans, and has spent just over $56,000. Gangi's campaign has largely focused on criminal justice issues, on which he believes de Blasio's record has been a less than satisfactory. He has vowed to end broken windows policing and wants to make the NYPD more accountable.
Both Gangi and Albanese are hoping to be included in the CFB's official Democratic primary debates, which require each candidate to raise and spend at least $174,225 in order to qualify.
Independent candidates have also made a splash in the race. Perhaps the most noteworthy is Bo Dietl, the outspoken, unfiltered private detective and former NYPD officer who was forced to run as an independent after failing to submit the necessary paperwork to run as a Democrat. He also courted a GOP nomination bid only to be thwarted by Republican county leaders who refused to give him a waiver that would have allowed him to run on their party line.
Dietl nearly matched Malliotakis' fundraising during the last filing period, raking in $244,751. He has raised $809,022 for the entirety of the campaign, lending himself another $100,000, and has spent about $524,000. He has $367,116 in cash on hand.
Also in the race is businessman Roque "Rocky" De La Fuente, a California native who attempted a run for the presidency last year as a Democrat. De La Fuente moved to the city three months ago to run as a Republican mayoral candidate. He has lent his campaign $600,000 and has only raised $28,329 from donors in total. He has about $213,000 remaining in his campaign account.
Longshot candidate Michael Tolkin, a young tech entrepreneur who is not currently registered with a party but is running as a Democrat, also made news earlier this week when he filed a $5.2 million in-kind contribution to his own campaign. As Gotham Gazette reported on Tuesday, Tolkin intends to roll out "a bunch of content and programming that will be self evident," which will account for the contribution. He reached that figure through start-up valuation methods, he said.
The primary election for Mayor will take place on September 12 and the general election is on November 7.
Related: Longshot Mayoral Hopeful Outraises & Outspends Opponents, Technically