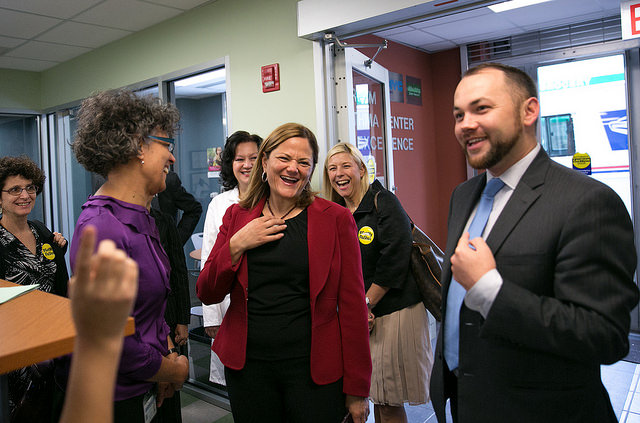 Speaker Mark-Viverito (center) and Council Member Johnson (r) (photo: William Alatriste/New York City Council)
---
A number of City Council Members who are jockeying to replace Melissa Mark-Viverito as the next Speaker of the City Council seem to be stepping up efforts to curry favor with their colleagues and other elected officials through strategic campaign donations.
The latest campaign finance disclosures filed on Monday show that Council Members Corey Johnson, Mark Levine, Ydanis Rodriguez and Jumaane Williams -- all contenders for Speaker of the 51-member legislative body -- have made significant contributions to fellow Council members and candidates running for open City Council seats. Other Speaker candidates -- Council Members Donovan Richards, Jimmy Van Bramer and Robert Cornegy -- also made similar, but smaller contributions.
The speaker, perhaps the second most powerful elected official in the city, is chosen through an internal vote of the Council every four years after an election. Current Speaker Melissa Mark-Viverito will be term-limited out of office at the end of the year. She won the post with the help of a coalition of progressive Council members and the active involvement of Mayor Bill de Blasio, who swayed Brooklyn Democrats to support her and in the process undercut the Bronx and Queens County machinery that had decided the speaker's race in the past.
Council Member Johnson, a Manhattan Democrat and a prolific campaigner who is seen as one of the leading Speaker candidates, has so far contributed over $50,000 to other elected officials' campaigns, far outpacing other speaker hopefuls.
According to Campaign Finance Board (CFB) filings, Johnson's campaign has disbursed the maximum contribution of $2,750 to 15 Council members who are running for reelection and also to two Council candidates, for a total of $46,750. Those incumbents and potential future members of the Council could determine whether Johnson holds the Speaker's gavel next year. Johnson also made three other donations collectively worth the mayoral contribution limit of $4,950 to Mayor Bill de Blasio, and contributed $2,500 to Comptroller Scott Stringer, for a total of 19 candidates who received donations from him. All are Democrats.
Johnson, who is not a participant in the city's public matching funds program, has raised over $462,000 and spent about $271,000 this election cycle, making candidate contributions almost a fifth of his entire spending. He retains about $191,000 on hand. His Council donations were heavily weighted to outer-borough incumbents, with just two going to members from Manhattan. Five of Johnson's donations went to Brooklyn members, four each to members in Queens and the Bronx, and one to a Staten Island member. Johnson has spent the last few months aggressively courting his colleagues, campaigning on their behalf in their districts. In one weekend in June, he made appearances with several Council Members across four boroughs.
[Related: Corey Johnson's Very Busy Campaign Weekend]
Johnson also donated to State Assemblymember Francisco Moya, who is seeking to fill the Queens seat of Council Member Julissa Ferreras-Copeland, who will step down at the end of the year. Ferreras-Copeland chairs the Council's powerful finance committee and was considered one of the leading Speaker candidates before she announced she would not be running for reelection for personal reasons. Johnson's other donation went to Carlina Rivera, a candidate for Council District 2 in Manhattan, which is currently occupied by term-limited member Rosie Mendez. Additionally, Johnson bundled almost $13,000 in donations for Rivera's campaign. Johnson's campaign did not respond to calls seeking comment.
The closest competitor in contributions is Council Member Mark Levine, whose campaign has given $31,000 to other candidates and colleagues. The contributions include 11 of the same incumbents and both Moya and Rivera. He also gave to Bronx Council Member Fernando Cabrera and Bronx Borough President Ruben Diaz Jr., for a total of 15 candidates. Levine has raised just over $376,000 in the campaign so far and has spent about $191,000, leaving him with about $185,000 on hand. He has also been actively campaigning for Speaker and is considered one of the top candidates for the position. Levine's campaign did not respond to calls from Gotham Gazette.
Manhattan Council member Ydanis Rodriguez comes in third for his donations. His campaign has given $24,000 in 12 separate contributions of $2,000 to 11 Council incumbents and District 2 candidate Rivera. Rodriguez contributed to eight of the same Council candidates as Johnson and seven of the same candidates as Levine. His own campaign account holds about $94,000, after raising $247,000 and spending about $153,000.
Jumaane Williams personally gave $12,000 in 11 contributions, 8 of them to incumbent Council members and three to candidates, including Rivera. Williams' contribution list differed somewhat, including four Council members that none of the other three top-contributing speaker candidates had given to.
All four gave to Council members Margaret Chin of Manhattan; Antonio Reynoso, of Brooklyn; and Rafael Salamanca, Jr., of the Bronx.
Among other speaker candidates, Donovan Richards personally gave $2,000 to two incumbents, $2,750 each to two Council candidates, including Rivera, and $500 to de Blasio, for a total of $8,000. Robert Cornegy gave $2,750 each to Moya and Queens Council member Elizabeth Crowley, plus $500 to District 41 candidate Henry Butler, for a total of $6,000. Council Member Jimmy Van Bramer gave $1,500 between two incumbents and $175 to Diana Ayala, who is running for Mark-Viverito's seat in District 8.
The amounts involved appear to already dwarf the direct candidate contributions that current Speaker Mark-Viverito and her campaign made during the 2013 election cycle, after which she was elected speaker. According to CFB data, Mark-Viverito spent only $3,000 in candidate contributions that cycle.