Council Member Laurie Cumbo (photo: William Alatriste/New York City Council)
---
New York Congressional Representative Hakeem Jeffries, a Democrat who represents parts of Brooklyn and Queens, has endorsed City Council Member Laurie Cumbo for reelection. Cumbo, a first-term Democrat from District 35, which covers Prospect Heights, Fort Greene, Clinton Hill and parts of Bedford-Stuyvesant and Crown Heights in Brooklyn, is in the midst of a tough primary battle against Ede Fox, a Democrat who lost to Cumbo in 2013 and is running again this year.
Jeffries, whose congressional district includes large parts of Cumbo's Council district, explained the endorsement to Gotham Gazette in a phone interview on Monday. "These are challenging times in our country, and Democratic members of our Congress are fighting hard each and every day to stop the onslaught of regressive policies coming from the Trump administration," he said. "In this atmosphere, having a strong ally in the City Council to defend the interests of the neighborhoods we both represent is critically important. There is no better ally that I could have at the local or state level than Councilwoman Laurie Cumbo."
The Congressman said he plans to actively campaign for Cumbo in local churches, block parties, senior centers, subway stations, and "whatever else it takes to make sure she wins decisively" in the September 12 primary and the November 7 general. Jeffries is extremely popular among his constituents and was reelected last year with 93.3 percent of the vote in the general election after being unopposed in the primary.
The Congressman, who was rumored to be a potential challenger to Mayor Bill de Blasio for much of last year, has taken on a notable role among national Democrats since the election of President Donald Trump. Jeffries was elected as co-chair of the House Democratic Policy and Communications Committee in December and has since emerged as a vocal critic of the Republican president. Jeffries and Cumbo share many views on major issues, including handling the district's housing crisis and improving education.
"Laurie Cumbo has been a tremendous champion both in creating and preserving affordable housing throughout Central Brooklyn," said Jeffries. "On issue after issue, she's been phenomenal when it comes to pushing back against the intense gentrification that we confront in Crown Heights, Fort Greene, Clinton Hill and Prospect Heights."
Jeffries is the latest high-profile fellow Democrat to endorse Cumbo. Last week, U.S. Rep. Yvette Clarke declared her support for Cumbo's reelection. Cumbo has also been endorsed by Public Advocate Letitia James, Brooklyn Borough President Eric Adams, City Council Speaker Melissa Mark-Viverito, Council Member Vanessa Gibson and the Council's LGBT Caucus.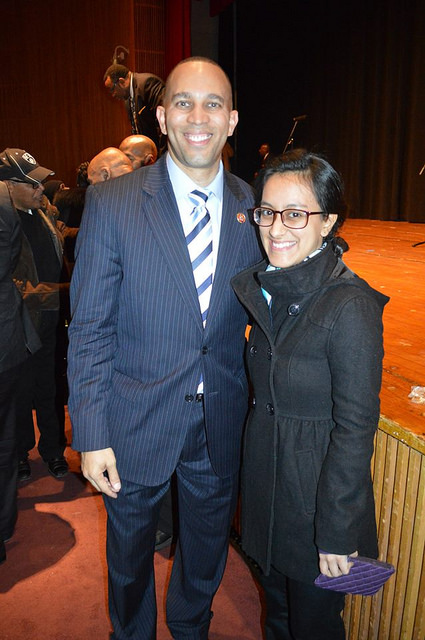 (photo: Rep. Hakeem Jeffries/Flickr)
Jeffries praised Cumbo's accomplishments in her first term, and spoke highly of her efforts to preserve affordable housing in Brooklyn, getting at a core issue motivating Fox's challenge. "She's been responsible for helping to prevent the privatization of certain housing cooperatives in the Clinton Hill section of the district. She's fought hard to affirmatively create affordable housing opportunities on NYCHA developments throughout the district, particularly in Fort Greene," said Jeffries. "Cumbo single handedly shut down the [Bedford Union] Armory deal because it did not meet the aspirations of the community that she effectively represents."
The Bedford Union Armory rezoning proposal has been a particularly hot issue in the District 35 race, and represents the core of any vulnerability for Cumbo in the September 12 primary. The project -- which would convert the Armory into 330 units of rental housing and 60 condos, and includes plans for a state-of-the-art recreation center -- faces heavy opposition from some residents who believe it is a sweetheart deal for real estate developers, would spur gentrification, and doesn't include enough affordable housing. Although Cumbo came out against the proposal in May, some constituents and community activists criticized her for her delayed opposition. Critics point to the project's affordability levels -- about 50 percent will be set aside for affordable units in the current proposal -- will not match the incomes of the district, and say that the facility should be 100 percent affordable. Jeffries, however, felt comfortable that Cumbo has handled the development effectively.
"At this point, the City Council has a long standing policy of not moving forward with a development deal absent the support the local City Council member," he said. "There is no scenario that I can envision where the Armory deal moves forward and sees a vote for the City Council as long as Laurie Cumbo is opposed to it. [Up] to this point, she has managed to negotiate improvements to the deal with the developer and the [de Blasio] administration, and I have every reason to expect that her opposition will only strengthen the leverage that she has to improve the outcome."
Though there are several other Council districts that fall in the areas that Jeffries represents, the Congressman said he did not have plans to make any other endorsements. "Laurie Cumbo is the only endorsement that I have made this summer in the City Council races, and it's not clear that I will go beyond this particular contest," he said. "She is an on-hand, ever-present, active representative of the community, and a tremendous partner to me."
Council Member Cumbo, who was pregnant throughout the campaign and gave birth on Friday, was with her newborn son and not available to comment. A spokesperson said she was thankful for Jeffries' endorsement and was excited to work with him on affordable housing and improving schools in their shared communities.
Although Cumbo has a slew of prominent endorsements, her primary opponent Ede Fox has also picked up support. Fox has been endorsed by a number of local Democratic organizations, the Transit Workers Union and New York Communities for Change, among others.
The winner of the primary will be a heavy favorite in the general, where she will face Republican Christine Parker, as well as the winner of the Green Party primary between Scott Hutchins and Jabari Brisport.
[Related: Rare Green Party Primary in Brooklyn City Council Race]