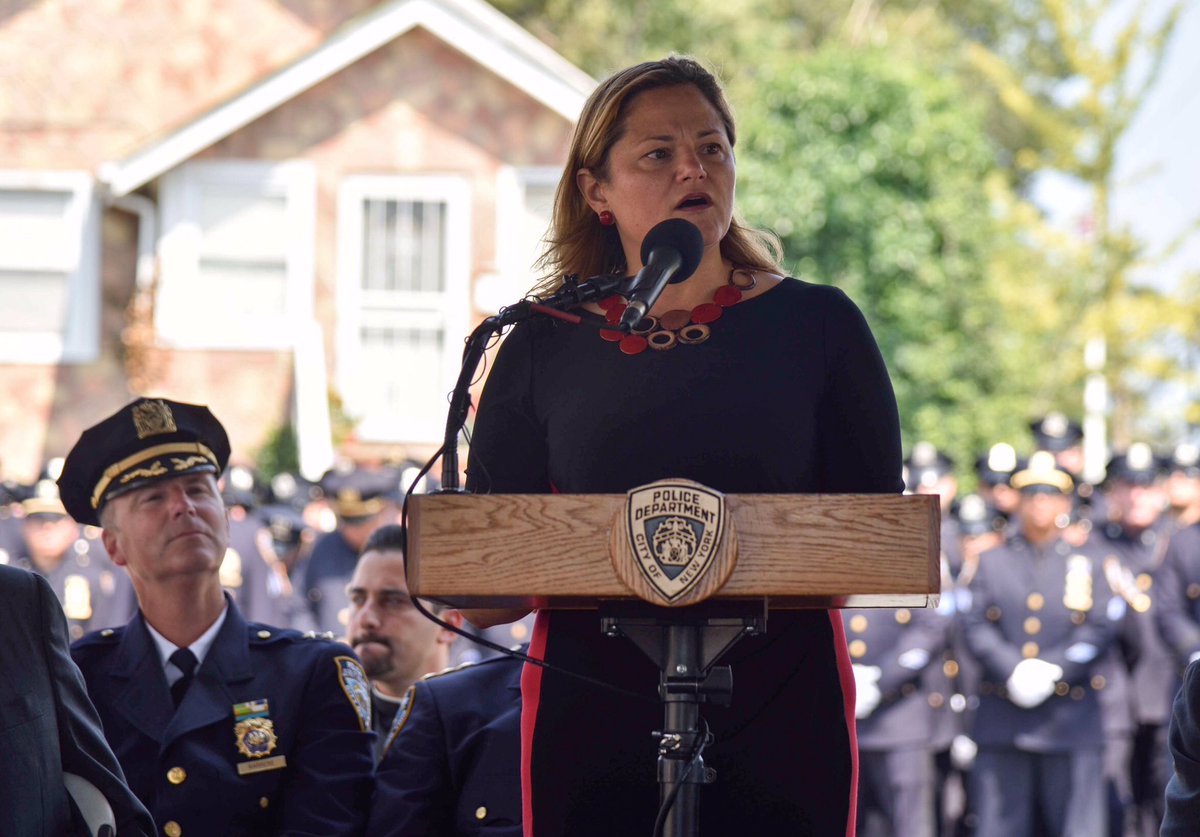 Speaker Melissa Mark-Viverito (photo: @NYCCouncil)
---
The New York City Council's bail fund, a signature project of Council Speaker Melissa Mark-Viverito, has officially launched operations and is actively taking on cases in Manhattan and Brooklyn.
"We had a very soft rollout in June and July," said Dave Long, executive director of The Liberty Fund, the official name of the fund, which provides bail to low-level offenders facing misdemeanor charges who cannot afford to post bail. The most common misdemeanor charges in Brooklyn, for instance, are for marijuana possession, trespassing, petit larceny, turnstile jumping, low-level drug possession, and driving with a suspended license, according to the Brooklyn Community Bail Fund, another charitable bail fund in the city.
The fund began operating in Manhattan on August 7 and in Brooklyn a week later.
Although the fund was announced by Mark-Viverito in her first State of the City address in February 2015, its launch has taken longer than expected, in part delayed by the state's arduous bureaucratic procedure for approving charitable bail funds and their agents. The Liberty Fund currently has one full-time licensed bail agent and another part-time agent who works for the Doe Fund, the nonprofit that is overseeing its operations.
The fund is awaiting approval for nine other applications, including one for Long himself, which he expects will be approved in the coming weeks, allowing them to launch operations in the Bronx and Queens.
"This is one of the longest processes I've seen in all my years," said Long, an attorney and 30-year veteran of city government, who was hired in March to run the bail fund. "To get someone licensed, it shouldn't take so long."
The bail fund is an important part of Mark-Viverito's legacy and her lengthy criminal justice agenda, and is also key to the long-term plan to close the Rikers Island jail complex.
"No one should be shipped off to Rikers Island simply because they are too poor to post bail," Mark-Viverito said, in a statement to Gotham Gazette. "That's why the City Council is proud to support the mission of the Liberty Fund as they conduct important work to level the playing field and reduce pre-trial incarceration rates."
The speaker also touted other initiatives the Council has passed under her leadership, including making bail payments easier; passing the Criminal Justice Reform Act, which created civil penalties for certain low-level crimes; and establishing the Independent Commission on New York City Criminal Justice and Incarceration Reform, which issued a comprehensive report in April.
Long and his associates have been busy for months, setting up borough offices, hiring employees, and meeting with court staff to make their presence known. "The court staff have been very receptive and very helpful," he said. "I think we're a welcome addition to the court process. We've done our best to blend in."
Once fully operational, the fund aims to assist between 1,000 and 2,000 low-level offenders each year who cannot afford to pay bail, which can sometimes be as low as $250. Charitable bails funds, under state law, are only permitted to aid individuals facing misdemeanor charges with bail set below $2000. "We come into play when nobody else can pay bail," Long said, although insisting that it is a last resort for people who may otherwise end up heading to Rikers Island. "This isn't a get-out-of-jail-free card. We've said "no" to some cases too."
The City Council has provided $1.4 million in operational funds for The Liberty Fund while an anonymous private foundation has promised $400,000 for the actual bail payments. That seed funding will help the fund operate for years, Long estimated. Currently, the account holds $20,000, which is a "revolving" figure since 85-90 percent of that funding would return to the account as clients make their appearances in court. Charitable bail funds, of which there are two others operating in the city -- the Brooklyn Community Bail Fund and the Bronx Freedom Fund -- have shown a very high rate of return in terms of clients who make their court appearances.
Beyond keeping clients out of jail, the fund will also provide "wraparound services," Long said. His staff is comprised of people with experience in court operations and case management, and even a licensed social worker. Together, they create a voluntary social services plan for clients that includes housing, employment, substance abuse and mental health services. "There's two sides to the coin here," Long said. "We hope to never have this person return to court again, except for scheduled court appearances."
"We spent a lot of time preparing for this so we can do it right," he said.
For certain criminal justice reform advocates, the bail fund is something of a band-aid absent substantive systemic reform. "The city is trying to mitigate a situation that in a just world would not exist," said Nick Malinowski, civil rights campaigns director at VOCAL-NY, in an email. "Prosecutors and judges should not be permitted to ask for or set bail in amounts that people cannot afford."
Malinowski wants to see measures for more accountability for the NYPD, district attorneys, and judges, but the idea of the elimination of cash bail for low-level offenders is being discussed by state legislators. In the meantime, the Liberty Fund is seeking to keep more people from entering city jails, missing work, school, and family, and avoiding the snowballing effect that often occurs from even a short jail stay.
Rachel Foran, managing director of the Brooklyn Community Bail Fund, echoed Malinowski's comments about wanting to see more criminal justice reform from the city. "We see the work of community-funded bail funds like us and others across the state and country as an important, but temporary intervention to prevent the unjust and unnecessary pretrial jailing of people caged purely for the inability to afford bail," she also said. "We ultimately want to see the elimination of the cash bail system entirely."