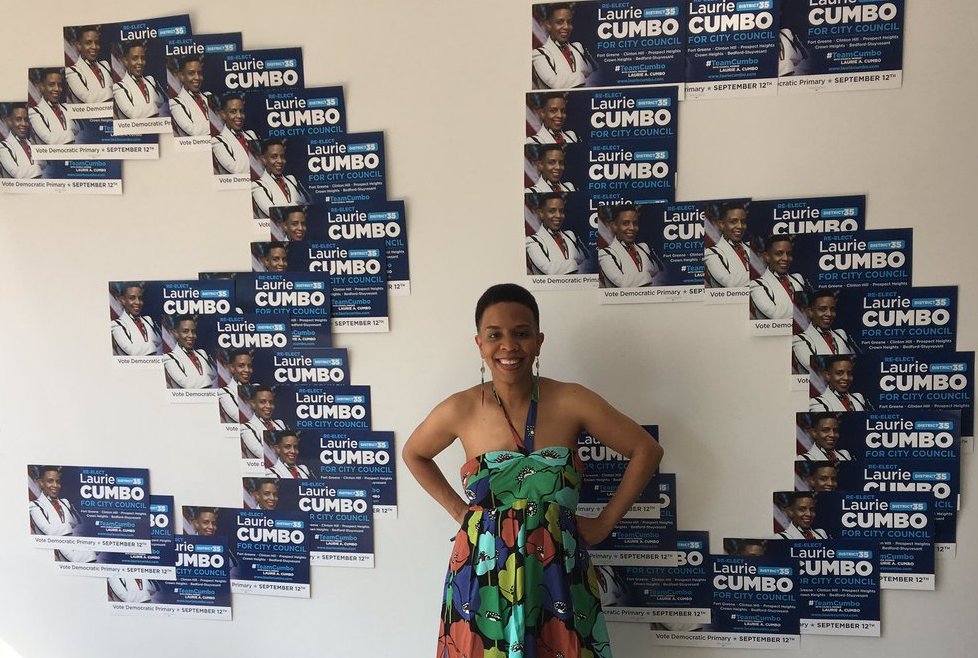 Council Member Laurie Cumbo (@cmlauriecumbo)
---
Hundreds of Crown Heights residents and community activists laughed and jeered at a recent community forum as a lanky man wearing a paper mask of Mayor Bill de Blasio joked about bringing affordable housing to their neighborhood.
The event was punctuated by moments of levity but mostly dominated by anger from residents who feel their elected representatives have sold out their interests to the real estate industry, with a focus on the proposed redevelopment of the vacant Bedford Union Armory. The de Blasio administration, with a developer, is proposing a combination of affordable and market rate rental apartments, condominium units, and recreation space for the massive site. City Council Member Laurie Cumbo, who represents the district, did not attend the August 2 forum focused on the project -- she was just days from giving birth to a son -- and when representatives of her office tried to speak, they were shouted down.
The event was the latest outpouring of resentment over the Bedford Union Armory project, which has taken center stage in the City Council race for District 35, where Cumbo, a first term Democrat, is facing a formidable primary challenge.
Candidates include Democrats Cumbo, who hopes to continue the work she has done over the last three-plus years if given another term by the voters, and Ede Fox, who lost to Cumbo in 2013 but is running again, seizing on community anger over the future of the armory and related issues of affordable housing and gentrification.
Cumbo won in the 2013 primary with 7,561 votes. Olanike Alabi came in second with 5,369 votes and Fox was just behind with 5,340. Cumbo then ran uncontested in the general election, which will not be the case again this year as she is slated to have a Republican opponent and a Green Party opponent.
Aside from the hotly contested Democratic primary -- which is very likely to determine the eventual winner in the heavily Democratic district -- there is also a Green Party primary between Jabari Brisport and Scott Hutchins, and Republican Christine Parker is also running, though neither Hutchins nor Parker appears to be running much of a campaign (both were absent from two recent candidate forums attended by Gotham Gazette).
District 35 incompasses central Brooklyn neighborhoods such as Prospect Heights, Fort Greene, Clinton Hill, parts of Crown Heights and Bed Stuy. Before Cumbo, it was represented by current Public Advocate Letitia James.
Cumbo, Fox, and Brisport met at a forum on Saturday, July 15 hosted by the Flatbush Tenant Coalition as well as at a forum hosted by the Washington Avenue Botanic Block Association on July 25 to discuss focal issues of this city election cycle and the 35th District race, such as affordable housing, education, afterschool programs, and criminal justice reform. They answered moderator and attendee questions that helped further illuminate key issues of the race and their stances on them.
As with many instances where an incumbent seeking reelection is challenged, much of the election will come down to a referendum on Cumbo's tenure. One unique factor in the race: Cumbo gave birth to a son on August 4. She was back on the campaign trail two weeks later.
In an interview with Gotham Gazette prior to the birth of her son, Cumbo stated that she "talks to the baby" about all of the things she's worked on while pregnant with him, and that it is a motivating factor for her as she seeks a second term.
Fox has been on the attack against Cumbo, connecting her to big real estate, accusing her of being a weak leader for the community, especially with regard to the proposed redevelopment of the armory. Cumbo touts her commitment to the district, including using her discretionary funding to bolster social service and arts organizations. She also points to her leadership of the Council's women's issues committee as it pertains to women and families in the district and elsewhere.
As Brisport eyes the general election against the winner of Cumbo versus Fox, he is running on a typical Green Party platform of social, economic, and environmental justice that overlaps a good deal with and is bolstered by the type of politics popularized by Senator Bernie Sanders, himself a democratic socialist, in the 2016 presidential campaign. Brisport must win what is a rare Green Party primary.
Neither Hutchins, the other Green candidate, nor Parker, the Republican in the race, could be reached for comment for this article, nor has either been present at the two late July candidate forums.
Ede Fox
"I'm running because, in watching the current Council member, she's not putting [in] the work that is necessary," Fox told Gotham Gazette. "You know, funding some programs and stuff is great, but it doesn't help a senior get a SCRIE application filled out so they can make sure that they can afford their rent, and it doesn't make sure that we're preventing landlords from illegally harassing and evicting tenants because they want to get the apartment out of rent stabilization. There's just a tremendous amount of pressure on people in this community in terms of displacement, and that stuff is just not getting addressed, and that's a problem."
"We have seen over the last 10 years a dramatic change in the development and displacement from downtown Brooklyn," Fox continued, "and that wave is moving east, and we need someone who is really committed to focusing on that, and focusing on helping individual people."
Fox (pictured, middle) has worked for the City Council off and on for 11 years, most recently for the Speaker, Melissa Mark-Viverito, where until January she helped work on a variety of programs she hopes to bring into the 35th district.
"One of [those projects] was to create a preservation task force, which was designed to understand the housing stock in specific districts, and to work in partnership with HPD to build out a short- and long-term preservation plan to preserve existing affordable housing as well as to find ways to create new affordable housing," said Fox. "That's a thing that can be implemented in the 35th if you have the will."
Additionally, Fox hopes to allocate funds to local tenant organizations to help preemptively identify struggling tenants and prevent evictions, along with helping to create community land trusts similar to the projects she worked on for Mark-Viverito's home district of East Harlem, she said.
"Community land trusts can then ensure that we're creating permanent affordable housing, not stuff that's going to expire in 25-35 years, but that's permanent, and that's the kind of housing that we need in this community," said Fox. "Affordable housing that's created needs to be created to match the incomes of the populations that's there, otherwise it's not affordable and it's not helpful."
In focusing on affordable housing, community change, and gentrification, Fox is honing in on perhaps the most pressing issue for the central Brooklyn district she hopes to represent, and quite possibly the key issue across the city -- one which Mayor Bill de Blasio has dedicated much of his own focus. However, Fox's candidacy is in part based on the belief that de Blasio is not doing enough to protect and create affordable housing or ward off gentrification. The mayor's housing plan is largely predicated on leveraging the private market to help fund affordable housing units.
"The Real Estate Board of New York, REBNY, raised about $12 million in 2013 to elect developer-friendly Council members," Fox said, "...this was a super PAC, and they put money into various races around the city where they endorsed candidates, and my point is that these guys aren't stupid - they're putting their money where they think they'll have a candidate who will work with them and carry their water. So they spent $260,000 doing [mailers] for Laurie Cumbo and sent out door-knockers to do the same and get her elected."
The support for Cumbo and other candidates from REBNY, through its Jobs for New York super PAC, became a point of controversy in 2013, with Cumbo eventually asking the PAC to stop its independent expenditure efforts on her behalf. But, Jobs for New York did spend hundreds of thousands of dollars in support of Cumbo and against Fox and Alabi.
"Over the last four years, she's shown her willingness to carry the concerns of the developers and put those first, and that's most evident in the Bedford Union Armory project," said Fox. "This is a project that she supported until about three weeks ago, because it was no longer politically feasible for her to."
The Bedford Union Armory project proposal was designed to transform the facility into 56 condos and 330 rental apartments. The project proposal also includes plans for a substantial recreation center planned to include an indoor soccer field, basketball courts, and an indoor pool. The developer selected by the city's Economic Development Corporation to complete the project is BFC Partners, which agreed to keep one-fifth of the condos and half of the rental units as affordable units, pegged for certain income-level earners, but was met with significant pushback from nearby residents who maintain that because it's being built on city land, the project should be 100 percent affordable.
With Cumbo now against the plan, its future is unclear -- the de Blasio administration, Cumbo, and BFC are in ongoing negotiations around tweaks that might placate community concerns and get Cumbo's support. Some, like Fox, believe Cumbo will back the current project plan as soon as the election is over. Cumbo insists she has heard the community and will hold out for certain affordability demands and will continue to oppose condo sales.
When it comes to education, community and parental involvement is at the core of Fox's plans, she explained. Concerned that the Department of Education often leaves parents in the dark, Fox said she will work to increase parental involvement in the school system, as well as leveling the playing field for lower income schools by securing more funding.
"They don't feel like they're a part of the decisions that [the Department of Education] is making, and so they get informed late about things, and I think generally what the schools need is a representative who is going to push DOE, and DOE has to be responsive to the Council member, but they don't always have to be responsive to parents [unless] there is a massive outcry."
Fox's platform lists other positions on critical issues. On transportation, Fox calls for an increase in funding for the MTA, though it's not specified whether this entails a greater city contribution to the capital plan, as well as expanded bus service and bike lanes. Fox also calls for an end to cash bail and solitary confinement, and working on finding and implementing alternatives to incarceration.
Laurie Cumbo
Cumbo, the incumbent, was moved to run for office in 2013 after criticizing the state ending allocation of member items, or funds that state Senate senators and Assembly members got to dole out to nonprofit organizations, like the one she founded.
"I began to spend so much time rallying and participating, and so many other issues came across…that I decided that I wanted to enter into the political world," Cumbo told Gotham Gazette. "I had been asked by many people over the course of years to consider running, and when Public Advocate Letitia James decided that she was going to run for Public Advocate, she encouraged me to do it."
Born and raised in a nearby Brooklyn area, after attending Brooklyn Technical High School, Cumbo attended Spelman College before earning her graduate degree in Arts Administration from NYU. She used that degree to found MoCADA, the Museum of Contemporary African Diasporan Arts, in Brooklyn.
"What it allowed me the opportunity to be was a director of a not-for-profit organization, to establish leadership in the community, to create local jobs in the community, it gave me an opportunity to provide arts and educational programing in our NYCHA developments, and it provided me an opportunity to create after-school programs," said Cumbo. "I created 10 after-school programs in different schools throughout the 35th Council District."
Cumbo said she wants to continue to expand on the initiatives she's started since joining the City Council in January, 2014 after her victory in the contentious 2013 Democratic primary.
"When looking to run for public office, I feel that it's important to have a track record of real, tangible leadership in the community," said Cumbo. "People should be able to point to your accomplishments, people should have an understanding of your leadership style, and they should have an understanding of what you're able to get done by having participated or seen or experienced it."
She continued, referencing accusations made by Fox. "To say that I sold out the community is really flagrantly false. It's easy to just come along and just look at the record of the incumbent and begin to attack, without really being able to talk about what you're about, or what you've accomplished, or what you've done."
Issues important to Cumbo during her reelection campaign include further expanding after-school programs, continuing to strengthen not-for-profit organizations (City Council members receive hundreds of thousands of dollars in "member items" to divvy up), and the ever important affordable housing struggle in the district.
"Affordable housing continues to be a huge issue in our community," said Cumbo. "One that, through a lot of collaboration with all of the elected officials, we've been trying to do all that we can to stop the hemorrhaging [of funds] that's happening in our communities."
Cumbo has also been recorded as saying that upzoning can happen "with or without the community board," according to a video posted by the Movement To Protect The People roughly a year ago.
"You can boo, you can boo all you want," said Cumbo.
Aside from promising to continue the work from her previous term, Cumbo's current campaign platform includes working towards "Investing in Economic Development," "Strengthening and Stabilizing Not-For-Profit Organizations and Service Employees," and "Reforming our Educational System."
And, Cumbo may be getting a boost from Mayor de Blasio's team, though no one seems to want to talk about it.
Jabari Brisport
"This campaign started out of a deep frustration with our current society, and our current economy, and the level of participation that I was doing with the government," said Brisport, who has spent the past 10 years as a political activist. "I felt like I was not doing enough - there's only so many times you can stand outside a politician's office and yell and scream before you decide that you want to take yourself into City Hall."
Brisport's activism has centered around his participation in political theater, such as the group Political Subversities, which he works with to draw attention to major issues in the community, as well as organizing rallies for groups like Black Lives Matter.
"My biggest challenge would be running as an independent third party candidate on the Green ticket. I would say that if we can't get enough visibility that will be a huge hindrance to the campaign, people will just vote down the Democratic line," said Brisport. "But I believe if people know about the campaign, they'll be interested in the campaign, and that's been my biggest triumph. People hear 'Green Party' [and] they think that's this impossible thing, and they start to get disinterested, but when they start to hear more about what I'm pushing for in this campaign, they start to get excited about it…It's a great snowball effect."
Brisport listed affordable housing as the biggest issue of his campaign, saying that it's the district's biggest issue "and really, the city's biggest issue."
"And it's not just the Bedford Union Armory," said Brisport. "It's the evictions at Ebbets Field Houses…it's the encroachment of landlords and special interests on some public land or onto the property of the little guy - the working class - and that's something we really need to take a bigger stance against."
Police reform is also at the forefront of Brisport's campaign, and giving communities and citizens more control over the NYPD and "turning the power structure of the NYPD on its head" are essential to his vision for the district, he said. Ultimately, Brisport said he would like to see an end to the police system as we know it, and instead wants to utilize active community members to ensure citizens feel like they are being policed fairly.
Brisport is a member of the DSA, or Democratic Socialists of America, which he feels helps him approach community issues from a new and innovative perspective and gives him a clearer end goal.
"For example, a progressive Democrat might say they want to fight for affordable housing, which [seems] more like a reactionary thing; my goal would be more like community control of the land. I believe all land should be de-commodified," said Brisport. "I don't have policies that can do that at the moment, but we can take the next step towards that."
According to Brisport that next step would be making the Bedford Union Armory part of a community land trust.
He continued: "The same thing for policing. A progressive Democrat may be arguing for [body cameras], I'm pushing for a restructuring of the police so that it is run by communities, and not run alongside or against communities."