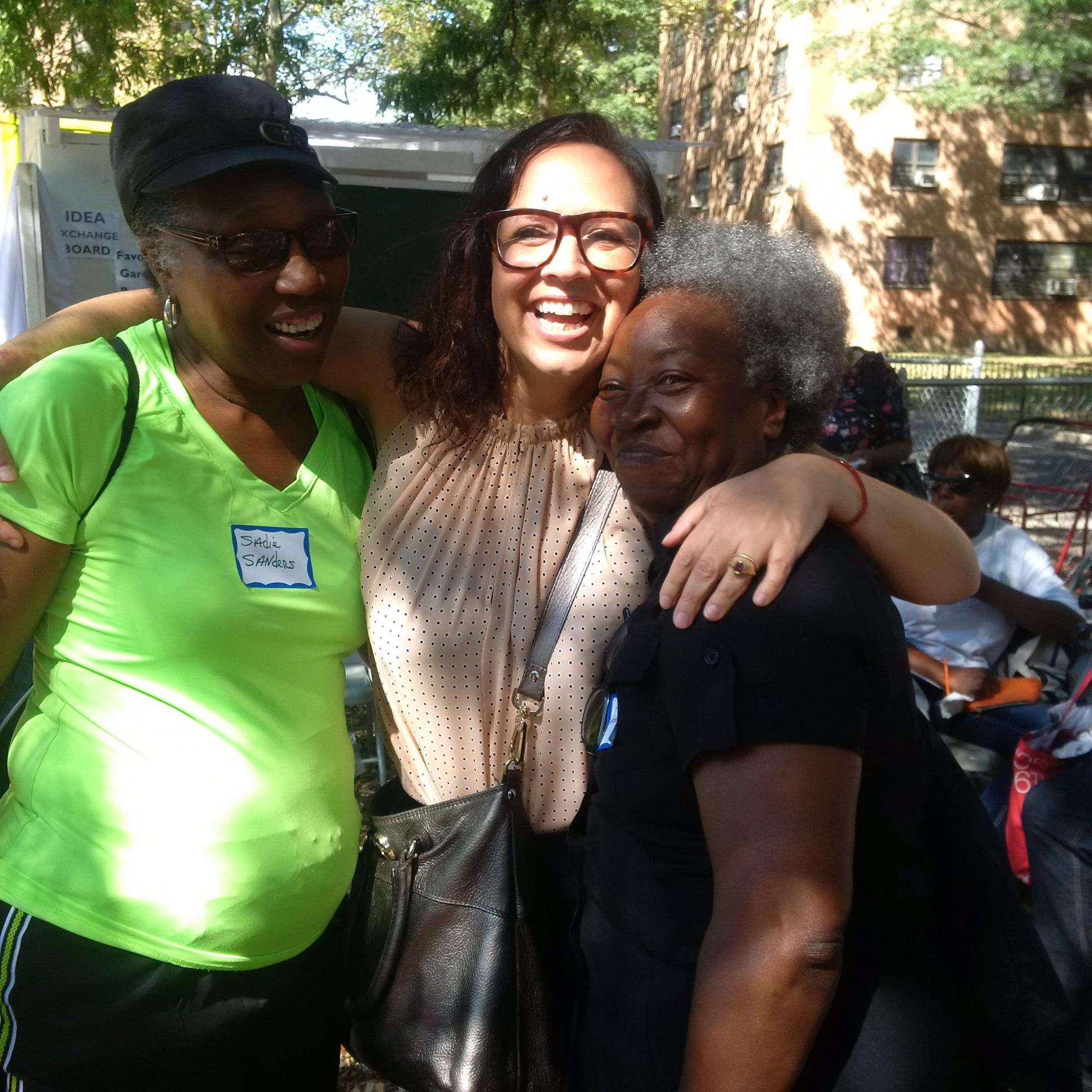 Rasmia Krimani-Frye, center, at the farm at Bayview Houses
---
More than a year-and-a-half after the Fund for Public Housing officially began soliciting donors, the nonprofit has raised approximately $1.5 million, according to New York City Housing Authority Chair and CEO Shola Olatoye.
Appearing recently on the "What's the [Data] Point?" podcast with Gotham Gazette and Citizens Budget commission, Olatoye explained that the 501(c)3, established to support NYCHA operations and community programming, is showing encouraging growth.
In a subsequent interview with Gotham Gazette, Rasmia Kirmani-Frye, the founding president of the Fund for Public Housing, said the nonprofit has begun to establish "a body of work" that now includes partnerships with tech startups, plans for the construction of new playgrounds, efforts to create a "leadership academy" for residents, and more.
Launched in the model of public-private partnerships that supplement city services, like the Fund for Public Health and the Fund for Public Education, the Fund for Public Housing seeks philanthropic donations targeted to benefit NYCHA residents and acts as a fast track for potential NYCHA programs. "It is really hard sometimes in government to try new things and iterate quickly," Kirmani-Frye explained.
While NYCHA has recently corrected operating deficits, showing one sign of better fiscal footing, and has a comprehensive -- and somewhat controversial -- plan in place, Next Generation NYCHA, the country's largest public housing system is facing a $17 billion capital budget gap and anticipates future cuts in federal funding.
Because the authority's massive infrastructure need is, as Olatoye says, "a public sector and private sector capital intensive assignment," the Fund exists to complement the larger NextGen NYCHA plan through community development, resources for public housing residents, improvements to quality of life and access to opportunity. These are causes donors and organizations are more inclined to give towards than the mold removal, new roofs, and boiler replacements that make up large chunks of the authority's capital need.
Accepting its first donations in January 2016, the Fund had amassed $900,000 as of last October. It managed a number of small projects, which included growing the Virtual Vita initiative, a free tax preparation program for low-income New Yorkers, as well as updating design guidelines for NYCHA buildings (Citi Community Development and Deutsche Bank contributed funding to these two projects, respectively).
Almost a year later, the Fund's current war chest of $1.5 million is a few drops in the bucket towards its initial goal of $200 million. However, Kirmani-Frye explained that the goal "really was just a number that we came up with to get people's attention. Honestly, this is what it would take to transform and invest in public housing in a different way. Then, we quickly moved to what we could do in a year…It was a big flag."
Emphasizing that her organization is still a "baby," Kirmani-Frye added that she and her partners have spent their first year trying to "get an audience." In addition to highlighting its coverage in The New York Times, she pointed to their recent selection as one of Fast Company's top 10 most innovative non-profits of 2017.
The Fund has also held a number of fundraising events, including a "salon dinner" hosted by board member Liz Neumark, founder and CEO of a New York City-based catering and creative events company, as well as a happy hour hosted by the Fund's 30-person advisory board.
Most notably, the Fund is leveraging NYCHA "alumni" as donors and spokespeople. These are people "that have grown up in public housing who have gone to do both extraordinary and ordinary things," Olatoye explained. While former residents Lloyd C. Blankfein, Jay-Z, and Howard Schultz have yet to contribute to the nonprofit, recent successes include actress and comedian Whoopi Goldberg and the current New York City Department of Health Commissioner, Dr. Mary Travis Bassett.
Other than raising public awareness for the necessity of public housing, the Fund has added new projects to its portfolio that, Olatoye says, sustain its focus on improving residents' "well-being through the investment in people, place, and work."
In June of this year, it hosted a tech panel in conjunction with MetaProp and Urban Tech Hub. With approximately 80 people in attendance, 10 startups came to pitch ideas to improve NYCHA's buildings and the lives of its residents. Companies like Radiator Labs and ThinkEco proposed solutions to minimize the cost of heating and cooling in NYCHA buildings. Others like hOM suggested on-demand amenities, including fitness classes and monthly social events. Kirmani-Frye did not specify, but said seven of the 10 were "selected to pilot their product/idea at NYCHA."
The Fund has also partnered with KaBOOM!, a nonprofit that constructs eco-friendly playgrounds, to secure funding for the creation of one in both 2017 and 2018. As of August 11th, Olatoye said they had raised $75,000 for the future "play spaces" and wanted to raise another $75,000 by the end of that week.
In addition to improving physical space offerings on NYCHA properties, a pending program supported by current City Council Speaker Melissa Mark-Viverito in partnership with the City University of New York aims to form a "leadership academy" that offers NYCHA residents a suite of free, for-credit classes on topics like community organizing and public policy. Another, inspired by NYCHA's Food Pathways program, is led by aforementioned board member Liz Neumark. This "food working group" aims to help residents find jobs not only as entrepreneurs, but as members more broadly in the food, beverage, and hospitality industry. According to the Bureau of Labor Statistics, these jobs will soon outnumber those in manufacturing.
Kirmani-Frye said the "crux of all this work is developing relationships" and that "people and investors and companies and whoever are welcome to come and talk about how they to want invest and contribute to public housing."
Olatoye said similarly and noted that the Fund for Public Housing is hoping to find a game-changing donor soon. "We absolutely are seeking some additional, significant—I like to say—earth-moving investments," Olatoye said on the podcast. "We have some good leads out there."