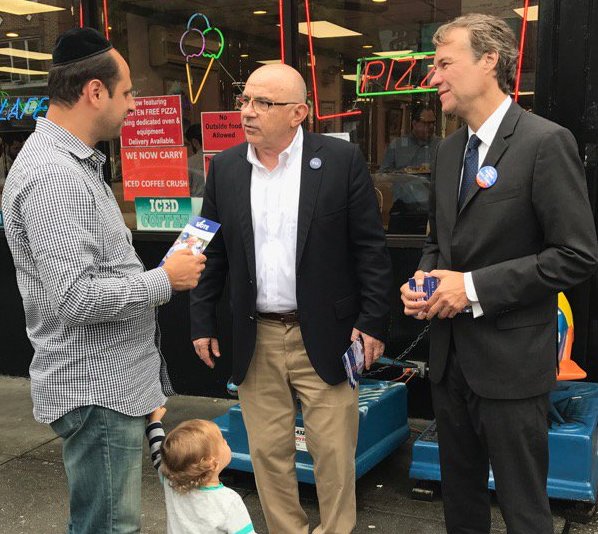 Sal Albanese, middle, campaigning (photo: @SalAlbaneseNYC)
---
The second of two Democratic mayoral primary debates is set for Wednesday, but leading public opinion pollsters have yet to study the full Democratic primary field or take stock of the competition between Mayor Bill de Blasio and his lone debate opponent, challenger Sal Albanese. The lack of polling makes it harder to gauge how Albanese and the three other Democratic challengers to de Blasio may fair come September 12, or how de Blasio's approval rating has changed in the last month.
De Blasio is considered a heavy favorite in both the primary and the general election, during which he is expected to face presumptive Republican nominee Nicole Malliotakis, independent Bo Dietl, and others, including Albanese, who has the Reform Party line.
Albanese, a former City Council member, will again be the only other Democratic candidate on the debate stage on Wednesday, with the three other Democrats -- Robert Gangi, Michael Tolkin, and Richard Bashner -- having failed to qualify or be invited by the debate sponsors. But it's unclear if Albanese's relatively low-budget campaign has closed the gap with the mayor's massively funded one or if recent news cycles have affected the mayor's numbers.
The latest Quinnipiac poll was released July 31, and saw de Blasio's job approval rating slip to 50 percent, against a 42 percent disapproval. A May 17 poll had him at 60 - 34 percent. Voters were split 46-46 percent on whether the mayor deserved to be reelected, but in a matchup against Malliotakis, de Blasio won handily with 52 percent of the vote against Malliotakis' 15 percent. Dietl pulled 11 percent of the vote in the poll. None of the other candidates in the Democratic primary were included, a choice Albanese has been critical of.
Quinnipiac's lead pollster, Mickey Carroll, has been impossible to reach over the course of two weeks. Spokesperson Patrick Smith declined to discuss its polling schedule. "Savvy campaigns, if they expect a poll coming, they create buzz around the release," Smith told Gotham Gazette. "Generally, the day before a poll is released, we inform the media."
Smith did say that Quinnipiac would be polling the mayoral race, but would not say if a poll would be released prior to the primary or Wednesday's debate. "We poll when we wanna poll, when we think we can poll," he said. Carroll has indicated to reporters that Quinnipiac polls candidates in part based on media attention they received, to which candidates and others can quickly identify a catch-22.
The Marist Institute for Public Opinion, which conducts the Marist Poll, has not conducted any polls in the mayoral race so far. Nicolette Strano, administrative coordinator of the Marist Poll, indicated that they would not release a poll before the primary. "We will be polling on the mayor's race, but it won't be soon," she said. "Maybe in a month."
A NY1-Baruch College poll released July 27 included de Blasio, Malliotakis, Dietl and Albanese. De Blasio was the favorite with 43.3 percent and Albanese received 3.9 percent.
A lot has happened since the aforementioned polls. Albanese's campaign has stepped up its fundraising, and spending, with a slew of digital ads targeting de Blasio's record. De Blasio's campaign also recently made a $2 million ad buy, rolled out on Friday with a 30-second television ad focused on the mayor's universal pre-kindergarten program.
On August 23, De Blasio and Albanese faced off in the first primary debate sponsored by the city Campaign Finance Board and partners. The mayor comfortably touted his record over the course of 90 minutes, with a few moments of vulnerability, particularly over the pay-to-play scandals that plagued his administration. Albanese was continuously on the offensive, armed with numerous zingers, but struggled to articulate concrete policy proposals at key points in the debate.
[Read: 5 Key Moments from the First Democratic Mayoral Primary Debate]
While de Blasio was defensive throughout the debate, he did not make any major error, at least in some part helping to cement his status as the favorite. Still, Albanese surely managed to build his profile with voters, given the debate and the media coverage of it. But to what degree Albanese impressed voters remains unknown since the two leading polling institutes did not assess voter sentiment after the debate.
In the 2013 mayoral race, with a crowded field of prominent Democratic candidates, Quinnipiac conducted four polls in August and September before the primary election. One explanation, perhaps, is that the 2013 Campaign Finance Board debate criteria specified polling averages that candidates needed to meet to qualify, unlike this year when polling averages were not included.
Albanese, who is the only other Democrat besides de Blasio to qualify for both debates this year, said he was "mystified and suspicious that there haven't been polls because I think this race is closer than is being reported." He said he was dubious of media reports that indicate de Blasio is coasting to reelection, a narrative that benefits de Blasio. "How do we know that? There hasn't been a poll in six or seven weeks," he said, particularly exasperated that there wasn't a poll after the first debate. Albanese has indicated that he thinks he would be into double digits if a poll was conducted.
Another sign Albanese sees that his campaign is catching up: de Blasio's campaign has not yet released any internal tracking polls. "When campaigns have internal polls, they leak it to the press. No one is leaking anything, which my antenna tells me this is a close race," Albanese said.
Albanese's campaign itself has not conducted any tracking polls, having already spent almost all its campaign funds. "We can't afford it," he said.
De Blasio campaign spokesperson Dan Levitan refused to comment on internal research. "I don't know when Marist and Quinnipiac are planning to poll again," he emailed.