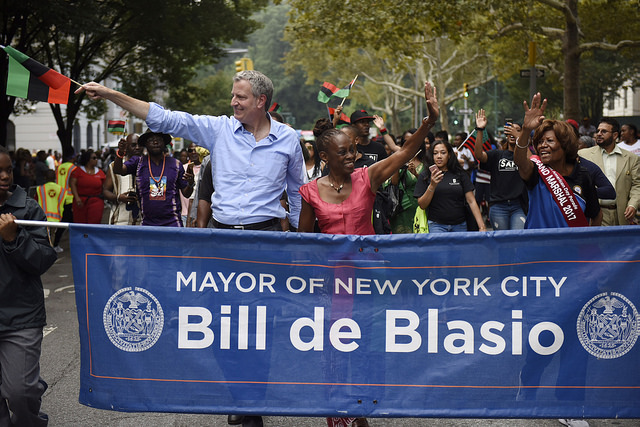 Mayor Bill de Blasio & First Lady Chirlane McCray (photo: Ed Reed/Mayor's Office)
---
As Mayor Bill de Blasio, a first-term Democrat, seeks reelection this fall, a close examination of his record is essential. De Blasio came into power promising to address inequlality in a variety of forms, including income, educational, policing, racial, and opportunity inequities he identified during his 2013 campaign. In this year's election de Blasio is running in part on his record, which is headlined by the implementation of his campaign promise to provide universal pre-kindergarten for the city's four-year-olds. But, there is much more to the mayor's record than UPK, which has clearly been his biggest success.
In this series, Gotham Gazette, with election coverage partners City Limits and WNYC radio, examines de Blasio's record on a variety of important issues. While this is not completely exhaustive, it should be helpful to voters and others seeking to evaluate de Blasio this fall. With our partners, Gotham Gazette will release articles and audio pieces on the following aspects of de Blasio's record -- those already published are linked below.
Election Day is Tuesday, November 7.
More to read/view/hear: