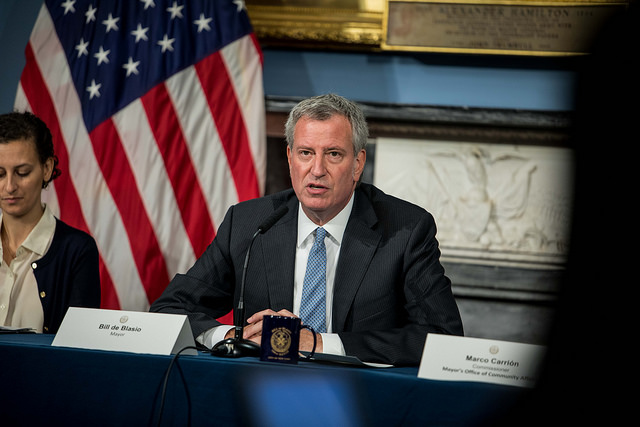 Mayor de Blasio (photo: Benjamin Kanter/Mayor's Office)
---
This article is part of a series on Mayor de Blasio's first term record as he seeks reelection this fall, in partnership with WNYC radio and City Limits. Find all pieces of the series here.
**********
It is a source of great frustration for Mayor Bill de Blasio and hangs over his administration and reelection bid as an albatross. Observers across the political spectrum, including Democratic and Republican opponents in this year's mayoral race, have attacked de Blasio for blurring or crossing ethical lines, and for lacking transparency.
De Blasio rode into power promising the most transparent administration in the city's history, but his nearly four years in office have been marked by continuing questions and controversies over both his administration's opaqueness and ethics, highlighted by twin law enforcement investigations into fundraising practices and government favors for campaign donors. The incumbent Democratic mayor, seeking reelection this fall, has repeatedly argued that he and his associates have carried themselves ethically and that he has done more disclosure than his predecessors and other high-level officials.
Yet, along with his electoral opponents, political observers, government reform advocates, and City Council members also say de Blasio's rhetoric has not been backed by action and that his record on transparency and ethics has been, at best, a mixed bag.
In endorsing him in the Democratic primary, the New York Times editorial board wrote, "A political operative before he ran for public office, Mr. de Blasio has not shaken free of detractors' suspicions about his ethical compass. He was subjected to both federal and state investigations into whether he presides over a pay-to-play system that favors well-heeled donors seeking favors from City Hall. Ultimately, no charges were brought against him or his aides. Though the mayor declared he had been vindicated, the Manhattan district attorney concluded that some of his fund-raising appeared to have violated "the intent and spirit" of the law. That's a far cry from Mr. de Blasio's claim to have been pronounced "innocent."
De Blasio was indeed chastised by federal and state prosecutors, who, while they did not bring charges against him or his associates, investigated their actions and outlined problematic practices, some of which led to new city laws limiting certain fundraising activities that the mayor and his team engaged in. De Blasio has claimed that he and his aides have held themselves to the highest standards, but he has regularly raised those standards when pushed.
Part of the mayor's pushback against criticisms has been that he and his associates have always had good motives, like expanding pre-kindergarten, and that a political nonprofit his allies ran to support his agenda disclosed more than required. Though he has been dogged by questions from members of the media, de Blasio readily points out that regular New Yorkers don't often ask him about his fundraising practices or release of email records when they have the opportunity to question him at town halls or radio call-in segments.
"People never bring up the issues from the investigations, because I think there was a broad understanding in the public that there was an immense amount of scrutiny that found absolutely nothing wrong," he said in a recent New York Magazine interview, mischaracterizing the facts given that while no charges were brought, prosecutors did indicate that the mayor and his associates had blurred or crossed ethical lines. "Everyday New Yorkers are much more concerned with kitchen-table issues. Some political insiders, maybe they've come to certain conclusions. But for everyday New Yorkers? They didn't see anything wrong, and they're right, because there wasn't anything wrong."
As de Blasio asks New Yorkers for four more years, ethics and transparency will continue to be a focus of criticism from his general election opponents and others, while the mayor will defend himself and attempt to point to stronger aspects of his record. But the record of how he and his administration have conducted themselves when it comes to playing by the rules, separating political fundraising and governing, and providing the public with both ethical and transparent government is very much worth chronicling and examining as voters evaluate their choices this November.
Mayoral spokespeople Eric Phillips and Austin Finan agreed to speak with Gotham Gazette for this story, but, other than a brief conversation to discuss the premise of the article, no comment was provided.
The most recent Quinnipiac University public opinion poll that included a question about de Blasio's ethics, published at the end of July, showed New York City voters saying 52 to 35 percent that he is honest and trustworthy, down from 59 to 31 percent in May. Still, the 52 was up from the lowest rating de Blasio has received in a Quinnipiac poll over his four years as mayor: amid intense controversy in May 2016, 43 percent said he is honest and trustworthy, while 45 percent said he is not. The highest de Blasio's honesty was rated by voters eight months into his tenure, when the balance was 66 to 22 in his favor.
Selective Transparency
In his former role as public advocate, de Blasio championed transparency and took the administration of Mayor Michael Bloomberg to task for its apparent lack thereof. De Blasio disclosed meetings with lobbyists and implemented tools to track Freedom of Information Law requests, while criticizing the Bloomberg administration for its lax FOIL response time.
Fast forward nearly four years and the same official who urged increased disclosure by Bloomberg has been reticent to show the same commitment in his own operations on FOIL responsiveness speed and other things like police discipline records and emails with top non-governmental advisors. For example, as public advocate, de Blasio recommended legislation requiring the mayor to include FOIL response statistics in the annual Mayor's Management Report, but it is not something de Blasio has done as mayor himself.
Deputy Mayor Anthony Shorris, de Blasio's second-in-command, recently conceded at a New York Law School breakfast that the administration could improve it's record on FOIL requests. "I don't think we've done as good as job on that as we could have," he said, Politico New York reported. "But I can't tell you we've gotten good enough. ... Our open data initiative has been, I think, one of the stronger ones in the country. ... Fundamentally, the more data that we can put out there so people don't have to say, 'May I,' but can do their own analytics, is the way to do."
On August 23, at the first of two mayoral debates in the Democratic primary, de Blasio was asked by debate panelist and NY1 reporter Grace Rauh about steps he would take to improve transparency in a second term, should he be reelected, or if he considered any improvements unnecessary. As he often does, the mayor disagreed with the premise of the question, and pivoted toward touting his record on transparency. "Anytime a lobbyist lobbied me on behalf of a third party I put that up online so that people know exactly who talked to me when. I did that," de Blasio said. "No other mayor's done that before in our history. I'm in favor of the kind of transparency that's gonna make life different for everyday New Yorkers like body cameras for all of our patrol officers over the next two years. This is one of the ultimate acts of transparency and accountability in government."
He added, "Past administrations did not disclose all sorts of things. I've made it a point to be open about disclosure. Some areas where I disagree specifically I do not think it was appropriate to disclose but compared to previous administrations we've gone a long way and a lot farther in terms of openness and disclosure and transparency....No mayor previously had that level of transparency and I'm very proud of the fact that we put that in place in the city. When it comes to tough questions, well it's a tough job as part of what I'd expect as mayor of New York City."
It was a far from satisfactory answer for de Blasio's only opponent on the debate stage, former City Council Member Sal Albanese. "I'm just incredulous," Albanese responded. "This administration is the least transparent administration in recent history," he added (it is not an easy comparison to make).
"We should have a higher standard for the mayor than not being indicted," Albanese said repeatedly during the debates and the primary campaign.
Government watchdog groups have also found that de Blasio reneged on his campaign pledges around core good governance, though there has been acknowledgement that the administration has implemented certain policies that have enhanced transparency, including related to data generated by city government.
For instance, the city has continued and expanded the implementation of the Open Data law, launching a redesigned online portal with thousands of datasets available to the public. The administration has launched OpenRECORDS, a centralized website to file and track FOIL requests with numerous city agencies. These advancements, while notable, do not capture the full picture of mayoral transparency, however.
Early on in his term, the mayor began limiting interactions with the press, eschewing the daily news briefings that previous mayors had traditionally held and restricting occasions when he would take "off-topic" questions. It earned him scorn from detractors in and out of the media, and, almost cyclically, reinforced his derision for reporters who grew frustrated with the dearth of unfettered, unscripted responses to their questions.
"There's a Trump-like quality in his whining about the media," said Doug Muzzio, professor of political science at Baruch College, CUNY. "He's got the same disease as the President."
"There's a lot the citizenry could find praiseworthy in his record," Muzzio added, "but the two main issues are his transparency and political ethics, and his sense of self-aggrandizement where everything is 'historic' and 'transformative.' The problem is the distance between rhetoric and reality."
Muzzio also noted that the administration has released a lot more data than previous mayoralties, which has been useful for analysis of city agencies. "It's the personal transparency, rather than institutional transparency, that's lacking," Muzzio said of de Blasio.
One example of rhetoric versus reality was a promotional video put out in December 2016 by City Hall that touted the administration's accomplishments, as it was mired in the two investigations that had captured headlines for months. Good government groups criticized the mayor at the time for effectively putting out a campaign ad shortly before the start of an election year during which government-funded advertisements would have been prohibited. The mayor fielded questions about the ad for weeks and grew frustrated by another example of what he has perceived as reporters' fixation on trivial matters at the expense of spreading all the "good news" that is happening as a result of his policies.
At the August 23 debate, prompted by NY1's Rauh, de Blasio pledged that he would not set up another issue-advocacy nonprofit like the Campaign for One New York, which was at the center of one of the two investigations into his administration. It was something the mayor had previously said he didn't plan to do and had in fact signed a new law making virtually impossible. In making the pledge, he reiterated that he faced tough questions about his ethical conduct purely because he was willing to voluntarily disclose who had donated to the nonprofit group and how much.
"If you know you did things right you disclose," he said. "If you've got something to hide, you don't disclose. That's what we did over and over again with donations that we did not have a legal obligation to disclose but we went ahead and disclosed anyway and I'm proud of that fact."
But, the mayor's approach to disclosure has been highly selective. For the better part of two years, media outlets have pushed, and NY1 and the New York Post even sued, the administration for access to emails exchanged between the mayor's office and unpaid outside advisors. The mayor's team has shielded those communications, terming the advisors "agents of the city" who would not be subject to disclosure requirements under the Freedom of Information Law that typically apply to correspondence between government officials and non-government entities. Exceptions to FOIL exist for intra-governmental communication that is part of the decision-making process, but de Blasio and his team argued that the advisors were so close to City Hall and the mayor that they were de facto members of the administration.
Eventually, the mayor relented to an extent, and troves of emails, numbering in the thousands and many of them significantly redacted, have been released on numerous occasions, usually in Friday "news dumps." The administration is still in court appealing the decision to release the emails, but the mayor pledged in March to release all communications going forward. The emails have not shown wrongdoing, but rather painted the administration, and the mayor particularly, in an unflattering light at times. Some showed de Blasio's harsh treatment of underlings while others revealed his proximity and degree of access afforded to donors, including controversial ones.
Watchdogs have pointed out that with the Campaign for One New York and the "agents of the city," de Blasio has created his own problems by blurring lines and limiting transparency. By inviting massive donations to the nonprofit from entities with city business, de Blasio opened the door to pay-to-play allegations, and even the federal investigation. Under intense scrutiny, the mayor wound up promising extensive evidence of donors who did not get favorable treatment from city government -- a promise he eventually admitted he regretted -- but after months of delays, he produced a column on the online publishing platform Medium that left many wanting for more detail.
Big Money for the 'Right' Causes
As public advocate, de Blasio urged big corporations to adopt policies against funding political action committees and organized elected officials dedicated to that cause. He filed a legal brief in federal court arguing against the removal of limits to donations to PACs and he railed against the Supreme Court's Citizens United decision that allowed untold amounts of money from undisclosed donors to flood electoral campaigns.
"Deep-pocketed donors have turned their sights on New York and our best-in-the-nation campaign finance system," de Blasio said, in a statement on Oct. 3, 2013, when he filed the amicus brief. "They're determined to upend protections that have safeguarded our democratic process for decades. This is about more than one election. It's about defending the voices of everyday New Yorkers. It's a fight we are going to win."
While de Blasio has continued to rail against Citizens United and call for full public campaign financing, the mayor has not aggressively pursued such a system in New York and the same politician who has long decried wealthy moneyed interests influencing government relied on them to promote his own political agenda while mayor.
De Blasio came into office with a come-from-behind primary win and a general election landslide. He had the wind at his back and attempted to take on the world, so to speak. This led to the creation of the controversial nonprofit and a 2014 effort to swing the state Senate Democratic that got him in trouble, along with other actions that have hurt his reputation for openness and clean government.
Within a month of the mayor's election, his allies set up a political nonprofit group called UPKNYC, later branded The Campaign for One New York, to promote the goal of universal pre-kindergarten in the city, which in part depended on state-level approval. After achieving its initial goal -- de Blasio favored a tax on the rich to fund the proposal but settled for direct funding from the state -- the group pivoted to promoting the mayor's affordable housing plan. All along, the 501(c)4 organization solicited unlimited donations, many from wealthy donors and labor unions that also had business with the city. The group did voluntarily disclose its finances and donors every six months.
Scrutiny of its activities, and the mayor's fundraising for it and possible exchange of government favors, helped trigger one of the two separate corruption investigations, a federal probe into allegations of pay-to-play at City Hall --- the second was a state-level inquiry into whether the mayor's attempt to sway state Senate races for Democratic candidates in 2014 had violated election law by funneling big donations to candidate campaigns through local Democratic committees.
The mayor maintained throughout that he and his associates had acted under strict legal guidance and had followed the letter of the law, and both probes eventually concluded with no charges. But the stench of scandal remained as the Manhattan U.S. attorney concluded that the mayor, though not crossing into clear criminal activity, had sought contributions from donors and then had "made or directed inquiries to relevant City agencies" on behalf of those donors.
De Blasio defended this as typical practice and even good government -- that any constituent, whether a donor or not, who brings a concern to him is directed to someone in the administration who may be able to help, but that the relevant powers make decisions based on the merits, not relationships. What has been abundantly clear, however, is that de Blasio donors have enjoyed special access to and attention from the mayor and his administration.
De Blasio also regularly made the case that the ends justified the means, that because he was fighting for universal pre-kindergarten and affordable housing, his skirting of campaign finance rules and blurring of lines was acceptable. The contradiction became especially evident when de Blasio agreed to sign legislation pushed by the City Council, notably Speaker Melissa Mark-Viverito, a close de Blasio ally, to drastically limit political nonprofits with ties to elected officials. De Blasio would explain that it was "the right thing to do" but did lament that he felt it might hamstring progressive politicians with good intentions like himself in the ongoing fight against opposing big-money interests.
At the second Democratic mayoral primary debate on September 6, debate moderator Maurice DuBois of CBS-2 put the mayor on his heels with the first question, about his apparent ethical failings. "Mr. de Blasio, here's a true story," DuBois began. "A political leader and his associates used pay-for-play tactics...but were not charged with a crime. However, state and federal prosecutors insist those people did violate the intent and spirit of the law. While there were no criminal charges, would you want people like that working for you?"
A defensive de Blasio again stood by his administration's efforts and the policy goals that they achieved, and insisted that he and his associates had been vindicated by the intense scrutiny by prosecutors that nevertheless found no wrongdoing. "I look at everything that we've done and I'm very convinced that high standards were kept to and the results speak for themselves in terms of hundreds of thousands of New Yorkers whose lives we've improved," he said. "That's what I came here to do, make people's lives better."
Christina Greer, political science professor at Fordham University, said she is "torn" over the mayor's first-term scandals. "Part of me is just wondering, 'is this the cost of doing business as a politician in the 21st century if you're not a billionaire?'" she said, drawing a contrast with former Mayor Michael Bloomberg who did not have to depend on donors for his own campaigns. "Part of me thinks, 'Well if you don't have billions to contribute on your own, do you possibly have to get that from unsavory characters and make alliances and depend on people who have resources?' But the other part of me wonders, 'Wow, it seems like we're always asking about some sort of potential wrongdoing.'"
Greer's conflict seems to be indicative of that of at least several prominent Democrats, including officials like Comptroller Scott Stringer, who criticized the Campaign for One New York as a "slush fund" but wound up endorsing the mayor for reelection, citing his progressivism in fighting inequality. For some time, Stringer was considering a mayoral run, either against de Blasio or in the event de Blasio did not seek reelection due to results from the investigations that did not materialize.
Greer emphasized that de Blasio's ethics record should not be conflated with his transparency, even though the two are sometimes drawn in "concentric circles." She noted that de Blasio's refusal to take questions from the press simply raises more concerns about what else he isn't being transparent about. "I genuinely do not understand why there are times that de Blasio makes life much harder for himself than he has to...He brought that on himself," she said. She did agree that perhaps everyday New Yorkers don't care about issues of transparency that "get into the weeds," but said he couldn't dismiss the concerns of those who do. "By you not wanting to answer it, you can't wish it away by saying nobody's interested," she said. "Yes, we are interested."
De Blasio's criticism of and condescension towards the media was on full display in the column he wrote on Medium, where he attempted to defend himself against pay-to-play allegations and special access for donors. The column, promised by de Blasio more than a year prior, was meant to illustrate instances of donors who sought favors from the administration but were denied. In the face of allegations and investigations, de Blasio had promised "a whole lot of evidence" of donors not getting the action they desired from the city. De Blasio provided little evidence in his Medium column, but went after the media with gusto.
"Unfortunately, sensationalism often sells in New York City," de Blasio wrote of the coverage of his contact with donors. "Merit-based bureaucratic decision-making is a little boring for the nightly news."
The column contained few examples and no names, and largely blamed the media for over-inflating the scandals that have plagued de Blasio's tenure. "It was a non-explanation, he gave a few examples of dubious quality," Muzzio said with an exasperated sigh, noting how the mayor looked down his nose at the press.
Some top Democratic elected officials have been hesitant to criticize the mayor openly, save for Stringer and a few others. Public Advocate Letitia James, de Blasio's successor and whose office is meant to serve as a watchdog over city government, declined to comment for this article through a spokesperson. James has largely stayed away from questions about de Blasio's ethics and transparency issues, explaining her approach as more focused on the substance of agency work and using litigation and legislation to make policy change.
City Council Speaker Melissa Mark-Viverito, ostensibly the second-most powerful elected official in the city, deflected when asked about the mayor's defense of the Campaign for One New York and his transparency, at a news conference on Sept. 7, when the mayor's ethics record was being argued over both on the primary election debate stage and throughout the ongoing race for mayor.
"We continue to have conversations in this Council and we continue to look at legislation to figure out how we can be more transparent," she said. "That doesn't just fall on the mayor, that falls on all of us to be more transparent in government."
Mark-Viverito emphasized the Council's measures to improve the Campaign Finance Board's functioning and the laws governing campaign fundraising and spending. "Being a candidate and being an elected official is not easy," she said. "The CFB rules are extremely complicated to follow and sometimes to keep track of and so sometimes you can get a little bit lost in them."
When Gotham Gazette pointed out that the mayor's Campaign for One New York operated outside of the CFB's purview and asked if looking back on it she felt it was still ethical for the mayor to have created the group, Mark-Viverito said, "I'm not gonna respond to that at this moment. I haven't really focused on it as of late. Again, what we strive to do is to be accountable to our constituents and that's what I have been doing as an elected official, that's what we do each and everyday and I'm gonna continue to strive down that path."
Though she was quite reticent to weigh in on the issue when it was most relevant, Mark-Viverito did eventually spearhead the writing and passage of the legislation to rein in groups like Campaign for One New York, forcing the mayor's hand on a measure that ensures few like it will ever exist in the future, given several new restrictions, like severe limits on what entities with city business can donate to nonprofits closely associated with an elected official. Even during that legislative process, Mark-Viverito, largely a de Blasio ally, took pains not to criticize the mayor directly, while tacitly and legislatively showing her disapproval. In signing the legislation, de Blasio refused to acknowledge that he had made any mistakes, but touted it as good legislation further reigning in money in politics.
Council Member Mark Levine, who is among a number of members running to be the next speaker of the Council, also gave a quasi-defense of the mayor. "I think he has to be judged by the fact that there was extensive scrutiny with considerable resources at multiple levels of government, local and federal, that left no stone unturned and determined there was not ground to charge," he told Gotham Gazette, "and that at the end of the day is the most important standard and one that he justifiably touts, particularly in light of the months of leaks which gave him bad press for issues which ultimately were not deemed sufficient to charge on."
But multiple City Council members, who did not wish to be named, felt differently. Separately, they gave similar opinions to one another, criticizing the mayor's hypocrisy on transparency, his handling of the "agents of the city" emails, and his continued arrogance over escaping an indictment.
One Council member said the mayor was "vulnerable" on issues of transparency and that he faced "justifiable criticism" over his shielding of his emails, which did not seem at all legally defensible. The months of bad headlines, said the Council member, led to a "bunker mentality" and the mayor and his associates dug in their heels deeper. (Indeed, de Blasio has reopened himself to many more press questions since the investigations ended.)
Two Council members said the mayor's shielding of his emails was largely an exercise in protecting his image rather than hiding instances of corruption. "It's clear they are well aware of who their friends are," said one member, of the mayor's relationship with donors. The Wall Street Journal has reported that the contents of some of the "agents of the city" emails are especially gossipy and embarrassing.
Another Council member commended the press as the institution, more so than the City Council, that has most held the mayor accountable, and criticized the mayor for attacking the media's reportage. The member noted that the Council did not use its subpoena power and did not act on the Campaign for One New York until after Common Cause NY, a good government group, filed an official complaint with the Campaign Finance Board.
That Council member also critiqued the mayor for not revealing who administration officials hold meetings with, an issue on which de Blasio had campaigned, and for not fully implementing the online FOIL portal. On the mayor's Medium post, the Council member said, "It's a little too cute to tell folks exactly who did what without using their names."
'Backwards on Police Transparency'
In April 2013, then-Public Advocate de Blasio released a "Transparency Report Card" that evaluated 18 city agencies on their response to FOIL requests. The two agencies that received a failing grade were the New York City Housing Authority (NYCHA) and the NYPD. A Village Voice analysis from April of the de Blasio administration's handling of FOIL records showed that little had changed in more than three years. "A review of thousands of pages of FOIL records shows the city's system for handling public information requests remains haphazard, under-resourced, and often excruciatingly slow. And the mayor's own office is the slowest of all," the report reads.
The mayor's earlier criticism of the NYPD's opaqueness perhaps most smacks of hypocrisy to police reform advocates who say his administration has not only not made progress, but actually backtracked on transparency at the police department. The NYPD, and then de Blasio, last year contended that successive administrations had for decades misinterpreted Section 50-a of the New York State Civil Rights Code, which protects the personnel records of police officers from public disclosure. As the department saw it, the law prevents them from releasing "personnel orders" that summarize disciplinary actions taken against officers. These orders had routinely been released until the revised policy was put in place, and the city has fought tooth and nail to uphold its reinterpretation of the law, even appealing an unfavorable judicial ruling, and has pointed to the need for the state to change the law.
"The de Blasio administration has taken the city backwards on police transparency and accountability with its misuse of state law 50-a to conceal information," said Lumumba Bandele, a spokesperson for Communities United for Police Reform, a coalition of advocacy groups. Bandele noted that, though the mayor released a proposal to change the law in Albany, there was little evidence that the administration made it a priority in this year's legislative session. "On policing, this administration is misusing the law as an excuse for being less transparent than those of Bloomberg and Giuliani," she added, "allowing the NYPD to shield police abuse and corruption from public scrutiny, and failing to provide leadership to improve police accountability and transparency."
The notion -- that the de Blasio administration has been worse about NYPD transparency and accountability -- is one that was also echoed this year by City Council Member Jumaane Williams, who is a de Blasio supporter overall.
Scrutiny and Change
Undoubtedly, scrutiny of the mayor's actions led to change in his behavior. He stopped communicating with top lobbyists who were close to him and began to limit government-related interaction with outside consultants, particularly Jonathan Rosen, a confidante who was involved in the mayor's 2013 campaign and the Campaign for One New York, and whose firm is again working on the mayor's 2017 reelection bid. The scandals also prompted the legislation by the City Council -- which the mayor signed into law -- regulating donations to nonprofit groups affiliated with elected officials and requiring disclosure by these groups under the oversight of the Conflicts of Interest Board. And, de Blasio changed his "agency of the city" email transparency policy as he continues to battle in court to keep past emails secret.
But it's unclear if the mayor, who won his primary handily and is expected to coast to reelection through the general, will take substantive steps to be more transparent. "[If] he gets a second term, I can't see him as a lame duck being more transparent, so I think that's a concern," said Greer.
There's no doubt that de Blasio's general election opponents, chiefly Republican Nicole Malliotakis, a state Assembly member from Staten Island, will continue to make de Blasio's ethics a focus of the campaign. The question remains, though, how much voters care. Political analysts note that most voters do not vote based on transparency and ethics issues unless there is a major scandal that has led someone to jail. Voters often vote based on "pocket book" and "kitchen table" issues like jobs, schools, and crime -- a point de Blasio himself regularly acknowledges at least tacitly.
Council Member Brad Lander, who was one of the co-sponsors of the legislation regulating political nonprofits, said it was more constructive to focus on the political system that allows, and in some way encourages, reliance on wealthy donors. "If we want elected officials in New York City to live up to a higher standard of good government, then the best approach is to strengthen our own rules," he said. "That's more valuable than focusing on individuals."
This article is part of a series on Mayor de Blasio's first term record as he seeks reelection this fall, in partnership with WNYC radio and City Limits. Find all pieces of the series here.
**********
A TIMELINE of MAJOR DEVELOPMENTS RELATED to MAYOR DE BLASIO'S RECORD on ETHICS and TRANSPARENCY
November 2013: Public Advocate Bill de Blasio gets elected mayor of New York City after running a campaign in which he promised an unprecedented level of transparency in government. As Public Advocate, de Blasio issued a "Transparency Report Card" evaluating city agencies on their response to Freedom of Information Law (FOIL) requests. He chiefly criticized the NYPD for their lax FOIL response times, giving them a failing grade in his report.
December 2013: De Blasio's allies set up UPKNYC, also known as the Campaign for One New York, an issue-advocacy nonprofit -- classified by the IRS as 501(c)(4)s -- that could solicit unlimited contributions and spend unlimited funds to promote the mayor's agenda, namely promoting universal pre-kindergarten. Under law, the nonprofit was not required to disclose its donors. The mayor's associates later set up another nonprofit called United For Affordable NYC, to promote his affordable housing plan. The Campaign for One New York eventually became the locus of two parallel investigations by federal and state prosecutors into the mayor's fundraising practices and his effort to sway state Senate races in 2014.
July 2014: The Campaign for One New York voluntarily discloses its fundraising and donors to the state Joint Commission on Public Ethics (JCOPE) and to the public, despite not being required to do so, showing $1.76 million in donations, a lot of which came from labor unions that have been big supporters of the mayor and from groups that do business with the city. The mayor faced scrutiny for allowing doing business donors to give unlimited amounts, whereas those same donors would've been limited in how much they could contribute to a campaign committee. The Campaign for One New York later shifted its focus towards the mayor's larger progressive agenda, particularly affordable housing, after having already achieved the goal of funding universal pre-kindergarten in the city.
May 2015: De Blasio heads to Washington D.C. to launch "The Progressive Agenda," a platform of progressive policies that he attempted to advocate for at the national level to try to influence issues in the presidential race. Another nonprofit, the Progressive Agenda Committee, is set up by October 2015 to helm the project. The group would have little to no impact before shutting down within less than a year, only making headlines for an aborted attempt at holding a presidential candidate forum in Iowa in December 2015.
The same day de Blasio was in Washington, the New York Times reports that the Campaign for One New York has come under scrutiny by JCOPE for not registering as a lobbying entity. In 2014, UPKNYC had registered as a lobbyist to promote universal pre-k.
July 2015: Yet again, the Campaign for One New York discloses its fundraising, showing another $1.7 million in fundraising over a six-month period. The donations came from unions, lobbyists, wealthy donors and real estate executives. A Politico New York analysis in September shows that 46 of 74 donors "either had business or labor contracts with City Hall or were trying to secure approval for a project when they contributed, public records show." Over the next few months, de Blasio faces constant questioning about potential conflicts of interest and the perception of a pay-to-play culture emerging at City Hall. The nonprofit groups also seem to slow down their operations and fundraising amid increased criticism.
Feb 2016: Common Cause New York, a government reform advocacy group, files a complaint with the New York City Conflicts of Interest Board and the Campaign Finance Board, requesting investigations of the Campaign for One New York and United for Affordable NYC. "The Mayor's unprecedented use of 501(c)(4) fundraising has spawned a shadow government that raises serious questions about who has influence and access to the policymaking process," Common Cause NY said in a statement at the time. "It has created a perpetual campaign, confusing the role of government and politics, to the detriment of the public interest."
March 2016: The Campaign for One New York announces plans to close down as the spectre of pay-to-play allegations begins to hound the administration. United for Affordable NYC ends operations in conjunction, but the Progressive Agenda Committee continues to exist with minimal staff.
April 2016: Then-Manhattan U.S. Attorney Preet Bharara reportedly begins looking into two de Blasio donors, in connection with a separate corruption case involving the NYPD. Both donors contributed to the mayor's campaign as well and were part of his inauguration committee. CBS2's Marcia Kramer reports that Bharara's office had started focusing on the mayor's fundraising practices. Mayor de Blasio, saying he was unaware of any federal investigation, says on April 11, "I'm not going to be speaking about this after today."
On April 22, the New York Daily News reports on a leaked memo from the state Board of Elections regarding the mayor's 2014 efforts to help Democrats win the state Senate. The memo alleges that de Blasio and his team circumvented campaign contribution limits to benefit three Democratic campaigns, thereby warranting criminal prosecution. (It would later emerge that the memo was released by a Republican BOE spokesperson.)
On April 28, after de Blasio's counsel confirms having received subpoenas in parallel state and federal investigations into the mayor's fundraising, de Blasio maintains his innocence. "Everything we've done from the beginning is legal and appropriate," he said. "There's an investigation going on, we're going to fully cooperate with that investigation."
May 2016: A lawyer for the Campaign for One New York tells JCOPE that the nonprofit would stop complying with subpoenas, suggesting that the probe into CONY has become politically motivated.
On May 18, Mayor de Blasio promises to produce a list of donors who contributed to the Campaign for One New York but did not receive favors from City Hall, insisting that his administration makes decision based on merit and not on favoritism.
The same month, de Blasio comes under fire for shielding his email exchanges with five unpaid outside advisers, some of whom have business with the city. The administration terms them "agents of the city" and argues that they are exempt from disclosure requirements under the Freedom of Information Law.
June 2016: The administration releases selected emails from outside consultants to Politico New York, in response to long-pending FOIL requests.
July 2016: The New York City Campaign Finance Board rules that the Campaign for One New York did not violate campaign finance law and that donations and spending by the group do not count towards the mayor's 2017 reelection campaign. But, the board criticized the mayor's fundraising practices, which they saw as circumventing the city's strict campaign finance restrictions, and called on the City Council to pass legislation to close the loophole.
"New York City's system depends on reasonable contribution limits that reduce the appearance that influence can be bought or sold through campaign contributions," said then-CFB Chair Rose Gill Hearn. "It defies common sense that limits that work so well during the campaign should be set aside once the candidate has assumed elected office."
August 2016: A battle brewing in the background for months over NYPD officers' disciplinary records came front and center as the New York Daily News reported that the department would no longer release "personnel orders" summarizing disciplinary actions against officers. Then-Commissioner Bill Bratton insisted that the city had long misinterpreted a decades-old state law -- Section 50-A of the New York State civil rights code-- that had led to the release of officer records. The law has been a particular sticking point for police reform advocates incensed over the administration's efforts to protect the disciplinary record of Officer Daniel Pantaleo, whose use of a banned chokehold led to the death of Staten Island resident Eric Garner in 2014. Mayor de Blasio, whose administration has been fighting for well over two years to shield Pantaleo's record, insisted his hands were tied on 50-A unless the state Legislature took action to change the provision.
At an unrelated news conference in late August, de Blasio said he had stopped meeting with lobbyists, chiefly James Capalino, a top lobbyist and advisor to the mayor. "He, going into the mayoralty, was someone I respected as a friend and who I talked to a lot over the years," de Blasio said. "But I do not have contact with him anymore."
September 2016: Two media outlets -- NY1 and the New York Post -- sue the mayor for the release of emails exchanged with Jonathan Rosen, of the consulting firm Berlin Rosen, who is one of the mayor's "agents of the city."
That month, the City Council begins drafting legislation to regulate political nonprofits like the Campaign for One New York. Multiple bills were formulated to implement additional disclosure rules for these groups and to bring them under the purview of the Conflicts of Interest Board.
October 2016: After weeks of criticizing the New York Post for their coverage of his administration, de Blasio repeatedly ignores Post reporter Yoav Gonen's questions at an October 6 news conference. Gonen presses on with questions, leading to heated words from the mayor, who calls the Post a "right-wing rag" before moving on to other reporters. The incident earns the mayor widespread condemnation from local media.
That same month, amid increasing criticism over the administration's stance on Section 50-A, de Blasio releases a legislative proposal calling on Albany to amend the law to remove confidentiality provisions and make the full disciplinary records of officer available to the public. "Without significant changes to this statute, the city remains barred from providing New Yorkers with the transparency we deserve," the mayor said.
November 2016: The Council introduces legislation to curb political nonprofits, particularly limiting contributions from entities and individuals with business before the city. Nonprofit groups would also have to disclose their donors to the Conflicts of Interest Board.
On November 23, the administration releases thousands of pages of emails exchanged between the mayor's office and Jonathan Rosen, who was among those classified as "agents of the city" to prevent disclosure.
At a November 29 news conference, de Blasio indicated to the press that he had reduced contact with Rosen. "I think it's fair to say that it's pretty rare I'm talking to people, but each situation is individual," he said at the time.
December 2016: On his weekly appearance on NY1 on December 5, de Blasio tells anchor Errol Louis that his communications with outside advisors and consultants will no longer be shielded from disclosure.
On December 15, the New York Times reports that two grand juries have been convened to hear testimony on the state and federal investigations into the mayor's administration and fundraising. De Blasio continues to maintain that he and his associates acted legally and appropriately, following guidance from the Conflicts of Interest Board and from campaign lawyers.
March 2017: Federal and state prosecutors jointly announced on March 17 that de Blasio and his aides would not face charges in the dual year-long investigations into the administration. Manhattan District Attorney Cyrus Vance criticized the mayor in a statement, saying that de Blasio and his associates violated the spirit and intent of the campaign finance law. Joon H. Kim, acting-U.S. Attorney for the Southern District of New York, noted that the investigation looked into "several circumstances in which Mayor de Blasio and others acting on his behalf solicited donations from individuals who sought official favors from the City, after which the Mayor made or directed inquiries to relevant City agencies on behalf of those donors."
De Blasio, at a news conference that day, said the conclusion of the investigations "simply confirms what I've said all along. My staff and my colleagues and I have acted in a manner that was legal and appropriate and ethical throughout. This is something I feel very strongly about in public service – that we have to comport ourselves in the proper manner and we have done that, and that has been confirmed by the results of this investigation."
Also in March, a Manhattan appeals court rules in favor of the de Blasio administration in the case of Officer Pantaleo's disciplinary record, superseding two earlier lower court decisions that had allowed the release of some information.
April 2017: After months of delaying his promise to provide a list of donors who did not receive favored treatment from City Hall, de Blasio partly backtracks and insists that he will pen an op-ed by the end of April that would mention certain relevant instances. (He had been hesitant to release the list earlier, citing the ongoing investigations.)
August 2017: The de Blasio administration releases more emails that show two donors who were embroiled in a police corruption scandal had relatively easy access to the mayor.
At the first Democratic mayoral primary debate on August 23, de Blasio concedes that the op-ed on donors is forthcoming and would be released before the September 12 primary. On September 1, de Blasio delivers in the form of a post on Medium, an online publishing website. The post reads more as a screed against the media and contains only four instances involving unnamed donors to illustrate the mayor's point. Some of those had emerged from emails released by the administration earlier in the month.
"Media reports on these contacts fixated on their access to me and ignored the fair and transparent outcomes that followed," the mayor writes. "Unfortunately, sensationalism often sells in New York City. Merit-based bureaucratic decision-making is a little boring for the nightly news."
September 6: The second mayoral primary debate begins with a heavy focus on de Blasio's ethics.
September 12: De Blasio handily wins the Democratic primary for mayor.
November 7: Election Day
**********
This article is part of a series on Mayor de Blasio's first term record as he seeks reelection this fall, in partnership with WNYC radio and City Limits. Find all pieces of the series here.