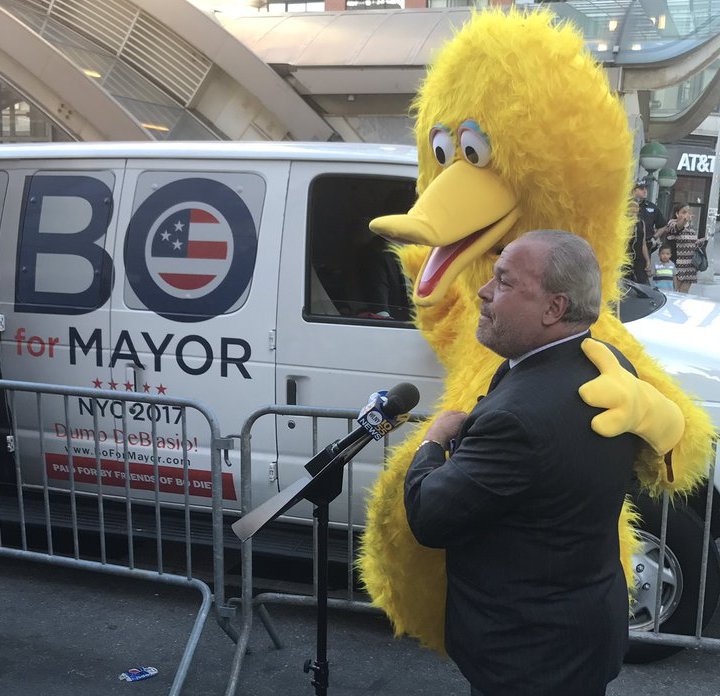 Bo Dietl with a Big Bird he hired to perform outside a mayoral debate (@BoDeitl)
---
Mayoral candidate Bo Dietl, a former NYPD detective now a private investigator, was invited Wednesday to participate in the first official, televised mayoral debate of the general election. On October 10, Dietl will take the stage with incumbent Mayor Bill de Blasio, a Democrat, and Republican Nicole Malliotakis, for the debate, which will be aired on NY1.
After a mistake with his paperwork as he tried to change parties to run in the Democratic primary, Dietl will be on the November ballot on his self-created "Dump de Blasio" line.
Dietl, who describes himself as a "conservative, moderate Democrat," was at one time a regular Fox News contributor and national spokesperson for Arby's restaurants. He has raised close to $1 million for his campaign, though he is not part of the Campaign Finance Board public matching program, so he is ineligible for a large sum of public funds that both de Blasio and Malliotakis will have, to varying amounts, at their disposals.
Like Republican nominee Nicole Malliotakis, Dietl voted for Donald Trump in the 2016 presidential election, and in fact endorsed him. Both have tried to distance themselves from Trump as they've run for mayor. Also like Malliotakis, Dietl has focused his campaigning efforts on painting a picture of a city that is decaying due to a reclassification of low-level, nonviolent offenses under de Blasio, whom he refers to as "Big Bird" because of de Blasio's height. They both also criticize de Blasio for ethical issues that have dogged the mayor's term and reelection bid.
In the end, Dietl and Malliotakis may be competing for the same pool of voters, and risk splitting the anti-de Blasio vote.
Dietl has run a Trump-like campaign, complete with a bombastic media personality, a prolific use of Twitter, and calling his opponents nicknames.
But despite the similarities in style and tone, Dietl actually does not promise to bring Trump-like policies to New York, for the most part. While he has adopted a largely tough-on-crime stance when it comes to policing and criminal justice, he has also adopted centrist or even liberal views on some other issues such as transit.
Here are 23 things Bo Dietl promises to do as mayor, accumulated through his public appearances and social media posts, campaign statements and website, discussion on the Max & Murphy podcast, and other sources:
1. Centralize homeless shelter services in facilities on Randall's and Ward's Islands.
2. Direct funds from the city's $4 billion surplus into the MTA's capital budget to "accelerate infrastructure projects." This rather than the de Blasio plan of taxing the 1% to fund the MTA.
3. Stop decriminalizing broken windows offenses like public urination.
4. "Eliminate stop-and-frisk in favor of community interactions."
5. Stop "skewing crime statistics and underreporting crimes in schools."
6. Implement a commuter tax on drivers entering the city, and use the revenues from that tax to subsidize MetroCards for "full-time employed New Yorkers" making less than $20,000 per year.
7. Increase vocational training within the school system.
8. Ban student cell phone use in city schools.
9. Expand Section 8 housing.
10. Curtail availability of prescription opioids and expand medical marijuana.
11. Keep Rikers Island jails open, but work on improving the complex's accountability, transparency, services, and infrastructure. Abandon the plan to build new jails in the boroughs.
12. Curtail construction of bike lanes.
13. Avoid raising taxes on income, real estate, commercial rent.
14. Waive the college requirement for entering the NYPD, recruit straight out of high school.
15. Increase pay for police officers to boost morale.
16. Implement a plastic bags tax.
17. Convert all taxis and buses to clean energy vehicles.
18. Provide tax incentives for businesses that use renewable energy.
19. Increase the minimum wage.
20. Offer tax incentives to Wall Street and other businesses to participate in a fund to privatize college tuition grants for students whose families make less than $100,000 per year.
21. Fight the opioid epidemic by utilizing crime-fighting techniques "he used as an NYPD detective to successfully curtail the flow of drugs through communities in the 1980s."
22. Force all real estate developers to build "meaningful affordable housing in all new complexes."
23. Hold daily news conferences and "address any concern or answer any question the press poses about New York City."