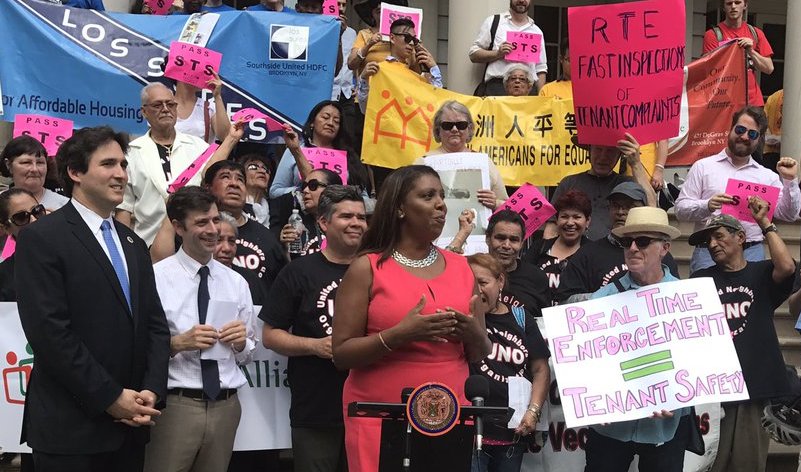 Public Advocate James (photo: @NYCProgressives)
---
Public Advocate Letitia James, a Democrat running for a second term, is facing a challenge from Republican candidate J.C. Polanco, who believes James has done little to hold accountable a mayor who aligns closely with her own politics. But James, an outspoken former litigator, has her defense ready as the two move toward a televised debate on October 16.
During a recent appearance on the Max & Murphy podcast, James rebutted critics of her first term and sought to dispel the notion that she has not stood up to Mayor Bill de Blasio. She also outlined other aspects of her record she is most proud of as she seeks reelection and put forth several areas she intends to focus on if given another term.
James told podcast hosts Ben Max, editor of Gotham Gazette, and Jarrett Murphy, editor of City Limits, that she has spent the last four years using her familiarity with the legal system to battle the administration on many fronts, whether it be improving school transportation for students with disabilities or fighting for rent exemptions for seniors. She has been critical of the failures of city agencies, such as the Administration for Children Services, and has called out the mayor for not supporting legislation that has been priorities for her office.
To a lesser degree, however, has she employed her bully pulpit to criticize the mayor's own ethics and transparency, being less vocal than her fellow Democrat, Comptroller Scott Stringer, for instance. James acknowledged on the podcast that she has not taken her own more subtle approach to accountability, but said she has not been shy to disagree substantively or to sue or to criticize, citing several examples, but also said she has worked with the administration behind the scenes to create productive outcomes.
When she first researched the role of public advocate, the office was "ill-defined" with no clear objective, James said in the Max & Murphy interview. "There was a lot of room to engage on a lot of efforts on a wide range of issues that obviously I care about, but it all boils down to one issue, and that is social justice," she said. "It's part of who I am. It's part of my DNA. It's my raison d'etre."
On taking office, she said, her priorities were to use her legal skills to litigate strategically, to "continue to engage in investigations on issues that impact low- and moderate- and middle-income families," and to maintain strong relationships with the City Council, which has been a partner in passing progressive legislation proposed by James. She referenced the town halls she has held all over the city as fulfilling the need to hear directly from New Yorkers.
James' opponent, Polanco, an attorney and former educator, is running on a platform of government reform, and that includes reforming the public advocate's office to give it more teeth. "I really want to reform the office and make it an opportunity for New Yorkers to have a real watchdog to oversee what the mayor and the City Council is doing," he said in a recent appearance on Max & Murphy, explaining several added powers he wants to see given to the public advocate, including subpoena power. Polanco emphasized the need for an independent voice to moderate the "extreme ultra-left agenda coming out of City Hall" and, while calling James herself "ethical," took issue with her effectively enabling what he sees as the mayor's unethical practices.

"I think that if you endorse a mayor as unethically challenged as this one, if you can see it took NY1 and The New York Post to sue City Hall to get email records that demonstrate a pay-to-play operation, if you can endorse someone like that, I am going to be very suspect as to why you're endorsing them," he said of James' support for de Blasio.
James sees it differently, and is confident she's been a tough check on the administration. "When I've agreed with the mayor on issues, I've stood by his side," she said. "When I disagreed with the mayor, we've criticized the mayor." She cited numerous instances to bolster her point.
She criticized the mayor's reluctance to create a separate agency for veterans affairs in the city, she said, and has opposed his policies on homelessness and the administration's use of temporary hotel shelters. She also touted the lawsuits she has filed against the administration, including one that took aim at a rule change passed by the administration that she claimed was kicking eligible seniors off the rolls of a property tax exemption. She touted a victory in opening up School Leadership Team meetings across the city to the public.
James also pointed to the New York Post editorial board's praise for her in December last year for speaking out against the mayor over the "agents of the city" controversy, that involved the administration attempting to shield the mayor's email exchanges with unpaid outside advisors. "Consultants, lobbyists — to me, it's a distinction without much of a difference," James had said at the time, part of one of the larger episodes that Polanco calls into question in terms of de Blasio's ethics and James' reactions.
When de Blasio's administration was embroiled in numerous controversies, chiefly revolving around dual investigations of his fundraising practices and the work of a political nonprofit set up by his allies, James was conspicuously silent for the most part, and did not publicly condemn the mayor at news conferences as one might have expected from someone in the public advocate position. But that has been part-and-parcel of her approach to the office, she said. "I thought that as the public advocate of the City of New York and having a relationship with the mayor where we're somewhat like-minded philosophically and politically, that I can get more done by having a conversation with him one-on-one with regards to our differences and coming to some agreement," she said regarding the approach more broadly, not on any specific issue.

"Because we have a relationship, and because I have a relationship with a significant number of commissioners, and we are all focused on one objective, and that is a more progressive approach to legislation and a more progressive approach to dealing with these problems which appear to be intractable, we've achieved quite a bit in the office of public advocate," she added, "and I would argue without any fear of contradiction that we have done more in the last four years than any previous public advocate or all public advocates combined." De Blasio is, of course, a member of that group.
Undoubtedly, James is well-placed for a second term, with visibility among voters who are overwhelmingly registered Democrats, strong campaign finances, and near universal labor union support. And she is going into reelection with an agenda for the next four years, which includes affordable housing, criminal justice reform, property tax reform and mental health services, to name a few issues.
As she looks to talk issues, James expressed frustration that the controversy over the statue of Christopher Columbus -- which arose in the aftermath of white supremacist violence in Charlottesville, Virginia in August after a protest over the removal of the statue of a Confederate general -- has subsumed other more important matters. Following the incidents, Mayor de Blasio announced a commission that would study public monuments in the city to determine which ones are appropriate and which ones have a sordid history and should perhaps be removed.
"I think this is really a distraction from the major issues that we really should be focusing on," James said on the podcast, insisting that she'd rather talk about issues like public housing, homelessness, mental health services and grand jury reform. For the record, James supports preserving the statue of Columbus and stresses that it should serve an educational purpose.
"The monument should remain, there should be a teaching opportunity where we talk about the good, the bad, and the ugly of Christopher Columbus and how he exploited indigenous populations," she said. "But I'd rather be having more a substantive conversation about what we can do to improve the lives of residents of public housing, what we can do to transform the third rail of politics, that is property tax, which is squeezing the middle class and resulting in so many senior citizens who are losing their property or liens being placed on their properties."

Her largest priority is housing, she said, whether it's NYCHA developments or affordable housing for several demographics, including homeless people. On October 9, James will rally at City Hall with members of dozens of churches to advocate for a NYCHA infill proposal that originated in the community, she said.
James wants to build off the city's successful universal pre-kindergarten program and expand to quality infant care in the city. She said she will push for reopening dental and health clinics in public schools, which she said she fought for when former Mayor Bloomberg closed them down. And she believes the city needs to reevaluate the numerous neighborhood rezonings that are creating widespread uncertainty and discontent in low- and middle-income communities fearing gentrification. The city needs to involve community-based organizations in the conversation, she said, and build affordable housing on unused public land.
"We need a housing bond act. We need to build over rail yards...We need more integrated housing...integrated by income," she said. "More housing set aside for homeless, moderate-, middle-income housing. We need more work-live space in the City of New York and we really need to examine these rezonings."
She also emphasized the need for reexamination of the 421-a property tax exemption, approved at the state level, which she believes allows developers to create luxury housing and exacerbates the need for more middle-income housing. The operative issue, however, is that would require cooperation from the state.
"I think we need a better relationship with the governor of the State of New York," she said, "and if in fact there were improved relationships with the State of New York, which holds the lion's share of housing subsidies, we could go a long way in addressing the crisis in affordable housing and the homelessness situation."
James can only hope, though. For the better part of his first term, de Blasio has famously feuded with Governor Andrew Cuomo, also a Democrat, and the two have been reluctant to work together even when their policy goals intersect.
At a news conference on Tuesday, when Gotham Gazette asked de Blasio about James' appeal to comity with the governor, the mayor said it was "idealistic" to expect such cooperation, sarcastically likening it to the Republican Congress offering unsolicited aid to the city. "Likewise, I'd like to see the governor focus more on actually delivering on affordable housing for New York City. There's been some big pronouncements but I haven't seen a lot of delivery and we need it. I don't think it's about relationship. I think it's about everyone doing their job and living up to their commitments. And you know my job...is to hold people to their commitments and be an agent of accountability when it comes to the needs of New York City."
As for James' call that the city take a more ambitious approach to building affordable housing, de Blasio indicated that he is always open to continuing to evaluate what can be done, but that he has set the city on its most ambitious affordable housing plan ever, at 200,000 built or preserved units over 10 years.
[Listen to the full podcast episode of Max & Murphy with Public Advocate Letitia James]
[Listen to public advocate candidate J.C. Polanco on Max & Murphy]