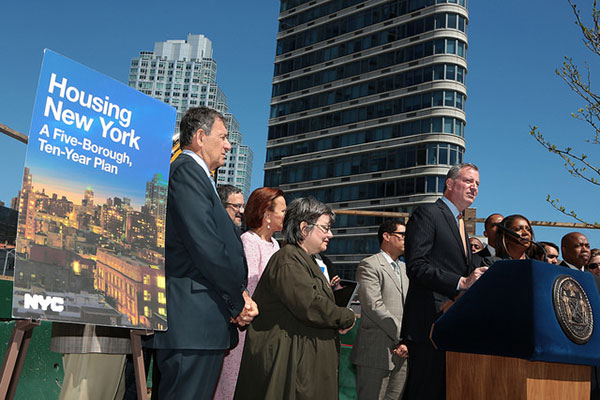 De Blasio unveils his housing plan (photo: Ed Reed)
---
As elected officials and candidates march in the annual Columbus Day parade on Monday, a separate gathering of members of church congregations, senior centers, schools, and homeowners associations will convene outside City Hall to present an affordable housing plan that they believe is a viable alternative to Mayor Bill de Blasio's current program.
The coalition of Metro Industrial Areas Foundation and East Brooklyn Congregations plans to lead 5,000 people in the rally on Monday to push the mayor to adopt their proposal. "Monday is about a plan that we have vetted and that we think is the right plan for the city," said coalition leader Reverend David Brawley, the pastor of St. Paul Community Baptist Church, in a phone interview Friday.
Brawley and his partners recently confronted de Blasio about their plan at a town hall in East New York, just after having presented the plan to him three days prior, at which time the mayor said he had already said he hoped to have an answer by the time of their Columbus Day rally and was sticking to that answer. The proposal hits on key criticisms of the de Blasio administration's approach to affordable housing: that it doesn't go far enough, especially with regard to the poorest and neediest New Yorkers.
The proposal envisions creating 15,000 units of senior housing on underutilized NYCHA land and vacant city-owned lots within four years. That, in turn, would free up space in NYCHA developments to house 50,000 people who currently sit on waitlists or live in shelters, according to the plan, which includes detailed development costs and financing mechanisms for deeply affordable housing, including more city subsidies. Aside from the housing plan, the advocates will also push the city to criminally prosecute predatory landlords.
The coalition is also calling for "top-to-bottom rehabilitation" of NYCHA developments to ensure that public housing residents live in quality homes. NYCHA has faced decades of underinvestment, at the city, state, and federal levels, and currently has a nearly $18 billion capital need for infrastructure upgrades. Under de Blasio, the city has invested much more in NYCHA and is implementing a turnaround plan that has helped stabilize its operating budget, though astronomical capital costs remain.
"We're not naive," said Brawley, "We know its an $18 billion need. But the feds won't do it, the state won't do it. We need city leadership. We're gonna have to be far more creative and imaginative."
The de Blasio administration has, to a degree, turned around the public housing authority's abysmal operations and financing through the NextGeneration NYCHA program, under the leadership of NYCHA Chair and CEO Shola Olatoye. For the first time in years, the authority cleared its operating deficit, and has been breaking ground on public-private partnerships to build new developments, referred to as "infill," on NYCHA land. The administration has announced plans to create 100 percent affordable housing on underutilized property on nine NYCHA sites and 50 percent affordable housing on four sites. A separate nonprofit called the Fund for Public Housing has also been raising private philanthropic donations to support the cash-strapped agency and recently launched an online crowdfunding portal to supplement sustainability projects.
But Brawley believes these efforts have been insufficient. "The current plan, as well intentioned as it might be, is too slow, it's too little and very shortly it's gonna be too late," he said.
He also said the mayor's affordable housing plan -- which involves creating and preserving 200,000 units of affordable housing in ten years -- does not benefit those communities and populations that face the most dire need for housing. "It's not reaching people who need it the most," he said. "Not much has happened so far at all. So they can scrap it and put all options on the table."
Since 2014, the administration touts having created or preserved 77,651 affordable homes, with 24,293 financed in fiscal year 2017, which ended June 30. Of those 24,293 homes, 40 percent were for a family of three with an annual income of less than $43,000, while 4,014 were for the lowest tier, a family making less than $26,000, and advocates have been pushing the city to create more units at these levels of deep affordability.
Brawley's church is located in East New York, one of the few neighborhoods where the administration has managed to pass a comprehensive rezoning plan that involves changing land use rules to allow more density and encourage the creation of affordable housing, along with other economic development objectives. The plan was met with significant criticism from community groups that argued it did not reach the deep affordability needed for one of the poorest districts in the city. "A lot of times, it feels like plans are done to the community," said Brawley, raising an oft-repeated criticism that the administration does little to incorporate community voices in such rezonings (the current East Harlem rezoning proposal faces opposition for much the same reason).
[Related: Nonprofit Linked To NYCHA Creates Crowdfunding Portal For Sustainability Projects]
Brawley and other leaders met with Mayor de Blasio last week at Gracie Mansion to present their plan. On Monday, at the mayor's town hall in East New York, Brawley asked the mayor for an answer, standing with about 20 coalition members. De Blasio joked that the wheels of government did not move that fast but promised to have a response before the rally.
By Friday afternoon, the mayor had yet to provide one.
"We're hopeful that he'll be a man of his word," Brawley said. "We're hoping for a thoughtful and serious response to a serious plan. We're expecting a commitment to affordability, to our seniors, to our community."
And if the mayor's answer in unsatisfactory? "We'll do what we have to do to change his mind," he said.
Mayoral spokesperson Melissa Grace said in an email Saturday, "We are big supporters of building affordable housing, including senior housing on underutilized NYCHA property. We've taken that fight on across the city and welcome the organizing and partnership of this and any group pressing to deepen those efforts. We look forward to working together."
Rev. Shaun Lee, pastor of Mt. Lebanon Baptist Church in Bedford-Stuyvesant, hopes Monday's rally will impress upon the mayor the need to prioritize deeper levels of affordability. "Time has proven, when the mayor is passionate about something, he does what he needs to do to get it done, we saw that with universal pre-kindergarten," he said. "We want him to be just as passionate about real affordable housing."
Public Advocate Letitia James and Comptroller Scott Stringer are expected to attend the rally as well. James recently suggested that the administration needs to reexamine options for building new affordable housing on a larger scale. At an October 3 news conference, Gotham Gazette asked Mayor de Blasio if his administration had considered doing so. "We look for every opportunity and we are constantly asking ourselves, 'Can we in some way improve upon the existing effort?'" he said. But he expressed skepticism about implementing a new building program in the absence of state or federal aid.
"Let's be honest about this...We're probably stuck right now through 2020 with effectively no new housing aid from Washington," de Blasio said. "And then the state really hasn't delivered on any of the programs they said they were going to create for us. So we're on our own, anxious to do more but I don't know where the resources would be for something really big at this point. We'll keep looking for them though."
Asked about the housing plan from Metro Industrial Areas Foundation and East Brooklyn Congregations, Stringer said in a statement, "We're no doubt facing a crisis, and we need to use every tool in the kit to provide relief. We need housing that's actually affordable — and we need to protect those long-time residents who raised their families, played by the rules, and helped build their communities to stay in them. That means protecting our seniors, modernizing NYCHA, and ensuring that we deliver a city that is fair to all."
Note - this article has been updated to include comment from a mayoral spokesperson.