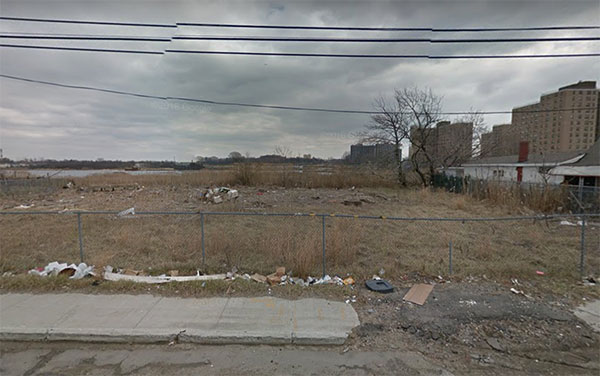 ---
On 43rd Street in Far Rockaway, Queens, sit five adjacent, vacant lots. Cordoned off by a chained-link, gray metal fence, the lots—owned by the city's Department of Housing and Preservation (HPD)—are covered in weeds and garbage. They are "eyesores for the community," said Alexis Smallwood, a local community organizer, in an interview with Gotham Gazette. "Vacant lots should be used for community spaces or real affordable housing."
These five lots are examples of the hundreds the Department of Housing and Preservation (HPD) could utilize for affordable housing. Since issuing an audit and fuller report in early 2016, Comptroller Scott Stringer's office has claimed that HPD has let more than 1,000 of these lots stand idle. Mayor Bill de Blasio's administration has contended, however, that Stringer's conclusions were "false and misleading."
The latest iteration of the decades-old debate over the quantity, quality, and status of New York's city-owned vacant lots has been raging, with ebbs and flows, for the past year-and-a-half, even making its way into this year's mayoral election.
Sal Albanese, who challenged de Blasio in the Democratic mayoral primary and is now running in the general election on the Reform Party line, cited the Comptroller, writing in The Daily News that he "will remove the stranglehold that big developers have on City Hall by taking the vacant properties city government owns - there are more than 1,000 of them - and building truly affordable housing." Albanese referenced the use of vacant lots during debates as well.
Other politicians have taken up the cause, calling for better use of the city's vacant lots in battling the affordable housing crisis. Public Advocate Letitia James and City Council Members Jumanee Williams and Ydanis Rodriguez—arguing for legislation that includes a yearly, HPD-led census of publicly-owned, vacant lots—cited Stringer in an August op-ed in City and State.
Meanwhile, HPD and City Hall insist that the de Blasio administration is progressing in its development of lots for new affordable housing and call critics uninformed. "The sites that are available we've had a near maniacal focus on making sure that we know where they are and that we are putting them to good use," said HPD Commissioner Torres-Spring in an interview on What's the [Data] Point?, a podcast from Gotham Gazette and Citizens Budget Commission.
The comptroller's office remains dubious. In response to the commissioner's comments, Tyrone Stevens, press secretary for Comptroller Stringer, said, "Unfortunately, since our audit, we have not seen any specific plans from HPD about how they are developing vacant city-owned land or how many units they've created and where they're located."
As of now, the facts remain fuzzy. In early 2017, HPD denied several FOIL requests by Paula Segal, attorney with the Community Development Project at the Urban Justice Center, for lists of vacant lots under its jurisdiction. No lists were provided to the comptroller's office in rebutting its report, and the department did not provide that information to Gotham Gazette when approached recently, after Torres-Springer's latest comments on the discrepancy.
As the debate continues, momentum has been building for pending City Council legislation that would require HPD to perform an annual, citywide census of all publicly-owned, vacant land. However, the de Blasio administration has not yet signaled support for the legislation, which is under negotiation, according to Torres-Springer.
Why Vacant Lots?
When he announced his intention to run for mayor, de Blasio made affordable housing a centerpiece of his campaign, promising to create and preserve 200,000 affordable housing units over the next ten years. "We need a stronger hand to make sure development will create and preserve places for a diverse range of families to live and raise their kids," said de Blasio in a late 2013 campaign speech.
Shortly after he assumed office, he released Housing New York, a plan to flesh out a path to these 200,000 affordable units. At a total cost of $41 billion, not all of which would be city money, it promotes an array of strategies, like expanding housing for seniors and mandating rezonings to require a set portion of affordable units. The plan also includes a call to spur citywide development of small, vacant sites.
For privately-owned, vacant sites, Housing New York includes the intention to not only institute taxes to incentivize housing development, but to reach out to real estate owners to foster potential partnerships. For those that are publicly-owned, the plan calls for the clustering of small, city-owned sites through newly-created programs like the Neighborhood Construction Program (NCP) and New Infill Homeownership Opportunities Program (NIHOP).
Most notably, Housing New York includes a plan to conduct a citywide survey of all publicly and privately-owned vacant land. The administration has given no public indication that this survey has been performed, though it insists it has a detailed grasp of all its vacant lots.
Nonprofits have estimated the total number of vacant sites to be in the thousands. In a 2011 report, Picture the Homeless, a nonprofit advocacy group, reported the existence of 3,551 vacant buildings and 2,489 publicly and privately-owned vacant lots citywide. The group projected that these properties could house close to 200,000 people, more than three times the estimated number of homeless people in New York City, which now hovers around 62,000.
How Many Public Lots?
While the city can incentivize the development of private lots (through vacancy taxes, rezoning density bonuses, and more), it can more quickly turn city-owned lots into affordable housing, as it directly administers these properties, often by working with nonprofit developers.
However, the exact number of vacant lots the city owns remains unclear. "It seems like there's no number to start with, even if it's wrong," said City Council Member Jumaane Williams, during a hearing on vacant properties in 2014.
Nonprofits like Picture the Homeless and city agencies have tried to fill the gap, with varying results. In a report released in 2016, The Municipal Arts Society of New York used data from the Department of City Planning and found 2,726 city-owned, vacant sites. Nonetheless, MAS noticed inaccuracies.
"There seems to be deficiencies in existing city datasets," said Marcel Negret, project manager at The Municipal Arts Society, in an interview with Gotham Gazette.
596 Acres, a nonprofit that pushes for community access to vacant lots, tried to correct for these errors. It combed through city datasets, removing sites that are gutterspaces, parks, and those that have already been sold to developers. Publishing this data as an interactive map, 596 Acres then crowdsourced information from residents and organizers. Its estimate for publicly-owned, vacant land amounts to 1,801 lots as of October 13th.
Finally, the comptroller's office waded into the fray with its 2016 audit of the Department of Housing and Preservation. Auditors used agency records as well as tax lien sales to identify 1,459 city-owned, vacant properties, of which 1,131 are under the jurisdiction of HPD, it said. In a subsequent report, Stringer claimed that these existing properties could produce approximately 53,000 units of affordable housing. Stringer did not assess the usability of the lots.
Debate Kicks Up a Notch
After the audit's public release, Comptroller Stringer, a Democrat then considering a possible entrance into the 2017 mayoral race, blasted the administration, HPD, and their predecessors, for an inability to effectively deploy vacant sites under their control.
"This is generations of inaction," he said.
Housing officials responded in kind. "Your assertion that HPD allows vacant City-owned properties to languish in the face of the affordable housing crisis is simply wrong," said Vicki Been, then HPD Commissioner, in a statement included in the original audit, in the section typically reserved for such a response.
HPD claimed that the majority of lots cited in Stringer's audit were accounted for: it said 310 have "major development challenges" (e.g. were in floodplains or near hurricane danger zones); 150 of the properties were better suited for "non-residential projects" (e.g. community gardens); and 670 were suited for residential use, of which 400 were already set aside for development within the next two years.
De Blasio himself pushed back when asked about the audit during an interview. "I think it's breathtaking how little the comptroller understands about this issue," he said on WNYC's The Brian Lehrer Show in September 2016.
The comptroller had his own response. "But what the city has said to me is 'no, no, no, all of these properties are already accounted for.' Can you believe that? So if they've already made deals on the properties, who did they ever consult? They didn't consult the community boards, they didn't consult anybody," Stringer said in an interview with the Observer.
The 'Housing Not Warehousing Act'
This back-and-forth took place amid City Council discussions on legislation designed to take stock of and push the development of private and city-owned vacant land. Comprised of three bills, the "Housing Not Warehousing Act" aims to create a registry of all landlords holding vacant property; hold an annual, citywide census of all vacant land; and compile a list of publicly-owned vacant sites.
Introduced to the Council in December of 2015 by Public Advocate Letitia James and Council Members Jumaane Williams and Ydanis Rodriguez, the act was the focus of a public hearing in September 2016. Despite widespread support from Council members, HPD opposed Intro. 1039, the bill that would require the department to "conduct annual surveys of all city-owned properties to identify vacant buildings or lots that may be suitable for affordable housing."
HPD Deputy Commissioner Daniel Hernandez testified that publicly releasing this list would have unintended consequences. It would reveal vacant lots that host key environmental infrastructure, information potentially dangerous in the wrong hands, he said. It would prompt real estate speculation, as companies buy up surrounding lots in hopes of grants by the city, he argued, and it would be costly and unnecessary, as HPD already has much of this information at its fingertips.
"Monitoring and collection required by the census would require extensive staff time and a commitment of financial resources without providing the data we really believe is desired," explained Hernandez, according to City Limits.
In order to prove HPD was already making use of vacant lots under its control, Hernandez cited the same statistics released in response to Stringer's audit, saying the city has identified 670 vacant lots suitable for the construction of affordable housing. HPD did not provide a detailed itemization.
The committee balked at the lack of specificity. "How could you come to this hearing and not know the status of each and every one of these sites?" asked Council Member Barry Grodenchik, a Democrat from Queens, according to Crain's New York.
Trying for Clarity
More than a year since the committee hearing on the Housing Not Warehousing Act, HPD has yet to publicly provide a detailed accounting of its vacant sites. Yet, the department reiterates that it is doing everything in its power to manage and deploy lots under its control.
"There's a lot of misconception about this, so I'm happy to clear the air," Torres-Springer said, when asked about the vacant lots controversy on What's The [Data] Point?. "To the extent that they are vacant sites, hundreds of those have either already been designated or in the pipeline or will be soon. There's a good portion of those that are very small lots that have significant issues where you can't really build. And—to be honest—even for those, we're looking at ways to cluster so there's an affordable housing project that can be built."
Asked to respond to Torres-Springer's recent comments, Stringer's office again demanded details. "Which sites are currently being developed and how many remain undeveloped? In what neighborhoods?," said Stevens, the press secretary. "Who are the developers and how much total subsidy have they received from the city so far for their work?"
Others, too, have lamented that HPD has failed to substantiate its claim that all vacant lots under its control are accounted for. Segal, of the Urban Justice Center, explained in an interview that she filed three Freedom of Information Law requests to HPD on behalf of Picture the Homeless. Asking for lists of the 310 lots that have development challenges, the 150 better suited for non-housing purposes, and the 670 best suited for housing, Segal said that HPD denied one request based on "interference of contracts," while not replying to the other two.
"HPD failed to respond as they are required by state law," she explained. "There's no accountability."
Gotham Gazette asked HPD for the same lists Segal requested. Housing officials neither provided the data nor responded to Segal's allegations. They did, however, push back against Stringer's criticisms. "The comptroller's assertion that HPD can create 50,000 units on all vacant city-owned land is simply untrue," said housing officials. "It is not practical to develop all available sites at one time considering resource demands, and oddly shaped lots, infrastructure and resiliency needs on HPD's remaining land makes development all the more challenging."
Asked for examples of city-owned vacant lots where housing is currently under construction, HPD provided two. One is "Flushing Municipal Lot 3," which was bid on in 2014 and awarded in 2015. "HPD announced the selection of a joint venture between Asian Americans for Equality (AAFE), HANAC Inc., and Monadnock Development to develop a transit-oriented, mixed-use, and mixed-income development in the Flushing neighborhood of Queens. The team's plan, called One Flushing, will result in the creation of 208 units of very low-income senior housing and multifamily housing that will be affordable to low- and moderate-income families."
The second example is "Livonia Avenue Initiative Phase II," which was bid on and awarded in 2014. "HPD announced the selection of BRP Companies, HELP USA, and the Local Development Corporation of East New York (LDC ENY) for Phase II of the Livonia Avenue Initiative in the East New York neighborhood of Brooklyn. The development team's plan includes four new mixed-use buildings with a total of 288 affordable apartments, a commercial kitchen that will provide culinary training, and a Career Exploration center (CEC) that will provide vocational training to students of the New Visions Charter High School."
There are various other lots in different stages of development, including some that were put out for bid last year that will be moving forward with selected partners in the near future.
Going Forward
Perhaps the best hope for a reliable account of city-owned vacant lots remains one bill, Intro. 1039, of the Housing Not Warehousing Act. While the legislation has remained dormant since the 2016 hearing, City Limits recently reported that momentum for the package of bills is increasing. Two have over 30 sponsors in the 51-seat Council, and Intro. 1039 has more than the "veto-proof" majority, with 34 sponsors, as of October 10.
In comments given to City Limits, Council Member Williams, the prime sponsor of 1039, said, "I do believe it's time to get moving." He explained he might even attempt to push the legislation through without HPD sign-off. The Council virtually never moves legislation that has not reached an amicable compromise point with the de Blasio administration.
Williams is hopeful that parlays with the administration will be successful and, according to a spokesperson in a statement to Gotham Gazette, "believes that the administration recognizes the degree of the affordable housing crisis here in the city, and hopes to work with them to address the problem and find meaningful solutions."
Torres-Springer echoed this desire to cooperate, saying on the podcast, "We continue to work with the Council on those bills, because we share the goal of using every square foot of real estate that we possibly can to build affordable housing, but we have to do it, of course, in the most strategic way."