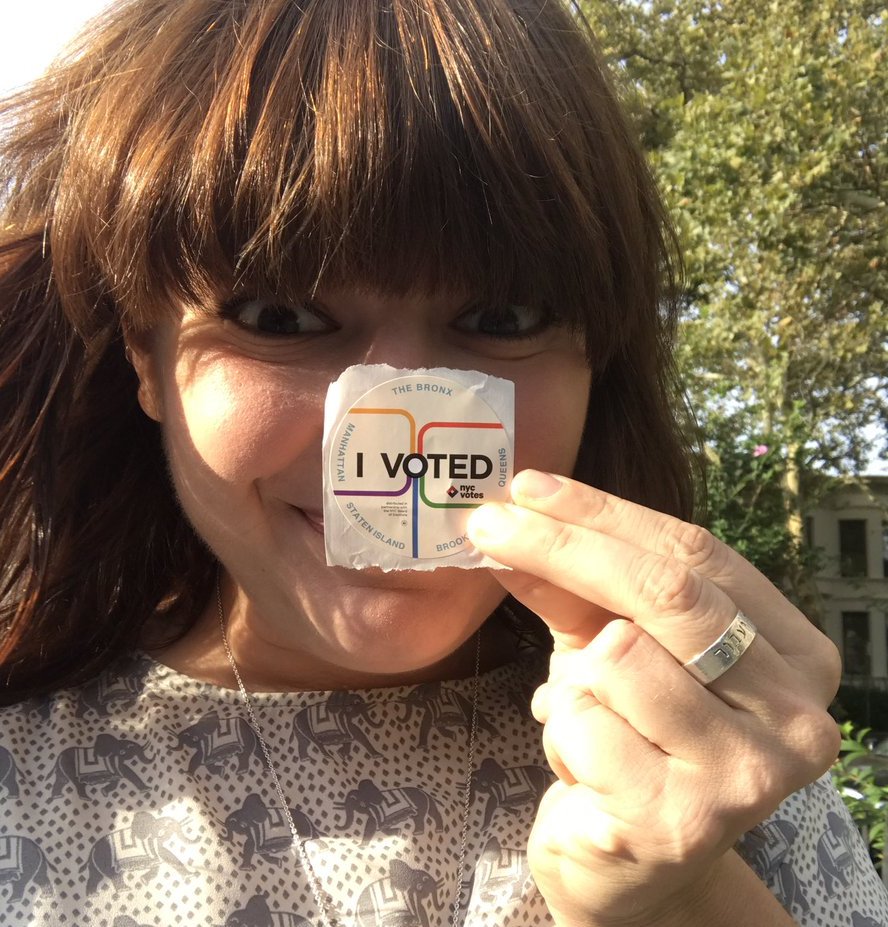 Amanda Litman (via @amandalitman)
---
Gripping two drinks, Amanda Litman, co-founder of a political action committee dedicated to helping young people run for office, arrived at a New York University classroom with a kick in her step. The 27-year-old political campaign veteran-turned-author walked in holding an iced coffee with soy milk and three Splendas in one hand and a tiny bottle of San Pellegrino water in the other.
"The quickest way to age is to work on a political campaign," said Litman, former email director for Hillary Clinton's presidential campaign. "I kept a box of wine under my desk at all times."
The 27-year-old Brooklynite's book, published this month by Simon & Schuster, explains how to run for office, how the government works, how to get a job on a campaign, and basics of voter mobilization and campaign finance. Written in just seven weeks, "Run For Something: A Real-Talk Guide to Fixing the System Yourself," features an introduction by Hillary Clinton along with sections by Cory Booker, United States Senator from New Jersey; and Jason Kander, founder of Let America Vote.
The book was a side project to her organization, Run For Something, which she founded after the 2016 election with Ross Rocketto, former management consultant at Deloitte Consulting's innovation center. The organization, which recruits, supports and endorses first or second-timers under age 35 to run for office, launched Inauguration Day, as Donald Trump was taking the oath of office.
After nine months and with the help of many volunteers, the group claims 11,000 newcomers have signed up to run for office and nearly $500,000 raised from about 5,000 donors.
"My goal is that in 10,15, 20 years you'll see a presidential candidate who got their start because we told them they could run for office when they were 25 years old," said Litman.
One of the New York City candidates connected with the program, Marjorie Velazquez, 36, praised the social media promotion Run for Something gave her campaign. A lifetime Bronx native running for City Council in the Bronx, in District 13, Velazquez is a proponent of women's rights who will appear on the general election ballot under the Working Families Party after losing the Democratic nomination to state Assemblymember Mark Gjonaj by 390 votes.
"It's important for people to know running for office is acceptable," said Velazquez, who was significantly outspent by Gjonaj in the Council race and is not actively campaigning in the general. "I have friends in government and politics and I still needed guidance. Having a book that explains how to run for office will change things."
Christopher Marte, 28, another Run for Something candidate, lost the Democratic primary in Manhattan's City Council District 1 by only 200 votes in an effort to unseat incumbent Margaret Chin. Marte also said having such a guidebook in the market and an organization that can be so helpful to young candidates is significant. "When I was looking up how to run or get on the ballot, there was no one to answer the most basic questions—how do you get a petition form, how do you get a committee started," said Marte, who will appear on the ballot in November under the Independence Party. He is actively campaigning in a continued effort to topple Chin.
Along with Velazquez and Marte, Litman's organization endorsed other City Council candidates running this fall, including Amanda Farias, the only woman who ran for a City Council seat in the Bronx's District 18; Vanessa Aronson, who ran in Manhattan's District 4; Ronnie Cho, a former White House director of public engagement during the Obama presidency, who ran in Manhattan's District 2; and Justin Sanchez, an L.G.B.T candidate who opposed an openly anti-L.G.B.T incumbent in the Bronx's Council District 14.
All these candidates fit the Run For Something support criteria. Candidates must be under 35, Democratic, pro-choice, L.G.B.T. rights supporters, believe in climate change, and advocate to reduce gun violence. The organization provides guidance on how to run, mentorship from political experts and consultants, partnerships with candidate support programs, and endorsements.
At least thus far in the 2017 cycle, none of Run for Something's candidates has been successful in New York City. But, first-time candidates winning their elections is not nearly the entire frame of Run for Something.
Litman decided politics was her calling at a young age, spending her high school weekends campaigning for Virginia Democratic gubernatorial candidate Tim Kaine, now a Senator and recently Hillary Clinton's vice presidential running mate, and reproductive rights advocacy group NARAL Pro-Choice Virginia.
The appeal of Litman's activist enterprise is borne of and extends to her persona, which young people can relate to. She comes across as genuine and relatable; not lecturing, but laughing at herself and cursing in the flow of her conversation. She gushes over her dog, Sadie, who's "too cute to discipline." She reads romance novels that she buys on her mother's credit card. And she says it like it is, never claiming that running for office will be easy; instead, she emphasizes that it will be exhausting and hard, but worth it.
Her book reads like a conversation with her. It explains why it's OK to be flawed and run. It breaks down technical jargon in easy to understand ways; she defines "grassroots tweeter" as a meaningless and convoluted phrase that just means a person advocating a campaign on the internet. The pages of the step-by-step guide are filled with little pep talks, humor, and rhetorical questions to encourage readers to do their bit for democracy. Her fresh demeanor also translates to her startup's activities. The organization, which does not yet have office space, is currently touring with a rock band to recruit signups, uses Facebook ads to reach younger audiences, and calls its fundraising events "money parties."
Even if her new candidates lose, what matters to Litman is young people getting on the ballot in the first place. She believes that as more progressives run for office, voter contact will increase, more volunteers will get involved, more Democratic ideas will be advocated, and eventually, the system will improve.
"It's very easy to talk about the business you want to start, or the organization you think should exist, or a problem you see in a political system," she said. "It's much harder to sit down and try because you might fail."
"It's not failure," she added, catching herself and pausing for a second, then continuing with a chuckle and a smile. "It's redirection."
***
Daniela Cobos and Vedika Kumar are journalism students at New York University.