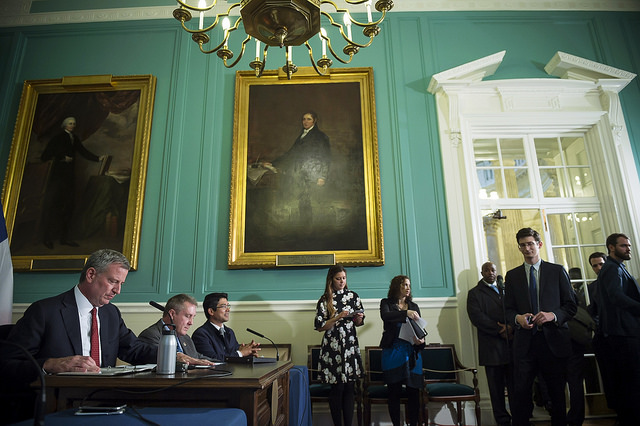 De Blasio at a public hearing (photo: Ed Reed/Mayor's Office)
---
Four government transparency bills that were passed by the City Council on October 31 aged into law on Friday, having gone 30 days without any action in favor or against them by Mayor Bill de Blasio. The bills all relate to increased disclosure by the administration of billions in city government spending and have been praised by good government advocates.
Among the bills was one that requires the administration to publish annual budget documents in a user-friendly, machine-readable format to the city's online Open Data Portal, allowing the public easier access to information that is currently listed in thousands of line items in the $86 billion city budget. The bill's lead sponsor was Council Member Ben Kallos.
The three other bills -- with lead sponsors Council Members Helen Rosenthal, Dan Garodnick, and Corey Johnson -- formed a package aimed at improving transparency at the Economic Development Corporation, a city-run entity that manages and promotes the administration's job-creation and business-development initiatives. The bills allow the City Council added oversight of EDC, which provides many millions of dollars in financial benefits to projects and businesses each year and also handles the sale and lease of city-owned land. They mandate that EDC provide fiscal impact statements and job creation estimates for projects receiving financial assistance; require EDC to detail their efforts to clawback funds from those agreements that fail to meet their goals; and allow the City Council time to review and comment on proposed economic development agreements.
"These new City laws will make it much easier to understand both the big picture of how the City is spending money and the specifics of hundreds of millions of dollars in subsidy deals the City makes with businesses," said John Kaehny, executive director of Reinvent Albany, a good government group, in a statement Friday. "It will be much easier to see if the taxpayer is getting a good deal. These new laws are a blueprint for what the state should do."
The City Charter provides that if the mayor takes no action on a bill after it is approved by the City Council, within 30 days, it automatically becomes law. In fact, it's "pretty common" for bills to age into law without the mayor's signature, said mayoral spokesperson Freddi Goldstein, in an email on Friday. She added that if the mayor signed every bill, "we'd be doing bill signings like every day."
Goldstein noted that out of the 25 bills passed by the Council on October 31, all but one aged into law. The only one the mayor signed was Council Member Rafael Espinal's bill to repeal the city's antiquated Cabaret Law, which used to require establishments to obtain licences from the city to allow dancing. De Blasio signed the bill on November 27 at Elsewhere, a popular nightclub in Brooklyn.
Often, the mayor holds bill-signing ceremonies at City Hall, affixing his signature to numerous bills at a time. At one such ceremony on October 16, for instance, de Blasio signed a dozen bills into law. "It's really just a timing thing," Goldstein said in a later email, estimating that perhaps close to 100 bills have similarly lapsed into law in de Blasio's first term.
City Council spokesperson Robin Levine declined to comment for this article.