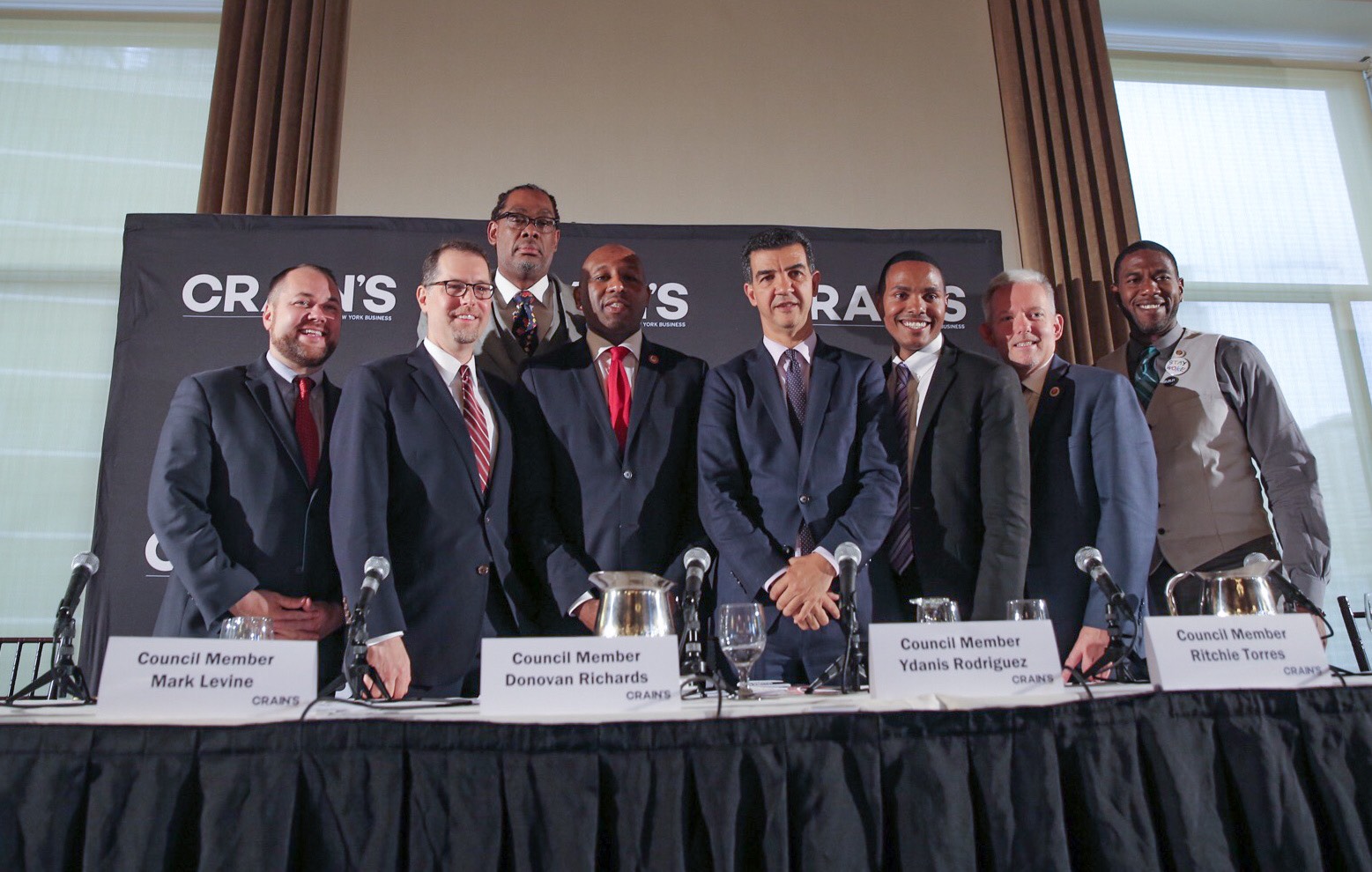 The City Council speaker candidates (photo: William Alatriste)
---
At the last public forum in the race to become the next speaker of the City Council, seven of the eight men contending for the Council's top leadership spot took turns making their argument for why they would be the right person to continue Speaker Melissa Mark-Viverito's legacy of protecting and promoting the cause of women, transgender, and gender non-conforming New Yorkers. Though few new ideas emerged, for nearly two hours, the seven Council members pitched their progressive credentials and promised to champion the city's underrepresented and underserved populations.
Hosted by a coalition of 14 organizations, at Hunter College's Roosevelt House Public Policy Institute in Manhattan, the forum capped off a post-election month that has seen the candidates appear at more than a dozen issue-focused debates and discussions on everything from criminal justice to government transparency and accountability. Thursday's event was moderated by Politico New York reporter Laura Nahmias and Shatia Burks of the New York City Young Women's Initiative. In attendance were Council Members Corey Johnson, Mark Levine, Ydanis Rodriguez, Robert Cornegy Jr., Donovan Richards, Jumaane Williams, and Jimmy Van Bramer. Ritchie Torres was the only candidate absent.
Past was prologue as the candidates took turns briefly narrating their individual histories, giving tactful yet heartfelt answers while also lamenting the obvious irony of them all being men after 12 years of the City Council having women serve as speaker.
Council Member Cornegy, who in recent weeks has risen to become one of the perceived frontrunners in the race, spoke as a family man, a husband and father of six. He noted his support for reproductive health bills in the Council, particularly one that created lactation rooms at city agencies that provide family services (he first opened a "lactation station" in his district office). He half-joked that he co-chairs the Council's "men who get it" caucus.
Johnson, another leading contender, reminded the audience that he is an openly gay man and the only openly HIV positive elected official in New York, and that issues related to transgender and gender non-conforming (TGNC) individuals are "deeply important" to him. He touted the passage of his bill allowing transgender New Yorkers to receive accurate birth certificates from the city.
"The fact that the people running for Council speaker are all men reflects a failing of the political system in New York City," said Levine, who is seen with Cornegy and Johnson as one of the three most likely to win the position when the vote takes place in January. "I think it does obligate the eight of us to reign in the hubris a little bit and do more listening than dictating."
Richards echoed the sentiment, saying "it is shameful that there is not a woman in this race," while emphasizing that not only would the next speaker have to focus on women's issues, but also ensure that women are in leadership positions.
Rodriguez cited his experience as an immigrant, in a large family with many sisters. "Women's issues are trans-sectional," he said, while promising to continue Mark-Viverito's legacy.
Van Bramer, who is also openly gay, spoke from the experience of his own coming out. Being an LGBTQ activist meant also being "an activist for choice and a woman's right to choose," he said. "The two of them are inseparable." He proudly touted his successful efforts to open the first Planned Parenthood health center in Queens, and in helping found the first Girl Scout troop for homeless girls.
Williams, who noted early that the seven would likely respond similarly to questions, instead emphasized that he is "battle-tested to move forward" and has passed the most bills of all the candidates. His statement would ring true as there was little daylight between the candidates as they addressed the issues raised at the forum including access to reproductive health services, education, economic development and workplace sexual harassment, NYPD policy, affordable housing, city budgeting, and Council governance.
On abortion access and so-called crisis pregnancy centers -- which NARAL Pro-choice America calls "fake health clinics" that mislead women to block access to abortions -- all seven agreed that the NYPD should play a stronger role in both protecting women from protesters outside Planned Parenthood clinics and in cracking down on predatory crisis centers. Cornegy even floated the idea of a dedicated police unit focused on these centers.
Johnson insisted that Planned Parenthood is always a budget priority for him. He said the Council needed to do more to "reign in" CPCs while calling on the police to be more vigilant to protect women seeking abortions at clinics.
Levine said the Council needs to fight back against the demonization of Planned Parenthood, and use its budgetary resources to provide services for women and TGNC individuals. Should the Republican-led federal government cut contraception coverage, for instance, Levine said the city should step in to fund it.
Richards, of Queens, said there was a need to fund services where "people are living in the shadows" and expand health centers to communities like his that are underserved. And he said the Council should fund local organizations that provide those services.
Rodriguez urged continued support for Planned Parenthood and better reproductive education in schools. Van Bramer insisted that contraceptives should be fully covered and if they're not, the City Council should fund them. Williams, who jokingly apologized that all the candidates were men, echoed his colleagues and said he looked forward to passing his "boss bill" prohibiting discrimination by employers based on workers' reproductive decisions.
The candidates varied little on their perspectives on providing a quality education in city schools, particularly for those that face greater obstacles in the system including students in foster care, low-income, undocumented and LGBT and GNC students. Johnson emphasized that schools should not be punitive, but rather supportive and rehabilitative.
Richards, Levine and Rodriguez touted the virtues of community schools that provide wraparound services to students, including physical and mental health and social services. Levine raised the spectre of school bullying and its "frequent entanglement" with anti-LGBT prejudice, which he said the school system and city leadership have failed to acknowledge and address. Rodriguez railed against school segregation, and called for the launch of an "education civil rights movement" under the next Council.
The issue hit home for Van Bramer, who admitted being "near-suicidal" and skipping school to avoid a constant barrage of homophobic slurs. "All of us have to make sure that that stops once and for all and all children are safe to go to school," he said.
Williams stressed a change in school curriculums to ensure the inclusion of people of color and LGBT and GNC people. Cornegy said school segregation and prejudice based on sexual orientation need to be tackled at the Department of Education, and he lauded the effectiveness of community schools as well.
Given the current national climate on sexual assault and workplace harassment, it was only natural that the candidates for arguably the second-most powerful position in city government would be asked about their perspective on the model policy to deal with the endemic problem.
Levine reiterated three proposals, which he announced earlier in the day, for rooting out sexual misconduct in city government through regular disclosure of sexual harassment claims by city agencies, a evaluation of sexual harassment policy and by elevating City Council staff complaints to bring them under committee oversight. Van Bramer also released details of bills on Thursday that would evaluate sexual harassment at city contractors and embargo those organizations with a history of misconduct. Another member with pending legislation was Cornegy, whose bill would require small businesses to detail what constitutes sexual harassment and provide hotline numbers for victims.
Richards advocated a "zero tolerance" policy and said the Council should have its own independent department or agent to monitor sexual harassment. Rodriguez called for an entire agency to do the same citywide.
Williams expressed support for his colleagues' legislative efforts and candidly said, "The one thing we could all do immediately is believe" women's stories of harassment. Johnson bemoaned a culture that allows men to believe they can act and behave in any way in a public setting because of their inherent power. "We have to change that," he said.
On changes to NYPD policy in interactions with LGBT and GNC New Yorkers, Richards and Rodriguez both stressed that the city needs to fully implement its body camera program and strengthen community-police relationships. Richards said the Civilian Complaint Review Board, which investigates complaints of police misconduct, needs more teeth to hold erring officers accountable. "That's where the culture shift absolutely needs to happen," he said.
Williams touted his "demonstrable leadership" against the NYPD's racially biased use of stop-and-frisk policing, and the Council's Community Safety Act of 2013, which he co-sponsored. The act created an independent monitor for the police department and added protections against biased profiling by officers. Cornegy subsequently advanced the idea of characterizing negative police interactions with protected classes of people as hate crimes.
Women, trans and GNC communities and domestic violence survivors are at greater risk of becoming homeless in the city, said Burks of the Young Women's Initiative, seeking the candidates' ideas on improving access to affordable housing. Again, there were only slight differences in the candidates' proposals as they called for deeper affordability and more set asides for formerly homeless New Yorkers, while some emphasized increased services and resources for survivors of domestic violence.
The 51-member Council will have only 11 women members in the next term starting January, down from 19 a few years ago, and has not had a trans member yet. In the current Council, debate moderator Nahmias noted, three women of color negotiate the city budget -- Speaker Mark-Viverito, Finance Committee chair Julissa Ferreras-Copeland, and Council finance director Latonia McKinney. Nahmias pressed the seven candidates on how they would ensure representation of cis and trans women, and women of color in particular, in their own senior teams and in the Council's top leadership positions, namely the powerful chairs of the land use and finance committees.
All the candidates were strongly committed to the task of choosing women and people of color as a majority of their senior leadership, and some said their staffs already reflect that commitment, though some rued the political reality that makes such a pledge necessary. "Women are 50 percent of the workforce and none of us deserves a gold star for making sure that women are in these positions and roles," said Van Bramer.
"It is appalling that there are only 11 women on the Council," said Williams. The candidates all interviewed with the Council's Women's Caucus and made commitments to its existing and incoming members.
Cornegy noted that hiring of people of color in the Council central staff had doubled in Mark-Viverito's tenure, and he vowed to build on that by including women and trans individuals in particular.
Danced around was the fact that the winning speaker candidate will likely have earned the backing of the major Democratic political organizations of the Queens and the Bronx, which will then have a lot of say in staffing and top Council leadership decisions made by the next speaker.
Richards was possibly the only one to acknowledge that the speaker race will be influenced heavily by forces outside of the Council, including county party chairs and the mayor. He wouldn't say who might be the finance or land use chairs under his speakership since "we all have power brokers that we're talking to at play," though he did promise to advocate for women to be chosen for those positions.
Levine stressed the need to support far more diverse candidates for the Council in the 2021 elections, when nearly 40 seats will be up for grabs. Richards said the Council's efforts need to go further, by making sure each city agency has diverse staff, by hiring gender diversity compliance officers and ensuring that women of color and trans people move up into managerial positions.
In a brief lightning round, all seven candidates agreed to staff their senior teams and central staff with more than 50 percent women and TGNC individuals, committed to support and expand the Young Women's Initiative, and said they would back the "Solutions out of Struggle and Survival" policy proposals identified by numerous TGNC advocacy groups.
With the last of the speaker forums, the public-facing aspect of the speaker-selection process appears effectively over. Candidates will now spend much of the next few weeks in backroom negotiations and closed meetings before the next speaker will be chosen in January when the next class of the City Council convenes.
The partner organizations for Thursday's forum included: Girls for Gender Equity, Women of Color for Progress, Brooklyn Movement Center, The Lesbian, Gay, Bisexual & Transgender Community Center, PowHer NY, Planned Parenthood of New York City, National Organization for Women-NYC, New Leaders Council--NYC Chapter, National Institute for Reproductive Health, The Brotherhood/Sister Sol, Campaign for Black Male Achievement, Citizens' Committee for Children, Eleanor's Legacy, National Association of Social Workers—NYC Chapter.
[READ: Council Speaker Candidates Address Power, Reform and Transparency]