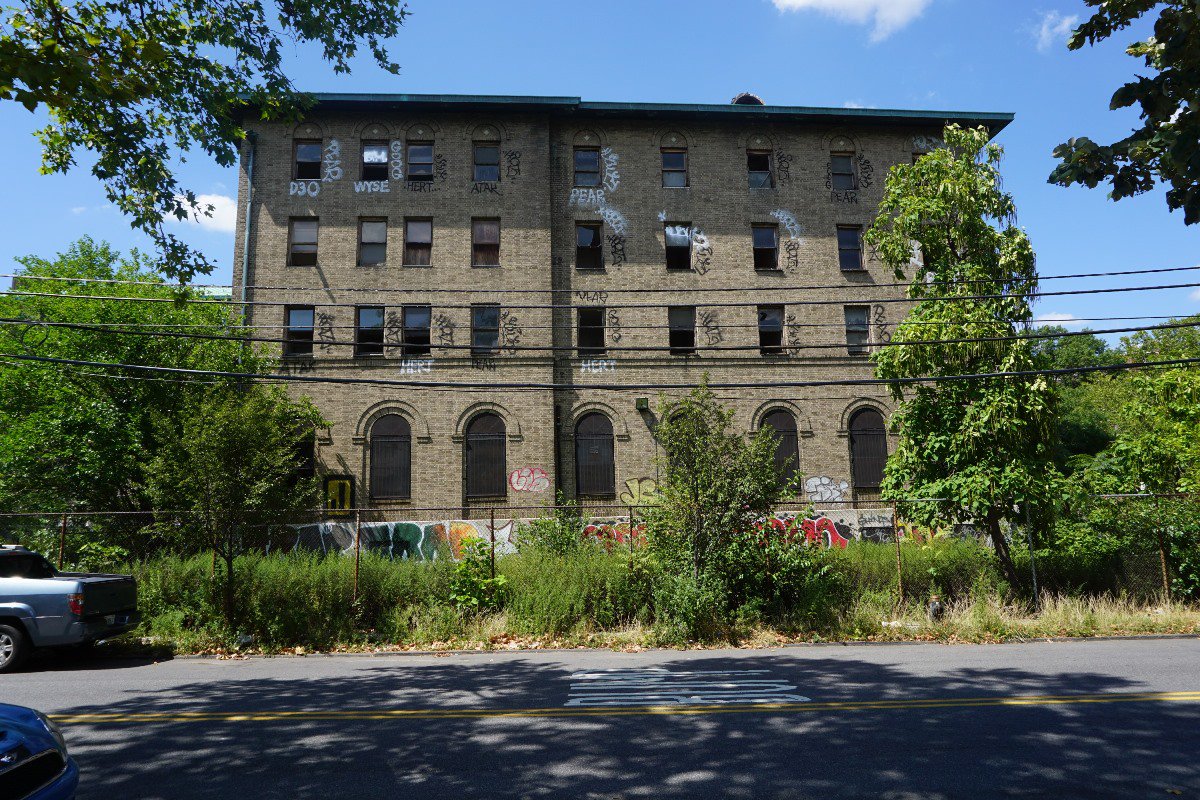 (photo via @NYCHousing)
---
Two years ago, Public Advocate Letitia James and City Council Members Jumaane Williams and Ydanis Rodriguez each introduced a bill under a set called the Housing Not Warehousing Act, a package aimed at reducing homelessness and increasing the city's affordable housing stock. The bills seek to mandate an annual tally of the number of vacant lots and buildings in the city, determining which of those under city jurisdiction could be developed for affordable housing, while also requiring landlords with vacant properties to register them with the city.
Two of those bills, sponsored by the Council members, are set to be voted on by the Committee on Housing and Buildings, chaired by Williams, at a hearing on Monday. Following that, the bills are expected to head to the Council floor for a vote and approval on Tuesday at the last full meeting of the body in the current four-year session. They would then head to the desk of Mayor Bill de Blasio, whose administration has not supported the legislation.
The bills have strong support from housing advocates who have decried rising homelessness in the city as buildings remain unoccupied and lots remain undeveloped. The de Blasio administration continues to insist the city is doing everything in its power to utilize city-owned vacant lots for affordable housing, and have pushed back against a February 2016 report by City Comptroller Scott Stringer that indicated more than 1,100 lots that the city owns but were vacant.
[Related: Key to Affordable Housing Development, Vacant Lots Remain Source of Controversy]
Rodriguez's bill would require the city to conduct an annual census and compile a list of vacant properties in the city, coordinating with numerous city agencies and departments, while Williams' bill would mandate reporting by the Department of Housing Preservation and Development (HPD) on the vacant lots and buildings under its jurisdiction, along with the potential for those properties to be used for creating affordable housing.
In a statement to Gotham Gazette, Williams said he was "proud" of his tenure as committee chair, "and what better way to end this term than by passing this legislation which puts in place additional tools we need to combat the urgent affordable housing and homelessness crisis we face in this city." Williams also thanked James, Rodriguez, and "all of the activists who helped get us to this pivotal moment of progress."
Rodriguez, in a statement, called the act an "important step" in tackling the city's affordable housing crisis. "By identifying vacant properties, we can turn them into permanent affordable housing units for our working families and our neediest New Yorkers, and prevent homelessness." he said.
James' bill, which is not on the schedule for Monday's hearing, takes aim at private landlords and the property they keep empty. The bill would have required landlords to register with the city buildings that have been vacant longer than a year. It mandates fines - between $100 and $500 every week - for those landlords that fail to renew those registrations every year.
Williams did not address the exclusion of the public advocate's bill from the package, but Kevin Fagan, a spokesperson for the Council member, said it was a "pretty common situation" for a bill to be left out of a legislative package when it goes to a vote. All three of the bills have at least 30 sponsors in the 51-seat Council. Fagan pointed to the recent Construction Safety Act, also sponsored by Williams, as an instance where bills in the final approved package did not all pass at the same time.
"While we're disappointed the entire Housing Not Warehousing Act will not be voted upon, it is promising that two bills that seek to address our affordable crisis are coming to the floor for a vote," said James, in a statement to Gotham Gazette. "We must leave no stone unturned when it comes to building affordable housing, and that includes utilizing our vacant lots and properties. We are hopeful that Int. 1034 will pass quickly in the next session."
Charmel Lucas, a member of Picture the Homeless, an advocacy group that has pushed for these bills, said in a statement that the group was glad the two bills will be voted on and that the group would continue to work with the public advocate to help pass her bill in 2018. "We're grateful to all the council members who had our back on bringing this important issue to a vote, including the current speaker candidates," Lucas said. "These bills will help homeless people get the housing they need. By identifying vacant property that landlords are sitting on for decades, we can take steps to develop them into extremely-low-income housing."
There was some good news for the public advocate, however. A separate bill she sponsors -- requiring HPD to provide more information on owners of buildings and the violations and complaints they face -- will be approved at the same Monday committee hearing. "Transparency is critical for New Yorkers seeking to hold unscrupulous landlords accountable," James said, touting the Worst Landlords Watchlist published by her office every year. "This bill will create an easy-to-use database that allows tenants to identify patterns of abuse and harassment by landlords across buildings, further empowering and protecting tenants."
Note - This article has been updated to include comment from Council Member Rodriguez and to clarify Fagan's comments on the Construction Safety bill.