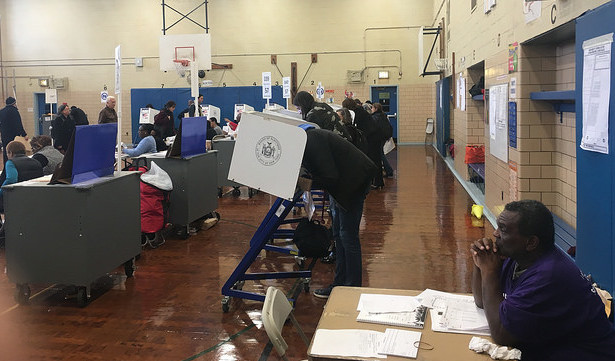 photo by Samar Khurshid/Gotham Gazette
---
With a 16-hour workday, compensation at $200, and the monotony of sitting in what is often a stifling, public-school gymnasium, New York City's tens of thousands of election poll workers have a largely thankless job.
Mobilized only a few days most years, they are often retired or semi-retired. While unheralded, they are the frontline for the New York City Board of Elections (BOE), which, as governed by state law, is responsible for registering voters, maintaining voter records, and operating poll site locations throughout the five boroughs.
Many, motivated by civic duty, extra income, or both, apply directly via mail or through the city BOE website. However, a substantial portion of poll workers receive their positions through recommendations from local Democratic and Republican leaders, chosen before the BOE dips into the general application pool. The parties also nominate the commissioners to the city Board of Elections, one Democrat and one Republican per borough, and each borough has a satellite operation for election administration.
The injection of political partisanship into the cogs of the electoral process, especially in the wake of a critical audit of the BOE by the city's Comptroller's office, has come under increased scrutiny in 2016 and 2017, both years seeing a bevy of election activity in New York.
Some City Council candidates and campaign staffers allege that the influence of local party leaders in hiring and placing poll workers can advantage those backed by county leadership. Benefits range from having sympathetic eyes in polling sites to—at boldest—an extra set of hands to electioneer on election days, influencing votes as they are cast.
The current system is "a cocktail of corruption that's impossible for these people to not get drunk on," concluded an experienced Democratic political operative who has worked on high-profile issues and campaigns and wished to remain anonymous for fear of impacting his political career.
"To my knowledge, I know there is a history of local poll workers affiliated with campaigns being placed in specific polling sites," said Brian Cunningham, a City Council candidate in Brooklyn's District 40 who is currently pursuing legal action after reports of irregularities at polling sites across his district, where incumbent Mathieu Eugene won a third term in November and is alleged to have illegally been in several polling places on Election Day.
While a few dozen corrupted votes would not typically change the outcome of an election, they would cast a pall over the voting process and can impact contests decided by small margins. For example, Elizabeth Crowley, a Democratic incumbent in Queens District 30, lost her City Council seat to Republican Robert F. Holden in the November general election by just 137 votes.
Despite concern from several experienced political operatives and recent City Council candidates, Democratic Party officials from Manhattan and Brooklyn argue that widespread allegations of poll workers influencing elections are overblown.
Meanwhile, some candidates have reported no knowledge of what others allege is common practice. "[This] is not a claim that I can neither confirm nor deny," said Deidre Olivera, an unsuccessful 2017 Democratic City Council candidate in District 41, in an email to Gotham Gazette.
Although sources did not provide hard evidence of candidate campaigns or local party leaders deliberately influencing elections through the recommendation of partisan poll workers, the spectre of compromised poll sites adds further fuel to the fire for reformers calling for a wholesale revamp of state election law, including the structure and practices of the state and city BOE.
A Partisan Hiring Process
The BOE is crafted along partisan lines in order to guarantee impartiality, or at least opposing partialities. In New York City, this partisan structure extends from executive leadership through mid-level staff, spreading its roots into how poll workers are found and hired.
According to conversations with Michael Ryan, the executive director of the city BOE, and political insiders, poll workers are either recruited based on applications sent directly to the BOE or they are selected by the local Democratic or Republican parties. Party-selected poll workers are chosen by district leaders, or local party officials from state Assembly districts.
Poll workers nominated by district leaders are always chosen before workers culled from the general application pool. The BOE, according to state law, cannot question the credentials of workers forwarded to them by district leaders, explained Ryan, the executive director. "It's up to the local party's discretion who they want to designate and it's not for us to question," he added. Ryan's position is an administrative hire made by the BOE board, meant to be a nonpartisan leader for BOE operations.
The district leaders also have sway over which poll workers are placed where. "From having seen this from the very most ground level, the district leaders have the most influence in recommending where to assign a poll worker the BOE has already hired," said Barry Weinberg, executive director for the Manhattan Democratic Party.
Adding to the control Democratic party officials have over the assignment of poll workers is a quirk of staffing process called, per Ryan, "cross-designation." The vast majority of poll sites need an equal number of Republicans and Democratic poll workers manning them. When poll sites are lacking enough Democrats or Republicans, the BOE asks "individuals who might be registered in a different political party to take an oath as a poll worker or inspector for the party with a shortfall," said Ryan.
Ryan confirmed that, given the outsized number of Democrats compared to Republicans in New York City, usually Democrats "cross-designate" as Republicans.
"Aren't at Least the Optics Bad?"
The poll-worker and election-administration processes seem flawed to many political candidates, including Randy Abreu, a 2017 Democratic City Council candidate in District 14 in the Bronx.
After the September primaries, Abreu cried foul after receiving multiple tips from friends, supporters, and voters of problems in the polls across his district, reported The Riverdale Press.
These included rumors that poll workers were electioneering for his opponent, incumbent Fernando Cabrera. In comments given to The Riverdale Press, Abreu said, "The incumbent's campaign workers are picking the poll site workers. Aren't at least the optics bad?"
In an interview with Gotham Gazette, he elaborated. "My male district leader was my opponent's campaign manager. The district leaders, if they have a relationship [with a candidate], it's human nature they're going to appoint friendly people on election day in the poll sites," Abreu said.
Another former City Council candidate in the Bronx—who asked to remain anonymous for fear of negative repercussions to their political career—not only echoed Abreu's suspicions, but stated that the process is common knowledge among political insiders. "A lot of folks know that if you're with county [party] support that your major polls will be covered because you have supporters working them," the candidate said by phone to Gotham Gazette. "On the campaign trail, folks would warn me they have folks that point out who to vote for and keep an eye on the polling sites."
Whispers were not limited to the Bronx. In Manhattan, Ronnie Cho and Jasmin Sanchez, two Democratic City Council candidates in District 2, were also surprised by the appearance of other candidates' supporters in the polls during primary day. The party establishment's favored candidate was Carlina Rivera, an aide to the outgoing, term-limited Council Member, Rosie Mendez, who won the primary and general elections by wide margins.
When asked in an interview whether he was aware of campaigns placing their supporters within poll sites, Cho responded that this "is a common practice that many campaigns employ."
Sanchez observed that most people working the polls in her district were affiliated with political clubs and organizations, which endorse candidates. "Everyone I know that has worked the poll sites are connected to political organizations and nonprofits," she said.
"The appearance can seem a little bit awkward," said Cho, in regards to the supposed impartiality of polling sites.
Polling the Campaign Staffers
Although multiple City Council candidates were aware of these concerns, none could provide detailed accounts of poll site manipulation.
Campaign staffers who spoke with Gotham Gazette similarly provided no specific accusations. However, they either thought the allegations were credible or directly confirmed the existence of the phenomenon. All requested anonymity for fear of causing damage to their careers or receiving political retribution.
"In my experience uptown in Manhattan, we frequently found that the county party selected poll workers for our Spanish speaking community that had no ability to translate, compounded with the BOE not providing translators at many busy poll sites," said a former City Council aide who has also worked on a number of campaigns for candidates opposing the party establishment. "I can't speak with certainty to poll site workers openly supporting candidates, but it certainly felt like [it]."
Others directly attested that campaigns backed by the party enjoyed the benefits of supporters working the polls.
"The short answer is yes, yes, yes, yes," said a political staffer who has also worked on multiple uptown campaigns in an email to Gotham Gazette.
A different, experienced Democratic political operative who has worked on high-profile issues and campaigns confirmed poll site manipulation with similar enthusiasm: "Yes, and Santa Claus is not real. This is something I've witnessed firsthand," the operative said.
"I mean, look, it's a political process. Generally speaking, in your average election it doesn't impact the final outcome," the same operative said in a phone interview. "It only matters for campaigns that are explicitly and intensely supported by the party boss."
For most campaigns, having poll sites manned by supporters is understood to be an implicit advantage, he explained. In fact, he said the practice has benefitted his own career, but that the relevant campaigns "never explicitly" coordinated with the local Democratic Party.
Another experienced campaign staffer in Queens explicitly corroborated these allegations, expressing surprise that he was being questioned about this issue, as he thought it was common knowledge. "In Queens County, this is par for the course," the campaign staffer said over the phone. "It would be ideal for a campaign to situate affiliated people within the poll sites."
"I've been on insurgent campaigns and I've had many supporters apply to be poll workers. The incumbent's team would have had all their spots taken up," the Queens campaign staffer continued. "The incumbents are the ones that can get it done."
He added that inserted poll workers were often asked to electioneer. "If you want a true representative democracy, this is totally a cluster****," he declared. "If democracy works well, people like me wouldn't have a job."
"Definitely Overblown"
Despite concerns from candidates and staffers that party-backed campaigns are rejiggering the cogs of the electoral system in their favor, other political insiders—including previous candidates, observers, and party officials—have either never caught wind of this phenomenon or believe the rumors to be nothing more than hot air.
Kim Moscaritolo, the female district leader for the 76th Assembly District and a longtime political activist, said that she couldn't confirm or deny these allegations.
Others think these claims, while hypothetically possible, are unlikely. "In theory, that might be true. In my years, I've seen very little evidence. I'm skeptical about most allegations of election fraud," said Jerry Skurnik, partner at consultancy Prime NY, which specializes in election data, and a longtime political aide and observer in New York.
And Democratic party officials in Manhattan and Brooklyn adamantly deny that anything more nefarious than the occasional poll site mishap may occur during city elections. Weinberg, of the Manhattan Democratic Committee, said that at least in Manhattan, these allegations of poll worker bias and electioneering are "definitely overblown." He also expressed faith in the current system. "The laws are written with mistrust. The system is almost designed to be adversarial," he added.
Officials in Brooklyn agreed with Weinberg's skepticism. In a statement, Bob Liff, spokesman for the Kings County Democratic Party, said, "Some [poll workers] are recommended by political organizations, but a larger percentage come from direct application to the Board of Elections. The bigger problem is finding enough qualified people to staff every election district willing to register with the Board and go through training and work the long hours for the low pay."
According to the BOE, approximately 60% of poll workers are found through general applications and 40% are selected by district leaders. The number of party-designated poll workers forwarded to the BOE has been steadily trending down the past few years, said Ryan, the executive director.
"I think that the system is set up as a bipartisan system to prevent abuse. It really is both sides watching each other to make sure that elections are conducted as fairly and squarely as they can be," stressed Ryan. "While it would be inaccurate to say we never hear of poll workers doing things they're not supposed to be doing, it would also be inaccurate to say that poll worker misconduct is rampant."
Ryan added that party-backed candidates enjoy widespread advantages not through the manipulation of poll sites, but through the money and campaign experience that party support provides. "The folks that are running and don't have the party backing, what they're lacking is the experience of running a campaign, and they're also lacking access to individuals who have experience running a campaign," he explained. "That I see is a bigger hurdle for candidates to overcome, more so than what an individual poll worker is doing at a poll site."
Calls to "Professionalize" the BOE
The allegations of partisan poll workers influencing local elections touch on larger efforts to reform the BOE and prevent the Democratic and Republican parties from engaging in what some describe as a system of "patronage."
Last year, the BOE purged approximately 125,000 Democratic voters from the voting rolls in Brooklyn without explanation, And after the September 2017 primaries the BOE changed more than 20% of its polling sites since 2016, regularly breaking city law by not posting notices of the changes.
"I think the Board of Elections' time has come and gone," Mayor de Blasio said after the 2017 primaries, as reported by The Daily News. "I think it's time for fundamental change. This model doesn't work, period."
And this past November, city Comptroller Scott Stringer released a damning audit of the BOE, reporting that 90% of the 156 poll sites observed during three elections since April 2016 had significant problems—including severe infractions of election law, most notably instances of electioneering by poll workers.
Government watchdog groups like Common Cause/NY argue that many of the BOE's problems stem from employees hired because of party loyalty, not professional competency. "The people who were chosen because they were good treasurers for their local political party may not bring the right skills to the job," said Susan Lerner, executive director for Common Cause/NY, in an interview. "I have had political operatives, party officials say to me that one of the purposes of the Board of Elections is to provide employment for people who wouldn't be able to get jobs otherwise."
She argues that the BOE should be "professionalized," meaning the board's posts should be filled not through political appointees, but publicly advertised job postings. "We believe that the Board of Elections should be a nonpartisan, professional operation," said Lerner.
When asked if she believes allegations of party-backed candidates inserting their supporters into the polls, she responded, "Yes, absolutely."
Tweak the BOE or Revamp It?
For Michael Ryan and party elites, the BOE needs help, but not wholesale reform. Ryan said that one of the BOE's biggest challenges right now is finding poll workers willing to work the long hours for low pay. However, these problems are not unique to New York City. He referenced a report released in January 2014 by the bipartisan Presidential Commission on Election Administration that detailed widespread shortages of poll workers across the country.
Weinberg, of the Manhattan Democrats, agreed that finding more poll workers was the most pressing obstacle to well-run elections, suggesting that paying them more money would incentivize more people to apply.
However, when asked if the BOE should do away with the current system of district leaders nominating a substantial portion of poll workers, he said no, "they actually need the local, on-the-ground knowledge from District Leaders."
For reformers like Ben Kallos, City Council member for Manhattan's District 5 and chair of the Council's government operations committee, the problem is simple. "I don't believe people should get jobs in government because of who they know," he said in a phone interview.
He urged anyone with allegations of campaigns inserting supporters into poll sites to speak up, including through the city Department of Investigations. "We're calling upon them to do their civic duty," he exhorted.