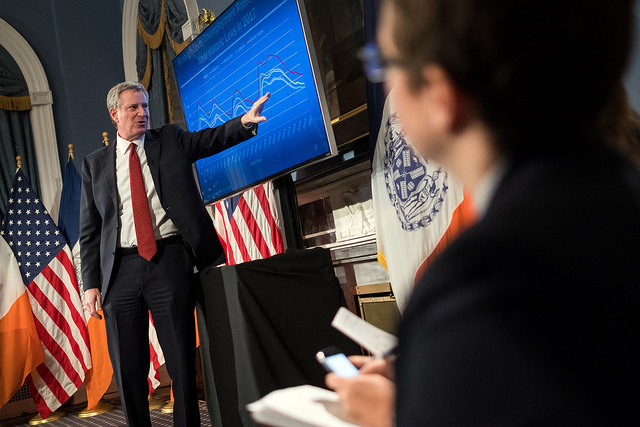 De Blasio's Feb 2018 budget presentation (photo: Ed Reed/Mayor's Office)
---
As the state and federal governments continue to pursue policies that threaten the city's fiscal future, Mayor Bill de Blasio again said he is investing in making New York City the "fairest big city in America" as he proposed spending $88.67 billion for the next city fiscal year, which begins July 1.
On Thursday afternoon, the mayor released his preliminary budget proposal for next fiscal year, which increases city spending by nearly $3 billion from the last time the current year's budget was modified in November. The modified budget of $85.99 billion was itself a modest increase over the $85.24 adopted budget that was approved in June.
The mayor is proposing an additional $750 million in spending from what was previously projected for fiscal years 2018 and 2019 combined, all of which, he said, is offset by identified savings. He promised additional savings before the budget is adopted in June.
De Blasio's guiding philosophy in his budget was his promise to make the city fairer. "The city becomes fairer when more kids get the start in life that only some families can afford right now. The city becomes fairer when people who built their neighborhoods up in good times and bad are able to stay in the neighborhood and in the city they love. The city becomes fairer when we reverse the decades-long neglect of public housing in this city. The city becomes fairer when we heal the wounds of the past and we build trust between police and communities through transparency. And the city becomes fairer when we care for New Yorkers who are too often left behind but they're just as much New Yorkers as any of us," he said. "These ideas permeate our budget process but it was always against the backdrop of having to be prudent, having to be fiscally responsible, again given the extraordinary level of uncertainty that we're facing."
In keeping with previous budgets, de Blasio proposed "strategic investments" in affordable housing, the New York City Housing Authority, the NYPD, tenant harassment safeguards, public health initiatives, criminal justice reforms, seniors and early childhood education.
De Blasio had already announced a few of the new spending initiatives prior to Thursday's release. After having successfully implemented universal pre-kindergarten in his first term, the mayor hopes to expand the program to all three-year-old through the '3-K for All' program, over the course of several years and with funding help from the state and federal governments. De Blasio had previously begun the program by funding it in two districts, which was then expanded. The preliminary budget proposal funds the program in four more districts -- for a total of 12 districts by 2020 funded at $46.4 million.
Additionally, the city is also increasing funding for anti-bullying efforts in schools to $8.2 million in the new budget, and through the separate capital budget, which funds infrastructure, the city will build four new pre-k locations, with $46 million in capital funding in the current fiscal year and $26 million in fiscal year 2019.
In a news conference on Tuesday, de Blasio said the NYPD would be moving up the rollout of its body camera program by one year, increasing funding from $5.9 million in fiscal year 2018 to $12 million in the fiscal year 2019 budget proposal, to ensure that nearly 18,000 patrol officers are equipped with the cameras by the end of this calendar year.
Responding to withering criticism over boiler failures at NYCHA developments which left residents without heat during a cold snap in the last few weeks, de Blasio recently pledged $200 million for capital upgrades and $13 million in direct spending for boiler repairs, which are included in the budget.
The mayor also put another $750 million towards his affordable housing plan, the target for which was enhanced in recent months from 200,000 affordable units preserved and built by 2024 to 300,000 by 2026. The Department of Buildings will receive $5.2 million, up from $1.6 million currently, to prevent landlords from using construction to harass tenants. The city will also fund a $2.4 million pilot program in East New York to convert basement units into legal and functional apartments, which was agreed upon when the neighborhood went through a comprehensive rezoning in April 2016.
The budget proposal also addresses the criminal justice system by providing $1.54 million, up from $430,000, to expedite mental competence examinations of criminal defendants, and increase from $200,000 to $5.72 million to provide better services to incarcerated women and their families. Another $4 million will fund health screenings for detainees in jail diversion programs, an increase from $700,000.
Over the years, the de Blasio administration has repeatedly touted "historic" levels of reserve funding socked away for times of economic uncertainty, and the mayor continued in that vein on Thursday. The budget proposal includes $1 billion put away each year in the general reserve, $250 million annually in the Capital Stabilization Reserve (created by this administration to manage costs of capital construction) and $4.25 billion in total in the Retiree Health Benefits Trust Fund. De Blasio has indicated some reserves may have to be used not because of an economic recession but because of federal cuts to the city.
The new spending plan for 2019 also includes $900 million in savings between fiscal years 2018 and 2019 -- from a partial hiring freeze that was implemented last year, agency efficiencies and from savings in debt payments -- and also promises to identify another $500 million by the time the next iteration, the executive budget proposal, is released in a few months (The November modification similarly included $500 million in savings.)
All those funds may be more crucial than before with the city's economy showing signs of slowing down coupled with actions by the Republican-led U.S. Congress, President Donald Trump, and the state government in Albany. "If all we had to think about was ourselves, this might be a much prettier picture," de Blasio said Thursday, after touting the city's economic success in recent years. Citing the federal and state budget challenges, he added, "I think I can safely say, we've never quite seen anything like this."
While budget officials have yet to fully assess the effects of the "draconian" federal tax code overhaul that passed in December and other measures taken by the federal government, they estimate that the city risks losing as much as $700 million. The city's ailing municipal hospital system, New York City Health+Hospitals, could face a $400 million cut alone, they estimate, if Congress does not restore Disproportionate Share Hospital funding which reimburses local hospitals for care provided to low-income and uninsured patients.
Federal tax reform also cost the city the ability to refinance debt on tax-exempt bonds, which local governments use to fund infrastructure projects. The change could mean an additional burden of $100 million for the city, while another $200 million in capital funding could be lost because the tax law also inadvertently reduced the value of a tax credit that encouraged private entities to invest in affordable housing. Additionally, the legislation capped the State and Local Tax (SALT) deduction that residents of high-tax states such as New York rely heavily on.
"A lot of these are double jeopardy dynamics," de Blasio said. "Your taxes go up and your benefits go down. It's a dangerous combination and I think we should not underestimate how all this may play out." He also expressed concern about what the upcoming federal budget may hold for the city.
Governor Andrew Cuomo's recent executive budget proposal for the state's next fiscal year, which begins April 1, makes the situation more precarious by including about $400 million in cuts and cost shifts, de Blasio said. De Blasio pegged the "total potential risks from Albany: at "over $750 million" while also questioning limited growth in the governor's proposed school aid and saying that he is not even included MTA-related cost-shifts that Cuomo is pursuing.
The Cuomo administration pushed back after the mayor's presentation, claiming that the city is actually doing quite well vis a vis the governor's budget plan. "While closing a $4.4 billion gap, this year's budget sends $16.5 billion in aid to the City– more than 40 percent of funding awarded to all local governments – and a half billion dollar increase over last year," said Morris Peters, a spokesperson for the state Division of Budget, in a statement. "The state's budget includes a $248 million increase in school aid, $212 million more for the state takeover of Medicaid, and $60 million in additional tax revenue – calling this significant increase a cut is disingenuous and the City should check its math."
Fiscal watchdogs and independent monitors have generally praised the city's financial management under de Blasio, but some have repeatedly warned that the city is not putting away sufficient rainy day funds and that ballooning costs from a massive expansion of city government has not been met with adequate cost-saving measures. With this newest budget proposal, the city's spending will increase by almost $16 billion in comparison with the last budget modification under former Mayor Michael Bloomberg, which was $72.7 billion in November 2013.
"New York City's Preliminary Budget for Fiscal Year 2019 continues the 'wait-and-see' approach of the previous budget update in November," said Citizens Budget Commission President Carol Kellermann, in a Thursday statement, "it neither addresses issues spawned by the recently enacted federal tax law and possible budget cuts nor pending State actions that could reduce resources available for city services. Most importantly, no additions will be made to the City's reserves."
Kellermann credited the fact that "the cost of new agency needs will be offset by the Citywide Saving Program," but said the "program relies too much on dwindling debt service savings, and State and Federal reimbursement and not enough on making government more efficient. Before the going gets tough, the Mayor should get going by limiting spending growth, bolstering the savings plan, and adding to reserves."
CBC wants to see the city do more to build reserves and to alter the capital budget plan to account for new fiscal realities. "Spending growth continues to surpass inflation and the finances at H+H and NYCHA remain precarious," Kellermann said of the public hospital and public housing systems.
Over the next few months, the preliminary budget proposal will be evaluated by the City Council in dozens of hearings where administration officials and city agency heads will testify. After the Council issues its formal response, the mayor will release his executive budget, which will also undergo another round of hearing before negotiations move behind closed doors.
Note - this article has been updated.