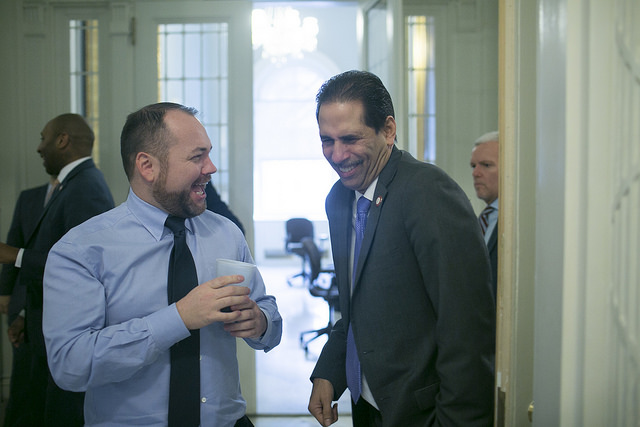 Above: Corey Johnson and Fernando Cabrera (photo: William Alatriste) (photo below: John McCarten)
---
When new City Council Speaker Corey Johnson, the first openly gay and openly HIV-positive person to hold the powerful position, unveiled his leadership team and Council committee assignments, he appointed two anti-LGBT Council members to chair committees, and named one to senior leadership in the 51-member legislative body. The moves seemed to have raised few eyebrows despite the stark contrast with Johnson's life story and politics, as well as the politics of the overwhelming number of Council members.
Johnson created a new committee for Council Member Ruben Diaz Sr., a conservative reverend who will chair the Committee on For-Hire Vehicles, and named Council Member Fernando Cabrera, also a socially conservative pastor known to hold anti-gay views, to lead the Committee on Governmental Operations and serve as the majority whip on Johnson's senior leadership team.
Both members, who represent districts in the Bronx, are outliers in the largely progressive body, holding far-right stances on LGBT rights and social issues in general. Their politics seem out of place not only in the City Council but in an overwhelmingly liberal city where Republicans often nominate socially progressive candidates and vote along the same lines. Notably, the Bronx Democratic County organization was key to supporting Johnson's winning speakership bid, and a number of Bronx members were rewarded in kind when it came to committee and leadership assignments.
Diaz Sr., a former state Senator and minister who founded the Christian Community Neighborhood Church, was the sole dissenting Democratic Senator on the state Legislature's successful marriage equality bill passed in 2011. The bill was supported by four Republicans who were in the Senate majority. Diaz Sr. also voted against the Gender Expression Non-Discrimination Act (GENDA) last year in a Senate committee vote, is a vocal opponent of abortion and, in 2003, sued the Department of Education over plans to expand the Harvey Milk High School in Manhattan for gay students.
Cabrera, the senior pastor at the New Life Outreach International church, has his own history of controversial statements and positions. In 2014, when he was serving his second term on the City Council, he praised the Ugandan government in a video posted online after it passed a law that criminalized homosexuality.
"Godly people are in government," Cabrera said of the country's government, noting that gay marriage was not acceptable there and stating that the government had withstood pressure from the U.S. to allow it. "And they have stood in their place. Why? Because the Christians have assumed the place of decision-making for the nation."
Following a furor over his remarks in 2014, he later insisted, "I do not support the persecution of gays and lesbians anywhere, whether it's in Uganda or right here in New York State."
[Read: City Council Names New Leadership, Committee Chairs and Members]
For people familiar with Speaker Johnson's personal history, which he wears on his sleeve, the move to empower the two conservative Council members could easily trigger a degree of cognitive dissonance. Johnson became famous as a teenager when he came out as gay while the captain of his high school football team in Massachusetts, and has often approached politics and legislation from the lens of his own lived experience. He represents a Manhattan district including Chelsea and the West Village, home to the gay rights movement and many of its leaders, including former State Senator Tom Duane, who Johnson has called a role model and mentor.
"For decades, the gay activist community has fought to keep people like Ruben Diaz Sr. and Fernando Cabrera out of positions of power," said Allen Roskoff, a gay activist and president of the Jim Owles Liberal Democratic Club, in a phone interview. "I find this shocking and cringeworthy."
Several activists and elected officials were hesitant to criticize Johnson, whose election was celebrated by the LGBT community. But, Roskoff was not alone in his displeasure.
"Of course it's a big deal," said an LGBT Democratic insider, who requested anonymity to speak freely. "You have hate emanating from Washington on a daily basis; on the ground in New York City, bias attacks are happening more often; and to put two vocally anti-LGBT people in places where they have a bigger platform is really worrying and not something we want to see in a progressive body."
The insider also pointed out that Diaz Sr.'s and Cabrera's neighborhoods are where LGBT youth have long felt especially unsafe and unaccepted, and that those same young people need elected officials to be leaders for them, not spreading anti-LGBT sentiment that makes them less safe.
Assemblymember Deborah Glick, New York State's first openly gay legislator, was similarly disappointed, though she said she did not want to "second guess" Johnson's decisions as speaker.
"I was pleased to have Reverend Diaz removed from the Senate Democrats because his anti-choice and his anti-LGBT attitude and aggressive rhetoric was destructive and unpleasant," she said. "I'm sorry they're in elected office. Just as I would not want to spend time and energy seeing that people who are actively homophobic are not elected to seats in other parts of the country, I'm not happy to see them in elected office here. You would have to ask the speaker what went into his thinking in giving them prominent positions."
Gotham Gazette did ask Johnson about the decision on January 11, shortly after the new committee chairs were approved by the full Council. Though he insisted that he disagrees with Diaz Sr.'s and Cabrera's positions on LGBT issues, he said that just as he does with certain Republican Council members and those within his own Democratic caucus, his new position as speaker requires him to treat each member equally.
"I'm gonna treat every member of this body with respect...Everyone knows where I stand on LGBT equality. No one can question my credentials on LGBT equality and I'm the Speaker of the Council and we're going to push the envelope to expand protections for all New Yorkers, transgender New Yorkers, LGBT new Yorkers, undocumented immigrants, Muslims, people of different religious faiths and beliefs," he said. "That's where I stand. I don't agree with every member on everything but I'm still going to work collegially with every member of this body because that is part of my job now as Speaker of this Council."
He also said that Cabrera's view didn't necessary align with his votes. Indeed, Cabrera voted in favor of a bill last year that banned gay conversion therapy in the city and supported a bill requiring the Department of Health and Mental Hygiene to create a plan to provide behavioral health services to LGBT individuals. Durign the race to become Speaker, Johnson caught some flack for visiting Diaz Sr. in the hospital, a visit that Diaz Sr. referenced on the day Johnson was officially elected Speaker.
Fellow Council members -- including LGBT members such as Ritchie Torres, Jimmy Van Bramer and Carlos Menchaca -- also came to Johnson's defense, insisting that conservative members would hardly have an effect on the larger policy agenda or leanings of the Council as a whole.
"The foundation of this body requires us to listen to all sides of every issue and that's what we're going to be committed to this next session," said Council Member Menchaca in a brief interview outside City Hall last week.
Council Member Van Bramer similarly said, "There's good things that can come out of appointing a leadership team that is diverse and has opinions that contradict your own."
Council Member Brad Lander, not a member of the LGBT caucus, echoed the view. "As long as the policies that we pursue represent the progressive values that [Speaker Johnson] articulated, that he continues to articulate, then I think it's great to have a diverse leadership team in many ways," he said.
Council Member Torres, from the Bronx, called Gotham Gazette upon hearing of the reporting of this article to show support for the speaker. The two members in question, he said, represent some of poorest districts in the city where it is a "particular imperative" to show equal representation. "I think it's unreasonable to expect the Speaker of the Council to deny resources to lower-income districts simply because he rejects the social views of those who represent them. It's unfair to begrudge the speaker for his obligation to represent everyone equally," he said.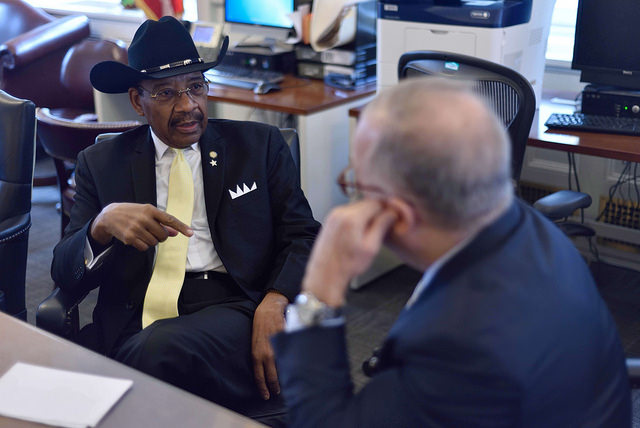 Torres also refuted the possibility that the two members were rewarded for their support for Johnson's ascension to the speakership, which owed to the backing from the Bronx and Queens County Democrats, as well as other members whose support Johnson had secured. Council members from both counties were handed the most powerful Council committees, with the land use committee going to Council Member Rafael Salamanca of the Bronx and finance to Queens Council Member Daniel Dromm, who is a member of the LGBT caucus.
"I think [Speaker Johnson's] magnanimity transcends the normal transactions of the speaker race," Torres said, noting that even though he also ran for speaker, he was given a plum position as chair of the newly empowered oversight and investigations committee. "I would do exactly what he's doing as speaker," he added.
"Winning coalitions reward their members," observed one Council Member, who asked to remain unnamed.
Assemblymember Glick conceded that the speakership is a complicated position that requires keeping numerous stakeholders satisfied. "I've been in politics a long time and I understand that people in positions of authority have a very tough balancing act," she said. "By the same token, I'm not happy about seeing people who have engaged in hateful rhetoric being given what in political terms would be seen as a reward."
Regardless, she said, "I'm very proud of Corey. I consider him a friend and I will do whatever I can to make his tenure a successful and positive one."
(picture inset: Ruben Diaz Sr.; photo by John McCarten)
Note - this article has been updated to clarify that Diaz Sr. was the sole Democratic Senator, not the only Democratic legislator, to oppose the state's marriage equality bill.