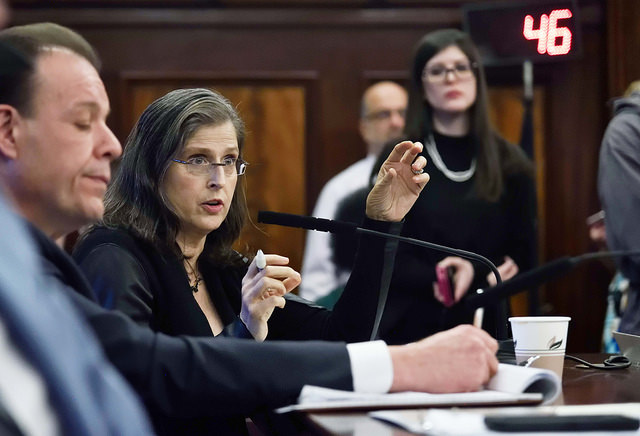 Council Member Rosenthal (photo: John McCarten/City Council)
---
Amid a national reckoning with sexual harassment and misconduct that has led to the downfall of prominent men in media, entertainment, and politics, the New York City Council is turning an eye to its own backyard.
The City Council will convene a hearing on February 28 to examine best practices for dealing with workplace sexual harassment and the current policies in place in a city with a municipal workforce upwards of 330,000 full-time employees. The Council's Committee on Women and the Committee on Civil and Human Rights will hear from experts and survivors on the strongest approaches to policy that encourage individuals to report instances of harassment and protect them if they do.
The committees are also seeking testimony from Mayor Bill de Blasio's administration on the policies at City Hall and the city's many agencies to determine which departments could serve as a model for a uniform city-wide policy and areas where the city needs to strengthen its rules and enforcement.
"My expectation is for the administration to come in and help us set up a baseline of what's happening right now in terms of policy and reporting of incidents," said Council Member Helen Rosenthal, chair of the women's committee, in a phone interview on Friday.
Rosenthal said she's looking to hear from commissioners at agencies that already have strong policies and hopes to create, over the course of several such hearings, a citywide policy by the end of the year. "And then we'll spend the next three years monitoring the use and challenges to making them better," she said, alluding to the four-year term for both the current Council class and the mayor.
The city does not currently have a blanket harassment policy for municipal employees and the city does not track sexual harassment claims across city agencies. But the mayor's administration has been pressed into action in recent weeks. At an unrelated January 10 news conference, asked if the city would begin to compile statistics on the problem, de Blasio said, "We have to address this problem across the board in this city and in this country. I want New York City to do all we can do, both in terms of our own workforce and the private sector workforce. We need to figure out what that is and we obviously need to figure out what the legal requirements are, so we will have more to say on that shortly."
The mayor also noted that a majority of women hold leadership positions in his administration and that sexual harassment "has not been a phenomenon that I have heard coming up in our administration in any significant way." A week before that news conference, the mayor came out in support of a proposal by Governor Andrew Cuomo to require reporting on sexual harassment claims by entities that do business with the state. De Blasio said the city would look to implement similar policies.
"We're coming out with a package of policies and protocols very soon," said mayoral spokesperson Eric Phillips in an email on Friday, when asked about what the administration would present at the Council hearing, which was originally scheduled for February 15 but was deferred.
"Our review and policy timing won't have anything to do with the timing of their hearing, but we're glad they're looking into the issue," Phillips said in a subsequent email when asked whether the policy would be ready in time for the hearing. Another spokesperson, Olivia Lapeyrolerie, said in an email Monday that representatives from the Department of Citywide Administrative Services and from the New York City Commission on Human Rights would be at the hearing to testify.
City Council Member Jimmy Van Bramer introduced legislation last session that would achieve that to a degree by mandating that nonprofits seeking city funding report on how they manage and resolve complaints, and by banning certain organizations with a history of misconduct complaints from receiving taxpayer dollars.
Notably, the City Council's own representatives are not expected to testify, according to a spokesperson for Rosenthal's office, but the hearing is meant to inform several pieces of legislation that are currently being drafted at the Council.
That may include legislation which Council Member Mark Levine requested in December, aiming to bolster the Council's own internal processes for dealing with claims of sexual harassment. The proposal would elevate staff member complaints by requiring scrutiny from the Council's Committee on Standards and Ethics as opposed to by internal Council staff, and would also require regular reporting on harassment complaints. Currently, the standards and ethics committee -- which is made up of elected City Council members and chaired by Council Member Steven Matteo -- evaluates complaints against sitting Council members, albeit in confidential meetings, and can take various punitive actions ranging from a censure to removal from office.
Although there have been few such complaints in recent years, on Monday, the committee substantiated a recent harassment complaint by a staff member against Council Member Andy King of the Bronx. King, who has denied allegations that he "paid unwelcome attention" to the staffer, will be required to undergo ethics and sensitivity training.
Another bill proposed by Levine, which would mandate that city agencies disclose complaints twice a year, is likely to be discussed at the hearing. Rosenthal, who is working with Levine on the bills, expects that they will be introduced within two months, by the time her committee holds another hearing in April.
The Council's efforts are also a contrast with counterparts in the state Legislature. The state Senate has come under fire over its revised sexual harassment policy, issued in the wake of sexual misconduct allegations against Sen. Jeff Klein, leader of the Independent Democratic Conference which has a power-sharing agreement with the Senate Republicans led by Sen. John Flanagan. The policy has been criticized for being watered-down, crafted in secret and, most strongly, for including an added warning against false reporting.
[Read: State Senate's New Sexual Harassment Policy Draws Criticism]
"Having a group of men decide what the policy will be seems unfortunate," Rosenthal said of the Senate's process, which was led by an outside law firm at Flanagan's behest. "We should have input from survivors, women and experts in the field."
The model policy, Rosenthal said, is the "policy of equity" employed by the County of Los Angeles since 2011. The policy enumerates various forms of harassment in the workplace and the consequences of those actions, and rigorously tracks complaints. In December, the L.A. County Board of Supervisors reviewed the policy to improve it further.
"Given that we have a president who is a misogynist, I think that the notion that New York City should double down to make sure our house is in good order is more than important," Rosenthal said.
Note - This article has been updated.