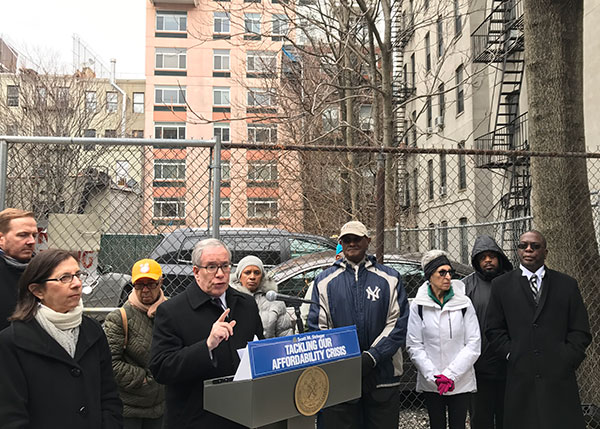 Comptroller Stringer press conference at a vacant lot (photo: Sam Raskin)
---
Comptroller Scott Stringer held a press conference Monday morning in front of a vacant lot on West 115th Street to criticize the city's Department of Housing Preservation and Development (HPD) for "dragging its feet" on creating affordable housing on empty city-owned land.
Stringer released an update to his 2016 audit on vacant lots, which initiated a reshashing of a yearslong dispute between the comptroller and the de Blasio administration over the latter's use of such land, or lack thereof. There are several points of conflict between Stringer's office and HPD, and both sides continue to dispute the other's numbers, intent, and competency. An escalating war of words and different presentations of data continue to cloud the reality of the city's use of its vacant land, an essential piece of creating more affordable housing in a city desperate for it.
Stringer's office maintains that HPD's efforts to create affordable housing on vacant lots has been lacking and it has not been open to the public about their practices. HPD, for its part, says that the city has achieved far more on the vacant lot front since 2016 than the audit suggests, and that any setbacks and slowness is par for the course, not due to ineptitude or an unwillingness to act.
The comptroller's analysis shows that as of late 2017 the city has not built upon over 1,000 parcels of undeveloped land in its possession. Since the initial audit was conducted two years ago, little progress has been made on filling these empty lots with affordable housing, according to Stringer's follow-up report. The comptroller's report claims that almost 90 percent of the land identified in the 2016 audit had yet to be utilized for affordable housing. What's more, according to the report, HPD has fallen short of the progress it had promised in moving lots through the development process, only transferring 26 percent of its projected total to developers.
"What the audit that we're releasing today shows, they've done nothing. Nada," Stringer said of HPD.
According to Stringer, HPD's failure to build on vacant city-owned land only helps to cement the city's affordable housing crisis. "We're no longer just a tale of two cities -- were becoming a tale of two blocks, with luxury towers on one corner and struggling families on another," he said.
Stringer urged HPD to build on its vacant lots through non-profit developers to ensure the housing reflects the community's' needs and to do so in a timely manner, while disclosing timelines on impending projects.
In recent years, HPD has pushed back against the comptroller's criticism, both in terms of its statistics and on whether it has been slow to act on building affordable housing on vacant lots, and did so following the press conference in a statement to Gotham Gazette, though it does acknowledge some delays in the pipeline.
"HPD is aggressively developing its 1,000 remaining public sites for affordable housing, almost all of them small and hard to develop lots," said HPD Commissioner Maria Torres-Springer, through a spokesperson.
"The comptroller's report misrepresents the facts and denies the very real progress made by HPD over the last four years from Seward Park, which now has housing after decades of neglect, to the hundreds of small sites where affordable homes and apartments are in the works," Torres-Spring continued.
Similarly, in the agency's written response to Stringer's new report, HPD casted doubt on the significance of Stringer's claim north of 1,000 parcels had not been utilized for affordable housing; many of these lots were not meant to be converted into affordable housing units to begin with, HPD said, because they lack the requisite size or infrastructure.
HPD also argued it had achieved more in the two years since the first report than the audit had revealed. "HPD has conveyed or transferred more than 200 tax lots since the beginning of the audit," HPD's response reads. "Your special report fails to acknowledge this fact."
The written response went on explain that HPD had designated 450 of the 1,000 vacant lots for either Requests for Proposal or Request for Qualifications, while also noting that the number of buildable lots is actually closer to 600.
HPD spokesperson Elizabeth Rohlfing explained that along with the misleading number of 1,000 empty lots the comptroller uses, Stringer's report failed to appreciate the complications that arise and how many lots are unsuitable for housing development. Some of the empty parcels, HPD says, don't have enough space for a residential building. "Maybe they'd be a good community garden or something," Rohlfing said. "There are definitely lots like that."
Others are located in flood zones or had already been damaged by weather events in recent years. And according to HPD, the comptroller's request that the agency allocate bids to non-profit developers is not compatible with the comptroller's insistence they build housing as quickly as possible.
In addition, Rohlfing explained why some projects run behind schedule.
"We want to work with non-profits who are in the community who can bring something to the table," Rohlfing said. "Sometimes that takes longer because they don't necessarily have the capacity that some of these big, private developers have."
"We could just say, 'We'll give it to the person who could do it fastest.' You could take that approach, but we're not taking that approach," she continued.
Furthermore, in some cases, Rohlfing explained, progress has been stalled due to matters beyond the city's control. Rohlfing cited Broadway Triangle, an area in Brooklyn where the Bloomberg administration planned to build affordable housing in 2009 but construction has been delayed due to a housing discrimination suit, as an example. "That's been in litigation for almost a decade," she said. "It would have been senseless to put a timeline for plots like that."
While HPD said the comptroller had painted with too broad a brush and didn't acknowledge the challenges the city faces, Stringer's office accused the agency of dishonesty and engaging in misdirection.
"Here's HPD's track record. They distort numbers, twist the truth, and deflect attention from their inaction," said Tyrone Stevens, press secretary for Comptroller Stringer, in a statement to Gotham Gazette. "At a time when New Yorkers are suffering, the agency is giving intentionally misleading answers to questions it doesn't want to answer."
He went on to accuse the agency of misrepresenting the numbers in the report, and shifting its reference points in terms of buildable lots and lots in the development pipeline. "HPD isn't comparing apples and oranges — it's comparing apples and twinkies. Their claims are a repeat of the same baseless arguments they made two years ago."
Stevens characterized HPD's pushback as "Groundhog Day for excuse-making" and urged the agency to "come clean" and address its issues.
In a similar vein, Stringer said at the Monday press conference he believed the agency is opaque and slow-moving, albeit in less dramatic fashion.
"The Housing and Preservation Department isn't being straight with the public," Stringer said.
Stringer said that if HPD would act in accordance with his recommendations, it could help to ameliorate the affordability and homelessness crises in New York.
To that end, the City Council passed a set of bills during the final days of the 2017 session -- two pieces of the Housing Not Warehousing Act -- which Mayor de Blasio signed into law and mandate that HPD conduct an assessment of the number of vacant lots it controls and the city establish a list of vacant properties throughout the city, respectively. Picture the Homeless, an advocacy group instrumental in pushing the legislation in the Council, was represented at Stringer's press conference, which was centered around the connection between HPD's use of city-owned vacant land and the housing and homelessness crises.
"Many New Yorkers who have been living in the city for decades and who have helped revitalize New York's economy and made it the city we enjoy today are being forced out because of high rent," said Jose Rodriguez of Picture the Homeless. "No one should be forced out of community that they work in."
Stringer also delivered a larger critique of the city's affordable housing plan, arguing that the housing being built through de Blasio's 300,000-unit, 12-year plan is too often not affordable to the residents of communities where it is being built. The mayor has defended his plan, which relies heavily on for-profit developers, increasing housing density, and mandating a certain percentage, usually around 25 percent, of newly-built housing developments include units with affordability requirements alongside many new market-rate rentals. The housing plan also utilizes nonprofit developers and HPD finances a variety of fully-affordable developments.
Some, including Stringer, don't believe the approach is calibrated correctly, spawning gentrification and displacement instead of truly affordable housing. Some critics have said de Blasio is too focused on a larger number of overall units but not the level of affordability he would be able to create through more deeply subsidized housing.
"At the end of the day, a lot of these rezonings are basically about building luxury development with smattering of temporary affordable housing," Stringer said Monday, referring to areas where the de Blasio administration is allowing increased density, "that, unfortunately, is not affordable to the people in the communities.'
"Sometimes there's a disconnect between the housing that we're building and the people who can access that affordable housing," he added.
Still, Stringer commended de Blasio. "I praise the mayor for making affordable housing a signature issue. He's certainly elevated the debate," Stringer said.
But, Stringer argued, an affordable housing plan without making full use of city-owned empty lots would be an incomplete one. "I believe we need more tools in the toolbox," he said. "Vacant land is a critical tool in that toolbox."