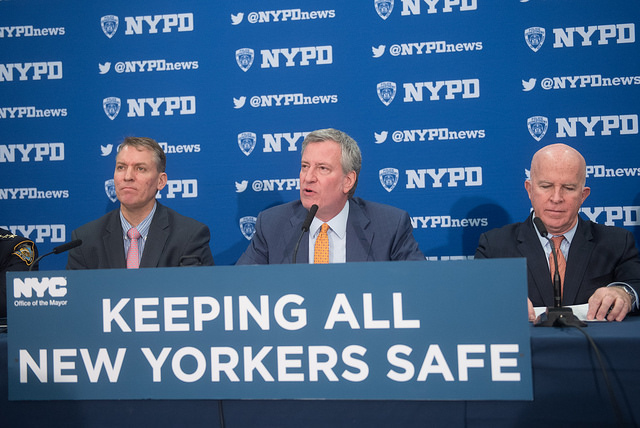 (Credit: Michael Appleton/Mayoral Photography Office)
---
The New York City Council Progressive Caucus is stepping up calls for Mayor Bill de Blasio to reconstitute a citywide task force to examine how emergency responders help people suffering from mental illness, and are insisting that the mayor consider creating a parallel response force of social workers and therapists that can answer calls rather than police officers.
In a letter sent to the mayor last Wednesday, the 21 members of the Progressive Caucus said the mayor should act by the end of the month to revive the Mayoral Task Force on Behavioral Health and Criminal Justice, which was set up, and concluded its work, in 2014, or create a similar body.
"As we've seen once again in the last week, the tragic costs of not acting in a sustained and focused manner are too high," the members wrote, referring to the shooting death of Crown Heights resident Shaheed Vassell by NYPD officers who were not trained to respond to situations involving "emotionally disturbed persons." The letter noted that since the last task force's recommendations were put in place, in the summer of 2016, ten people in emotional crisis were killed by police.
Late last year, City Council Member Jumaane Williams, a progressive caucus member, had led an effort calling on the mayor to do the same. He was among those who reiterated that request after the death of Vassell. But though the NYPD says it is on board, the mayor continues to drag his feet. "It's really a City Hall conversation," NYPD Deputy Commissioner Susan Herman said at a Council hearing last month.
The Progressive Caucus members' latest request differs slightly from what has been previously sought.
Rather than directing efforts at improving NYPD officer behavior, which they nonetheless hope the task force will do, they are calling for the mayor to support a new system that prioritizes professional mental health providers in emergency situations, where 911 operators can divert calls to social workers or therapists instead of the police and where therapists or trained peers can join police at the scene of an emergency. They also call for an expansion of mobile crisis teams and co-response teams that include mental health professionals paired with officers that have received Crisis Intervention Training. Just over 8,000 officers in the 36,000-strong police force have gone through CIT.
"Too often, individuals with behavioral and mental health conditions are wrongly introduced to the criminal justice system. In order to improve their safety, we must consider comprehensive strategies that will prioritize preventive care and response tactics by mental health professionals," said Council Member Diana Ayala, co-chair of the Progressive Caucus and chair of the Council's Committee on Mental Health, Disabilities and Addiction, in a statement.
The Progressive Caucus includes nearly half the 51 members of the City Council, and counts Council Speaker Corey Johnson among its ranks. Council Member Ben Kallos is co-chair with Ayala.
Although the Council members praised the administration's efforts that resulted from the recommendation of the previous task force, they noted that many initiatives stalled and also pointed to the weaknesses in the NYPD's approach to CIT training as evidenced by a January 2017 report by the Office of the Inspector General for the NYPD.
"The deaths of Dwayne Jeune, Saheed Vassell, and too many others have shown that there are fundamental flaws in the way our city handles EDP emergencies," said Council Member Williams, in a statement.
Steve Coe, CEO of Community Access, decried the "lack of leadership around this issue" despite the action plan put in place based on the 2014 task force's recommendations. He commended the Progressive Caucus' efforts, stressing that bringing stakeholders such as district attorneys, the city's health department, NYPD officials, mental health experts and advocates was necessary "to assess what's working, what's not working, and develop diversion and treatment strategies that are effective and sustainable."
Note- This article has been updated.