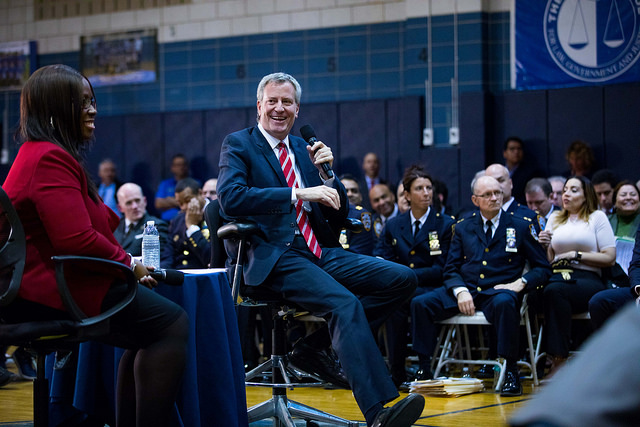 Mayor de Blasio (photo: Mayor's Office)
---
Mayor Bill de Blasio on Wednesday denied any real or perceived conflicts of interest arising from his choice of appointments to his Charter Revision Commission, which includes individuals who have donated to his past campaigns for elected office.
"Of course, whether someone was a supporter or donor was not a factor," de Blasio said at an unrelated news conference at City Hall, when asked by Gotham Gazette whether he gave any consideration to campaign donations when choosing the 15 members of his commission, tasked with reevaluating the city's central governing document. "We looked for people who we thought could bring a lot to the process: diverse perspectives by geography and demographic background, diverse perspectives by profession and area of focus in terms of life of the city, folks who have achieved a lot and brought something to the discussion about the civic needs of the city, some people who have directly focused on the democracy issues that are central to the mandate."
De Blasio created the commission, which began its work last week, to focus on issues around campaign finance reform and voter participation, though it can consider any and all issues related to the functions and structure of city government. Of the 15 members named by the mayor, seven donated a total of $10,220 to de Blasio's various campaigns dating back to his first run for City Council in 2001. The New York Post also reported that three commission members in total held six fundraisers for the mayor in his first mayoral race in 2013.
Asked if he'd thought about excluding all his campaign donors from consideration, de Blasio refuted the relevance of the question. "I just don't even get that theory. It's like, the campaigns happen, they're all over. Some people gave money, some people didn't. I don't even understand where that line of reasoning goes. I want people who I think are good publicly-minded people, who bring perspectives to the process, who are willing to put in a lot of hard work, who clearly share the aspirations of improving the democratic process in the city. If they were involved in political campaigns for me or anyone else is not relevant."
Alex Camarda, senior policy advisor at Reinvent Albany, a government reform group, said in an email, "When fundraisers are chosen for appointments, it can be perceived as rewarding donors instead of a decision strictly on qualifications."
For much of his first term, de Blasio and his administration were dogged by allegations that the mayor bent the city's campaign finance laws to the point of breaking and that he did favors for donors. Multiple law enforcement investigations took place and no charges were ultimately filed, though state and federal prosecutors criticized de Blasio's practices, as did the city's Campaign Finance Board and a variety of other entities, including government reform groups and newspaper editorial boards. Throughout the scandal and after, de Blasio continued to maintain that his decisions are made on merit and not based on favoritism.
He offered a similar defense on Wednesday. Noting that some of the donations from his commission members go back years, he said, "I mean it's getting a little silly."
"No," it doesn't create a conflict, he continued. "If they're people who have an independent profile of important public work, I don't care if they gave to me or they gave to someone else or they gave to multiple people. I don't care. It's not pertinent to the decision."
There is a difference of opinion on the other side of City Hall, however.
The New York City Council recently passed a bill to create a different Charter Revision Commission, with members appointed by several elected officials, including the mayor, and with a longer runway to complete its work. Council Speaker Corey Johnson, who, like the mayor, will appoint four members of that commission, indicated Wednesday that he'd avoid the pitfalls of picking donors.
"My plan is to ensure that any of the four Council appointments are not people that have any conflict of interest," he said in response to a question from Gotham Gazette at an unrelated news conference shortly after the mayor's. Johnson will get to select the chair of the Council-created commission, which was in the works before de Blasio's through a bill originally sponsored by Manhattan Borough President Gale Brewer and Public Advocate Letitia James.
The Council's bill was voted through earlier this month and will automatically age into law by May 11 if the mayor does not sign it. Mayoral spokesperson Freddi Goldstein said in an email that "signing is driven by schedule, but he won't veto." The Council's commission will comprise of one member each chosen by the public advocate, the comptroller, and the five borough presidents. The mayor does plan to appoint his four members, according to Goldstein.
Johnson said Wednesday that the membership of the Council-led commission is far from decided but they are looking at "substantive, well-respected people who have a lot to bring in looking at the structure of city government." The appointments will likely be made by the end of May, he said.
"We will of course vet as we do on every nomination that comes to the City Council. We're gonna thoroughly vet every single person from the Council side," Johnson said. "I would hope that the other folks that have appointments to the commission will do the same exact thing. I hope that they similarly live up to that standard. I think the initial names that people have talked about internally, none of them are people that have ever given me money in my campaigns for office and I expect that to be the case when we make final appointments."
[Read: Mayoral Charter Revision Commission Starts Its Work]