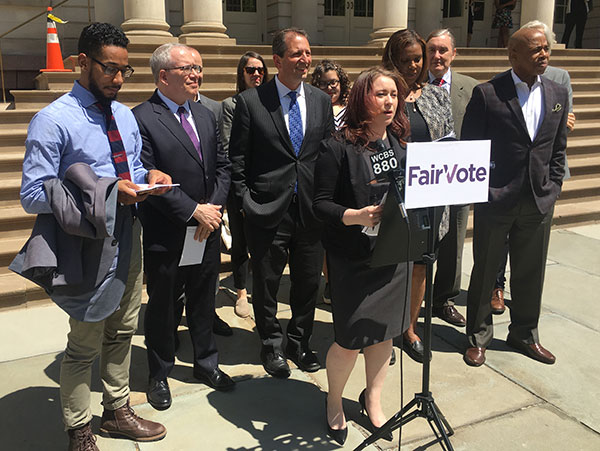 Tuesday's press conference (photo: Samar Khurshid/Gotham Gazette)
---
Several prominent Democratic elected officials and voting reform advocates on Tuesday assembled outside City Hall to call for instant runoff voting in citywide primary elections. Specifically, they said that Mayor Bill de Blasio's Charter Revision Commission, which just began a series of public hearings across the city, should include it among the proposals it puts before voters on the ballot this November.
Instant runoff voting, also known as ranked-choice voting, allows voters to rank primary candidates in order of preference so that if one candidate does not cross the required threshold for victory, the candidate with the least number of votes is eliminated and the votes are redistributed based on the second choice selected by voters who had selected the eliminated candidate first, and so on until a winner emerges. The system prevents what can be costly and labor-intensive runoff elections, such as the one held in the 2013 primary election for public advocate.
Runoffs are currently only required in the three citywide races, for Mayor, Public Advocate, and Comptroller, and occur among the top two vote-getters if no candidate hits 40 percent in the first round of the primary.
Though prior instant runoff proposals originating in the City Council have failed, the group of electeds and advocates sought to seize on an opportunity presented by the mayor's creation of the Charter Revision Commission. The commission, which is holding hearings across the five boroughs to solicit public input as to what its agenda should be, can consider any proposal presented to it, though de Blasio charged its members with particularly looking at voting access and campaign finance reform. Its recommendations will take the form of ballot referenda to be offered to voters in this year's general election.
"I am the face of instant runoff, let me remind you," said Public Advocate Letitia James at Tuesday's news conference, on the steps of City Hall. The 2013 public advocate runoff -- which James won over then-State Senator Daniel Squadron -- cost an estimated $13 million to taxpayers, surpassing the office's combined budget for James' entire first four-year term. James said Tuesday that instant runoffs are the "least expensive and more democratic option" for the city.
"It forces you to appeal to all voters as opposed to one Democratic base," James added. "And this means more engagement, and less polarization and more democracy. It means listening to people you might not usually listen to and a freer exchange of ideas and is consistent with our principle of democracy and free elections," James added. She later also suggested that if the mayor's commission failed to take up the proposal, a separate Charter Revision Commission being created by the City Council, through a bill co-sponsored by James, could step in.
Also in attendance Tuesday were Comptroller Scott Stringer, Brooklyn Borough President Eric Adams, and City Council Members Brad Lander, Antonio Reynoso, and Ben Kallos, all Democrats. James, Stringer, and Adams are all widely considered to be contenders for the 2021 mayoral race and share overlapping bases of supporters. It's unclear, though, whether a runoff, instant or otherwise, will come into play in that race and who might benefit from which format. Bronx Borough President Ruben Diaz, Jr. is a fourth likely Democratic mayoral candidate, and several others may also jump into the race, creating a crowded field more apt to produce a runoff.
The 2013 Democratic mayoral primary narrowly avoided a runoff, with eventual winner Bill de Blasio earning just above the 40 percent threshold. There was a Democratic runoff in the 2009 primary for public advocate, which de Blasio won. The 2001 Democratic mayoral primary was also settled through a runoff.
"Cities that have adopted instant runoff voting to eliminate runoffs have not only saved millions of dollars but have also improved their democracies by making sure that we are electing our leaders in an election where the most voters, the most diverse voters, are at the polls at one time," said Grace Ramsey, deputy outreach director for FairVote, a nonpartisan advocacy group, at the news conference. Ramsey noted that 15 cities across the country have already implemented instant runoffs. A FairVote analysis of the 2013 public advocate runoff also showed that the Democratic primary runoff electorate was older, whiter, and wealthier than Democrats overall, and only reflected a 7 percent turnout. It occured on Tuesday, October 1, 2013.
Critiquing the state's arcane election laws, Stringer said instant runoffs are a "progressive leap" that would allow elections to be decided quickly and efficiently, and he said the mayor's Charter Revision Commission affords the city a prime opportunity to pursue the policy. "We don't have to go to Albany and deal with that political dysfunction in order to get this electoral reform," he said, an apparent reference to that fact that many other voting and election laws are dictated by the state.
In December, Douglas Kellner, the Democratic co-chair of the New York State Board of Elections, testified before the City Council on the 2017 elections and warned them that they had "dodged a bullet" by narrowly avoiding a runoff in the mayoral primary for the Reform Party line. Kellner said at the news conference Tuesday that the state already has the technology and capability to implement instant runoff voting, and reiterated the cost savings associated with implementing the system.
"We cannot continue to have an 8-track method in an iPhone age," said Adams, the Brooklyn borough president. "It is time to ensure that the process encourages people to come out. We live in real time, we live in instant time...Let's make sure runoff elections are a thing of the past and let's do it in the right way."
The proposal put forward on Tuesday was not the first attempt at eliminating runoff elections. In 2014, Council Member Lander sponsored a bill to call a referendum on the issue. Mayor de Blasio didn't support it at the time and has since been lukewarm on the proposal. Asked Tuesday by a reporter if there was any opposition to the proposal, Lander said, "I think it's just an issue that it's change and change is not always easy. This is a change to our electoral processes and that's not something we're always ready to do."
As the group was gathered at City Hall, a parallel voting reform effort was being advanced in the state capital as well. The state Senate Democrats, led by Senator Andrea Stewart-Cousins, unveiled a new report highlighting the shortcomings of the state's election system that led to an abysmally low voter turnout in the 2016 presidential election. They also released an accompanying package of bills to address voter access and participation. The conference is in the minority, though, and there is limited likelihood that the Republican majority will advance the reforms being sought, such as early voting.
[Read: State Board of Elections Official Says City Must Move to Instant Runoff Voting]