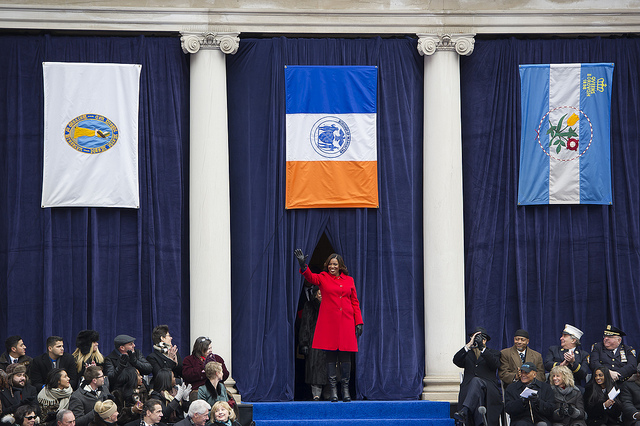 Public Advocate Letitia James (photo: Mayor's Office)
---
Eric Schneiderman's resignation has triggered what could be a domino effect in New York politics, potentially creating vacancies in local offices and perhaps leading to New York City's first citywide special election.
When Schneiderman stepped down from the post of attorney general, it kicked off a mad dash of people interested in becoming the next top legal officer of New York State. Even as the state Legislature moves through a process to choose an interim appointee, others have their eyes set on the fall election. New York City Public Advocate Letitia James quickly announced her candidacy and is the clear favorite for the Democratic nomination, though other potential candidates are weighing whether to enter the fray.
Additional candidates are also seeking or considering pursuing the nominations of other parties, including law professor Zephyr Teachout and John Cahill, the 2014 Republican nominee for attorney general and former chief of staff to Governor George Pataki. The Democratic nominee will likely be the favorite to win statewide in November given that no other party has won a statewide race since Pataki in 2002.
If James prevails in the September Democratic primary and beats a Republican and other opponents in November, she would likely be sworn in as attorney general on January 1, 2019 leaving her current office vacant. That would prompt a special election for the post of public advocate, the first of its kind in a citywide race in New York since the establishment of the city's campaign finance program.
It's easy to imagine that James could prevail with strong backing from the Democratic establishment -- including Governor Andrew Cuomo and state Assembly Speaker Carl Heastie from the Bronx -- as well as labor unions, which have already begun to announce their support for her. Democrats have a significant voter enrollment advantage in New York and this year is expected to be a strong year for Democrats across the board.
According to the city charter, three days after a public advocate vacancy, "The mayor is required to issue a proclamation calling a special election within 45 days," said Jerry Goldfeder, an election lawyer and special counsel at Stroock & Stroock & Lavan. The election would be nonpartisan, open to any candidate who can create a new party line and gather enough signatures to appear on the ballot.
Just like for vacancies in City Council seats, the victor of the special election will not serve the remainder of the public advocate's term. Another primary contest and general election would take place in the fall of 2019 for a candidate to hold the seat through 2021.
Such a special election could easily trigger a crowded field as current officeholders -- whether City Council members, borough presidents, or state legislators -- would not have to give up their seats to run. Most of the City Council and all five borough presidents will be term limited from running for reelection in 2021, leading many to already be eyeing their next move.
The timing of the race could also be tricky. The first Tuesday within 45 days would be February 19, just one day after President's Day. Special elections tend not to be scheduled just after a holiday and in the past, elections have been pushed forward or pulled back by a week. In 2015, for instance, a special election for the 17th City Council district was moved forward to February 23, the week after President's Day.
The special election would also be the first race to be held in the city since new contribution and spending limits went into effect for the 2021 election cycle.
In a public advocate special election, the contribution limit would be $2,550, half the regular $5,100 contribution limit for the position. Other thresholds remain the same, however. A public advocate candidate is allowed to spend up to $4.6 million in a special election. To qualify for the CFB's public matching funds program -- which matches qualifying small dollar donations up to $175 at a 6-to-1 ratio -- a candidate would have to raise at minimum $125,000 with at least 500 contributors giving $10 or more. A candidate can receive a maximum of $2.5 million in public funds.
At a City Council budget hearing on Thursday, New York City Campaign Finance Board Executive Director Amy Loprest told Council members on the governmental operations committee that the agency had only budgeted about $1 million for public funds for potential special elections in the next fiscal year that begins July 1 of this year and runs through June 2019.
"Do you believe this is enough?" asked Council Member Fernando Cabrera, chair of the committee. "Let's suppose we have a citywide race in the city and we were to add a couple of extra Council members who might decide to move on to other aspirations. Would a million dollars be enough, if we were in that situation?"
"We submitted our budget in March. The political landscape changes all the time so I'd have to go back and analyze whether a million dollars will be sufficient," Loprest said. "The law does allow for emergency appropriations of public funds if the fund that was allocated was not enough."
A CFB spokesperson said Friday that it's unlikely any one candidate, let alone several, could raise enough funds in the six-week run up to the special election to qualify for the full matching fund outlay. In the 2017 public advocate campaign, the spokesperson pointed out, James raised $947,530 and received a $756,486 public funds payment. None of the other candidates met the threshold to qualify for public funds.
[Read: Letitia James Launches Campaign for Attorney General]
Note - this article has been corrected to note that a City Council vacancy is filled through the same special election process as a public advocate vacancy.