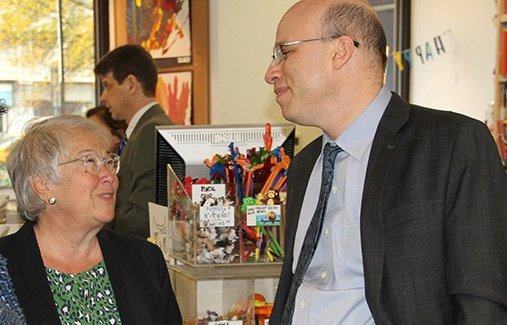 Shael Polakow-Suransky, right, with Carmen Farina (photo: Bank Street College)
---
Mayor Bill de Blasio announced a plan earlier this week to diversify the city's elite specialized high schools through changes in admissions policies. The schools currently enroll very few black and Latino students, while, relative to their numbers in the larger school system, white and Asian students are highly over-represented.
De Blasio's plan involves a first step of setting aside 20 percent of seats at these schools for low-income students whose scores fall just under the qualifying threshold, which the city can take on its own, as well as pushing for phasing out the Specialized High School Admissions Test (SHSAT) and implementation of a new admissions system based on state test scores and middle school grades, which requires approval from the state Legislature.
The mayor's initiative was quickly met with both widespread praise and consternation. Supporters, including some educators and elected officials, applauded the administration for taking the first step in desegregating the city's top high schools while some parents, elected officials, and alumni groups cried foul that the changes would be unfair to students who work hard to do well on the test, that it is a piecemeal reform that will largely punish low-income Asian students, and that it will exacerbate inequities in educational achievement.
In Albany as well, the mayor's proposal was met with resistance and the state Senate looks like it may reject his push to scrap the SHSAT even if it is successful in the Assembly in the final few weeks of this year's legislative session. Governor Andrew Cuomo, while acknowledging the problem the mayor is targeting, did not take a set position and predicted the issue would be taken up next year alongside a variety of other education topics.
Among those who are more full-throated in calling for change is Shael Polakow-Suransky, president of Bank Street College of Education, who oversaw the city Department of Education's SHSAT contract as the DOE's chief academic officer and senior deputy chancellor. After the mayor's announcement, Polakow-Suransky tweeted that the SHSAT is "not a particularly strong or predictive test." He said "a multiple measures approach" to admissions with both qualitative and quantitative data "is long overdue."
Gotham Gazette spoke with Polakow-Suransky about the mayor's plan, the problems with the current system, and the administration's overall approach, or lack thereof, to school desegregation.
This interview has been condensed and edited for clarity.
Gotham Gazette (GG): What you think about the mayor's plan? How is it going to work and what are the issues with the existing system?
Shael Polakow-Suransky (SPS): I think the biggest challenge here from my perspective is that the current system is missing a lot of talented children who have the right skills to be in these schools, but because we're looking through a very narrow and pretty blunt instrument at who has those skills, we're missing a lot of talent that could really strengthen these schools. So that's a real shame and if the ideas of these schools is to take the most talented young people in the city and accelerate learning for them so they can be leaders, then we need to be looking for the best talent in the city and in order to find that, we can't use an instrument that you need to game and we can't use an instrument that only focuses on some narrow set of math and reading skills.
As someone who used to oversee the accountability office, one of my responsibilities was managing the contract with Pearson [the testing company] around this test and…we didn't have as much money as we would have liked, and I think that's still true, to spend on this and you kind of get what you pay for.
GG: To spend on the test?
SPS: Yeah. Tests are expensive and the quality of the instrument depends on how much you're going to spend on it. And so this is a really basic one, like as far as tests go, it's about as simple an instrument as you can create.
GG: So, what are the problems with it exactly? You're saying it's too simple?
SPS: I'm saying that the kinds of skills it's measuring are the kinds of skills that you can measure through multiple-choice questions, and the content area it's focused on are English and math. So it's multiple-choice questions, there's no writing. If you look at good exams out there today, there's a combination of multiple-choice and writing and we aren't looking at any writing. We're not looking at kids' problem-solving skills. We're not looking at their ability to work with others. We're not looking at their presentation skills. You know, those are the kinds of things you would see if you took into account the grades that they're getting in middle school, references from teachers, they're asked for writing submissions.
Any high-performing university, any high-performing private school, and most of the other high-performing screen schools in the city all look at a range of measures in order to find the best talent and we don't for the specialized schools. We just look at this very narrow set of English and math skills that you can measure with multiple choice questions. And it leads to an inequitable outcome because we're relying on the students who are participating in this test to kind of focus on how do they do well on this set of questions that this test is measuring, which is not really the right set of things that we should be looking for to find the best talent. And then people spend lots of money and lots of time doing test prep to get good at taking this test which doesn't necessarily indicate that they're great writers or great thinkers or great leaders.
GG: Have there been efforts to change it over the last couple of years?
SPS: There haven't been meaningful changes. I think there have been small changes around the edges. But, nothing meaningful.
GG: Did you try to implement changes when you were there?
SPS: I didn't because it wasn't something that I could convince others was an important area of focus.
GG: Where was the pushback coming from?
I think the folks at the leadership level felt that this was something that had been in place for a long time and they didn't really want to open this issue up. They were more interested in investing in trying to provide more supports for kids in middle school, which is also really important. I think there wasn't major focus at that point.
GG: And by leadership level, you mean just the DOE or just in terms of the City Council, the administration? No one was pushing for it?
SPS: I mean I was working in the DOE, I can't really speak to things beyond that, but this has been in place for a long time, and it's a fairly new thing that people are seriously considering changing the state law.
GG: Mayor de Blasio's plan, what do you think about it? Could it have been better? Is it a good first step?
SPS: I'm not sure what the right solution is. I applaud him for taking the issue on. I think trying to think about how should the state law change so that we can use multiple measures to find the most talented young people in the city for these schools is important. It's important in order to have more diversity, but it's also important to make sure that we're really rewarding talent and not a narrow set of test-taking skills.
GG: Do you think in terms of the larger efforts to desegregate the city's schools, is this a good first step, and what needs to happen next, in your opinion?
SPS: Well, I think the larger question on segregation is much more complicated than this small group of schools. I think that, if you look at the school districts in the city at the elementary and middle school level where there really is a lot of diversity in terms of different races, those school districts could pursue policies that allow for more choice at the elementary and middle school level that would increase diversity.
But, that is a process that needs to be negotiated in partnership with the local Community Education Council. It's not completely up to the Department of Education and the mayor to change those zones that currently exist. It's to include a process with the community and I think that's happening in District 3 now. It's happened in District 1. There's efforts in District 15. But I think it's that type of work that is needed in order to sort of move away from zones that completely track to where people live.
GG: What do you think of the resistance to the mayor's plan?
SPS: I think that there are people who are afraid that they're going to be winners and losers with this shift and they're trying to protect their current status, which positions them with an advantage in the system. So any change is hard. The truth is that there are many, many other good high schools in the city that are not specialized high schools…so, the notion that these are the only places where you can get a good education is just ridiculous.
I think it's sort of become a symbolic issue and symbolism is important and we're a city that has a public school system and 70 percent of the kids in that school system are African-American and Latino. And it's not right that we aren't identifying this talent among the African-American and Latino students when we have schools like this that are meant to serve the most talented young people in the city. So, we need to figure out a better way to do it. And, I think with any change, there's going to be a process where folks push in different directions and that's part of the nature of making change in a large school system.
GG: Are there comparisons with other cities - is there a path that New York City could follow that some other cities have already done or are there similar issues?
SPS: Most cities have magnet schools like this. So, it's an interesting question. I don't know a lot about their admissions processes in other cities, but I do know in the private school world and I know in the university world, it's very rare that you rely on a single test as a way to do admission for the elite programs in this country. There's almost nothing left in the world that relies on a single test as the way the admission is granted. So this is really a relic. And, it's a really blunt instrument to do it because it's only measuring a really narrow set of skills. And so we're missing tons of talented kids that could be great in these schools.
GG: What do you think of the mayor's leadership in general on schools, on school segregation?
SPS: I think he's moving in the right direction. I think it's good that - I think it's impressive that the new chancellor has decided to take this on and that he's supporting him.
GG: People have been critical that the mayor didn't take this up until his second term when it's sort of politically safer for him to do it. And of course the new chancellor seems a bit more willing to take a line that's not the same as the mayor's. So, you think that's promising?
SPS: I think they're on the same page, actually. I think it is politically complex to do this well because if you force changes through the system that generates conflict in communities between parents or within schools, between teachers, that can distract from the education. And, so, you have to be really strategic and deliberate about the changes you make and to the extent that you can build support within communities and make the changes in ways that bring all stakeholders along, that's the ideal. So, you know, I don't have an opinion on the pace of this or when it's happening, but I do think it's great that we have a chancellor that wants to take on this issue and it's great that the mayor is supporting him.
The only other thing I would say is that one of the things that a lot of folks who are lay-people, who don't know the school system that well, think when they think about specialized schools is that these are the only good schools and the truth is that that's not the case. I currently run a graduate school of education and as part of that we also have a lab school that is a K-through-8 independent school. And so our eighth-graders apply all over the city to the top schools, some of them private, some of them public. And for many really talented kids at our school, the specialized schools are not the right set because they have a fairly traditional education model with lots of direct instruction by teachers, very large schools, large classes, not great at personalizing the education to the individual child and so I certainly want folks to understand that these are wonderful schools for young people who thrive in that larger environment, but they're not actually the best schools in the city. There are better public schools that exist that are doing much more innovative work and I think that we need to be thinking about this less from this being the sort of pinnacle of the school system and more in terms of this is one option within the school system that is an important option, but there are many other really interesting options as well.