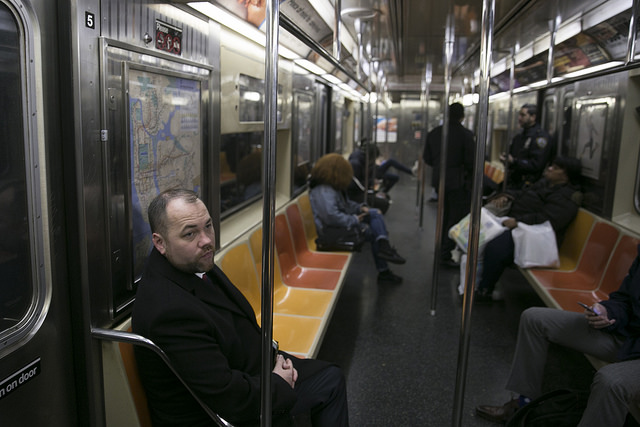 Speaker Johnson on the subway (photo via City Council)
---
A budget proposal to provide half-priced MetroCards to low-income New Yorkers has the New York City Council's full weight this year. Well, almost.
Only three City Council Members -- Joe Borelli, Steven Matteo, and Ruben Diaz, Sr. -- in the 51-member body have so far declined to support Fair Fares, the proposal that would cost the city about $212 million to offer discounted fares to nearly 800,000 city residents living below the federal poverty line.
City Council Speaker Corey Johnson has made an unprecedented push for the proposal to be funded in the next city budget, due by July 1, which will outline roughly $90 billion in spending. Johnson, his Council colleagues, and his aides have employed social media campaigns and on-the-ground outreach to convince Mayor Bill de Blasio to agree to the necessary funding. The mayor has shown nominal support for the idea but has insisted that it should be funded by the Metropolitan Transportation Authority (MTA), which is controlled by the state and effectively answers to Governor Andrew Cuomo, or through an added tax on high income earners.
"The Fair Fares proposal is not a representation of the needs of my constituents, who continually face the longest and costliest commutes in the city," said Council Member Matteo from Staten Island, one of three Republicans in the Council and the minority leader, in a statement. "It is certainly not a budget priority for me."
Matteo and fellow Staten Island Republican Council Member Joe Borelli, who is also unsupportive of Fair Fares, are among those behind a Council push -- supported by Johnson -- to convince de Blasio to fund a $400 property tax rebate to homeowners with household incomes under $150,000, another initiative the mayor has thus far spurned.
Last month, the Council organized a digital Day of Action, followed the next week with a street-level effort at subway stations across the city, to build a crescendo around Fair Fares targeted largely at an audience of one: the mayor. Of the 51 members, 47 had signalled their support for the proposal. Since then, Council Member Chaim Deutsch from Brooklyn has also signed on. In a brief phone interview, he told Gotham Gazette, "I support it 100 percent."
Borelli was less enthused. "Where have all these 'Fair Fares' supporters been while my constituents pay $6.50 for a bus to Manhattan, or shell out $15 tolls to subsidize a subway system we don't have access to?," he said in a text message. "Do they not understand that the middle class will be on the line to pay for this subsidy?"
Politico New York reported last month that Speaker Johnson was considering cutting certain Council initiatives from the budget to fund Fair Fares, which could mean that individual members may see some of their own priorities unfunded in the final budget if the mayor doesn't concede to the Council's demand. Johnson has declined to confirm the report, and a new report by Politico indicated on Wednesday that the speaker appeared to be close to getting de Blasio to agree to some initial version of a Fair Fares program in an imminent budget deal.
"I'm still undecided," said Council Member Ruben Diaz Sr., a Democrat from the Bronx and the fourth of the four Council members who didn't sign the Fair Fares letter, when reached by phone on Wednesday. "I'm inclined to support it but I'm looking at other things to see what happens."
When asked to elaborate on his concerns, Diaz Sr. refused. "I'm telling you as much as I can tell you," he said.
[Read: City Council Pushes Property Tax Rebate as De Blasio Stalls Broader Reform]