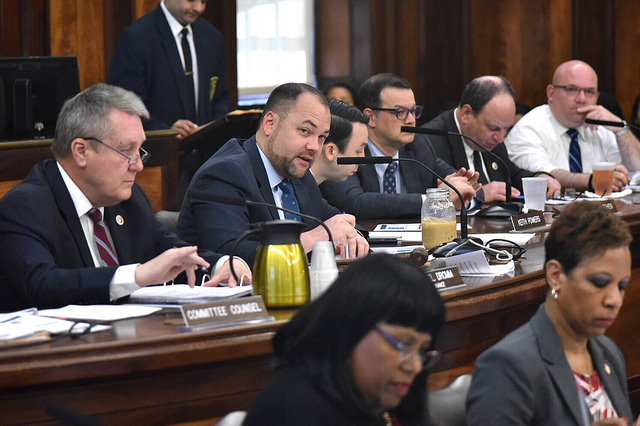 Speaker Johnson & Council members (photo: John McCarten/City Council)
---
The New York City Council has been pushing for temporary relief for lower- and middle-class homeowners in this year's budget, calling on Mayor Bill de Blasio to fund a one-time $400 property tax rebate that would cost about $187 million in total. Council Members, some of whom are homeowners themselves and could potentially qualify for the rebate, say it's a much needed measure that could help thousands of New Yorkers reduce their annual tax burden.
The Council's proposal set a $150,000 threshold for households to qualify for the $400 rebate, which would reach roughly 467,000 homeowners, according to the Council's finance division. The proposal is merely a stop-gap, in lieu of broader reform of the city's property tax system, which the mayor has promised but has been slow to act on.
At least a few Council members themselves stand to benefit from the rebate, given that the City Council voted in 2016 to increase members' salaries from $112,500 to $148,500, while at the same time limiting the outside income they can earn, meaning that individual members fall just under the Council's income threshold for the rebate. Most Council members, like most residents of the city, are renters, but a few do own property according to the latest available disclosures filed with the city Conflicts of Interest Board.
A Council spokesperson said member income was not part of the discussion on the rebate, which would reach about 75 percent of home, coop, and condo owners.
"Middle class homeowners deserve a break, which is why the City Council proposed a $400 refund for them in this year's budget response," said City Council Speaker Corey Johnson in a statement. "We know that every little bit counts and felt this refund could help people while we work on the bigger issue - reforming the broken system."
Council Member Joseph Borelli, a Republican from Staten Island and a homeowner, says he wouldn't qualify for the rebate since he earns about $6,000 from teaching at College of Staten Island, which he's allowed to do under the Council's rule change, which includes exceptions for forms of passive income and a few activities like teaching. That extra income puts him just over the top.
[Related: City Council Members Still Navigating Outside Income Divestment Ahead of Deadline]
Borelli, whose district is largely homeowners and is one of the main proponents of the rebate, isn't concerned about the optics of Council members potentially benefiting from a rebate that they're pushing so hard, though he conceded that members could be forthcoming about qualifying for it. "It's like saying we all receive the public benefit of a new stop sign or a new highway," he said. "If there's something that's done as a public benefit to all taxpayers, if you wanna require people to disclose that they're going to get a check for 400 bucks in the mail, I'm certainly happy to do that. Also saying I won't qualify myself."
He rightly predicted that even members who own property will likely pass the threshold since many file their tax returns jointly with their spouses. "It's an interesting question, I just don't have the answer. But it sucks that I won't be getting it," he half-joked. "That's on record, too."
[Listen: Max & Murphy Podcat: City Council Member Joe Borelli]
Borelli is among the members who were particularly disappointed by the mayor's refusal to address property taxes in his $89 billion executive budget proposal, released late last month. A joint statement from Borelli and Council Members Justin Brannan, Steven Matteo, Paul Vallone, Barry Grodenchik, and Mark Gjonaj noted that the administration had yet to address "the glaring inequities of a property tax system that charges the owner of a modest home in our districts more than the owner of a multi-million dollar brownstone in Park Slope," a clear reference to de Blasio's Brooklyn homeownership, which includes two houses that he currently rents out. De Blasio would not be eligible for the rebate given his $258,750 salary.
"I know we speak for just about every property owner in the five boroughs when we say, 'C'mon man, give us a break!,'" the Council members concluded.
"[L]ike many of his constituents, Councilman Matteo owns a home," said Peter Spencer, a spokesperson for the minority leader, also a Staten Island Republican, in an email. "His household income fluctuates, so it would depend on the tax filing year as to whether he would meet the $150,000 threshold. He has been advocating for a property tax rebate for years for all homeowners, to alleviate the financial burden skyrocketing property taxes are having on so many families and seniors."
The other members on the statement are all Democrats, as are de Blasio and Speaker Johnson, but they represent areas of the city with higher home ownership rates than most other Council members. Grodenchik and Vallone's offices did not respond to voicemails requesting comment. Reginald Johnson, Gjonaj's chief of staff, said the Council member owns property but files a joint tax return with his wife, who is a nurse, and would not qualify for the rebate.
De Blasio has repeatedly said that he would launch a commission to look at the city's property tax system and to recommend fundamental change in how taxes are assessed. Unlike other taxes, the city does not need approval from the state Legislature to amend its property tax rates, which have remained flat over the last few years but have been evenly applied across the city with no accounting for varying property values, while assessments continue to rise, increasing tax bills virtually across the board.
"We're going to...go at the heart of the property tax problem and have a commission, working closely with the Council to try and reform fundamentally the property tax to be more fair for everyone," de Blasio told reporters at his executive budget presentation on April 26. "So, I would argue the best way to address the property tax question is the fix the whole system. Everyone loves a rebate, but it doesn't fix the root cause, and most rebates are pretty small and then you never see them again. We want to get at the root cause."
Maria Doulis, vice-president of Citizens Budget Commission, an independent fiscal watchdog, echoed that position while also pointing out that the Council's interim approach may be flawed. "It's a well-intentioned proposal," she said of the rebate, "but it's too broad a measure to address their concerns." An umbrella threshold, she said, doesn't capture the differences in households and property values across the city, so those with a high property tax burden would stand to receive the same benefit as those with a negligible one.
"It's best to do it with a circuit breaker rather than a flat rebate," she said, referring to an industry term for targeted property tax breaks based on a percentage of income. "Circuit breakers take into account your income as well as your burden. That's a better way to do it. Given the complexity and problems with the property tax, I'm not sure adding another wrinkle is the best thing to do."
Council Member Brannan, who has been advocating for property tax reform since his campaign for office, is a renter but he understands the effect a rebate could have. "I'm a renter, but my landlord certainly would factor that into my rent," he said.
"Obviously it doesn't benefit me because I'm a renter but because when I was knocking on doors for nine months in my campaign, that was one of the top things I heard about, was people getting squeezed -- renters too. It all trickles down. Coops, condos, homeowners, everything. It's a big deal for me. I'm not gonna benefit from it but it's a big deal," he added. (CBC's Doulis said it's unclear that a temporary rebate would get passed down to renters but that wholesale reform was more likely to have that effect.)
Other homeowners identified in COIB disclosures include Council Members Peter Koo, Jumaane Williams, and Fernando Cabrera.
Cabrera and Williams did not respond to requests for comment. Scott Sieber, a spokesperson for Koo told Gotham Gazette the Council member files taxes jointly with his wife and would not qualify for the rebate. "The rebate is good for all our constituents in the city," Koo said at City Hall last week.
Council Member Ruben Diaz Sr., a former state senator, said that he has qualified for state property tax credits in the past but has refused to apply for them. "When I was in Albany, they gave credits to property owners and I never took one and I would never apply for it until I retire," he told Gotham Gazette in the Council chambers last week. "But there are people in the City of New York, homeowners that deserve to take a break on those things. I support the speaker."
What if he qualified for the Council's proposed rebate? "I won't take it," he said.
The City Council is in the midst of weeks of hearings on de Blasio's executive budget, while Johnson and others continue to push their top priorities -- the property tax rebate, reduced price MetroCards for people living in poverty, and an added $500 million into reserves -- for inclusion in the adopted budget, which the two sides must agree on by the July 1 start to the new fiscal year.
On the steps of City Hall, Council Member Chaim Deutsch brushed aside any concerns about personal conflicts in pushing for a rebate. "When we're fighting for issues, a lot of the time we fight for issues that affect us because that's where we get the experience from, and that's how we know sometimes how to fight for things," he said. "Because we as New Yorkers understand sometimes when it's difficult for a Council member to make ends meet, that we know how difficult it may be for others. So we fight for issues. So you can't single out one thing over another."
[Related: De Blasio, City Council Tangle Over How to Spend $1 Billion]