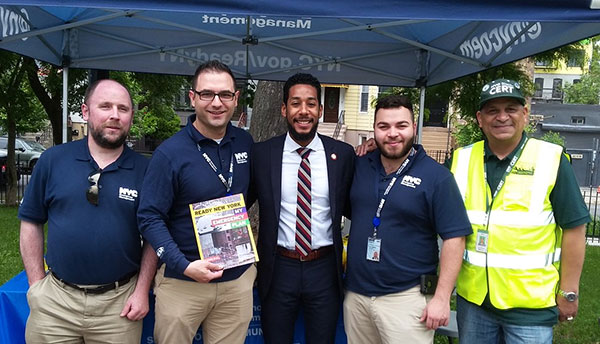 Council Member Reynoso, middle (photo: @JoeEspoNYC)
---
"Trash — it's not sexy," said City Council Member Antonio Reynoso. "It's the hardest thing to get people to care about and it's also something that's out of sight and out of mind because it gets picked up -- for the most part, the Department of Sanitation does a great job."
But there's a lot about trash -- waste management, really -- to discuss, and Reynoso is at the forefront of the conversations as chair of the City Council's sanitation committee, a position he has held for more than four years, continuing in the post into a second and final term.
Reynoso discussed major waste management issues facing New York City during a recent appearance on the What's The [Data] Point? podcast from Gotham Gazette and Citizens Budget Commission, touching on regulating the private caring industry, which is the source of a great deal of controversy; changing the waste-hauling zones in the city to reduce pollution and increase efficiency; mandating more recycling from New Yorkers, such as of solid food waste, also known as composting; and more.
Reynoso, who represents a district that includes Williamsburg, Bushwick, and Ridgewood, crossing from Brooklyn into Queens, and a lot of the city's manufacturing space. Many of his constituents rely on the L train, and Reynoso touched upon the line's looming closure.
Born in Williamsburg to immigrant parents, Reynoso was the chief of staff for City Council Member Diana Reyna before he ran for the Council in 2013 and defeated former Assemblymember Vito Lopez in the Democratic Party.
"Scandal hit [Lopez] very hard," Reynoso said on the podcast, referring to the fact that Lopez had been forced from the Assembly over a sexual harassment scandal. "He tried to run and I went against him, people still bet on me to lose. I didn't get all the endorsements, surprisingly, but I won. I was very fortunate, my community had my back, I had people around me, and it was a very joyous moment for me."
Reynoso easily won the general election in a heavily Democratic district and cruised to reelection in 2017. Throughout his time in the Council, he has chaired the sanitation committee and had oversight of key agencies related to trash, snow, and more.
In New York, every commercial establishment that will not heave its own trash is obliged by law to have its waste removed by a private carter licensed by the Business Integrity Commission. There are more than 200 carters licensed by the BIC that can lawfully gather trash from commercial establishments in the city.
However, many of these carters have bad safety records and recent journalism, largely by ProPublica, has exposed the rogue and dangerous world of private carting. Reynoso said the BIC, which was originally an anti-organized crime unit, is failing to regulate the city's private waste industry, even after two deaths involving Sanitation Salvage, a private carter, in the last six months.
"They were put in to weed out organized crime and they've done a great job at doing that, but they also have other responsibilities and one of those responsibilities is regulating this industry relating to safety as well," Reynoso said of BIC. "They've never done that."
Not only is better safety regulation of private carters essential, Reynoso said, but the city must also return to a zoned system for collections, where a small number of companies wins contracts for certain geographic areas.
"It's funny, they had a zone system when they had organized crime because they knew it was more efficient and they knew it was more profitable — you can't make this stuff up," Reynoso said. "The only problem is that their zoning was corrupt. We would be doing it in a way that's fair."
A plan is expected soon from the de Blasio administration with proposed zones and other regulations.
Reynoso discussed the importance of requiring what he called "mandatory organics recycling." This would involve adding organics to the list of required recyclables that already includes metal, glass, plastic, and paper.
"It's eggshells, it's food, all that stuff you throw away," Reynoso said. "Once you seperate it, you'll notice that maybe 5% of your trash is not organics or recycling and that would help considerably."
For this directive to work it must be compulsory, not voluntary, Reynoso said.
"We have to mandate that," Reynoso said. "We can't tell people 'We're going to let you volunteer or it's a choice.' We don't work with choice. Unfortunately in the city of New York, you have to tell us what to do or we won't do it."
Throughout the podcast, Reynoso repeatedly emphasized the word "bold" in discussing the need for the city to pursue and see real change.
"To be honest, being bold is the thing that we lack here in New York City when it comes to trash," Reynoso said. "Almost everywhere else, whether it's immigration, housing or education, people are trying to do something. A community school here, a sanctuary city there, there's an attempt at something bold to change the landscape of what we consider a crisis, but not sanitation."
He called on Mayor de Blasio to take the lead.
"Being bold — having someone like a mayor that would be able to say 'We're going to do this, this is what's going to happen, it's my last four years, it's good for the future of the City of New York so I'm going to stand up and do it.'" Reynoso said. "If we don't see that, we're going to have trouble and it's not going to change."
Beyond trash and sanitation, Reynoso was briefly asked about the upcoming L train shutdown, which will begin in 2019 and force hundreds of thousands of New Yorkers who use the subway line to go between Manhattan and Brooklyn every day to find alternate routes.
In 2012, Hurricane Sandy flooded the Canarsie Tunnel under the East River with gallons of salt water, which caused critical destruction. The MTA has released a wide-ranging plan to alleviate the consequences of the eventual stoppage, including a busway and bikeway in Manhattan and increased subway service throughout the city on other lines. A number of details still need to be worked out, some of which rely on the city's Department of Transportation.
Reynoso said an audacious effort by DOT is required for city transportation to run smoothly following the shutdown.
"We're going to have a hard time here," Reynoso said. "We'll see the crisis in the first three weeks and DOT has to be very flexible to be able to fix it…I want them to be bold."
He said the DOT has not planned enough change on the Williamsburg Bridge for a smooth transition. He is calling for an exclusive bus lane that runs 24/7 and the importance of shutting down streets for pedestrians, buses, and bikes.
"We really need to start looking at how to move around the city of New York outside of vehicles. DOT has a perfect chance to prove that they can do it here…you have an opportunity, there's a crisis, take advantage of it."
[Listen: What's The [Data] Point? 1,988, with Antonio Reynoso]