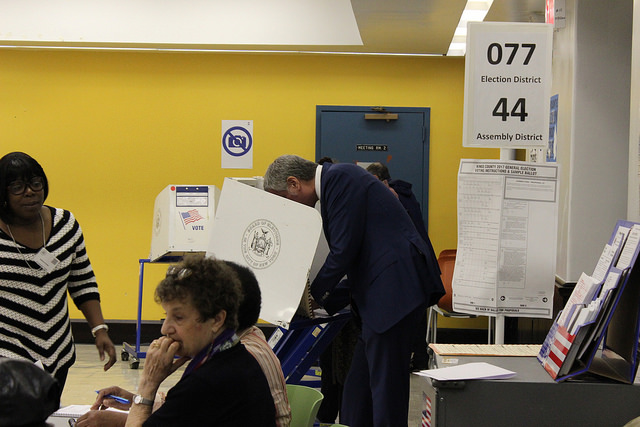 (photo: Samar Khurshid/Gotham Gazette)
---
The New York City Charter Revision Commission called by Mayor Bill de Blasio convened on Tuesday afternoon to collect expert testimony on ways to foster increased participation in municipal elections.
Eleven of the commission's 15 members sat at the hearing, which was divided into two parts, one focused generally on voting rights and election administration in the city, and a second centered on the ranked-choice voting system, otherwise known as instant runoff primaries, that may be proposed to voters later this year, among other measures deemed appropriate by the commission.
The charter revision commission was established by de Blasio in April and is charged with collecting public input on recommendations to amend or revise the Charter of the City of New York, a slate of proposals that will be made official in September and placed on the ballot in November. Though any charter revision commission is able to look at any aspect of city governance it chooses, de Blasio said he was forming this commission to look at voting, elections, and campaign finance reform.
After an open hearing in each borough where members of the public were invited to testify, the commission announced its focus areas, which led it to four additional public meetings to hear from invited experts.
Panelists for the first portion of Tuesday's hearing — Catherine Gray, co-president of the League of Women Voters of the City of New York; Perry Grossman, of the New York Civil Liberties Union's Voting Rights Project; Susan Lerner, Executive Director of Common Cause New York; Jerry Vattamala, of the Asian American Legal Defense and Education Fund; and Andrew Wilkes, Director of Policy and Advocacy at Generation Citizen — spoke at length about specific challenges facing New York City voters and what they identified as problems with the city's electoral system.
Grossman opened testimony recounting the "archaic voting practices" restricting voting in the city. New York State (and thus the city), he said, does not allow early voting, automatic registration, same-day registration, or online voting registration, and has restrictive access to absentee ballots.
Adopting these measures, as several states and other municipalities have already done, would go far to increase voter turnout here, Grossman said, pointing out that New York State ranked 47th nationally in voter registration and 44th nationally in turnout for the 2016 Presidential Election.
His suggestions to the commission, including instating early voting and strengthening the ability of city agencies to electronically transmit voter registration records to the Board of Elections were echoed by several other panelists.
But they ran up against a question inherent to the commission's role as a city body attempting structural change with statewide and national implications: How far can it go?
Commission Chair Cesar Perales, Governor Andrew Cuomo's former Secretary of State, told Grossman that it's "not clear what the city can do on its own without violating state law," specifically with regard to expanding access to absentee ballots, which is legislated by the state. All of the reforms Grossman called for have been the topic of debate in Albany, where they have failed to pass the Republican-controlled State Senate.
Commissioner Wendy Weiser, Director of the Democracy Program of NYU's Brennan Center for Justice, echoed Perales' concerns, asking Grossman if New York City's home rule gives it greater freedom in running its own elections to the extent that it could offer expanded voting rights for municipal elections while retaining restrictive measures for state and federal elections.
Grossman answered affirmatively, and several others who testified, advocating for measures ranging from lowering the voting age to 16 to enfranchising non-citizens to adopting voter pre-registration, proposed similar systems of tiered franchise, by which the city could give new classes of New Yorkers the ability to vote in local elections, but not anywhere else.
Several panelists also pointed out that the city's lackluster language services restrict voting in what is, by some measures, the world's most lingually-diverse place.
Vattamala, of the Asian American Legal Defense and Education Fund, focused his testimony on this hindrance, recounting the Board of Elections' repeated failures to provide City Council-mandated translation services. The BOE is a state entity that the city funds and thus has some oversight of.
In 1990, Vattamala explained in providing examples, after the City Council ordered the provision of Chinese-language voting services, the Board of Elections sent Mandarin translators to the mainly Cantonese-speaking Chinatown in Manhattan and Cantonese translators to the mainly Mandarin-speaking Chinatown in Queens.
In 2000, the Board of Elections mistranslated Chinese ballots in the primary election, writing "Democrat" where the English said "Republican" and vice-versa, and, in 2013, the Board simply failed to provide the Bengali-language ballots necessary in Queens.
Horror stories of the Board of Elections were widely-recounted at the hearing. Common Cause's Lerner spoke of the BOE preventing translators from entering polling stations during the November 2016 election, and failing to implement several initiatives of the City Council and the previous charter revision commission.
Several commissioners seemed keenly aware of the difficulties of enacting whatever they may propose for a new charter.
Commissioner Rachel Godsil responded to Lerner's specific suggestions to the commission — that the charter should amplify a constitutional right to vote, clarify conflicts of interest law, and consolidate and enhance already-existing city agencies, among other proposals — with a question about the feasibility of effecting change.
With the Board of Elections not following previous recommendations, she said, "can we do anything?"
Later, Commissioner Larian Angelo asked a panelist who'd spoken at length about incompetence among some poll workers how, in that case, she could see "any reforms happen, ever?"
Panelists offered several ideas for accountability mechanisms for the commission's recommendations, but the question of enforcement remained.
Throughout the three-hour hearing, the commissioners' faces betrayed little. A few times throughout, a commissioner seemed particularly interested in a suggestion: Commissioner Dale Ho nodded when Andrew Wilkes suggested lowering the municipal voting age to 16; Wendy Weiser nodded at the proposal that the city's charter offer an express right to vote in local elections.
While the problems and solutions brought up at the first half of the hearing ranged widely in scope and subject, the second half was tightly focused on ranked-choice voting, a reform that has widespread support and appears likely to be included in the commission's recommendations.
Ranked-choice voting is a system used in 16 American cities and in limited capacity in several states, including Maine and Virginia. It allows voters to specify a first-choice candidate, second-choice candidate, third-choice, and so on, until the legal maximum. If no candidate wins a majority -- or whatever the set threshold -- in the first round of voting, the least-supported candidate (or, in some jurisdictions, all but the top two) is disqualified, and that candidate's voters have their votes added to the totals of their second choices. Low-performing candidates are winnowed off until a single candidate has amassed enough votes to claim victory.
Four panelists — Rob Ritchie of Fair Vote; Jerry Vattamala; Susan Lerner; Grace Wachlarowicz of the Minneapolis City Clerk's Office; and David Kallick of the Fiscal Policy Institute — seemed to support New York City adopting ranked-choice voting. (Though Wachlarowicz clarified, for the record, that, as a civil servant, she could not personally advocate for or against a political proposal.)
Panelists explained what they saw as the benefits: incentives for candidates to appeal to voters beyond their base; cost-saving; and retained participation relative to an expensive and poorly-attended runoff election, which is the current next-step if a candidate does not win in the first round of voting; and, based off the results in American jurisdictions that have implemented ranked-choice, seemingly increased election of candidates of color.
The commissioners seemed generally supportive, or, at least, interested in the system.
Commissioner John Siegal told Ritchie that he has "an open mind about this proposal," and questions to those testifying mainly concerned the commissioners' own understanding and feasibility concerns, like cost and machine malfunctions.
When the final expert, Hofstra University Professor Craig Burnett, spoke about the system's flaws, which include "ballot exhaustion," the prospect that all of an individual's ranked choices will be eliminated in early rounds of vote-counting, and racial and ethnic minorities being less likely to complete a full ballot and therefore facing a higher risk of exhaustion, he faced a less-friendly commission.
Chair Perales interrupted Burnett during his five minutes of testimony, which he had not done to any other panelist, and asked Ritchie to "retort" immediately following Burnett's speech.
The final round of questioning was more free-wheeling than previous rounds, which had been directed at a single panelist. In closing the hearing, the commission asked the assembled experts about the risks of strategic voting, dynamics of incumbent power, minority community representation, and effects on campaign finance.
Then, citing "commission exhaustion," Perales asked for a motion to adjourn. The commission will hold a second of its four expert hearings on Thursday, with a focus on campaign finance.
[Read: Mayoral Charter Revision Commission Announces Focus Areas]
Note: this article has been updated to clarify remarks made to the commission by Perry Grossman.