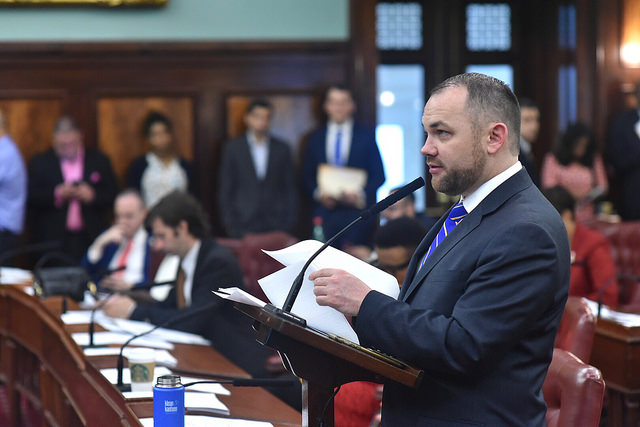 Speaker Corey Johnson (photo: John McCarten/City Council)
---
The New York City Council increased the funding it distributes to local nonprofits and for Council members' favored projects in their districts to $66.4 million for next fiscal year, which begins July 1, an increase of about $5 million, which largely went to initiatives sponsored by Speaker Corey Johnson. The money is part of the larger $89.2 billion budget deal reached between Mayor Bill de Blasio and the Council, which was announced on Monday.
The Council on Wednesday released details of its "Schedule C" discretionary funding, allocated annually to support nonprofits across the city and provide services where city agencies do not meet the need. Members items, as they are known, are meant to allow local elected officials to disburse funding to organizations that they know in their communities and help their constituents, especially the young, the old, and those living in or near poverty.
Discretionary allocations in broad categories remained unchanged this year. The Council is spending $5.6 million on programs providing services for the elderly, through the Department for the Aging; initiatives under the Department of Youth and Community Development will receive $7.7 million; anti-poverty initiatives received a $2.8 million allocation.
About $20.4 million will go to various local initiatives on what is called the "Speaker's List," sponsored by individual members, while local initiatives sponsored by the speaker himself will get $16.1 million in funding. A separate "Speaker's Initiative" pot of funding saw the $5 million increase, to $11.9 million. Another $2 million was allocated to borough-wide needs.
Johnson's predecessor, former Speaker Melissa Mark-Viverito, reformed the discretionary funding process when she took the Council's top office in 2014, adding equalizing measures to the formula by which funding is allocated to members while providing certain bumps to less well-off districts using objective measures. Speakers that came before her had used Schedule C to reward allies and to punish individual members when they spoke out or opposed them. Each member, including the speaker, received about $660,000 each to dole out to local, youth and aging initiatives this year. Additional allocations based on district poverty rates ranged from $25,000 to $100,000 depending on the members' districts.
The discretionary grants range anywhere from a few hundred dollars to hundreds of thousands. In a twist, the largest single grant of $500,000 was made by Johnson to the Metropolitan Transportation Authority to fund a study on the decaying Lefferts Boulevard bridge in Queens.
Certain boroughs were clear winners. Of the $2 million for borough-wide initiatives, the Brooklyn delegation received the most, a total of $620,000. Queens came in second with $540,000. Manhattan received $380,000 while the Bronx was allocated $340,000, and Staten Island received $120,000.
[Read: Mayor, City Council Reach Agreement on $89.2 Billion Budget, Funding Key Council Priorities]