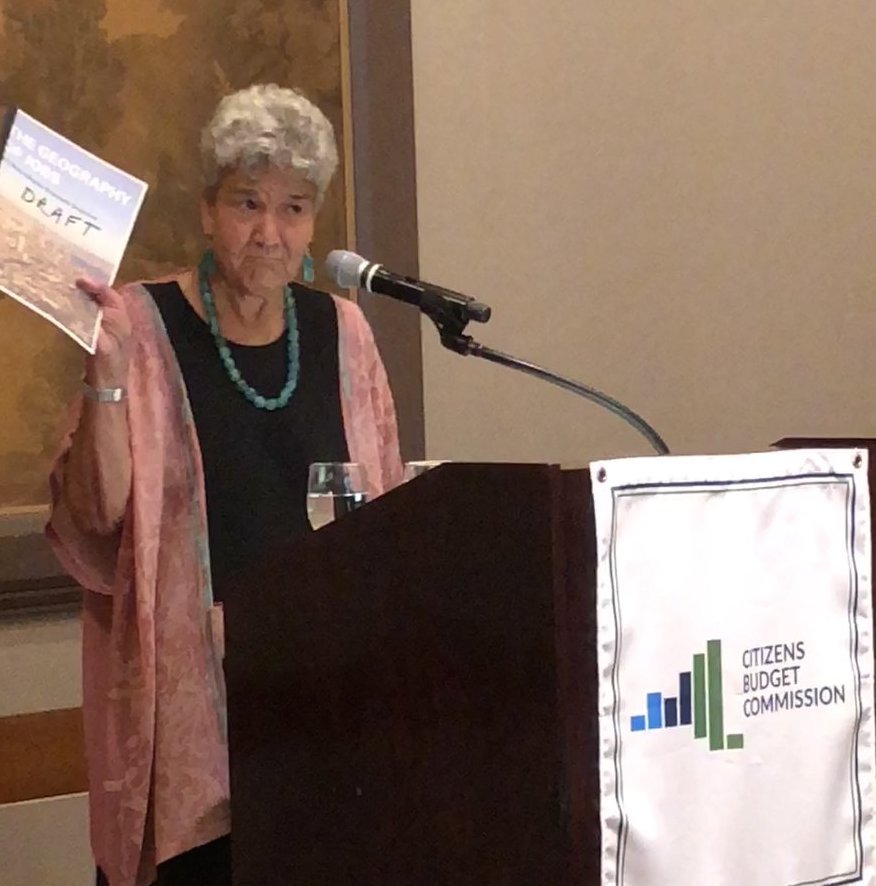 Marisa Lago (photo: Citizens Budget Commission)
---
Urban planning wonks and other interested parties gathered Tuesday morning for a Citizens Budget Commission trustee breakfast featuring Marisa Lago, the director of the city's Department of City Planning (DCP) and the chair of the City Planning Commission.
At the event, Lago granted attendees a preview of DCP's forthcoming "Geography of Jobs" report, due for release later this summer.
"Geography of Jobs" is a product of the Department of City Planning's first foray into regionalism, led by DCP's relatively new regional planning unit, launched under former Chair Carl Weisbrod. The report is the product of a collaboration among leaders of cities throughout the metropolitan region, defined by DCP as inclusive of New York City and 26 neighboring counties in Northern New Jersey, Southern Connecticut, the Hudson Valley, and Long Island.
Lago spoke of the report's affirmation of the region's economic strength. As a whole, New York City and its surrounding counties have a gross domestic product (GDP) of $1.7 trillion, one-tenth of the national GDP. If the region were its own country, its economy would rank squarely between South Korea's and Russia's.
Twenty-three million people live in the region, of whom 8.6 million live in New York City, though nearly 30% of the city's workforce lives beyond its limits.
"Geography of Jobs" reveals deep disparities between New York City and its environs. Sixty percent of the region's jobs are outside of New York City, and, over the two-decade stretch before 2008, New York City accounted for roughly 33% of job growth in the region. Since the recession, however, 75% of regional job gains have been in the city.
Lago said that the city's planning officials worked hard to not be insular when collaborating with officials from outlying areas, and that they did not want New York City to be perceived as "that evil empire across the Hudson."
The report also shows that New York City is gaining younger workers, defined as those aged 25-54, at a rate three times higher than the national average. The rest of the region, however, has an aging workforce.
The final conclusion of "Geography of Jobs" that Lago shared on Tuesday morning relates to employment categories: the bulk of New York City's employment growth has been in professional office jobs, while markets beyond the city are increasingly filled with healthcare and local service workers.
The Department of City Planning's recent emphasis on regional planning reflects its belief, Lago said, in "the commonality of our challenges" on topics ranging from climate change to housing stock.
This theme was prominent in her discussion of the city's resilience against climate change. With 520 miles of shoreline, 400,000 residents in a FEMA-designated flood plain, and all but a single community district at least partially in danger of flooding, New York City is threatened by sea level rises and future Superstorm Sandy-type events.
According to the OneNYC city resilience plan distributed at the event, sea levels in New York City have already risen a foot over the past 100 years, and are expected to increase by between 8 and 30 inches by the 2050s, and by between 15 and 75 inches by the century's end.
"Sandy showed us that Mother Nature knows no boundaries, and she certainly doesn't adhere to political boundaries," Lago remarked.
By reforming flood insurance standards, enhancing and making permanent the emergency flood resilience zoning measures of October 2013, and modifying zoning regulations, among other measures, Lago said that the DCP hopes to "future-proof" New York.
She also emphasized the role zoning can play in facilitating job growth. Though every borough has benefited from recent job growth, outdated zoning regulations that "evidence a love of the car" constrain new development, Lago said.
Zoning in New York City, much of which was developed in the 1960s, favors a suburban vision of an economy dominated by office parks surrounded by seas of cars. This makes it difficult to find locations in the city for life sciences facilities and, oddly, microbreweries, which are prohibited in all but industrial zones. Commercial buildings are burdened by outdated density limits, Lago said, and parking and loading requirements near transit centers should be "rationalized."
But crucial to any future city plan, Lago warned, is the 2020 Census, which she described as an "existential issue for our city."
The census is important on numerous fronts. New York State is already slated to lose one seat in the House of Representatives due to its shrinking population, and undercounting in the city could lose it two. New York City receives $7 billion annually in government funding that's dependent on the city's size.
The city's population has grown by 5.5% since the previous census, in 2010, and most of this increase is due to immigration. Thirty-eight percent of New Yorkers are foreign-born, and an additional 22% were born in the United States to at least one immigrant parent. Half of Queens residents were born outside the country.
But the proposed addition of a citizenship question to the census threatens to depress turnout in a city where one in seven households contains a person without legal immigration status. Lago called on the attendees to "look to your community" and spread the word that the Census Bureau would not share citizenship information with other governmental organizations, like Immigration and Customs Enforcement and Customs and Border Patrol.
She described participation in the census as "everyone's right."
Lago also encouraged the audience to reach out to her department with information on onerous or nonsensical regulations, zoning standards, and "bottlenecks" in development.
Note: this article has been corrected to reflect that New York City is home to 8.6 not 8.5 million; that the region includes New York City and 26 other counties, not 31 (31 would include New York City's five); that the region is home to 31 million people; and that nearly 30% of the city's workforce live beyond its borders.