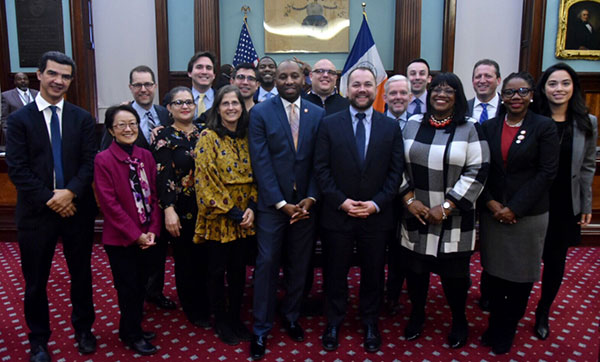 City Council Progressive Caucus (photo via Progressive Caucus website)
---
The Progressive Caucus of the New York City Council sent a letter to Governor Andrew Cuomo urging him to sign a bill, passed at the end of the legislative session in June, which would create a new state commission on prosecutorial misconduct. The caucus, which includes 21 of the Council's 51 members, referred to the bill as "the most substantive criminal justice reform passed in the state this year."
The state bill passed with bipartisan support in both the Assembly and the Senate, and awaits Cuomo's signature or veto. The commission, consisting of eleven judges, prosecutors, and defense attorneys appointed by the state's chief judge, the governor, and legislative leaders, would be empowered to investigate and recommend disciplinary action against prosecutors in the state accused of misconduct. The commission would be similar in structure and purpose to a commission established in the 1970s to investigate misconduct claims by judges.
Cuomo has not indicated whether he supports the legislation or not, and the state district attorneys association has called it unconstitutional and threatened to sue if the governor does sign it into law. The commission would have oversight of the state's 62 district attorneys and their assistant district attorneys.
The letter from the Council's Progressive Caucus notes that, according to the University of Michigan's National Registry of Exonerations, New York is fourth in the nation for wrongful convictions, behind California, Illinois, and Texas.
"Across the United States there is a growing crisis of confidence in prosecutors as the role District Attorneys, historically, played in driving mass incarceration has become better understood by the public," the letter reads. "The exonerations of wrongfully convicted people have sometimes exposed egregious misconduct by prosecutors, many of whom remain working as lawyers today."
Misconduct can take various forms, including failure to turn over exculpatory evidence to the defense, intimidation of defendants or witnesses by police, and knowing submission of false testimony. Oftentimes, these occurrences can lead to false convictions, including for serious crimes that carry long sentences. In 2017, the National Registry of Exonerations recorded 13 exonerations in New York State, for individuals who had served as little as one year to as long as 28 years for crimes they did not commit. So far in 2018, 12 exonerations have been recorded.
False convictions are such an issue in New York that some district attorneys have formed entire units within their offices dedicated solely to examining past convictions and their validity. The Brooklyn DA's Conviction Review Unit, for instance, requested 24 exonerations for wrongfully-convicted defendants between its creation in February 2014 and December 2017.
The bill is strongly supported by defense attorneys and criminal justice reform advocates, but is sharply opposed by district attorneys throughout the state. The Staten Island District Attorney told Gotham Gazette in June that oversight measures, such as grievance committees, already exist, and that the bill would hinder the ability of prosecutors to do their jobs and "potentially threaten the safety of those we are sworn to protect."
The grievance committees, which are bodies within appellate divisions that serve to investigate and censure both prosecutors and defense attorneys, have been characterized as toothless by advocates of the bill on both sides of the aisle, and criminal justice reform writ large. The Progressive Caucus wrote that the committee system in place has "not curbed bad behavior" among prosecutors, and that discipline is a rarity.
"Public officials entrusted with incredible power should be held to the highest of standards," reads the letter, signed by 12 members of the caucus. "Instead prosecutors have come to expect that there will be no punishment even following a judicial finding of egregious misconduct."
(Read the full letter here)
The grievance committees rarely discipline prosecutors, but frequently discipline defense attorneys or other attorneys in private practice. In 2016, the First Appellate Division's Grievance Committee, which covers Manhattan and the Bronx, disbarred 30 attorneys, suspended ten, and publicly censured six; none were prosecutors. When prosecutors are disciplined, sanctioned, and disbarred, it tends to make the news, as occurred with former St. Lawrence County DA Mary Rain.
The Queens district attorney, Richard Brown, meanwhile, told Gotham Gazette that previous working groups, including one led by former Chief Judge Jonathan Lippman, found no evidence of "rampant prosecutorial misconduct."
David Soares, the Albany District Attorney and the new president of the District Attorneys Association of the State of New York (DAASNY), told host Susan Arbetter of the Capitol Pressroom radio show in June that DAASNY would sue the state if Cuomo signs the bill into law.
For the Council's Progressive Caucus, a majority in favor leads to an action like the letter. It was signed by caucus Co-chair Ben Kallos and fellow Council Members Jumaane Williams, Anonion Reynoso, Brad LAnder, Carlos Menchaca, Keith Powers, Deborah Rose, Daneek Miller, Justin Brannan, Steve Levin, Carlina Rivera, and Alicka Ampry-Samuel.
Notably, the non-signers of the caucus include Council Speaker Corey Johnson, caucus co-chair Diana Ayala, and public safety committee chair Donovan Richards.
A spokesperson for Richards told Gotham Gazette that Richards is in support of the bill, but was unable to sign it because Richards was out of town when the letter was sent. "I am absolutely in support of creating a state commission to look into prosecutorial misconduct," he said. "In order to truly reform our criminal justice system, we must root out misconduct in all levels of law enforcement."
A representative for Johnson did not return a request for comment, while Ayala's office did not respond to a request for comment. Representatives for Council Members Jimmy Van Bramer and Mark Levine, among the other members of the Progressive Caucus who did not sign the letter, told Gotham Gazette that they support the bill.
Governor Cuomo has not signaled whether he intends to sign the bill or not. Cuomo spokesperson Tyrone Stevens said that the governor's office is still reviewing it.