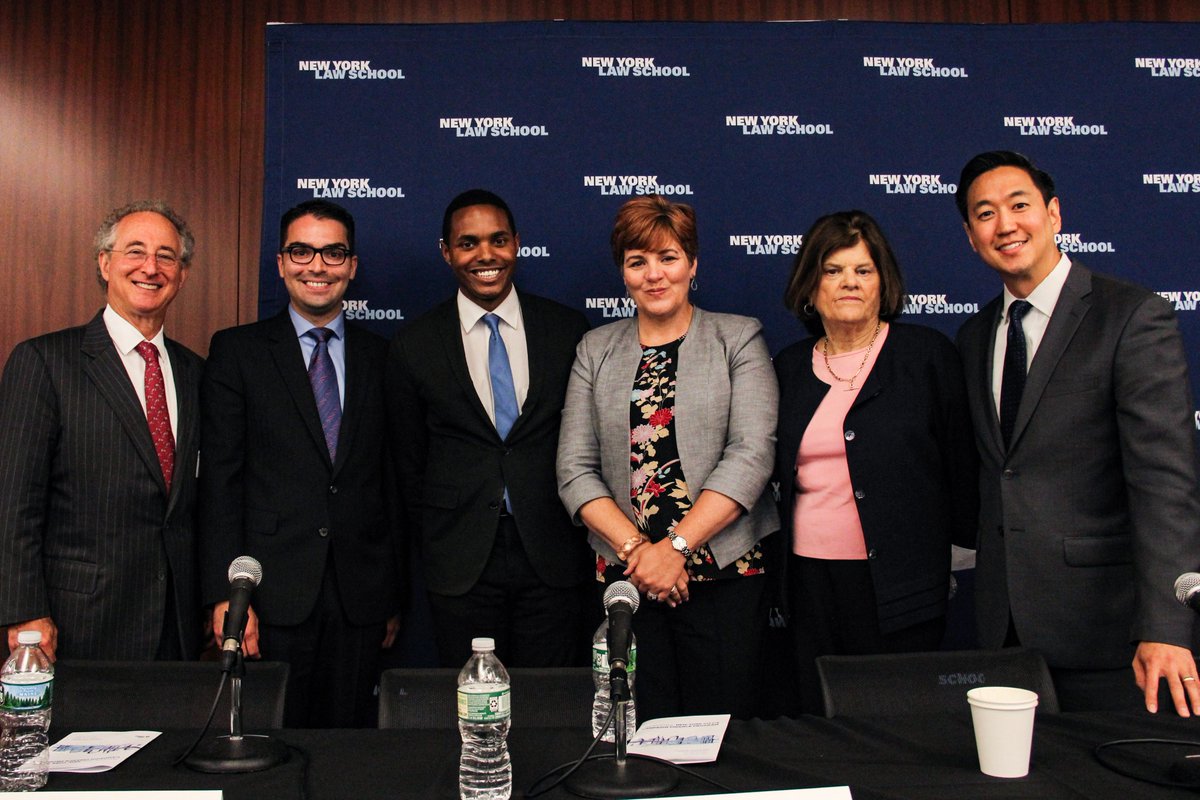 Schaffer, Ulrich, Torres, Quinn, Gotbaum, Cho (l-r) (photo: @NYCCFB)
---
Former and current New York City elected officials broadly praised the city's campaign finance system at a panel at New York Law School on Wednesday, while acknowledging that it could be improved to incentivize more reliance on small donors and streamlined to encourage first-time candidates to run for office.
The panel was hosted by the New York City Campaign Finance Board (CFB) and moderated by Daniel Cho, assistant executive director for candidate guidance and policy at the CFB. The panellists included sitting City Council Members Ritchie Torres and Eric Ulrich, former City Council Speaker Christine Quinn, and former Public Advocate Betsy Gotbaum, who shared their divergent experiences in running for elected office, raising campaign money, and navigating the city's campaign finance program.
The CFB administers the system and its widely lauded public matching funds program, which intends to level the playing field in elections by matching the first $175 of every qualifying contribution at a 6-to-1 ratio. The rationale is simple: It motivates candidates for local and citywide office to cast a wider net and seek smaller individual donors rather than depend on wealthy contributors giving larger donations.
But, even as other jurisdictions have begun to model programs after New York City's, the CFB is hoping to strengthen its system, further limit the size of maximum donations, and encourage pursuit of small donors, recommending a slew of reforms for consideration by Mayor Bill de Blasio's charter revision commission, which will soon announce the proposals it will put before voters on November's Election Day. CFB Chair Rick Schaffer gave opening remarks before the panel, during which he outlined the history of the campaign finance program and the CFB's new recommendations.
Those reforms include drastically lowering contribution limits, increasing the matching fund ratio to 8-to-1 and the value of matchable donations to $250, changing the thresholds for qualifying for matching funds -- including the addition of a geographic requirement where a citywide candidate would have to get at least 50 donations from each borough -- and lowering the minimum qualifying contribution from $10 to $5. In the coming weeks, the charter commission will issue its final report, and the proposals it lands on will be presented to voters on the November general election ballot.
[Read: Campaign Finance Board Proposes Reforms at Charter Commission Hearing]
Council Member Ulrich, a Republican from Queens, said the matching fund system was instrumental in his special election campaign in 2009, which he ran without help from labor unions or the local party establishment. "The critical factor in me deciding to move forward and to run was in fact the campaign finance program," he said.
Torres, a Bronx Democrat, similarly said the program gave him "sufficient resources" to run his City Council campaign in 2013, but with one caveat. "The cost of running a campaign seems to vary widely from Council district to Council district.You could win a district like mine on the sheer strength of door-to-door campaigning," he said.
Quinn -- who is the only mayoral candidate to ever max out on public matching funds, Cho later said -- subsequently noted that rent for campaign offices in particular is one cost that can be drastically different depending on the district.
Gotbaum, who is now executive director of government reform group Citizens Union, said that when she ran for public advocate in 2001, she raised large numbers of maximum donations -- currently $5,100 for citywide candidates -- because of a crowded field and because the CFB's matching funds tend to be doled out late in the campaign. The program does appear to serve its intended purpose better for City Council candidates as citywide candidates continue to raise a majority of their funds from large donors.
Gotbaum supports the public funds program but worries about the public reaction to the cost of public financing if the matching amounts are raised, though she also acknowledged that not enough New Yorkers even know the program exists. "I think if you put the match up terribly high, those few people that participate may start to complain...I'm just throwing that out there as a point of discussion," she said.
The CFB gives out public funds twice in an election in most cases, for the primary and then for the general. But Ulrich pointed out that for Republicans, who tend to be involved in far fewer primaries owing to Democrats' heavy voter enrollment advantage in the city, matching funds are usually only disbursed once. In some cases, Ulrich argued, this gives Democratic candidates advantages in terms of getting their message out to voters and attacking their Republican opponent. "So I think the board should probably look at that," he said. "It doesn't affect most participants but...certainly in my part of the city, it does."
All the panellists agreed that a big challenge to ensuring ordinary voices are reflected in elections is that voter participation and engagement is far too anaemic in New York City. They not only stressed the need for more voter education but also the dire necessity of reforming the state's antiquated voting and election laws which are widely held responsible for low voter turnout.
"The reliance at the state level is on these big donors, corporate donors in fact," said Ulrich, who ran for state Senate in 2012 and said he received dozens of large, unsolicited donations. "I would much rather if there was any way possible for state, federal, and city candidates for public office to be participating in a matching funds program. It's a much more transparent, fairer, and I think ethical approach to running for political office."
Ulrich's Republican colleagues who control the state Senate have not had the same opinion, however, as the chamber has opposed most campaign finance reforms supported by the Democratic Assembly and Governor Andrew Cuomo, as well as most voting and election reforms.
Quinn took particular issue with state election law's LLC loophole, which allows hidden donors to legally circumvent the already high state contribution limits through multiple limited liability companies. As Council speaker, Quinn ushered in campaign finance reforms which included a prohibition against LLC donations in city elections. She also said the practice of intermediaries "bundling" donations from several contributors for a single candidate tend to be more corrupting than a single, maxed-out donation.
"That's really where the amplification of corporate interests comes into place," she said, urging the CFB to go beyond simply lowering contribution limits.
Torres also wanted to see "bolder" reforms. "Some of these improvements do feel incremental," he said, pointing out the heavy reliance on large donors, particularly in the mayoral race. He wants to see a drastic reduction in the contribution limits. "I think it would create a system that is purely powered by small donations," he said.
The Council member also noted that the recent victory of Alexandria Ocasio-Cortez -- who ran on a platform opposed to corporate donors -- over Democratic Rep. Joe Crowley in the June congressional primary shows a "millennial outcry" against excessive money in politics. "If the mayor's charter commission were to radically reduce contribution limits in response to the national zeitgeist that's taking hold, I think it would be a legacy achievement for the mayor," he said.
The panellists also agreed that perception matters in politics, and that constituents need to be reassured that government is not for sale, with some discussion around the "doing-business" limits on donations from entities seeking or holding city contracts.
"For me, the standard is whether you contribute to the appearance of corruption," Torres said, noting that Council members can raise substantial sums of money from industries that they regulate and that individual members also hold an almost "veto power" over land use matters that could be worth tens if not hundreds of millions of dollars. "I'm not suggesting that this happens but the fact that it's even a theoretical possibility is problematic," he said. "A member could leverage the power you have over the [Uniform Land use Review Procedure] to extract sizable contributions. So why not foreclose that possibility."
Ulrich blamed the negative perceptions that the public holds of New York politicians on the long and constant stream of state-level elected officials, mostly in the state Legislature, who have been convicted of corruption. "I think until Albany gets their act together and enacts some form of real and robust ethics reform and campaign finance reform," he said, "that is going to overshadow...all the wonderful and great work that the CFB is doing."
Note: Gotham Gazette is an independent publication of Citizens Union Foundation, sister organization of Citizens Union.