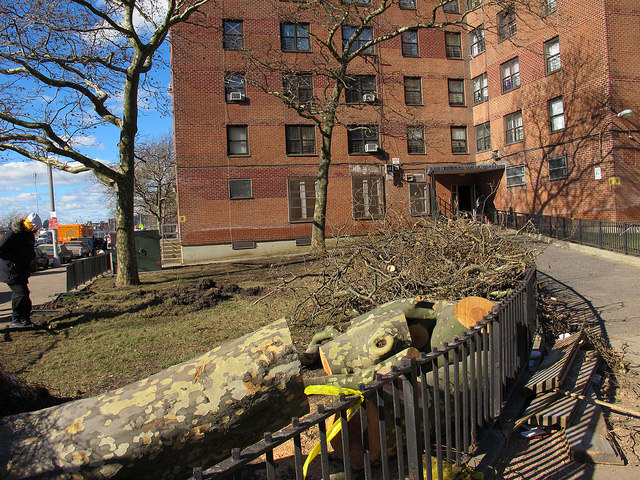 (photo via NYCHA)
---
The myriad issues plaguing the New York City Housing Authority came to the fore at a town hall on Wednesday night, with NYCHA residents excoriating public officials and officials scrambling to respond.
The town hall, hosted by BRIC TV at its downtown Brooklyn studio, featured an audience mainly consisting of NYCHA residents and a panel of City Council Members Alicka Ampry-Samuel and Ritchie Torres, NYCHA tenant leader Lisa Kenner, New York Daily News reporter Greg Smith, and NYCHA historian Nicholas Dagen Bloom, along with a short pre-recorded interview with city Comptroller Scott Stringer. The event was moderated by BRIC's Brian Vines.
The issues affecting NYCHA, including but not limited to an alleged cover-up relating to lead paint in apartments, approximately $32 billion in unmet capital needs, and a lack of transparency in management have hung low over the de Blasio administration for the past year. The city, beginning in the Bloomberg Administration, was revealed to have falsified documents submitted to the federal government relating to lead paint inspections in apartments, setting off an additionally intensified period of controversy beyond what was already been a mountain of challenges and persistent struggles for the authority to provide adequate housing and find the revenue needed to upgrade its deteriorating housing stock, which includes roughly 180,000 units across the city, home to about 400,000 New Yorkers.
The Daily News reported in June that the de Blasio administration had used a blood-lead level benchmark significantly higher than the federal standard, resulting in only 19 children living in NYCHA being identified as having elevated lead levels; by the federal standards, 820 children in NYCHA had elevated levels, a number revised to over 1,100 in August. And last winter, hundreds of thousands of NYCHA residents were left without working heat and hot water because of defective boilers in critical need of repair.
A federal consent decree, which has yet to be formalized by a judge, would have New York City spend $2 billion on critical repairs and appoint a federal monitor to oversee the ailing Housing Authority. The judge has yet to name a monitor. In practice, the deadline has been extended twice by the United States Attorney for the Southern District of New York, first from July 11 to September 12, and then from September 12 to whatever date the judge formalizes the consent decree.
When tenants testified in court about NYCHA conditions on September 26, the judge, William Pauley, expressed shock at their stories, and has been hesitant to approve the consent decree without changes.
Several speakers had been personally affected by the lead paint scandal, with their children facing the possibility of lifelong repercussions as a result of the lead-infested apartments they spent their formative years in.
"Y'all exposed them to lead dust and continue to disrespect me and violate me," said Lynone Faison, a resident of the Ingersoll Houses in Fort Greene whose child was exposed to lead. Faison said she would prefer living on the street to living in her apartment, but was refraining from doing so because she was worried that ACS would take her children.
"I'm not going to let you just keep walking all over us. I look at you two," she said, referring to Ampry-Samuel and Torres, the elected officials on the panel, "I'm telling you snakes, you all need to be fired. You all need to be fired. I'm sorry, but you need to be fired, you're not helping me."
Another woman, a former resident of the Al Smith Houses on the Lower East Side, detailed how her son had been exposed to lead during her pregnancy; she left NYCHA after giving birth, when the woman she and her husband had been caring for passed away and the city evicted them. She also referenced the stark inequality that has been spotlighted in the development's vicinity.
"Our children are seeing these rapid changes happening in the world, and they are being told that they are not part of it," she said. "So we want to ask questions, you know, we want to ask questions. When will our children be part of it? If these developments are happening -- within months, they're renovating houses. I mean, what on earth, months it takes to renovate a house, but years and years of lead poisoning [in NYCHA]. I mean, this is a genocide here."
Ampry-Samuel is the current chair of the Public Housing Committee, and Torres is a former chair of that committee and the current chair of the Oversight Committee, which has looked into NYCHA and helped reveal some of the recent issues that have come to light. Both grew up in NYCHA housing, Ampry-Samuel in Brownsville and Torres in Throggs Neck, and relayed their experiences in public housing frequently throughout the hearing.
"I don't believe or have faith that anyone cares about us at all," Ampry-Samuel told the woman from Al Smith Houses. "As an elected official, it's difficult, but I can speak my truth and I can speak what I've seen because I'm not worried about my next election. I'm not worried about the next office that I'm gonna run for because I'm just worried about how I'm gonna, in a sense, protect the people, protect my people. And when I look at the mayor's housing plan, and I look at all these infill deals, at no point at all do they take into consideration the NYCHA voice."
Infill is the controversial process by which the city is allowing private development on NYCHA land to create new housing, some of it affordable, as well as new revenue for NYCHA.
Despite their ties to NYCHA and efforts to provide oversight, the politicians in the room were heavily criticized as detached from conditions on the ground, taking home a $150,000 salary, and being funded by real estate interests. Questioners repeatedly expressed derision at the panelists not answering their questions, even those on the panel who are not politicians. The frustration of the NYCHA residents characterized the mood of the event.
"How do they get to go forward with RAD or infill when they're under a federal investigation," asked Karen Blondell, a resident of Red Hook Houses since 1982. RAD refers to Rental Assistance Demonstration, an Obama-era program that privatizes building management and changes ownership of the property to a public-private partnership, with funding coming from Section 8 vouchers rather than Section 9 public housing subsidies. One complex, the Ocean Bay Apartments in Rockaway, has undergone full RAD conversion. Initial results have appeared somewhat promising in the city, and elected officials have praised the use of the program, though many residents are worried that the program is de facto privatization of public housing.
Ampry-Samuel has been supportive of the RAD program in the past and has sided with the de Blasio administration on its expansion. However, she agreed with Blondell that critical repairs must be made the top priority of the authority.
"I don't think NYCHA should move forward with anything right now," Ampry-Samuel said of major new programs, "because there's questionable management, there's questionable dealings, and if there's any kind of investigation happening right now, if Judge Pauley is reviewing the consent decree, I don't think they should be moving forward. What they can be doing is just making sure that they're fixing the heat and hot water systems right now that are happening as we're going into the heating season, and they can make sure they're going into the apartments doing what they're supposed to be doing with the lead abatements."
Blondell replied that her apartment underwent a long-awaited lead inspection last week, but the "industrial hygienist" who showed up for the inspection was armed only with a flashlight.
"Come on now, come on, I could do better testing by sending away for a kit to the EPA," she said.
In response, Torres signaled his critiques of the consent decree.
"There's no evidence that more monitoring is going to improve public housing," Torres said. "We've had a monitor for mold for five years, and we're no closer to remediating mold in public housing." A vocal critic of the mayor and his housing policies in particular, Torres said at the town hall that affordable housing under the mayor's plans are not actually affordable for the people they're intended for -- some have called for incorporating NYCHA into the larger city affordable housing plan so that it gets more attention and is more clearly approached as part of a valuable stock of rent-regulated apartments, or for at least more closely aligning affordable housing and NYCHA plans.
There have been ample calls for prosecutions of NYCHA officials involved in the lead scandal. Though NYCHA is under federal investigation and its offices have been raided by authorities, prosecutors have not announced any charges.
"When we as residents had to deal with zero tolerance from the Clinton administration to present time, how is it okay for NYCHA to have falsified, fraudulently reported about lead, mold, and everything else, and no one's being criminally charged," Blondel asked. Smith noted in response that an active criminal investigation into NYCHA is currently taking place to look into fraudulent lead paint filings.
One woman, a former tenants association president at Washington Houses in East Harlem, referred to tenants association leaders as "crooks."
"That tenant participation activity money that was meant to be spent for us in these developments to create programs and things for our families and so forth, that's HUD money, we don't even know what's happening with it. We was promised there was gonna be a hearing, that ain't happened yet," she said.
Kenner, the tenant leader, spoke in defense of tenants associations.
"As president, you do not get paid, you know, it's a thankless job," Kenner said. "But you live where you live, and you want better for your people and yourself."
The woman from Washington Houses vociferously criticized the city government and the Council members, and advocated for direct action against the city as a means of securing tenants' rights.
"The only way we're gonna get justice is by shutting 250 Broadway down," she said in reference to where main NYCHA and City Council offices are located.
Smith made a similar call later in the program, saying that the hundreds of thousands of NYCHA residents should vote as a bloc.
"If NYCHA residents, there are 400,000 people who live in New York City housing. So if you have an organized effort to vote with one voice, you will have a voice that people will actually listen to," Smith said. This message received a mixed response in the room, and Vines reiterated a point made earlier about how NYCHA residents did not have monolithic thoughts on all issues.
"NYCHA is not a monolith," Vines said. "We're not all of the same mind on everything. Is it going to take those 400,000-plus residents of NYCHA to become single-issue voters, regardless of what your politics may be, if your home comes first? Is that really a viable answer?"
To that question, Torres responded in the affirmative and endorsed Smith's proposal.
"Of course," Torres said. "What's more important than your home? I mean, if the political leadership of the city has no regard for your basic living conditions, are refusing to provide you heat or hot water, or protect you from lead poisoning, or lying to you repeatedly, of course you should hold them accountable. And if I have a constituent who's living in disrepair, I have an obligation to make sure they get their repairs. Of course I do. You should hold us accountable."
Watch the full BRIC TV NYCHA town hall